Designing a giveaway or contest on Instagram can be fun, increase engagement, and help boost your presence online. But it's more than just asking people to tag a friend to win a prize.
A great giveaway takes planning, a prize that's worth people's time, and an understanding of the rules to maintain the integrity of your social media account (that's the really important part, to make sure you stay on the right side of the guidelines).
Here's how to do a giveaway on Instagram!
Download thousands of beautiful Instagram post and story templates, Instagram video templates, and anything you need to supercharge your social media presence with an Envato Elements membership. It starts at $16 per month, and gives you unlimited access to a growing library of over 2,000,000 Instagram templates, design assets, photos, videos and more.
Step 1: Set Goals for the Giveaway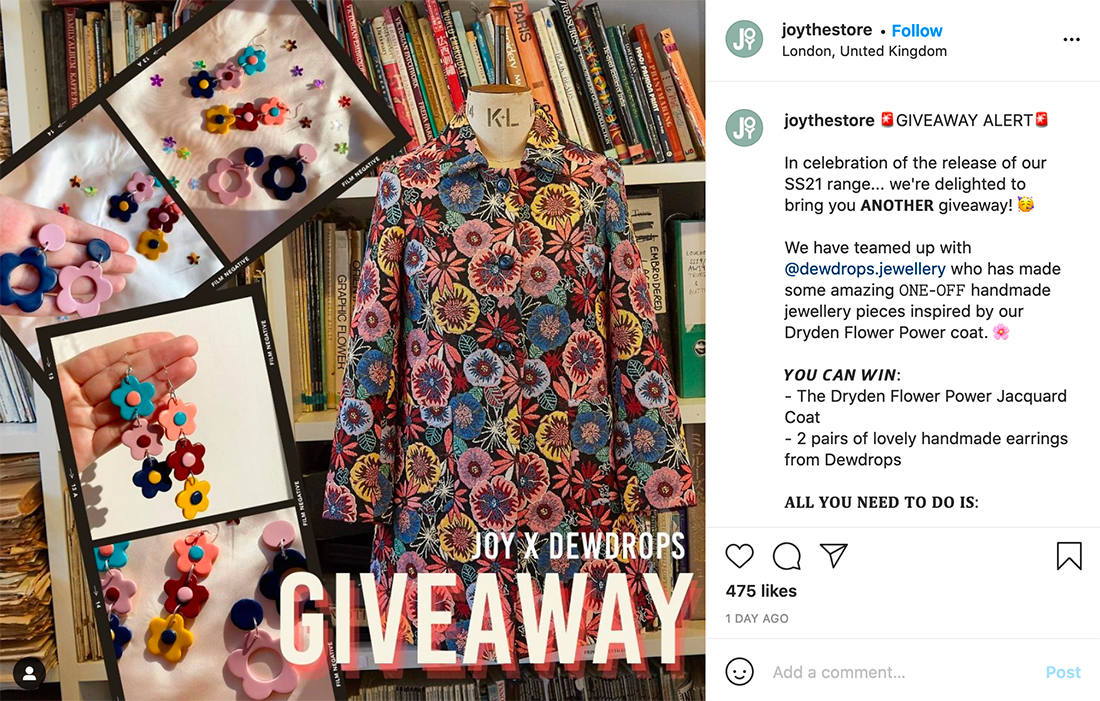 A social media giveaway is only as successful as your planning process. That starts with a goal: What do you hope to accomplish with an Instagram giveaway?
Grow following
Increase engagement
Show off a new product or service
Drive conversions on your website
How you run the giveaway is directly connected to your goal or goals.
If you are trying to grow a following the giveaway may ask followers to share with friends or follow certain accounts for entries into the prize drawing.
If the goal is to highlight a new product or service, the giveaway may focus on user engagement where participants post a photo using a hashtag. Entry criteria for the contest should help you meet these goals.
Step 2: Collect Awesome Prizes
Then you need a prize or prizes that people find valuable. Many Instagram giveaways include a couple of partner accounts to increase prize variety and reach.
Users who think they have a chance of winning are more likely to participate than those that think the prize is out of reach.
Having a few winners or a few small prizes and a grand prize can help encourage more people to participate because of a perceived higher chance of winning.
Step 3: Understand the Rules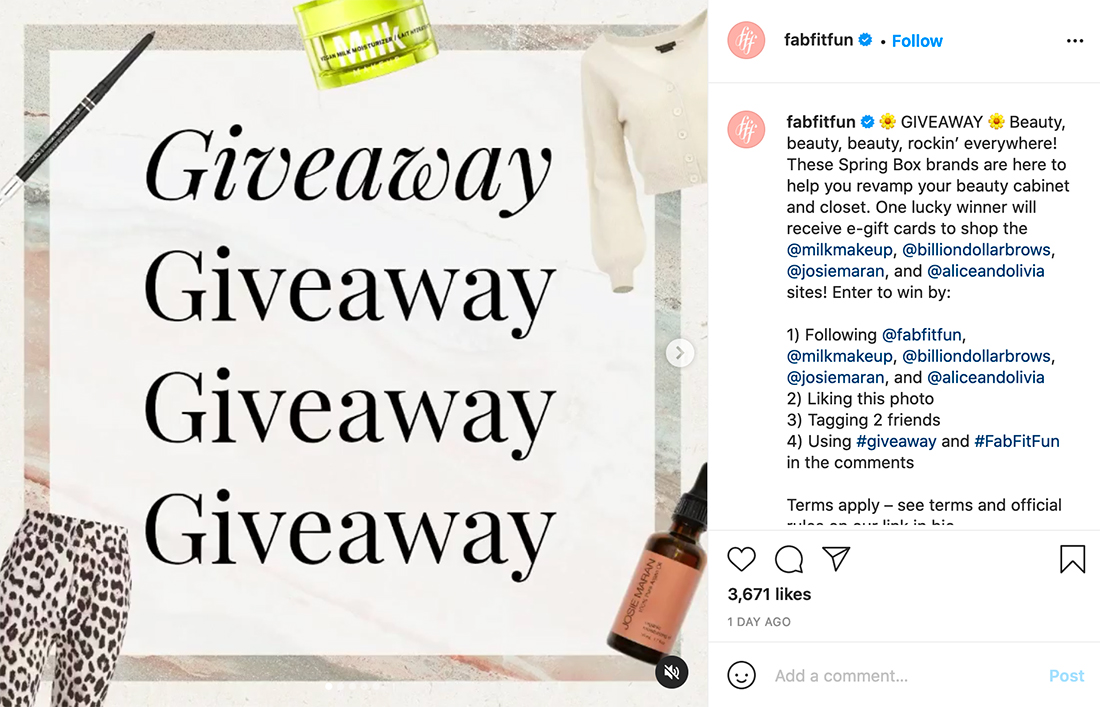 Before you even start to work on the fun part – designing visuals for the contest – you need to have a solid grasp of the rules. (The last thing you want is to have your posts blocked or your account put in "jail" for a violation.)
It's a good idea to check regularly on promotion guidelines because they do change periodically. Current Instagram guidelines for giveaways and promotions include the following:
You must operate in accordance with laws surrounding promotions and post relevant information, including official rules, terms and eligibility, and compliance with prize distribution and registration.
You can't inaccurately tag content or ask users to inaccurately do so. (For example, users can't tag people or things that are not theirs.)
Promotions must include a release of Instagram by each participant and acknowledgment that the promotion is in no way sponsored, endorsed or administered by, or associated with, Instagram.
Instagram will not help with promotions or provide advice.
By running an Instagram giveaway, you agree to do so at your own risk.
This seems like a lot for a short post or story, which is why many Instagram giveaways post the rules, eligibility, and information on a page of the host website with a link in the bio.
Step 4: Design Contest Posts
Now comes the fun part: Pick a duration for the content and design enough materials to promote it during that timeframe.
The longer the contest lasts, the more different types of posts you will need.
Original post for the contest launch
Reminder posts
Story post to highlight the promotion
Post to mention partners (and a reminder to enter)
Last chance to enter post
Winner announcements
If you create a visual theme for all of the posts at once – rather than just posting haphazardly – your Instagram giveaway will have a consistent visual theme. Followers will recognize it in their feeds over the course of the giveaway.
And if you have brand partners on the promotion, make sure to share designed post material with them as well.
Step 5: Launch, Promote, and Share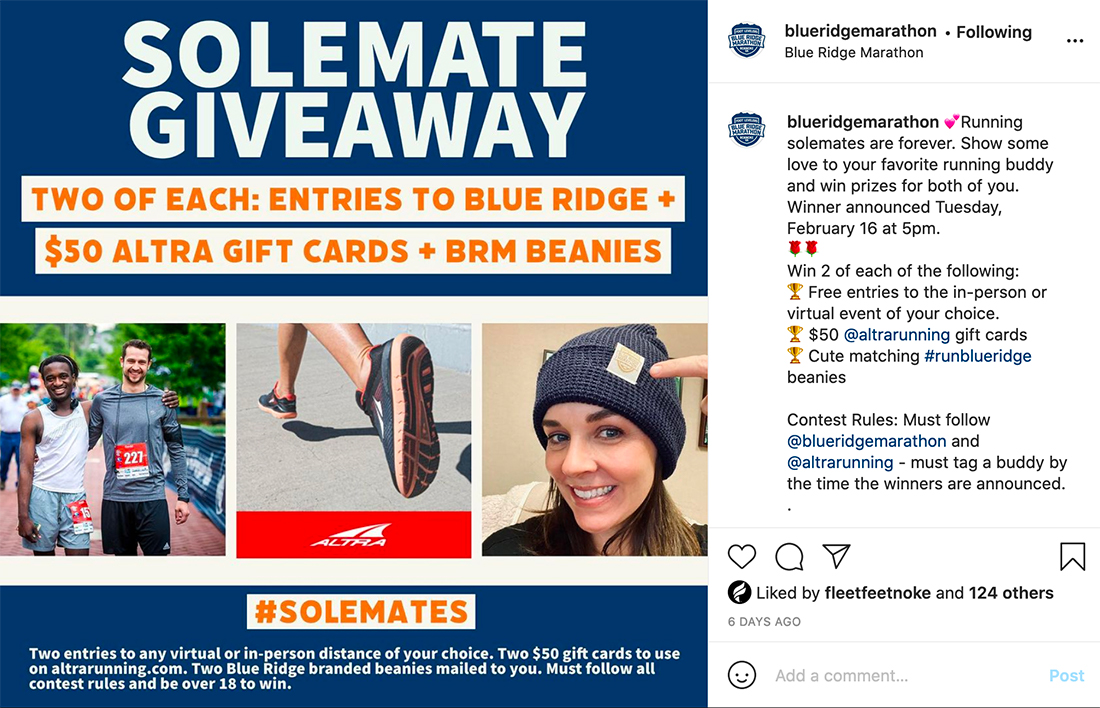 Once you have all the materials ready, set a schedule, and launch the giveaway online.
Make sure the initial post includes instructions for participation as well as rules and entry information. (Note the link in bio if that's where you choose to put that information.)
Plenty of Instagram giveaways launch with a regular post – because it will remain on your profile page – and a story to help increase participation and engagement.
Don't forget to engage with participants. Comment in threads and continue to encourage participation based on the type of content you are running.
You can post additional information and photos in the comments of the original post and maybe even preview a few prizes along the way. Encourage participants that are doing exactly what you would hope for in the course of a successful giveaway.
Consider a paid or boosted post. This can help more people see the giveaway and help reach new audiences. Paid contest promotion should fall in line with your overall goals. Because there is a cost here, you want to ensure your overall return is worth it before embarking on a paid model.
Step 6: Pick a Winner
Unless you set it out another way in the rules and conditions, most contests draw a random winner. This is an easy and equitable method, making it popular.
You can assign each entry a number, starting at 1 for the first entry and so on, then use an online random number generator to pick a winner. Validate the result and you are ready to contact your prize recipient.
It is a good practice to contact the winner before announcing. You can even ask them to share a photo or post as part of the prize announcement. Having the winner participate can keep engagement rolling and will help their network learn about you through sharing from the prize winner.
Step 7: Promote and Share Again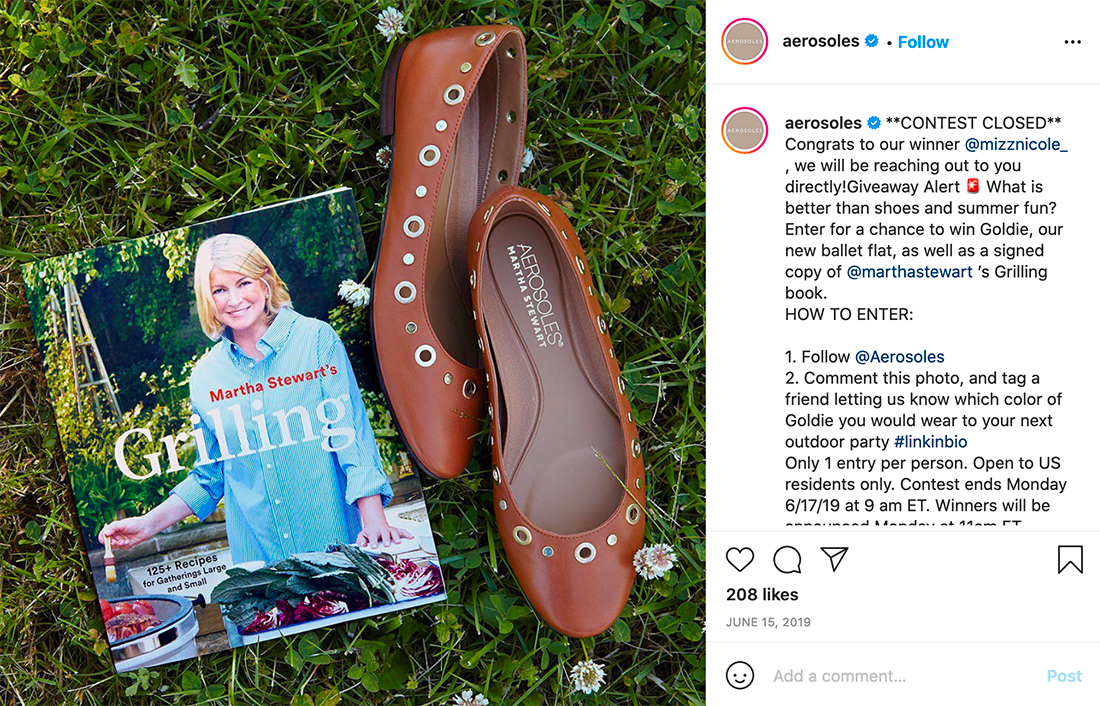 Once you have a winner, another round of posts and sharing is in order to highlight the conclusion of the contest. If you have multiple winners, post for each one.
The final step in the cycle of this promotion may include images of the winners shared through your account, information on how to get the prizes (if you didn't win), and a preview of upcoming contests, sales, or events.
With any giveaway or promotion, you want to keep that momentum going even after it ends. Don't forget to have a post-giveaway plan in place to keep new followers who liked our account during the promotion engaged.
Conclusion
While these tips can help you create a solid foundation for an Instagram giveaway, there's no assurance that every promotion will work every time. Social media contests involve a lot of trial and error.
If a contest doesn't go as planned, look at your prize offerings, partners, timing to learn what you could do differently next time. Good luck!
Instagram Templates
Learn how to supercharge your Instagram account. Craft beautiful posts and updates, improve your branding, find templates, and use Instagram in a new, creative way!