In many cases, online nonprofit organizations are able to secure funds faster by reaching out to donors worldwide. Donors can simply press a button and the amount is transferred to the intended nonprofit organization.
If you have a nonprofit website built on WordPress, then you will need a good WordPress donation plugin. Here is a list of what I believe are the most suitable WordPress donation plugins.
1. SKT Donation

SKT Donation plugin has been created to facilitate donations for NGO, nonprofit, charity, charitable organizations, WordPress crowdfunding, fundraisers via payment gateways PayPal and 2Checkout across the world. It is not an easy task for collecting money for a good cause. A collection box placed on the street corner may not grab the attention of the people, but an attractive donation button has a better chance to grab your websites visitor's attention. Managing donors and funders can be very easy on your website or blog with the help of SKT Donation plugin.
Some Great Features
No Commission
Easy setup
Currency control
PayPal and Cards gateway
Recurring Subscription
2. Give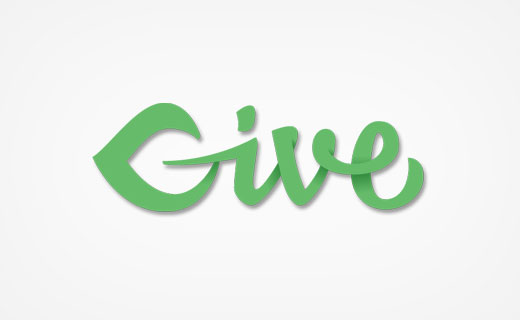 Give is the most downloaded and highest rated WordPress donation plugin. The plugin allows you to receive gifts from customizable donation forms, manage your donors and analyze donation reports.
You can use payment, form and date methods to sort your reports. This donation plugin for WordPress measures the performance of your donation campaign over various campaigns. You can create custom donation forms on your WordPress site, use various themes and add numerous options for customizing goals.
Some great functions of Give donation plugin are:
Maintain history of your donors
Seamless integration with third-party tools
Generates receipts with tax already deducted
Ability to export donor data
Allows you to create custom fields and goals
3. Charitable

Charitable is a free WordPress donation plugin that has no setup costs, or monthly charges. You can create fully customizable fundraiser campaigns in less than five minutes!
This WordPress fundraising plugin lets you accept donations through several payment gateways such as Stripe, Authorize.Net, PayFast and PayUMoney. The Charitable Gift Aid extension uses Gift Aid to boost donations by 25%. Similarly, Charitable Newsletter Connect helps grow your list of subscribers.
Charitable comes with a load of awesome features. Some of them include:
Easy to use
Offline donations
Unlimited campaigns
Donation management
Developer friendly
Charitable built a free WordPress theme called Reach. The theme is great for creating peer-to-peer fundraising events or a crowdfunding platform.
4. PayPal Donation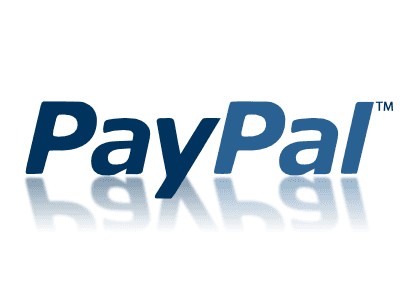 The PayPal Donation plugin adds a donation button to your WordPress website. Donors can send you donations through their credit card or their PayPal account. You could easily connect donations from all over the world because supports 18 languages and 25 currencies.
The plugin can be easily integrated with all WordPress themes. In case of issues or problems, create a support request and the plugin experts will quickly offer a solution.
Here are some features of PayPal Donation:
View donations on your WordPress admin panel
Multilingual
Support for 25 currencies
New image for every button
WordPress Donation widget
5. Seamless Donations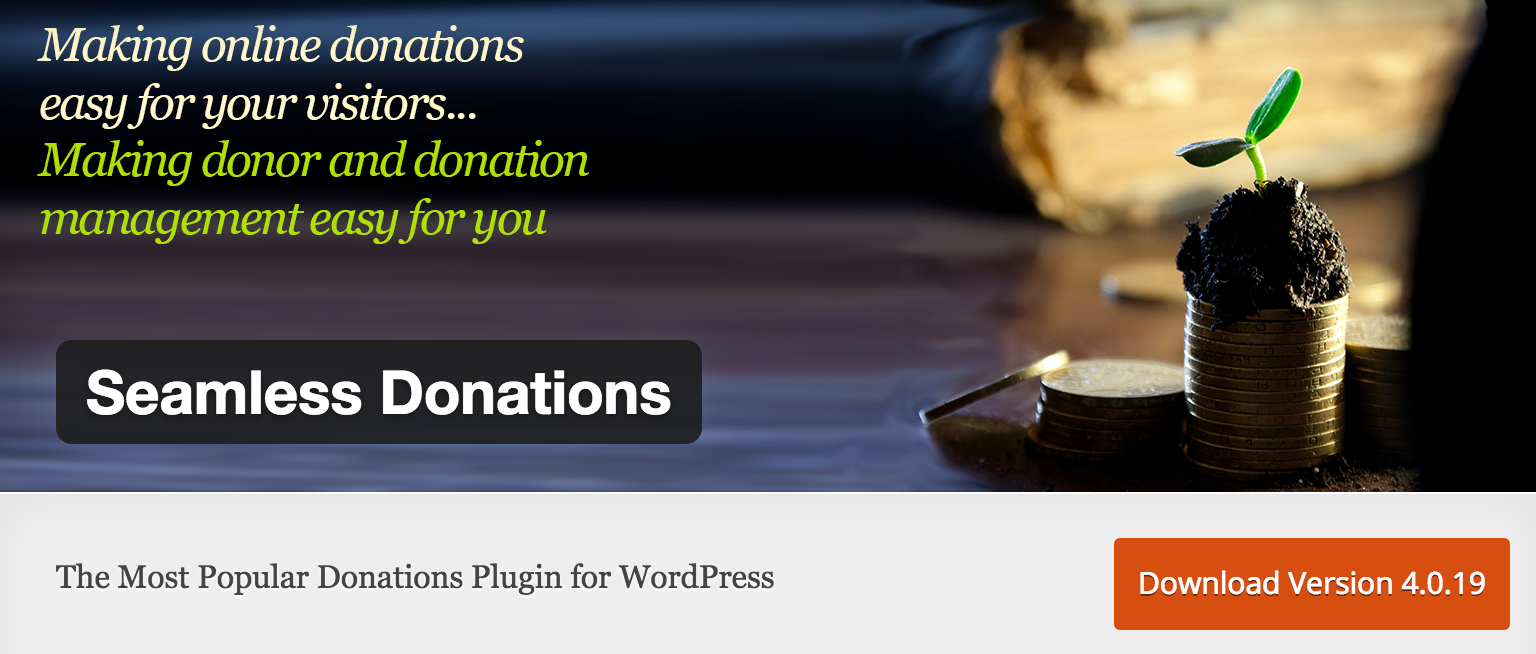 Seamless Donations is a free WordPress donation plugin with the great option of repeat donations that could be easily turned off in a single click.
The plugin offers Thank You Enhanced extension for sending personalized 'Thank You" messages to your donors. The Giving Level Manager extension lets you create custom donation levels. The Delete Monster extension enables you to delete donations. Seamless Donations works with GoodBye Captcha to block spambots.
Here are some features that this plugin offers:
Five minute installation
Automatic option for repeat donation
Donor tracking
Worldwide currency support
Translation ready
6. Donorbox
Donorbox is a free WordPress donation plugin with a unique recurring donation system. The plugin's form builder helps you collect questions from donors, send donations at the donor's request and dedicate donations on other's behalf.
The plugin offers a host of useful features such as PayPal donation, customizable receipt text, and integration with MailChimp and Salesforce. The plugin is free for the first $1000 donation every month.
Some features include:
Multi step checkout
Integration with Salesforce
Accept donation through Facebook page
Allows to add donation meter to encourage more donations
Customize color for your donation forms
7. Custom Post Donations
Custom Post Donations is different from all the plugins mentioned in the list. It enables you to make three types of WordPress donation widgets, Standard donation, Fixed + Additional donation, and Per item + Additional donation. If you upgrade to the pro version, you get two more widgets.
You can choose a donation type by going to the settings page of the plugin and you will able to create a WordPress plugin that suits your needs.
Custom Post Donations features:
Support for multiple currencies
Customize donation widgets
Add donation form titles
Customize donation forms
German and Spanish translation
8. Donation Thermometer

The donation plugin creates a thermometer on your site to measure your donations. Neat right? All you have to do is use a shortcode and it will display a standard thermometer on your web page.
The plugin is not stuffed with a lot of features making it a very simple plugin. However, if you are a basic WordPress user, this plugin is perfect for you.
9. Donation Content Locker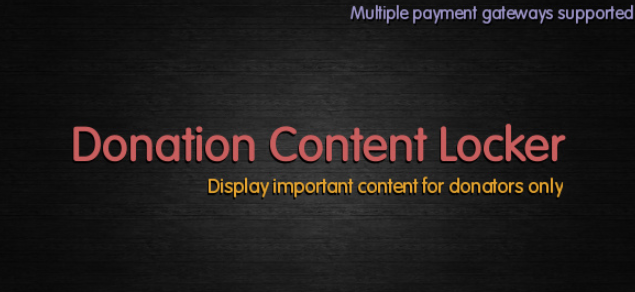 Donation Content Locker hides specific content on your website to be displayed only to those who have donated to your cause. It may look like you're asking for a premium fee instead of a donation. It will be better if you turn your site into a membership area.
Here are some awesome features of this plugin:
Secure donation form
Allows to restrict content until people have donated
Multiple payment gateways
Remember donors
Block unfair donors
10. Donation Manager Pro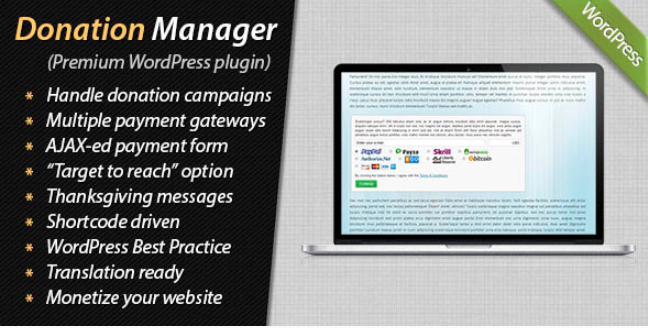 Donation Manager Pro Donation Content Locker is a paid plugin that handles all your donation on your site for you. Visitors can easily donate through your website and include their names in the list of donators.
The plugin is also easy to use and has regular updates. Some more features include:
Translation ready
2 templates
Shortcodes
Multiple payment gateways
Conclusion
Using the above plugins, you could easily set up a fundraiser campaign that could reach the global audience within minutes. These plugins can help you accept donations quickly and engage with your donors. If there are other plugins you would like to suggest, let me know in the comments below.
The post 10 Best WordPress Donation Plugins in 2020 appeared first on WPblog.