Whether you want to create a blog, showcase a business or organization or sell items online, one thing is certain. You need a great website. SITE123 is one example of a website builder. And it's different than most of the other options you'll find for one key reason – it's completely free.
Getting started – or even redesigning an existing website – can be intimidating. A website builder can be the solution. Website builders are a set of tools that help anyone create a website without a lot of coding or design knowledge. It's a quick and easy way to get a website online.
What is SITE123?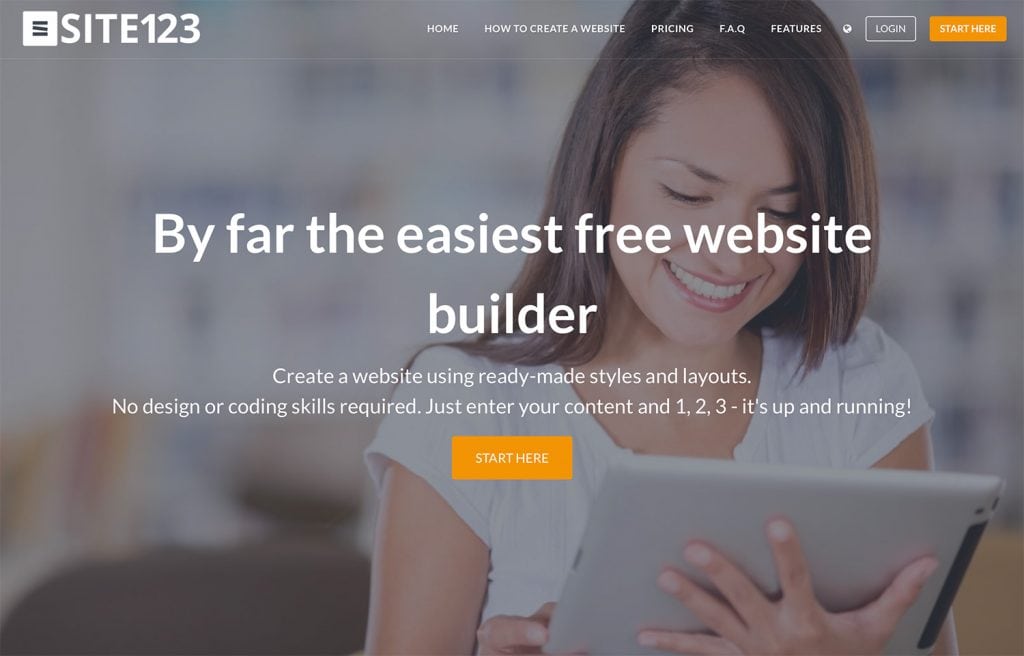 SITE123 is a free website builder that you can use to create a general purpose website, blog or online store. Use it to create a website using ready-made styles and layouts so that you know your design will look great even if you don't have a lot of graphic design skills or time to work on a website.
What sets SITE123 apart from most other website builders is that it is free. (Seriously!)
The free website builder comes with 500 megabytes of storage, 1 gigabyte of bandwidth and a subdomain. Plus there are plenty of cool templates to help you build a sleek design that will work on any device.
All you have to do is upload your content and the "design wizards" behind SITE123 take care of the rest. (You don't even have to deal with all those drag and drop module that many other website builders are based on.)
All in One Website Builder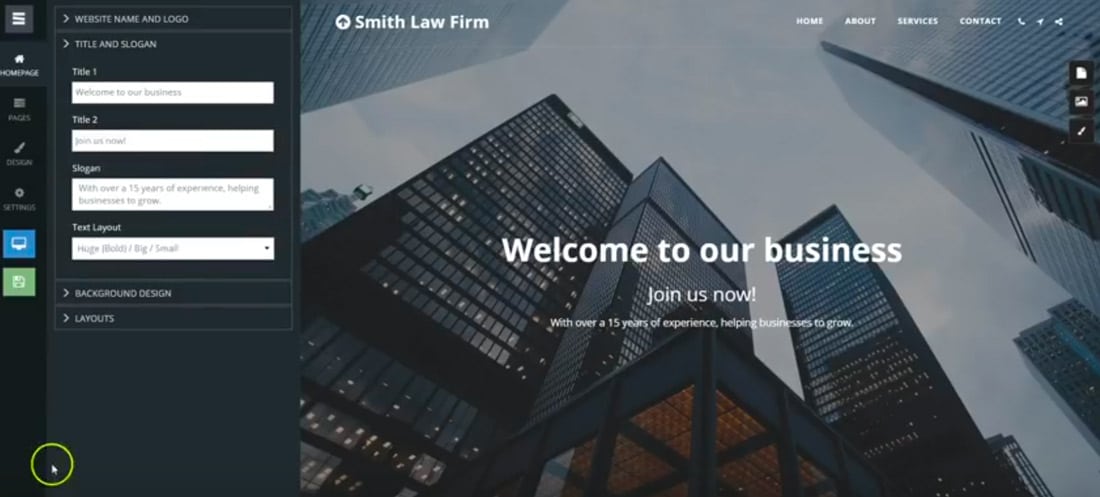 SITE123 is made for any type of website project. If you've been wondering how to start a blog or create an online store, this is the right tool.
Websites created with SITE123 come with everything you'd want in a website.
SEO-friendly
Sleek, modern design
Quick uptime
Easy to edit content
Quick load time for users
Responsive design works on all devices
Comes with free stock images
Ability to create sub-domain or add a custom domain (premium feature)
No limit to number of websites in your account
E-Commerce
SITE123 isn't just for simple websites; you can create an online store as well. Whether you are new to ecommerce or a seasoned seller, the SITE123 ecommerce website builder can set your online store apart.
Key features of the SITE123 ecommerce option include:
Ability to manage products and sell online anywhere in the world
Design your store to impress customers by starting with an easy to use template
Huge selection of currencies so you can sell anywhere
Ability to offer multiple product options such as size, color, or material
Accept payments via PayPal, credit cards or wire transfer
Create coupons and promo codes
Automated shipping and tax rates calculator
Sell physical or digital products
Inventory management and analytics tools built right in
Blog
SITE123 might be one of the easiest available options to create a free blog. The blog builder includes all the tools you need to get content online with regular and reliable posts with a compelling and easy to read design. This combination is great to help users focus on your content.
Key features of the SITE123 blog site include:
Plenty of blog templates so you can find a design that matches your content
Blog design that looks great on any device
Easy editing so you can make updates and changes on the fly
A powerful commenting system with the option to auto-confirm comments for immediate engagement and a reply option
Ability to integrate Facebook or Disqus for commenting
Ability to schedule blog posts so they publish when you want, regardless of your schedule
RSS feed integration so more people can access your blog content
So Many Website Templates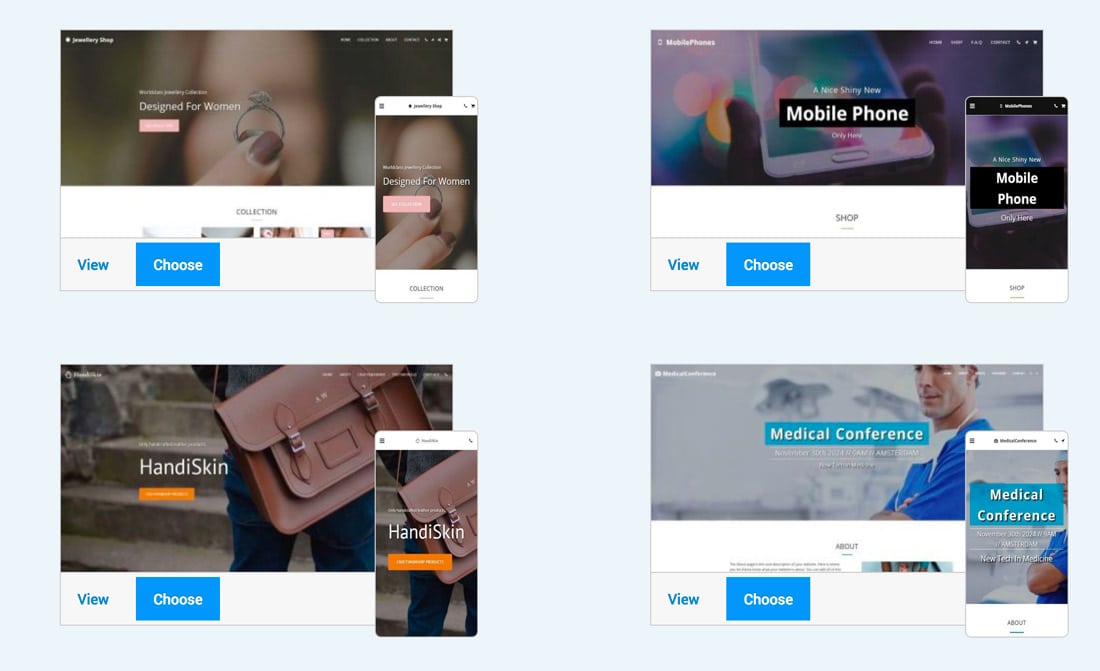 What makes SITE123 so easy to use is that it is pack with free website templates. With designs grouped and made for different categories of websites, all you have to do to get started is pick a website template that matches your style.
Template options include free website designs for business sites, blogs, photography sites, music- or event-based websites, restaurants, resumes, landing pages and online stores.
Every free website template features a modern design. (Users won't know how easy it was for you to create a website.)
And every SITE123 website template comes with these must-have features:
Responsive web design (that means it works anywhere)
Free hosting and SITE123 subdomain
Free SSL/HTTPS encryption
Ability to add email accounts
Ability to add an unlimited number of pages to the design
Free image and icon library
Support for multiple languages
Blog integration
Scheduling and booking tools
Logo resizer
Custom form builder
31 ready-made page options to choose from
Social media integration
Google maps integration
So you get the picture, right? Even though SITE123 is a free website builder, it is packed with tools and features. Anything you can imagine creating or doing with a website is built right in.
Get Started
If you need a website, there's no reason not to try SITE123's free website builder. You don't have to pay anything to get started and you can have a website online in just three steps – pick a website template design, add your content and publish!
More than 1 million websites have already been created with SITE123. Is yours the next blog, online store or general purpose website to go live. Browse the templates and try SITE123 today.
Our thanks to SITE123 for sponsoring this post, and helping to support Design Shack.