Wedding season is here. Whether you're planning to design invitations and cards for your own wedding, or for a client or a friend, there are several wedding card design tips that you'll want to consider!
Wedding invitations present an opportunity to work with some beautiful elements and printing techniques to create a piece of art that isn't part of the usual workflow. From scripts with long tails to foiling and amazing paper stocks, designing wedding cards and invitations can be a lot of fun (and a bit of a design challenge).
The big thing to keep in mind is that the invitation should evoke an emotional connection to the couple. It should reflect their personality and style.
1. Pick a Visual Theme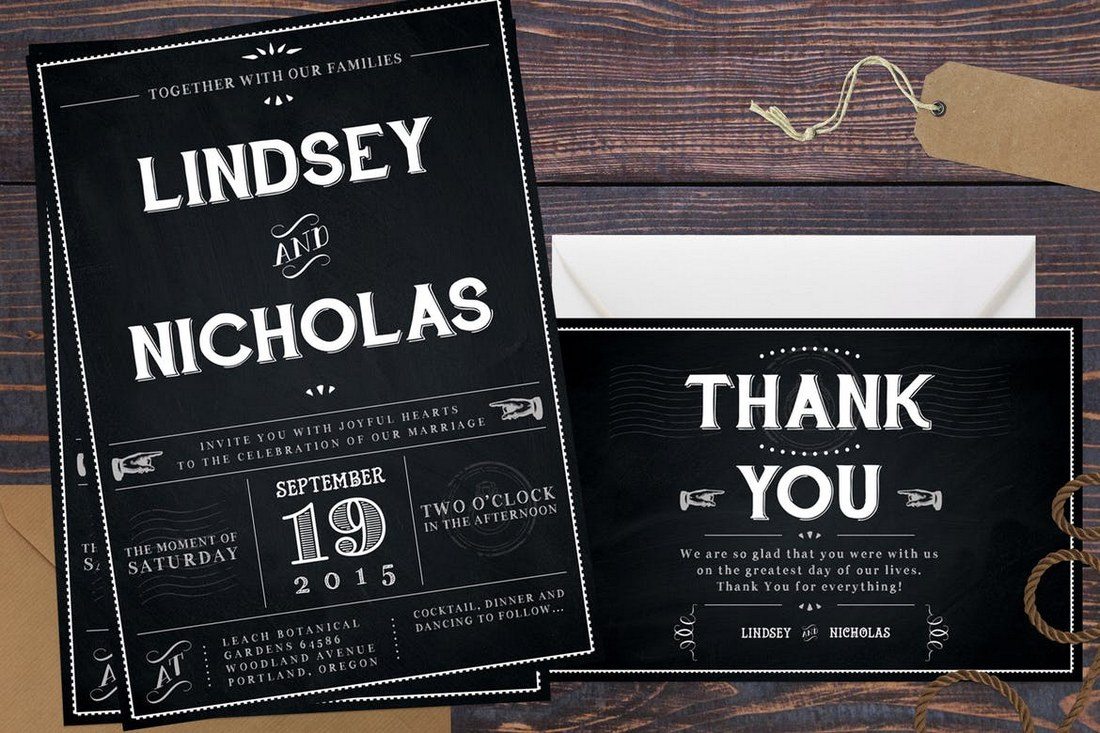 Any old card won't do for a wedding invitation. For most couples, there are high expectations for every element of wedding planning and execution, including the look of the invitation.
Start with a visual theme that fits the couple. Use colors and imagery that are customary for the couple. If there's a color scheme for the ceremony, start with that. Any details you can glean about the location, number of guests or how formal (or not) the wedding will be can help you get a feel for where to begin.
Most wedding invitations tend to fall into a few different styles: Traditional and elegant, simple and minimalistic, modern and bright or vintage. Another popular option is a photo-based style.
2. Use a Beautiful Typeface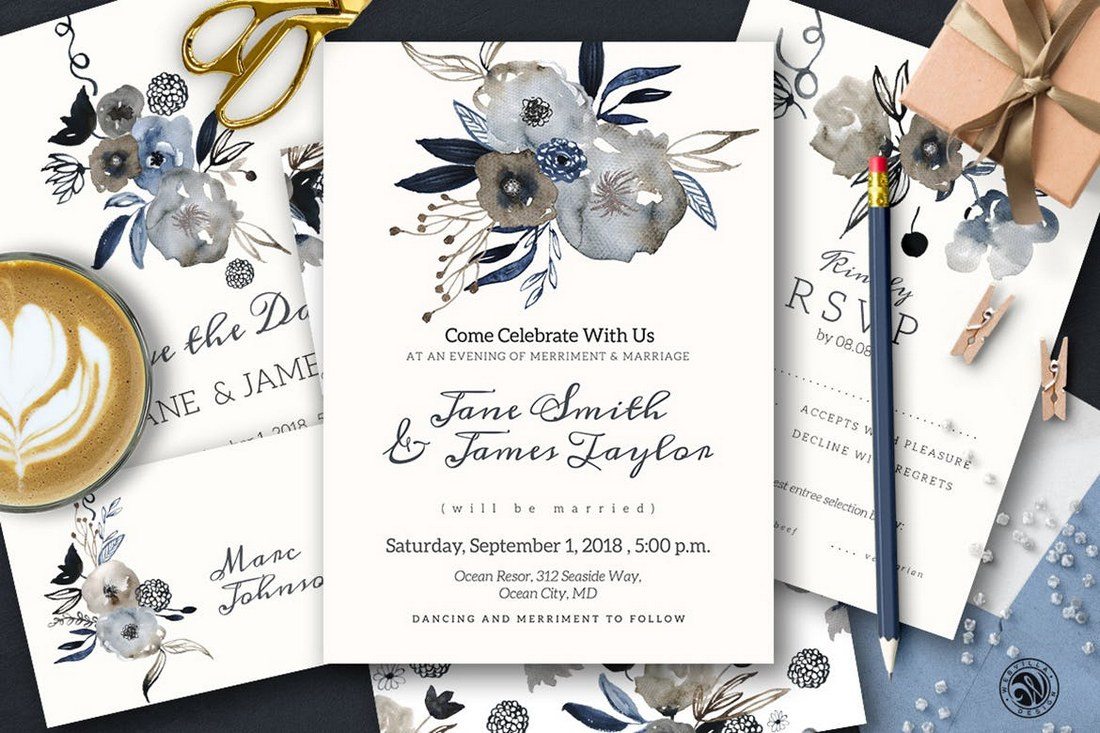 Beautiful typefaces are a common feature of wedding invitations. Scripts, brush, calligraphy and handwriting fonts are highly usable options because invitations have a limited amount of text.
Pair a beautiful typeface with a simple sans serif or serif option to maximize the amount of contrast between text elements and create balance.
Pick a key piece of type – such as the names – to use the special typeface. This treatment can make the names, and type choice, feel more special.
Not sure where to start when it comes to finding a beautiful typeface? We've collected our pick of the best script, brush, and calligraphy fonts.
3. Provide Vital Content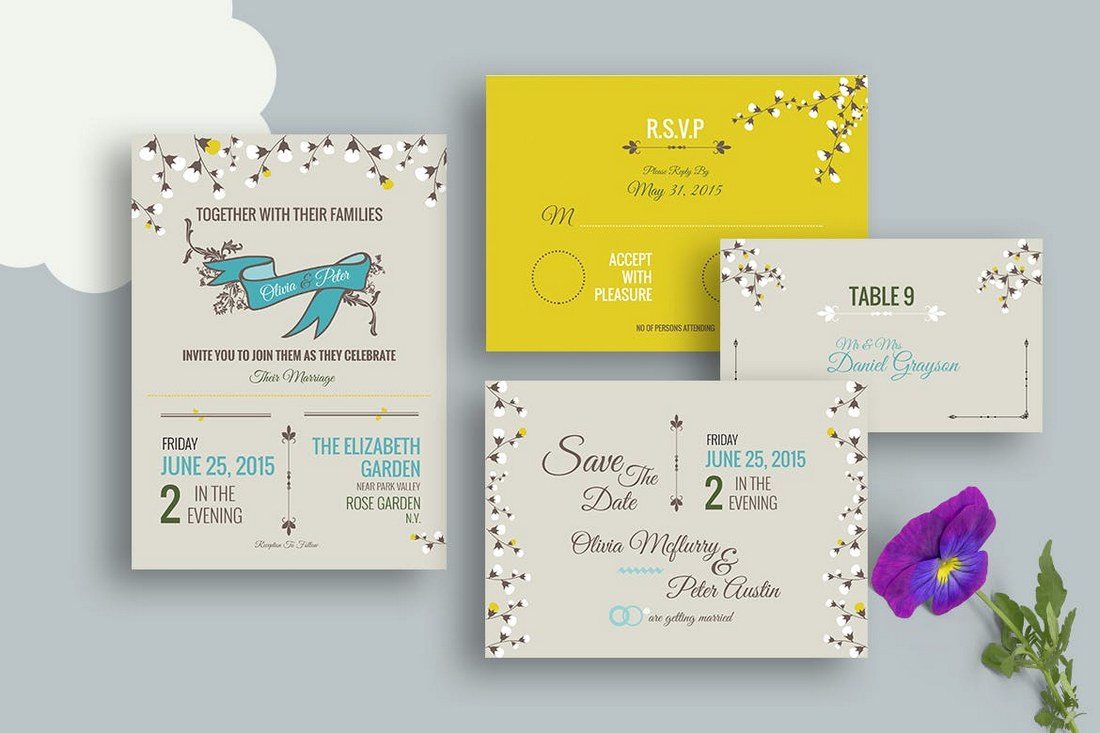 A good invitation includes key information for users. Make sure to answer these questions with the design.
Who is getting married?
When is the wedding?
What is the location?
What is the theme or attire? (The visuals can provide a clue.)
Where can I find more information or RSVP?
4. Link to Your Website
Most couples today create a wedding website or use a hashtag on social media to help engage family and friends with their big day.
Make sure these elements are on the invitation so everyone knows how to be a part of your wedding from the start. You can encourage them to click on a photo gallery or share photos they have of the couple using the hashtag to build "hype" for the wedding.
These small details can help make everyone feel more involved, and remember to RSVP because your wedding is a top-of-mind event on multiple platforms. (Plus, they're likely to see others posting about it as well, making it even more top-of-mind.)
5. Use a Cool Ampersand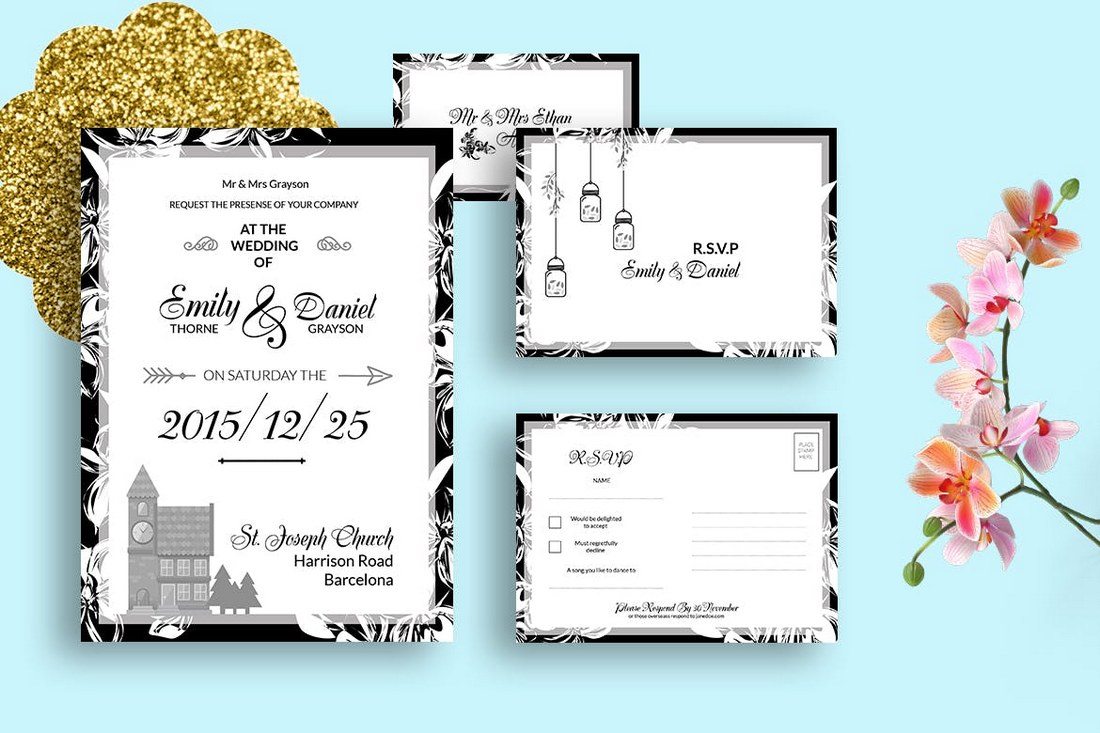 Almost every wedding invitation or card uses two names with an "and" between them. Celebrate the wedding of John and Ashley.
Switch out that "and" for an ampersand.
A cool ampersand can add a great design element that can also be a lot of fun to work with.
Use an ampersand in the same typeface as names or opt for a different typeface altogether for a logo-style approach to lettering. Most typefaces include the character, with some that are more elaborate than others. Choose one that matches the personality of the couple and adds something a little unexpected to the design.
Not sure where to start? We have 10 fun, and free, typefaces with great ampersands in this ode to the character. (Chopin Script is particularly nice.)
6. Customize a Template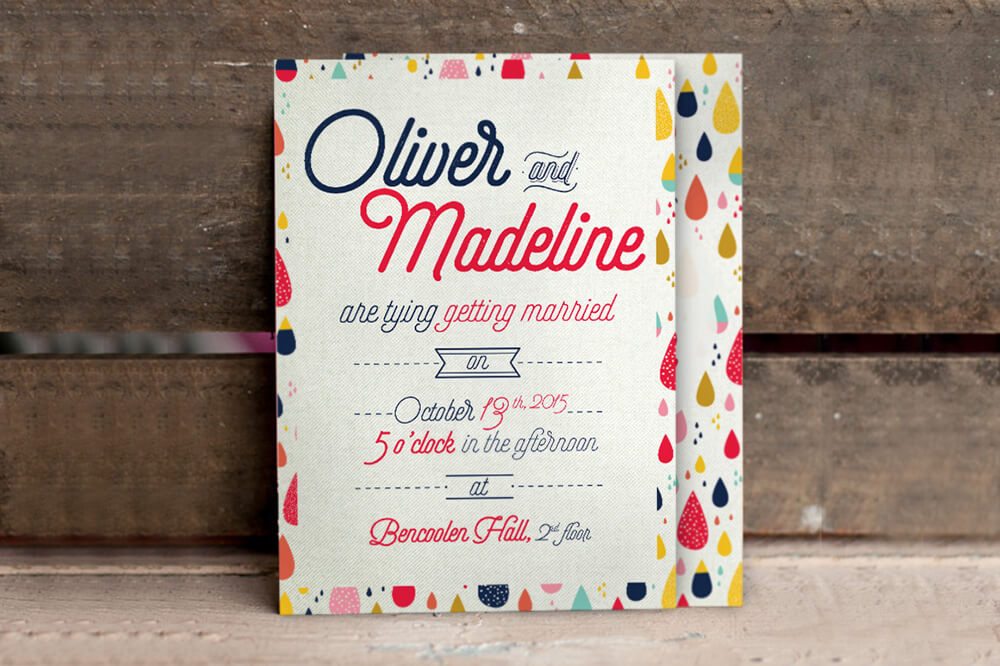 Starting with a premade wedding invitation design template can be a great way to get the design moving and give you an idea of what style fits the couple best.
A template can also jumpstart this type of project for designers that aren't as accustomed to working on print design projects since templates will come in standard sizes and include elements such as CMYK color and bleed lines for better printing.
Just because you start with a template doesn't mean you plug in new names and dates and call it a day. A good template is fully customizable. Change colors or typefaces or elements to best suit your needs. Make it your own in the design process.
Ready to get started? All of the wedding invitation examples in this article are part of our pick of wonderfully designed wedding cards and invitations.
7. Upgrade with Fancy Finishes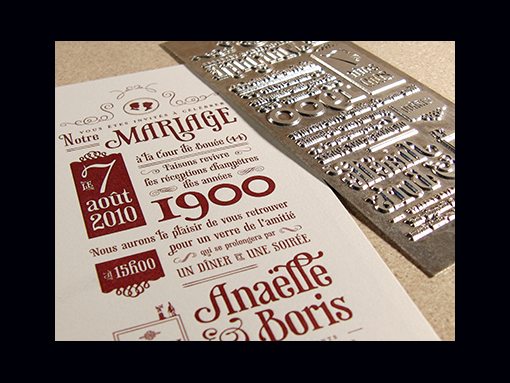 When designing for print, particularly an invitation, finishes can make all the difference.
Incorporate an element such as foil, UV coating, embossing or letterpress to make the invitation stand out.
8. Make it a Photo Keepsake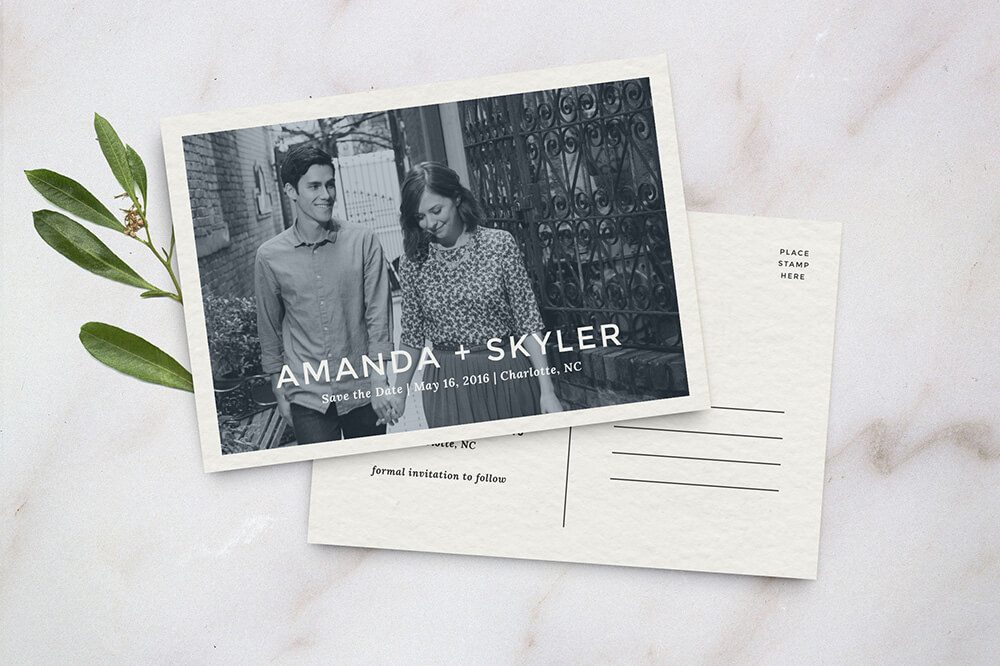 The sad thing about designing a card or invitation is that you know the recipient will open it, take a look and probably throw it away. Make the design have a little more lasting power with a wedding invitation that doubles as a beautiful photo keepsake.
A great image of the couple paired with simple typography can turn into an amazing showpiece of a design that people will want to hold on to. (It's also a great way to showcase those engagement photos and get the best one to friends and family.)
Don't have a photo that fits the bill? Consider an illustration caricature instead.
9. Pay Attention to Packaging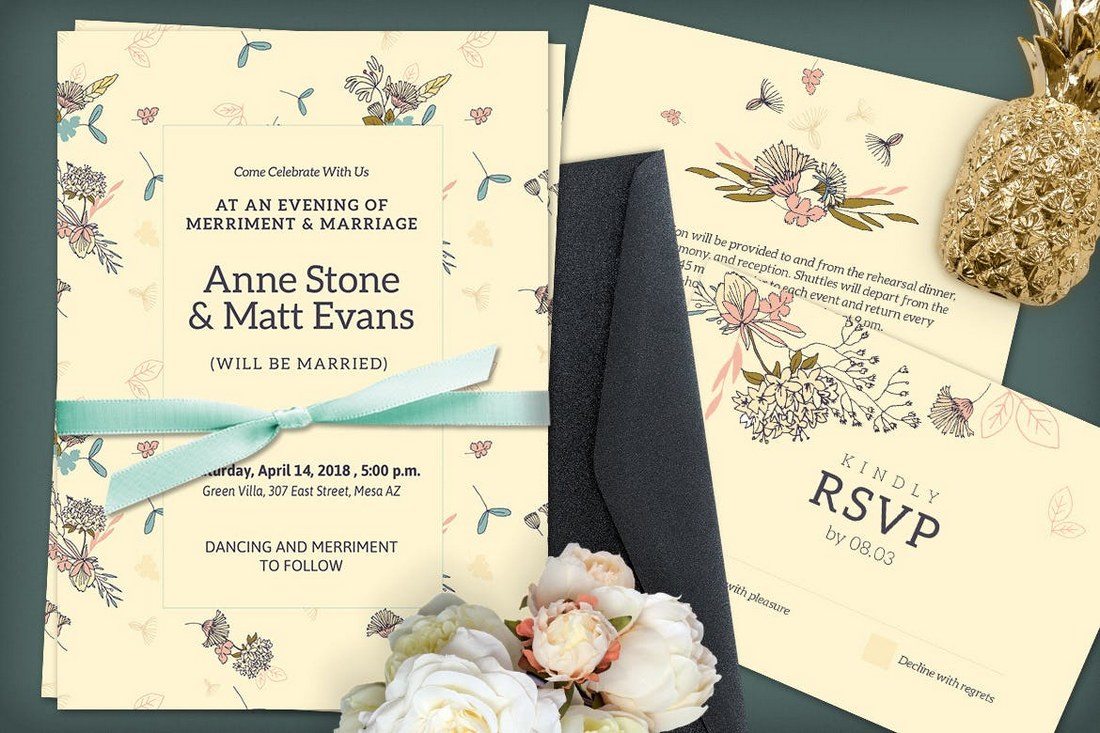 A wedding invitation is more than a single card. Even if you only design a one-sided invitation – which is a popular option – it will likely pair with other pieces to get mailed out.
The look and design of enveloper, return cards and return mail envelopes are just as important. Every bit piece included in the package with the invitation should communicate the same feel and mood as the card itself.
Look for envelopes that match the color and sophistication of the card design. Use a similar but more streamlined version of the same design for all secondary elements, such as return cards.
Consider the outside of packaging, such as how envelopes are addressed as well. Use the same typefaces as the card for maximum – and a polished – impact. (And make sure to pre-address return cards for easy RSVPs.)
10. Print on Great Paper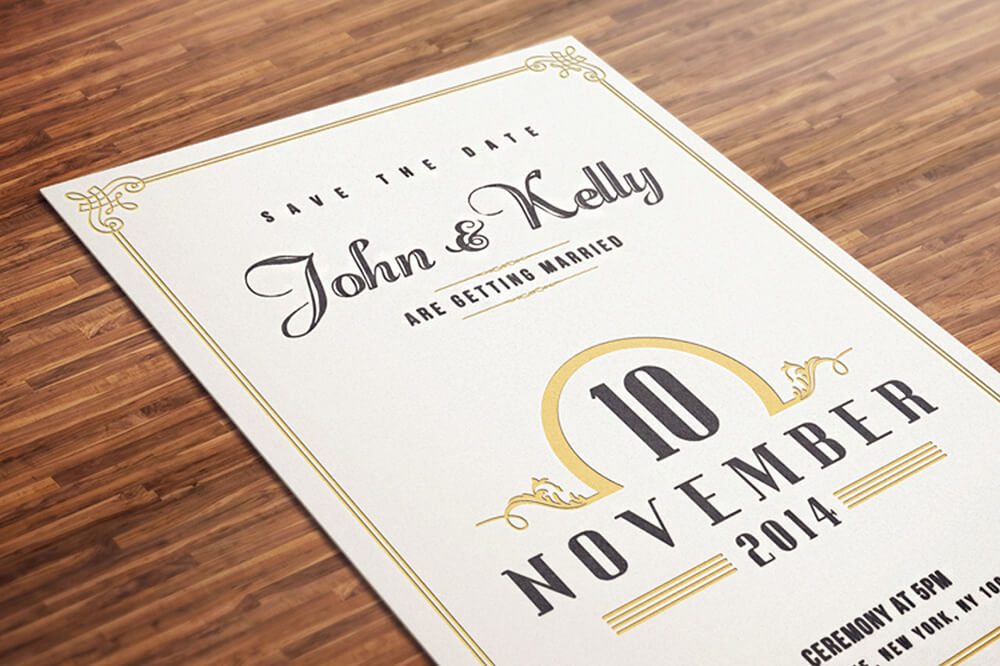 Finally, when creating something that will be printed, nothing says the result is special like great paper. Opt for a high-quality stock with a good weight and feel.
Sturdy invitations on good paper often look better and demand to be touched. This tactile part of graphic design is something that not all projects come with and you should take advantages of those opportunities when you can.
Wedding and bridal design projects often come with budgets that allow for stellar print jobs that make an impression. Help pick a paper for the design that matches the feel (literally) of the visuals.