Whether you're looking for a MacBook mockup or a MacBook Pro mockup, we have you covered with this extensive collection. We're featuring a mix of MacBook mockups, realistic illustrations, and flat/stylised versions of these MacBook notebooks for all types of use case.
Totaling over a hundred different MacBook mockups in all shapes and sizes, these are great for dropping in your own work, applications, wallpapers or examples to give them a unique look-and-feel.
Some are free, some cost a few dollars, but each of them is unique and interesting.
Download thousands of beautiful product mockups (for both physical products and devices), to showcase your digital or physical design with an Envato Elements membership. It starts at $16 per month, and gives you unlimited access to a growing library of over 2,000,000 mockups, design assets, graphics, themes, photos, and more.
This beautiful MacBook Pro mockup is perfect for creating a beautiful mockup scene for your website header and social media designs. It features a creatively designed abstract scene with a customizable layout.
A collection of MacBook Air devices featuring both old and newer versions of the Apple laptop. These mockups are most suitable for portfolio and app showcase presentations. All of the mockups include transparent backgrounds as well.
This bundle of MacBook mockups includes 4 different mockup scenes featuring various angles and views of the device. It also changeable backgrounds and smart objects. The mockups are also available in 4K resolution.
A realistic MacBook mockup for showcasing your web app designs, screenshots, and designing website headers. This mockup comes in multiple views and angles featuring different lighting conditions and editable scenes. It includes 6 mockup templates.
Here we have a 3D MacBook Pro mockup that is hard to take eyes off. It comes in a 3000x2000px resolution, and offers well-organized layers, and can be fully customized to suit your needs. The package also offers a help file to guide you through the editing process.
Next up we have five styles of MacBook and iPhone helping you present your designs in the best light possible. The items come in 3000×2000 px high-resolution and the background color can be easily tweaked using smart object layers.
Check out this MacBook Pro mockup set containing three photorealistic styles to help you showcase your designs and create a solid impression on the clients. It comes in a 3000×2000 px, 300 DPI, and can be edited with ease. A great MacBook mockup in PSD format!
This monochromatic MacBook template shows the laptop kept on a couch and especially appeals to the young audience all thanks to its super chill appearance. Just drag and drop your designs using smart layers, and you are good to go!
If you are looking for a clean and minimal MacBook template to showcase your designs to prospective clients, consider this option that comes in in 5120 × 2880 pixels resolution at 300 PPI, and is available as a free download.
A free and creative MacBook Pro mockup that's been made with a real photo. It's easily editable and includes smart objects for placing your designs in the mockup with just one click.
This bundle of MacBook Pro mockups includes 10 different mockup templates featuring different angles of the new MacBook Pro with the touch bar. The mockups are also available in easily editable PSD files in 4K resolution.
Another stylish MacBook mockup template featuring a flying angle design. The mockup is fully editable and comes with separated layers and smart objects. It's ideal for using with website headers and portfolios.
A bundle of minimal and clean MacBook Pro mockups. This pack includes 5 different MacBook mockups featuring different angles and views of the device. All of the templates include smart objects.
This mockup pack includes a complete collection of Apple device mockups, including MacBooks, iMacs, iPads, and iPhones. It comes with a total of 5 mockup templates.
With this realistic MacBook Pro mockup template, you'll be able to show off your designs in a more professional way. This bundle includes 4 different mockups with different angle views of the device.
Another creative and real-photo MacBook template that can be used to design a beautiful header or a hero scene. It's available in 6 high-resolution PSDs featuring different angles and views of the device.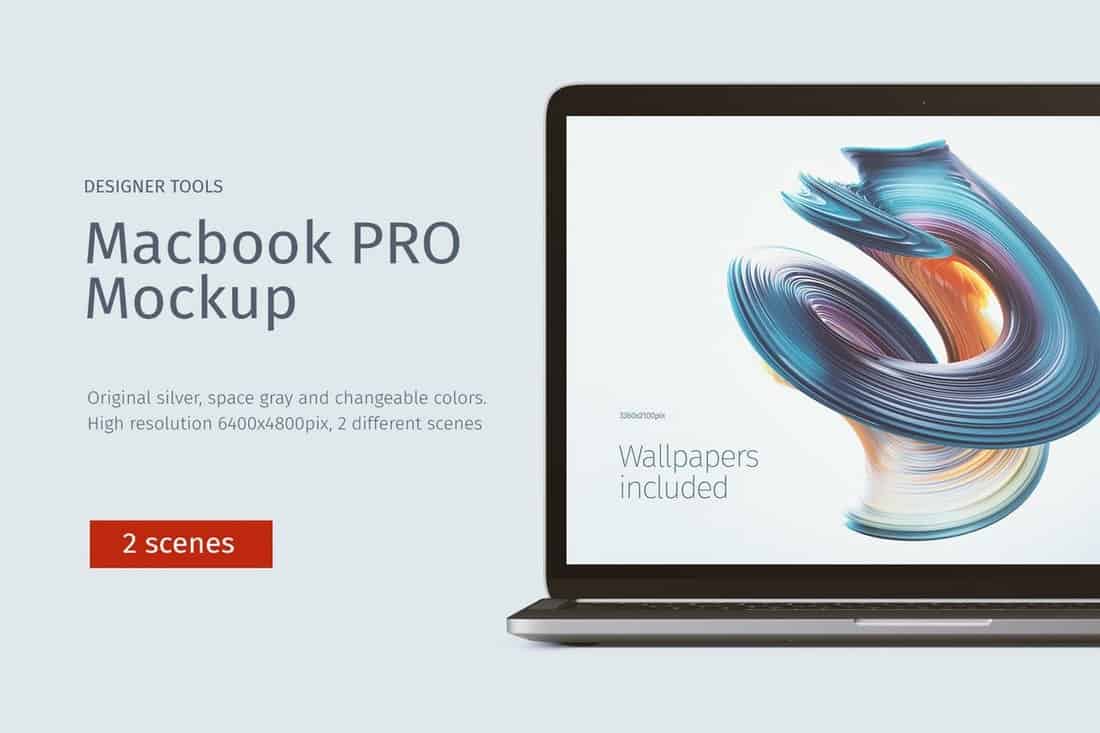 An elegant MacBook Pro mockup template that comes with 2 different scenes featuring the device in both front and top view angles. The mockup comes in PSD file format and it can be easily customized to your preference.
This is a bundle of MacBook Pro mockup template that includes 12 different views and angles of the device to let you showcase your designs in all types of designs. The mockups are available in 3800 x 2800 resolution.
A minimalist MacBook mockup you can use in your website designs and portfolio showcase. It includes 5 mockups in 4000 x 2667 resolution with various angles.
This stylish MacBook Pro mockup comes to you in 4K resolution. It's fully equipped with changeable backgrounds and smart objects for easily editing and placing your own designs in the mockup. The template is available in 2 styles and supports both Photoshop and Sketch app.
A collection of three high-res photo-mockups of a MacBook Pro. They include this MacBook on a wooden desk with a mouse, and another with the MacBook pushed up against the wall. The mockup comes with a smart layer for showcasing your design and a filter that makes your screenshot look right at place in this lighting.
A highly flexible set of Macbook mockups that allows you to customize and edit the templates however you like. The PSD files are created with well-organized layers to allow you to change colors, shadows, and do much more to personalize the mockups.
A professional MacBook Pro mockup template that's ideal for showcasing your websites and web apps. The tilted angle of the mockup makes it also great for using it on your website headers.
Showcase, present, and display your apps and website designs in a professional way using this high-quality mockup template. This MacBook mockup is fully customizable and comes with smart object layers to let you easily edit it to show off your designs.
This is a bundle of 21 unique MacBook Pro mockup templates that feature mockups based on real photos and real-world backgrounds. The many different background settings and the angles of the MacBooks in these mockups will let you present your designs in several different ways.
Another set of mockups of the new MacBook Pro with the touch bar. This pack includes mockups featuring 8 different views of the device and in all 3 color models of the MacBook. The templates are available in 4500 x 2500px resolution.
With a beautiful outdoor background, this mockup template gives a great view of the MacBook screen, allowing you to easily showcase your web apps and websites using the mockup template. It includes 11 different PSDs featuring different angles of the MacBook Pro.
Create your own header or a hero image for a website using this bundle of mockup elements. It includes 31 office objects and 7 product mockups, including a MacBook, photo frames, and more that you can easily rearrange to create your own mockup scenes.
Another high-quality mockup for showcasing products and designs. This mockup template gives you a great angle of the MacBook for presenting your designs to clients. It also includes 5 other angles of the device as well.
This pack of mockup templates includes 6 mockup files featuring different angles of the MacBook. They all feature the elegant space gray model of the MacBook in high-resolution PSD files.
Even though this is technically not a MacBook mockup, you can use it to showcase your designs and products on websites or present it to clients in a creative way. It includes 6 PSD files featuring papercraft-style illustrated laptop mockups.
This is a big bundle of mockups that includes 36 mockup files featuring various devices in natural backgrounds. It includes 17 MacBook Pro mockups, 17 iPad Pro mockups, 2 iMac mockups, and much more.
This bundle of mockups comes with not one, not two, but 29 different 13-inch Retina MacBook Pro and iPad mockup templates. Each photo featured in the templates are completely unique and were taken by the creator. Who guarantees you won't find them anywhere else.
A pack of 9 beautiful mockups of iPad and MacBook templates. Each template has been crafted with fully layered smart objects to make sure you can easily edit them to insert your own designs.
This scene features a stylish shot of the latest 2016/2017 MacBook Pro with Touch Bar, next to a Jet Black iPhone. You can use this mockup PSD to showcase your Mac OS app designs, iPhone app designs, or any branding or graphics work. It's free for both personal and commercial use.
This scenic MacBook mockup depicts a modern home office scene for you to showcase your designs in style. The PSD file is fully editable and features 3088 X 2056 resolution.
A MacBook mockup with a busy desktop scene. This template is ideal for creating a website header, social media covers, blog posts, and more.
This bundle of mockup templates comes with 5 mockup files, including 2 MacBook mockups, 2 iPhone mockups, and 1 iPad mockup. All featuring 3000 X 2000 resolution.
A MacBook in a modern and a minimal desk environment. This mockup is perfect for a startup website header, social media, and other design needs.
This MacBook Pro mockup features a modern and a stylish background that will fit in nicely with your minimalist designs and presentations.
This bundle features 5 different MacBook Pro mockups depicting different scenes from a brainstorming session.
Featuring a stylishly elevated MacBook, this mockup allows you to customize its color in Silver, Space Gray, or Gold by easily switching layers.
This is a bundle that includes 8 different mockups of both MacBook and iMac featuring a workplace environment.
10 high-resolution photos turned into easily editable mockups. This pack features several different mockups of MacBook Pro Retina and MacBook Air alongside iPhone 5s and iPad.
This bundle features flat design mockups of the iPhone 6 (black, white), iPad Air (black, white), MacBook Pro, and iMac with 10 pre-made combinations to be used with your web-based design projects.
If you're working on a project featuring a retro design, this MacBook Pro mockup is the best way to showcase and present your project.
The beautifully minimalist desk background is what makes this MacBook Pro mockup more attractive. The pack includes 8 different mockups shot in different angles.
Featuring in-house backgrounds, these MacBook mockups includes 6 mockups in 4 different settings, including bedroom, office/cabinet, and dining room.
If you'd like to create your own unique scenes using Apple devices, this mockup bundle is the way to do it. The bundle includes 28 layered mockups of MacBook, iPhone, and iPad, which you can easily move around and customize to create different types of scenes.
A stunningly realistic photo mockup of the MacBook Air. Ideal for showcasing your brand and web designs.
Inspired by flat design, this vector based MacBook Air mockup will certainly make your flat design websites stand out from the crowd.
Just as the name describes, this bundle features 5 stylish MacBook mockups featuring elegantly designed backgrounds. It looks ideal for showcasing creative and fashion related designs.
The attractive retro style theme of this mockups bundle makes it truly one of a kind. It includes 8 different MacBook mockups featuring different backgrounds and angles.
The New MacBook PSD Mockup
A sleek, newly designed PSD mockup of MacBook Pro (that's the new one, that came out fairly recently!)
Gold MacBook Vector
A fully vector version of the new MacBook Pro, gold edition. Use this vector for a modern presentation, mockup, or other design. Can be scaled to any resolution you want.
Free Mockup MacBook Air
A beautiful MacBook Air mockup, available completely for free. Lovely stuff.
Hip MacBook Pro Mock-up
Not your typical coffee-cup-hand-holding-device-type of mockup. A hip, stylish and unique MacBook Pro mock up.
MacBook Pro PSD Template
This is a free download of a MacBook Pro PSD (it's the MacBook Pro with Retina display resolution of 2880 x 1800 @ 300DPI).
Sleek Apple Product Mockups
These are lovely realistic 3D mockups of four Apple products with long shadows including an iPhone, iPad, MacBook/MacBook Pro and iMac. Beautifully polished and simple enough to allow your own design to shine when shown in the mockup, we're really pleased with these!
MacBook Pro Retina Display PSD
A fully layered Retina MacBook Pro, is a super contribution to Premium Pixels from talented designer Nick Herasimenka.
MacBook Pro and Coffee Mug
Here is a nice photo-realistic mockup to showcase your app or web design in a MacBook Pro display, plus you can add your logo in a coffee cup. This mockup was made for easy to use, as easy as double clicking and placing your design into the Smart Object.
Hero Header Mockup
This PSD (exclusively on Creative Market) has a unique perspective, which showcases your work with hyper realistic and professional results in just a few clicks.
MacBook Pro Mockups PSD
These are 15 scalable, pixel-perfect and photorealistic mockups of the MacBook Pro with Retina display.
MacBook – 3 Finishes (+ Freebie)
This layered mockup allows you to quickly display (via smart object layers) your websites, app showcases and other designs.
MacBook Pro in Cafe
A simple scene depicting work on MacBook Pro at a restaurant/cafe, for you to use in demonstrating your work.
Retina MacBook Pro PSD
I wanted something a bit more glossy with some alternative reflections and a view over the keyboard. So this is it!
MacBook Pro 13″ Mockup
This high-quality promotional shot is perfect to show off any kind of app, or website or media project, within the screen of the MacBook Pro.
MacBook PSD Mockup Hipster
This one is a premium photorealistic PSD mockup of the MacBook Pro named "Hipster". You can see why! Easy to use because of smart layers. Ready to present your works.
MacBook Pro Photorealistic Set
A brand new set of four MacBook Pro photorealistic mockups. Photoshop files comes with smart objects & filters so its super easy to use and modify. Photo fliters can added or removed to add a personal touch.
MacBook Pro Hero Headers Mockups
Are you looking for a way to make your application or design presentation stand out? This collection of MacBook Pro mockups is sure to stop viewers dead in their tracks
MacBook Air Mockup + Smart Object
Bring your design to life with this gorgeous product mockup. Simply replace the carefully positioned smart object to see your design replace the blue section of the image. Perfect for use in presentations or meetings.
Vintage MacBook Photorealistic Mockups
This is an another set of four vintage MacBook mockups based on real photographs. The Photoshop files contains smart objects so adding your own screens is easy. Photo filters are also included in the file to change the vintage look.
MacBook PSD Mockup Valentine
Premium photorealistic PSD mockup of the Valentine's Day (MacBook Pro). Easy to use because of smart layers. Ready to present your works.
MacBook Pro Retina PSD Mockup
This one is a "plain free mockup" of MacBook Air. Simple!
MacBook Mockups Bundle
The pack contains 12 PSDs with MacBook, iPhone and iPad mockups. You can use them in any creative projects, through the well-organized PSD's. All scenes are 300DPI ready for print or you can downsize them for web, and all scenes are powered by Smart Objects.
MacBook 2015 Vector Mockup
A complete MacBook (2015) mockup that includes a full sized wallpaper, with Gold, Silver and Space Grey mockups.
MacBook Pro On Wooden Table Mockup
A simple side view of MacBook Pro on a wooden table.
MacBook Air Mockup
Make your designs stand out with beautiful high quality mockups. Place your design into a MacBook Screen and give it a realistic look while presenting your designs for clients or customers.
Top View Mockup of MacBook Pro
A minimal, plain top-view of MacBook Pro, placed on a flat table.
Simple MacBook Pro Mockup
This one is a simple Apple MacBook Pro mockup with a plain coffee mug.
MacBook Pro Mockup Pack
This mockup comes with a filter effect so you can edit it as you like, change color tone and make it look like vintage/retro. The filters are similar to Instagram photo effect.
Mockup Templates
We're teaching you how to use mockups, how to choose effective templates, and showing you where to find the best mockup templates for dozens of different design projects.