Most designers have no problem creating great visuals to share on social media. (That's almost a no-brainer!) But how can you boost your profile on social media channels without looking sleazy?
There's a fine line between fun, engaging content, and pushy or overwhelming. There's a lot of value in showcasing your work online, and you want to do it the right way.
Here, we're going to look at how to make the most of your design profile on social media. These tips work for personal and business accounts, and they help you walk the path of using social media in a genuine and helpful way.
Download thousands of beautiful Instagram post and story templates, Instagram video templates, and anything you need to supercharge your social media presence with an Envato Elements membership. It starts at $16 per month, and gives you unlimited access to a growing library of over 2,000,000 Instagram templates, design assets, photos, videos and more.
Find a Niche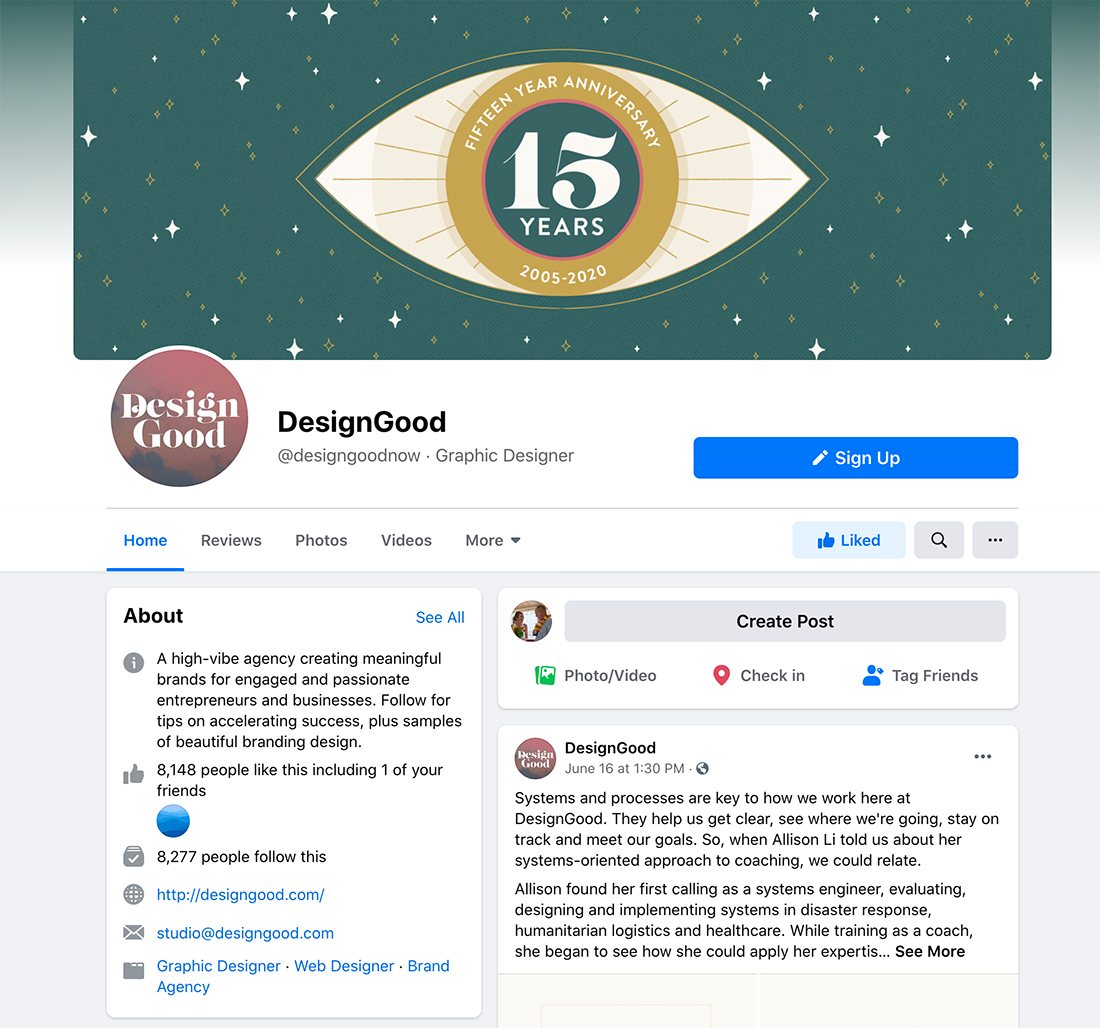 Think of social media as an extension of your network. Engage with people and brands that have similar interests to yours.
Often this is a niche space, particularly for designers, where you might connect with others who work in creative fields.
You can find this niche by following other designers or design firms that you know and doing a little research into popular design hashtags or topics and follow those as well. This is your community of people to start engaging with.
Make the Most of Your Bio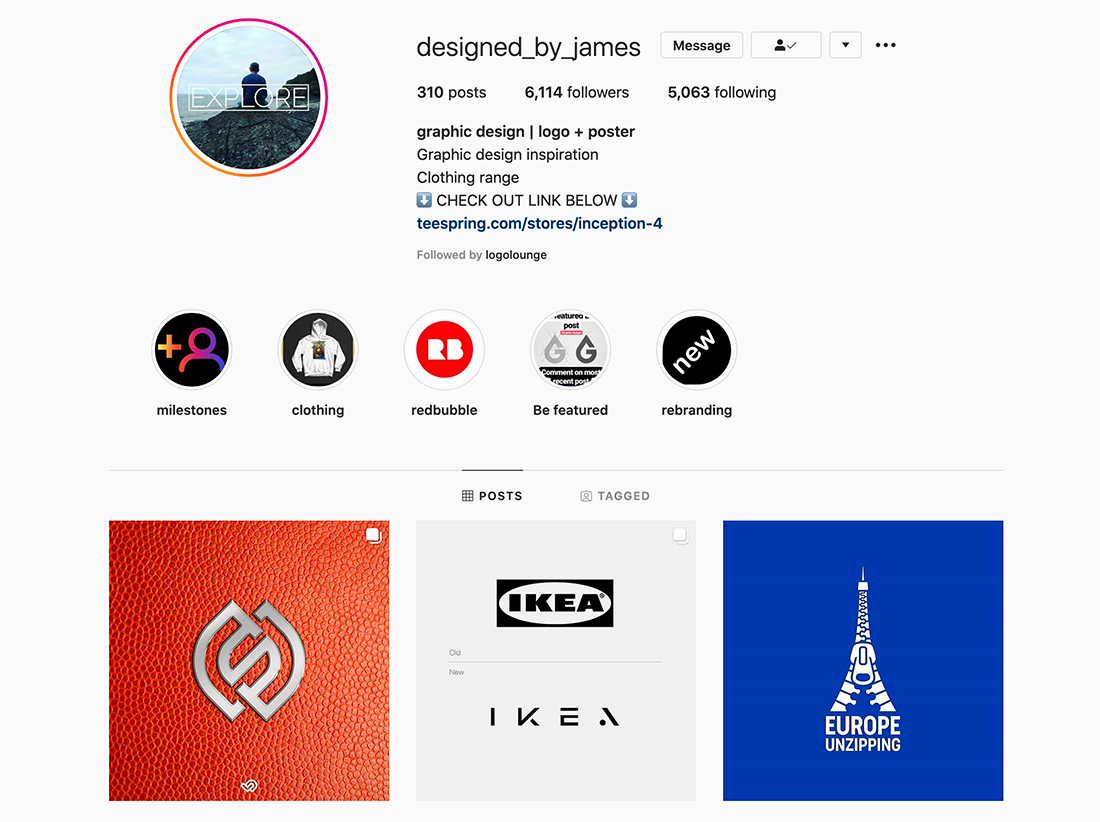 Promoting yourself on social media is more than just posting. Your bio will help other users decide whether to follow you (or not) and links to your website.
A good bio explains who you are personally but also in the design community. You can include an emoji or favorite hashtag if you like. Most importantly include a link to your website or portfolio.
If you plan to do a lot of Instagram link sharing (via a link in your bio), it might be worth having a link landing page for your content.
Don't Hashtag Spam
Hashtags are a great tool to help find new content and accounts with similar interests, but there's a limit to how much hashtagging you should do.
Use one to three hashtags that are relevant to the content you are posting.
Do you know those posts? The ones with 20 different hashtags? That looks like – and is in most cases – spam. Don't be that person.
Use one to three hashtags that are relevant to the content you are posting. The same is true of tagging other user accounts. If someone is in the photo, go ahead and tag them, that's completely appropriate. But if you are tagging Beyoncé to get follows, that's just spam.
People see through these sleazy tactics and won't follow you.
Join Conversations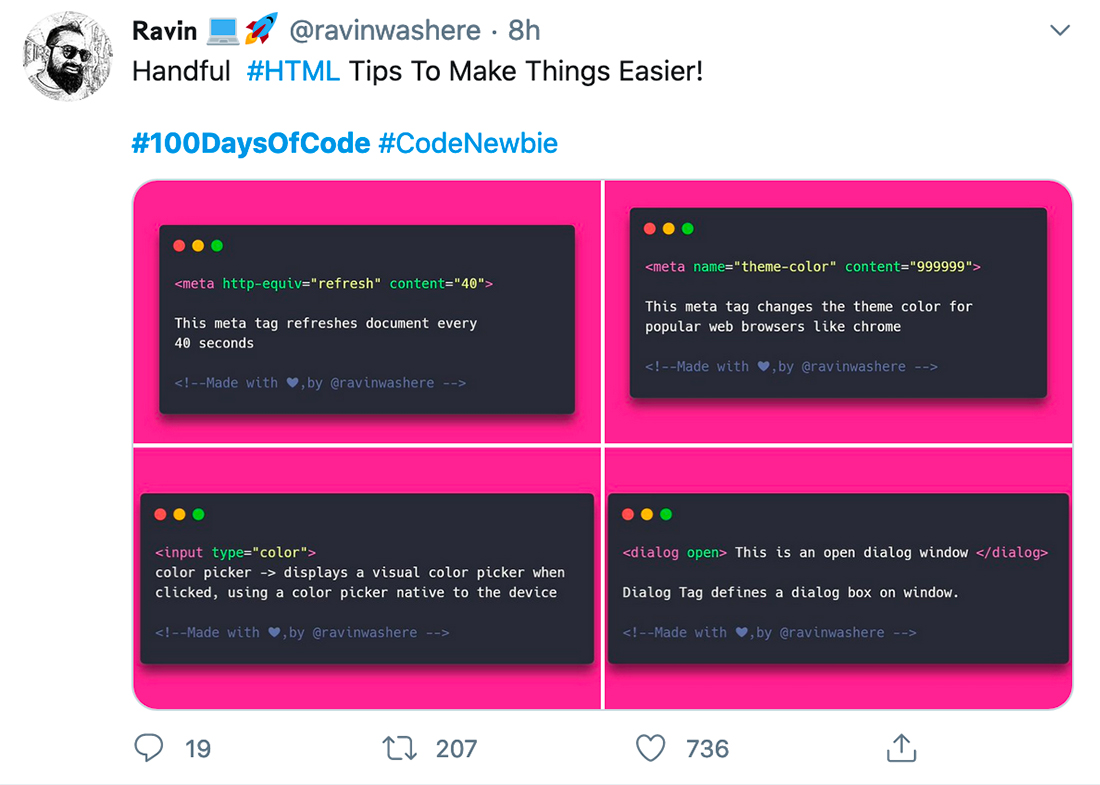 Once you find a community of designers on a certain social media channel, join conversations about creative topics when you have something to say.
Engaging with other accounts shows that you aren't just on social media to promote yourself but are active within your niche community.
You can like and share content as well as comment on other posts. Now here's the thing: Don't use comments to tell people to look at your profile or page; contribute to the conversation. Pushy or overly self-promotional comments won't get you very far.
Conversation starter: #100DaysOfCode on Twitter.
Post Work, But Limit Bragging
If you are planning to use social media as a place to showcase work, go for it. This can be a great avenue to show off projects.
Keep two things in mind:
Don't brag about projects or clients. The one exception is if you win an award. It's OK to post that, just be aware of the tone of any comments you post with it.
You are opening yourself up to comments and potential criticism. It is not a good idea to get in comment wars with people who don't like your work.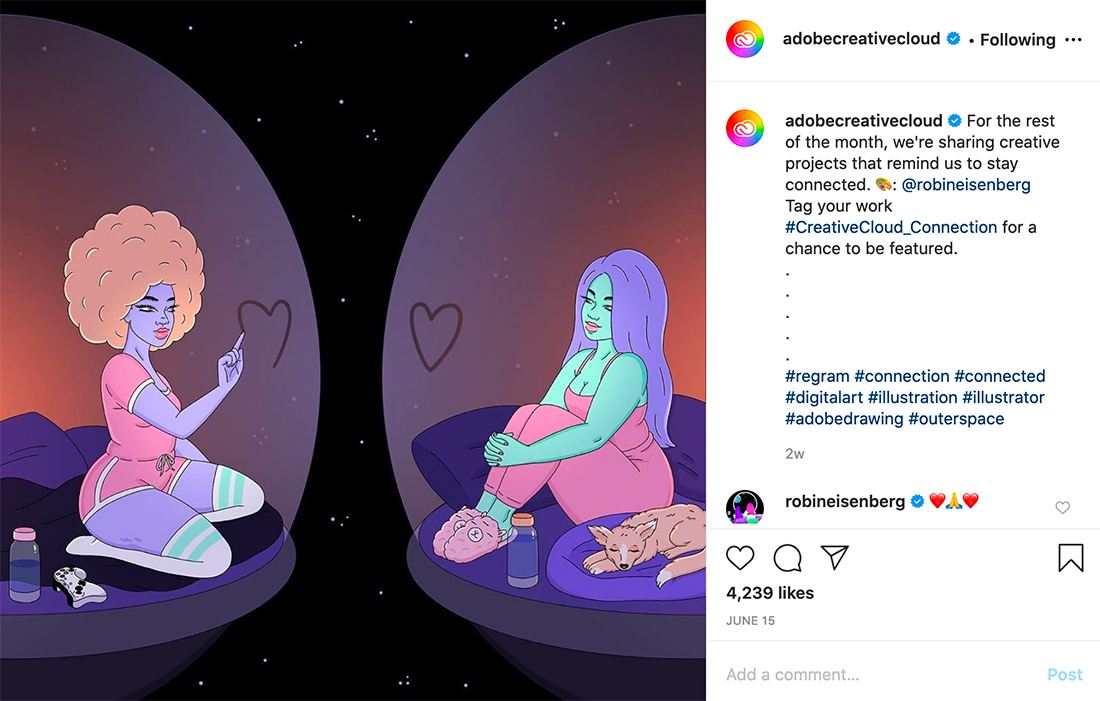 A lesser form of bragging is to reshare posts from clients or others who have highlighted your work.
This way you can show design projects through the eyes of others. You see this frequently with designers who do product design and less frequently with websites or promotional materials.
You can also share testimonials from your website or reviews on social media. All of these elements are made for sharing in the form of social media content. And if you do it sparingly, it won't look sleazy at all.
Take a Case Study Approach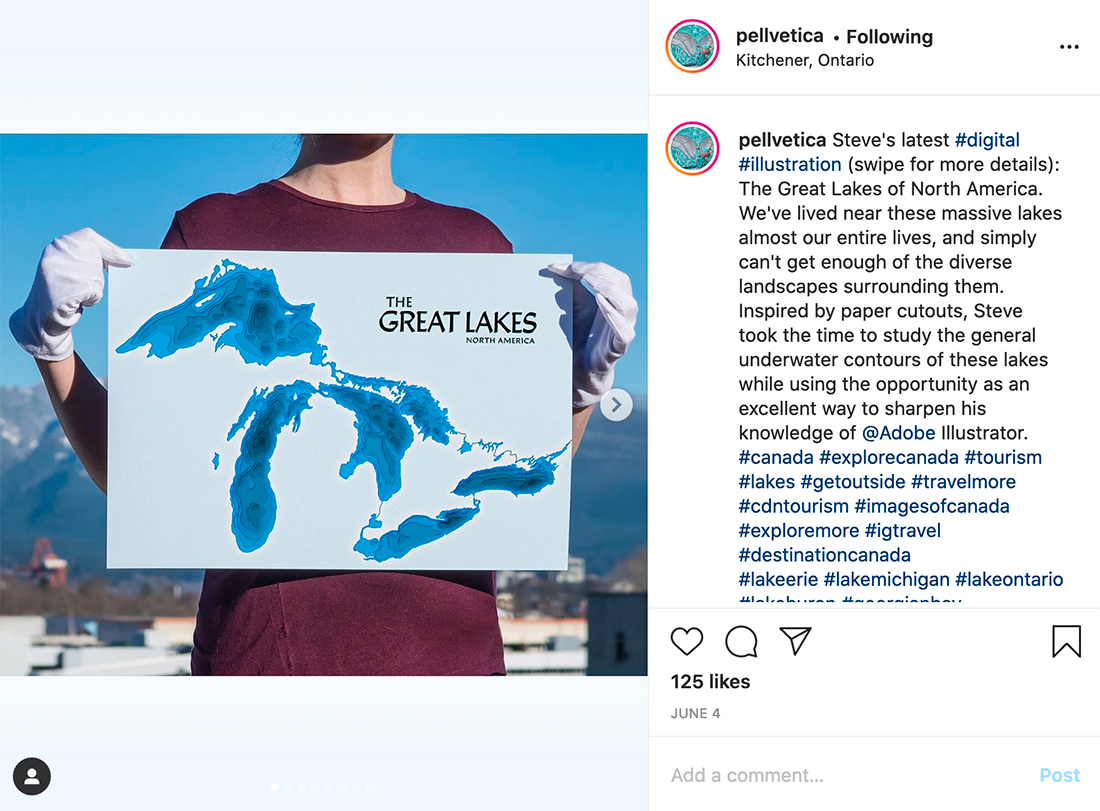 Social media can also be a great place to take a deep-dive or case study approach to show your work.
What went into a project? How did it come together? Instagram Stories, in particular, is an ideal format for this type of storytelling because you can gather content elements over time and post them in a mixed-media method.
If you plan to post a case study, make sure clients are OK with unfinished work product being shown.
It's OK to Be Personal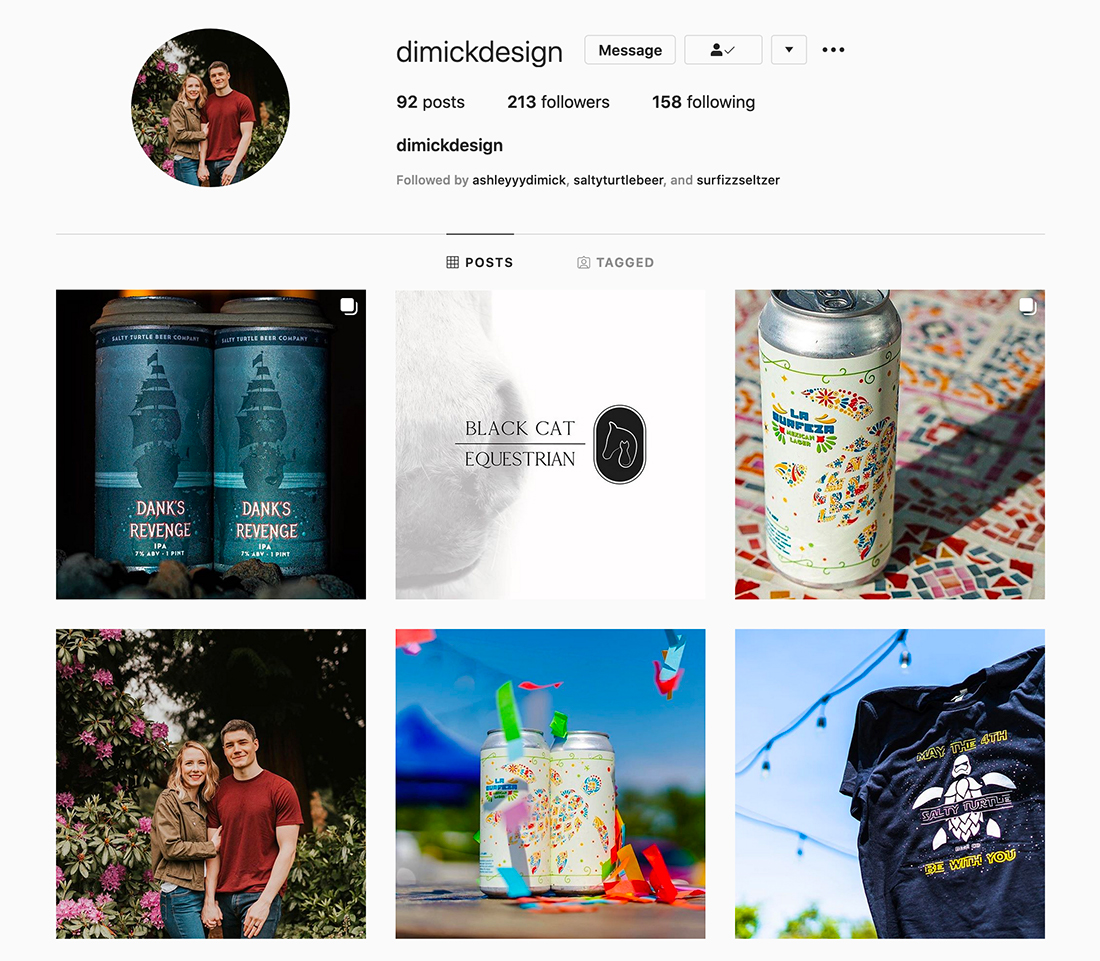 Just because you want to show design work on social media doesn't mean you have to limit posts to work product only. It's totally fine to post a mix of personal and professional things on most social media channels. (This shows people you are a real person.)
There are a few caveats though.
Stay away from offensive language or images that might damage your professional brand.
Think about your communities online. Would you want everyone to see the more personal posts? Make sure you are comfortable with them in a public space.
It's generally a good rule to avoid politics and religion if you are mixing professional and personal posts on social media … unless they are part of your brand and work.
Don't Troll
This one is simple and should go without saying: Don't troll others on social media. That's ultimate sleazeball behavior.
You could get blocked on a channel altogether depending on the level of behavior and you could turn off followers or potential followers.
Social media is a public forum. Be respectful.
Avoid "Sales" Posts
Nothing is worse than those accounts with great imagery and every post is some type of pitch.
To make the most of social media, learn the art of the soft pitch.
To make the most of social media, learn the art of the soft pitch. For most posts, you aren't directly selling yourself or your design services, you are building community with others.
Because of your posts and authority on a topic – that's why a niche is so important – when members of that community need what you provide (and post about), they will reach back around to you.
There are times when you are going to feel the need to "sell" on social media. It happens to all of us at some point. Just try to limit these interactions to less than 5% of overall posts.
Stop Auto-Posting
It's a bad habit of many people who want to be on social media but find themselves short on time: Auto-posting from one channel to another.
It's annoying to see a post on Facebook that references a link in bio or links on Twitter that just takes you to the same post on Facebook. It's a bad – and lazy – habit.
If you only have time to manage one social media channel, then just use one channel. Sending content across platforms doesn't work. Literally. Links don't work, images can break, and you never know what users will end up seeing.
If you want to be on multiple channels, be there, and engage. Otherwise, it's OK to pick the social networks that are best for you and what you do.
Conclusion
The trick to providing value on social media is to be real. Post and engage like a real person, not a robot. Create posts that showcase who you are and what you do.
Be humble and join conversations where you have something relevant to contribute. Your social media profile and personality should be an extension of who you are in real life.
Instagram Templates
Learn how to supercharge your Instagram account. Craft beautiful posts and updates, improve your branding, find templates, and use Instagram in a new, creative way!