Instagram is a platform full of visual designs. The better your photos look, the more attention you get. And when you're a designer promoting Instagram posts and story designs, you'll need an equally beautiful mockup to showcase them.
Whether you're a digital marketing agency showing off designs on a portfolio or a freelancer presenting Instagram designs to a client, you'll need gorgeous-looking mockups to showcase your designs like a true professional.
To help you find the right mockup for your Instagram design, we rounded up some of the best Instagram post and story mockup templates. There are all kinds of mockups in this collection, featuring perspective views and customizable designs.
Download thousands of beautiful Instagram post and story templates, Instagram video templates, and anything you need to supercharge your social media presence with an Envato Elements membership. It starts at $16 per month, and gives you unlimited access to a growing library of over 2,000,000 Instagram templates, design assets, photos, videos and more.
We made sure to include a few free templates as well. Have a look.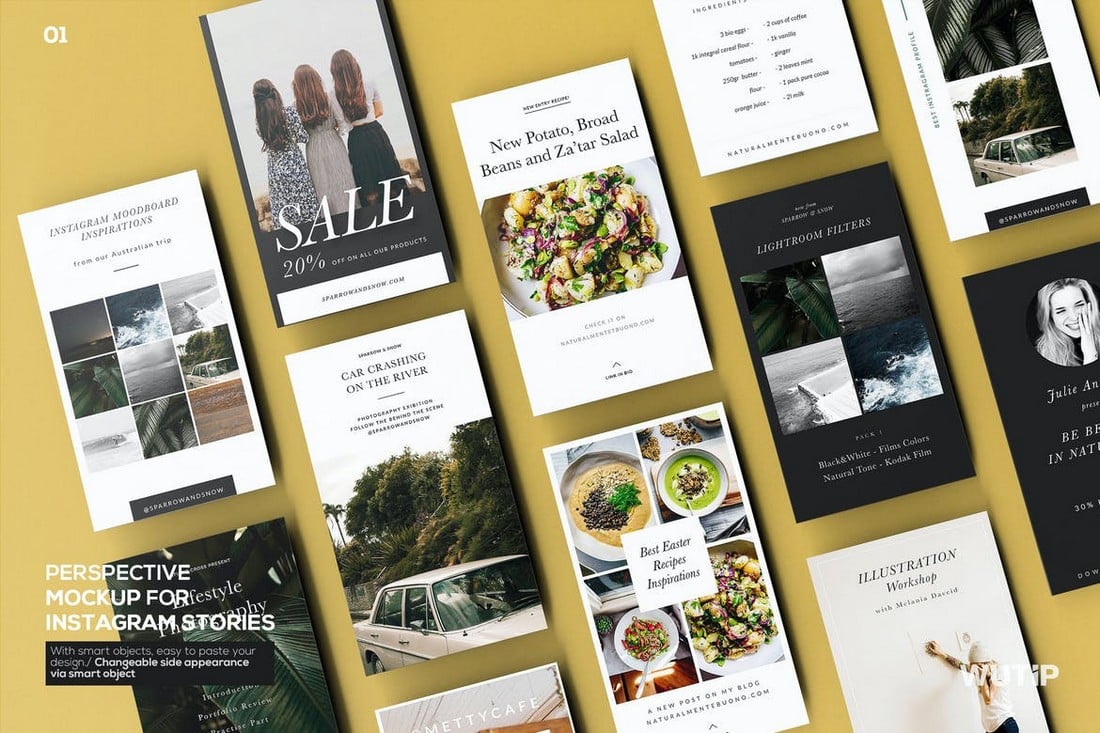 Mockups with perspective views allow you to showcase multiple designs while giving them more attention with a natural look. This mockup features the same design. It's perfect for showcasing several Instagram story designs at once. Especially for designing a background for a website, app, or even promoting your story template designs.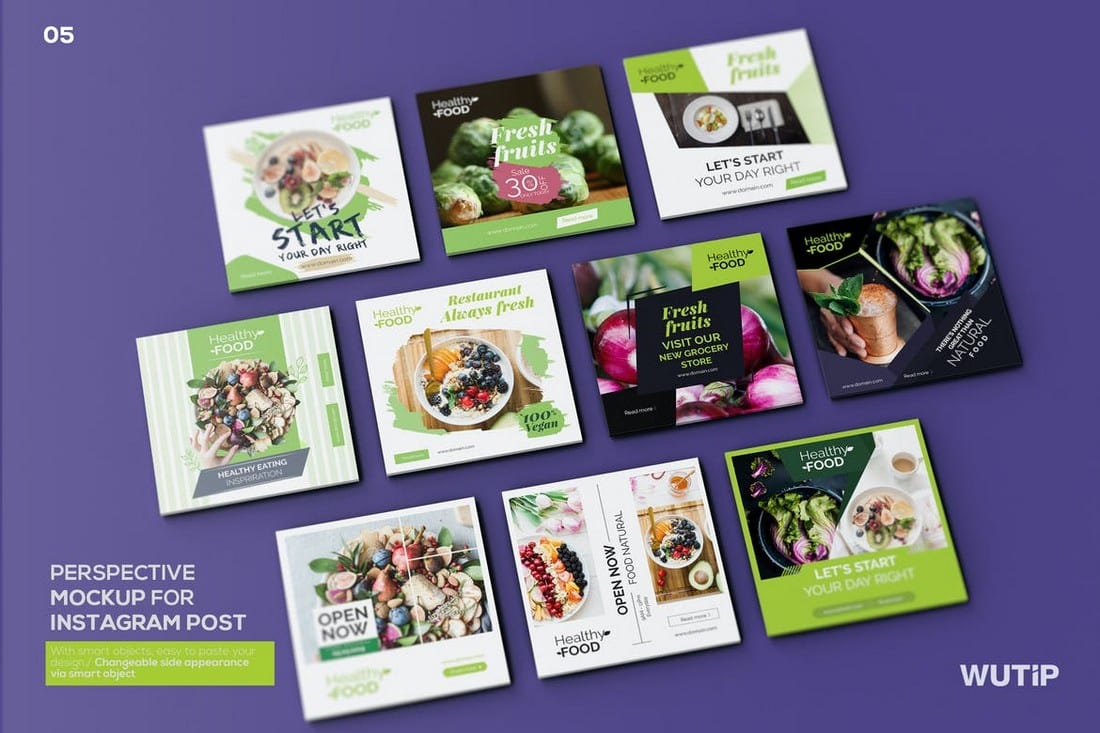 Why show off your Instagram post designs one by one when you can show 10 posts at once. This mockup is made for promoting your Instagram post designs with a perspective view. It'll come in handy when promoting Instagram posts on a website or even in presentations. You can easily customize the template as well.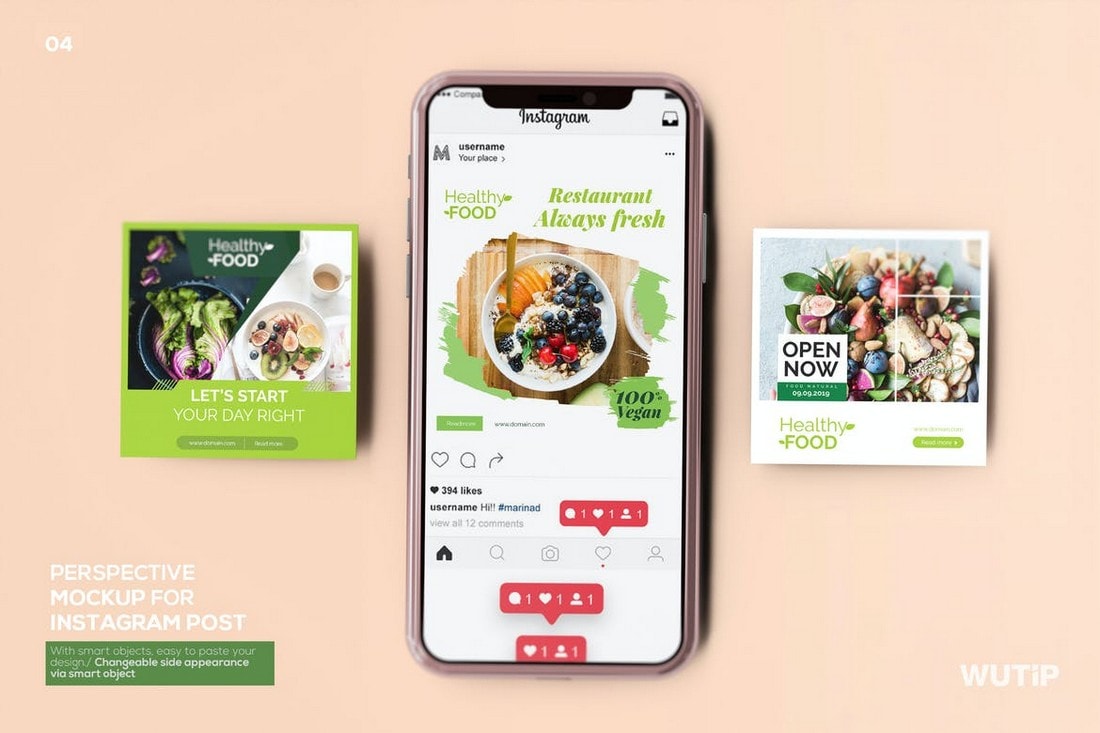 This mockup template is quite special as it allows you to showcase your Instagram post designs in a more realistic way. It features a device mockup with a realistic Instagram layout mockup. It'll allow you to show your designs as if they're actually published on Instagram. The template features smart objects so you can place your own design with just one-click.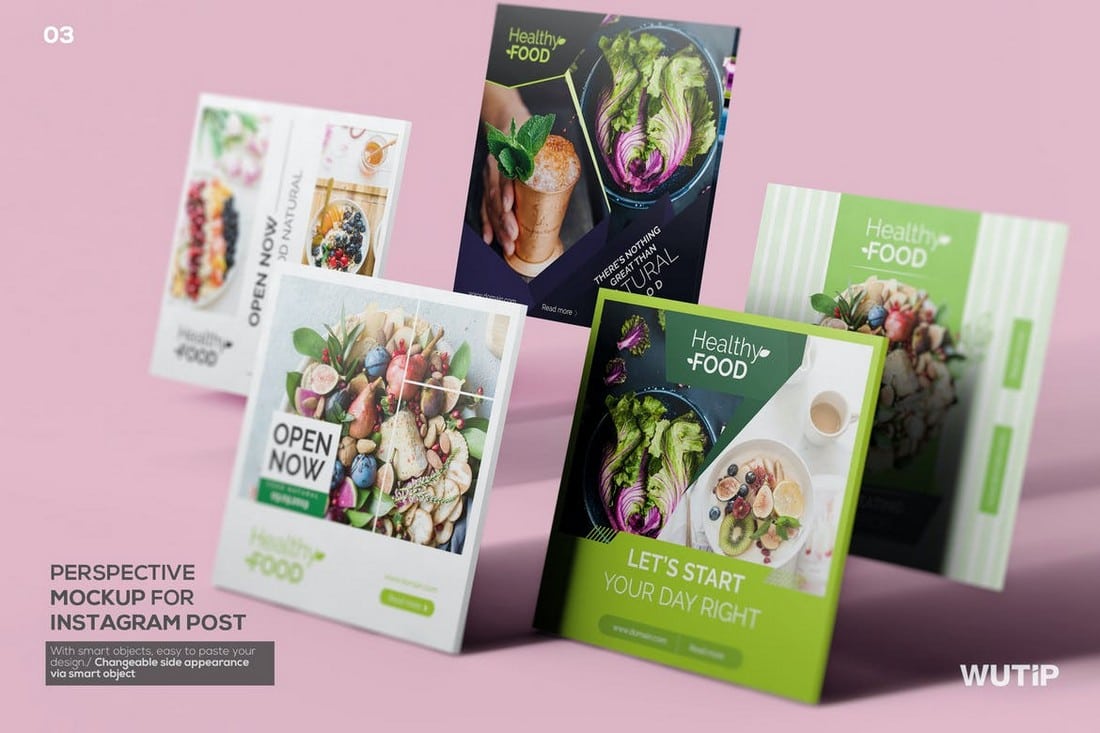 Want to show off your Instagram posts with a stylish 3D-like view? Then this mockup is perfect for you. This mockup template allows you to show off your designs using a 3D perspective view. It includes separated shadows and the background can be easily changed to your preference without affective the perspective effect.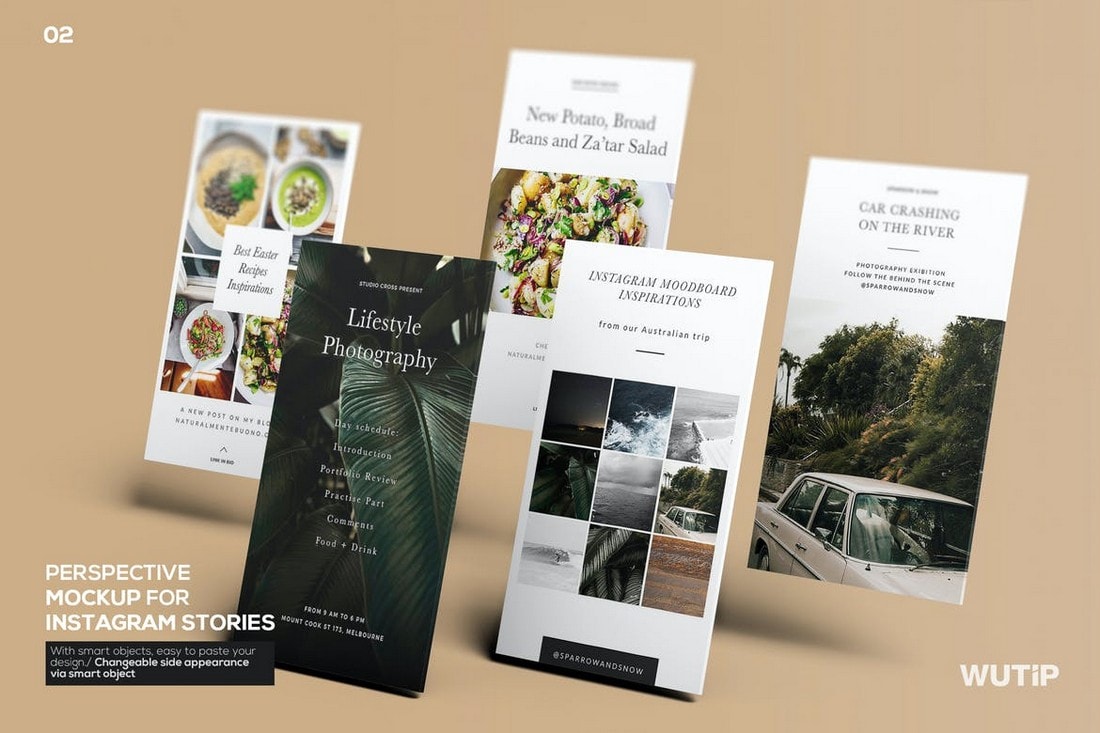 Another 3D perspective mockup. This one is made for showcasing Instagram story designs. This template also comes with editable shadows, changeable backgrounds, and automatic perspective effect. You can also place your designs in the mockup with just one-click using the smart object layers.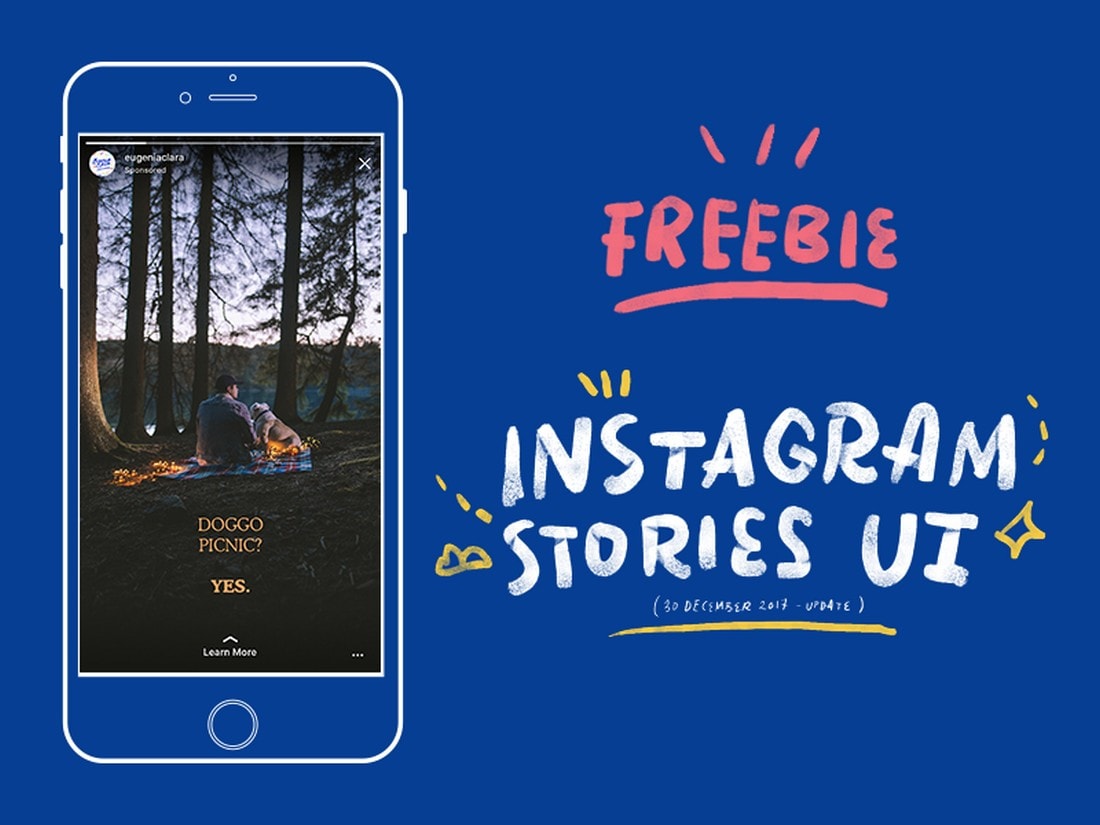 This simple yet beautiful Instagram story mockup is perfect for promoting story designs for all kinds of businesses and brands. The template features 3 different layouts for standard, sponsored, and personal story layouts.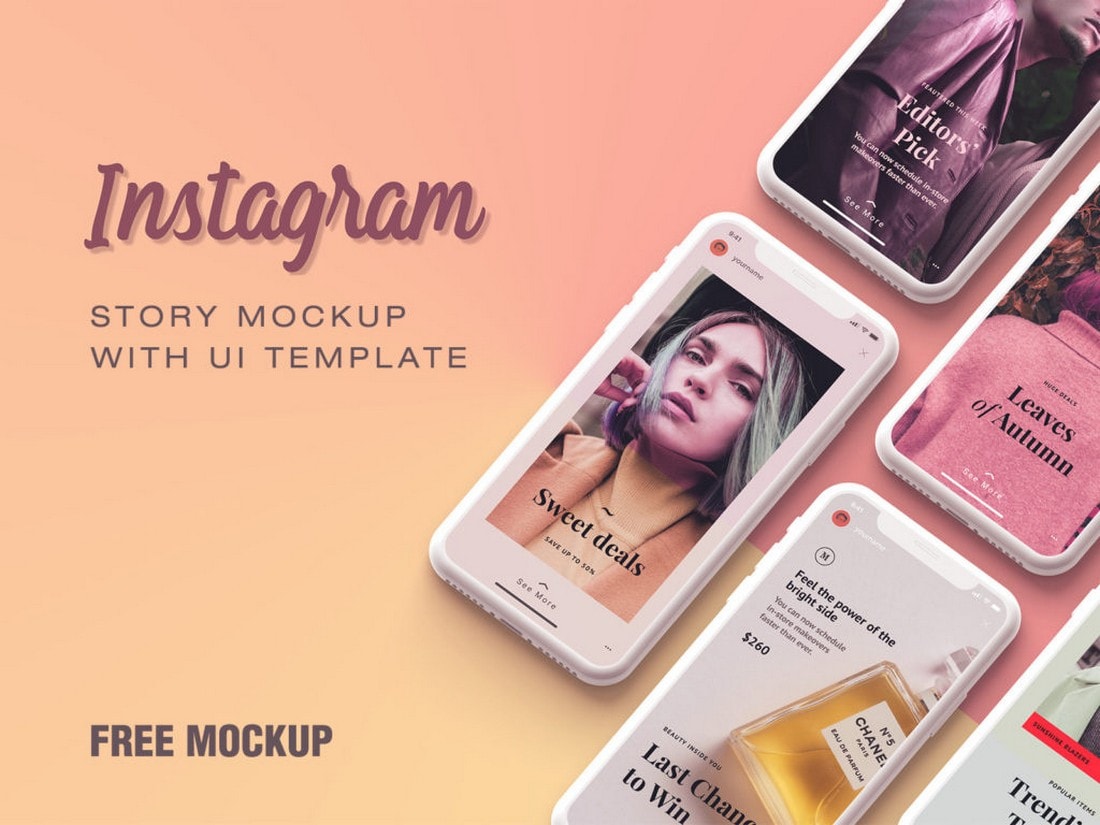 Another free Instagram story mockup. This one, however, is different. Mainly because it comes with a device mockup. So you get to show the story designs as if it's live on Instagram.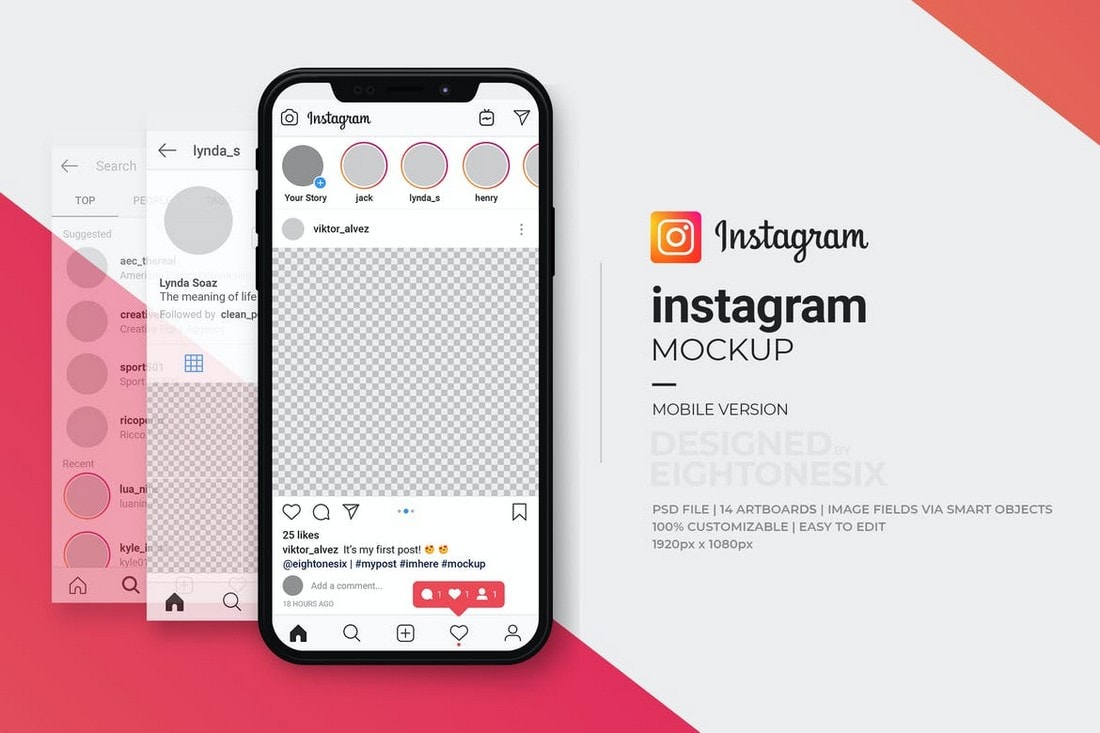 This is a complete Instagram mockup bundle that includes multiple mockup templates that cover all screens of the Instagram user interface. You can use this mockup to showcase not only your Instagram post templates but also to show off Instagram feeds, profiles, and more. The pack includes 14 screen templates in fully customizable PSD files.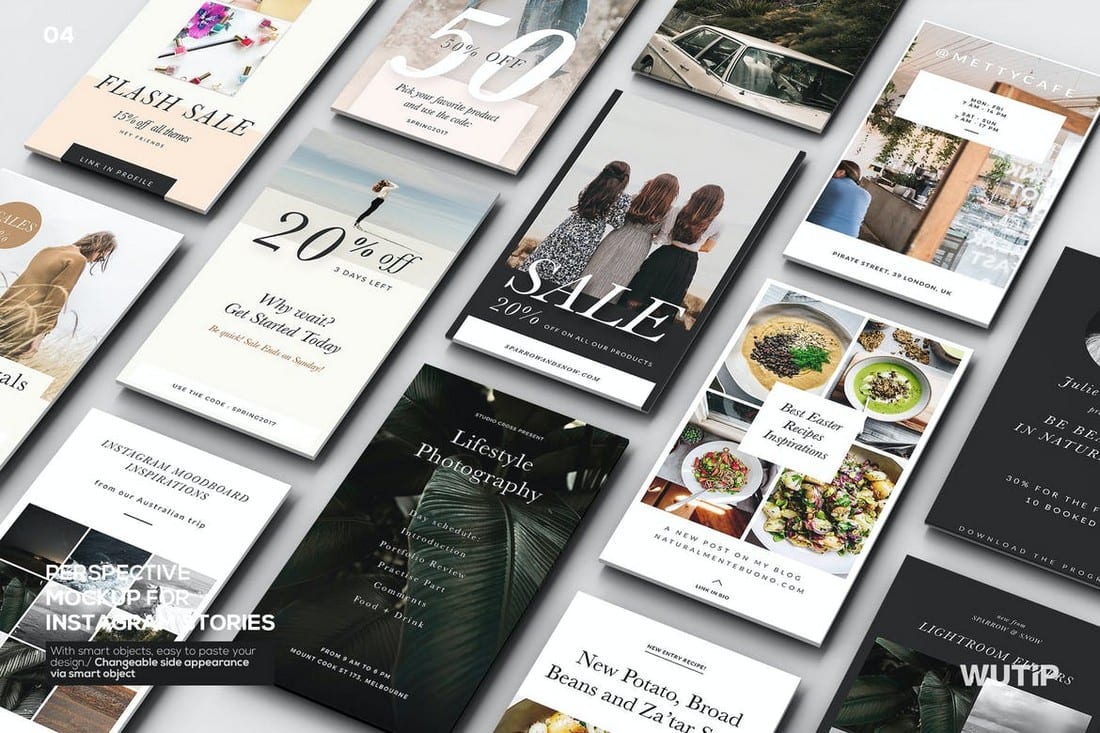 If you're looking for an elegant mockup template to show off beautiful Instagram story designs on a luxury branding website, this mockup is the one for you. It features a stylish perspective view with multiple placeholders for adding Instagram stories in a beautiful way. The template is easily editable and comes with organized layers.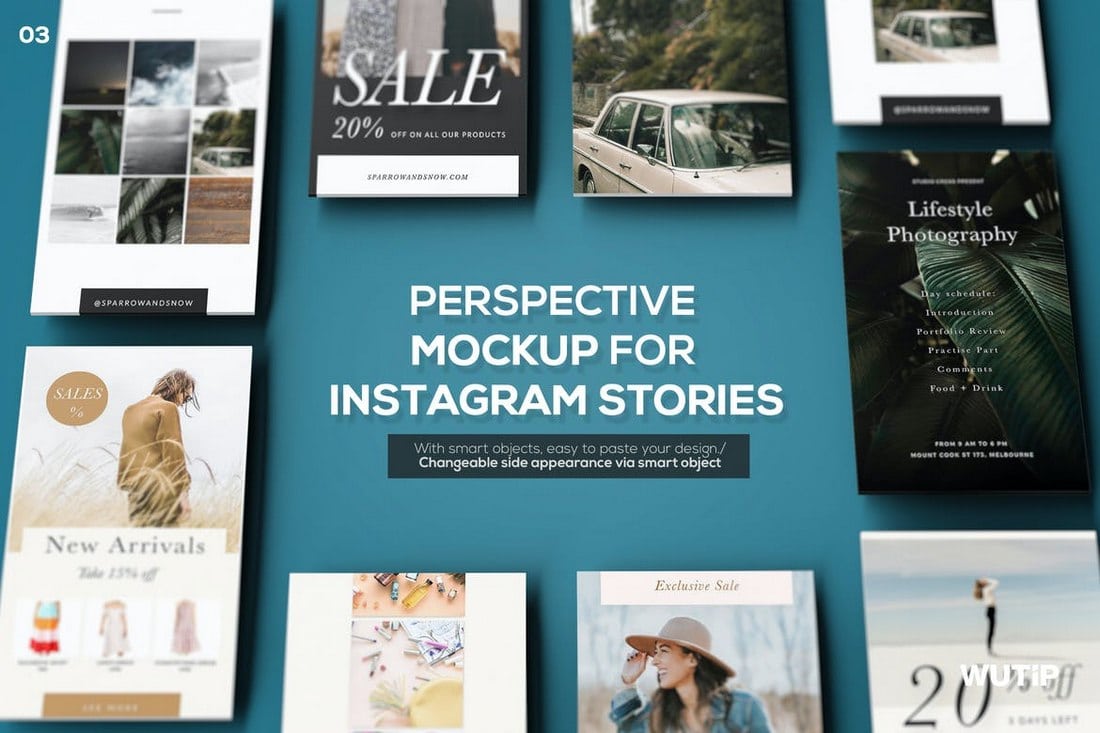 This Instagram mockup is great for showcasing multiple Instagram story designs in one place. It also features a layout that will work great as a website or social media page header. The template is available in 3000 x 2000 resolution with changeable backgrounds and editable shadows.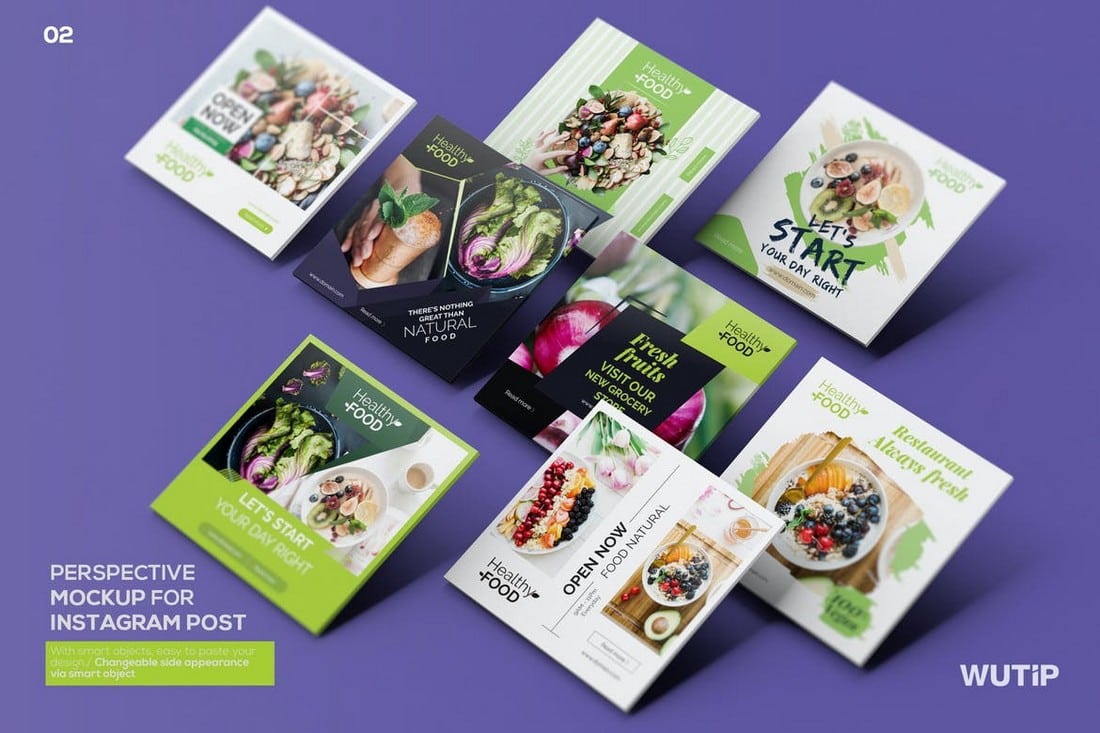 Another stunning Instagram post mockup template for promoting multiple designs at once. It features a creative perspective view and allows you to easily edit to change shadows and adjust shading to your preference. You can customize the mockup using Photoshop CS4 or higher.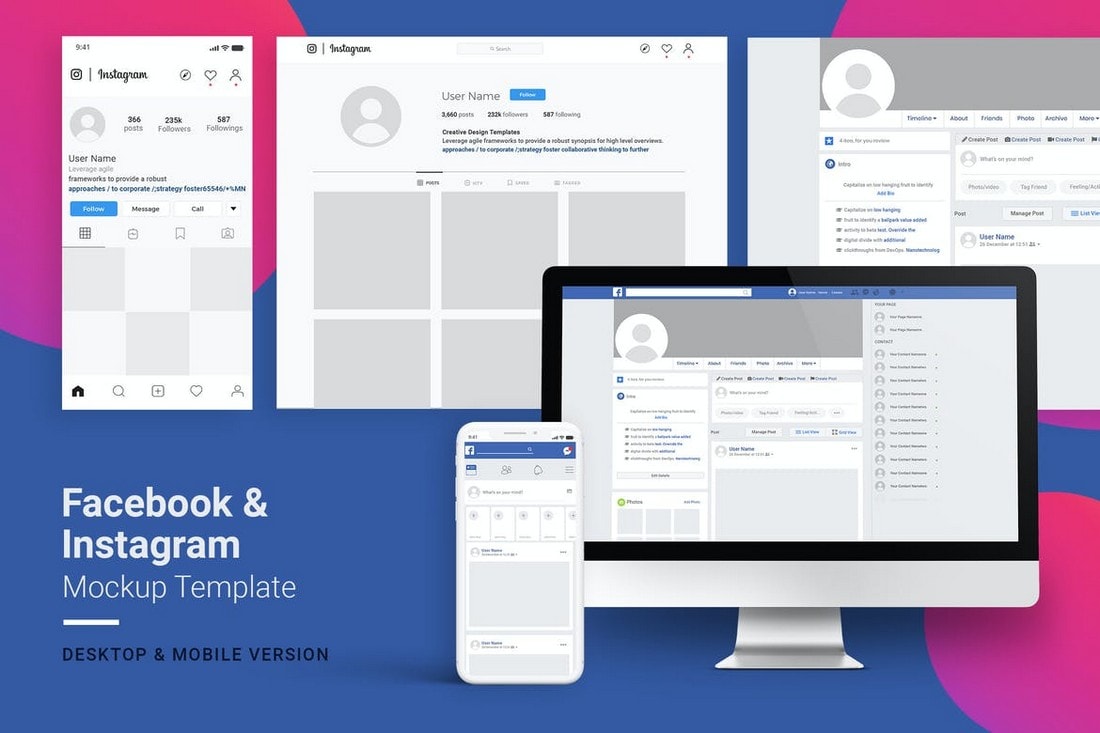 This is a bundle of mockup templates that includes mockups for both Instagram and Facebook. The specialty of this mockup is that it features mobile app and desktop site mockups. You can use them to show off your post designs in an Instagram feed using both versions of the platform.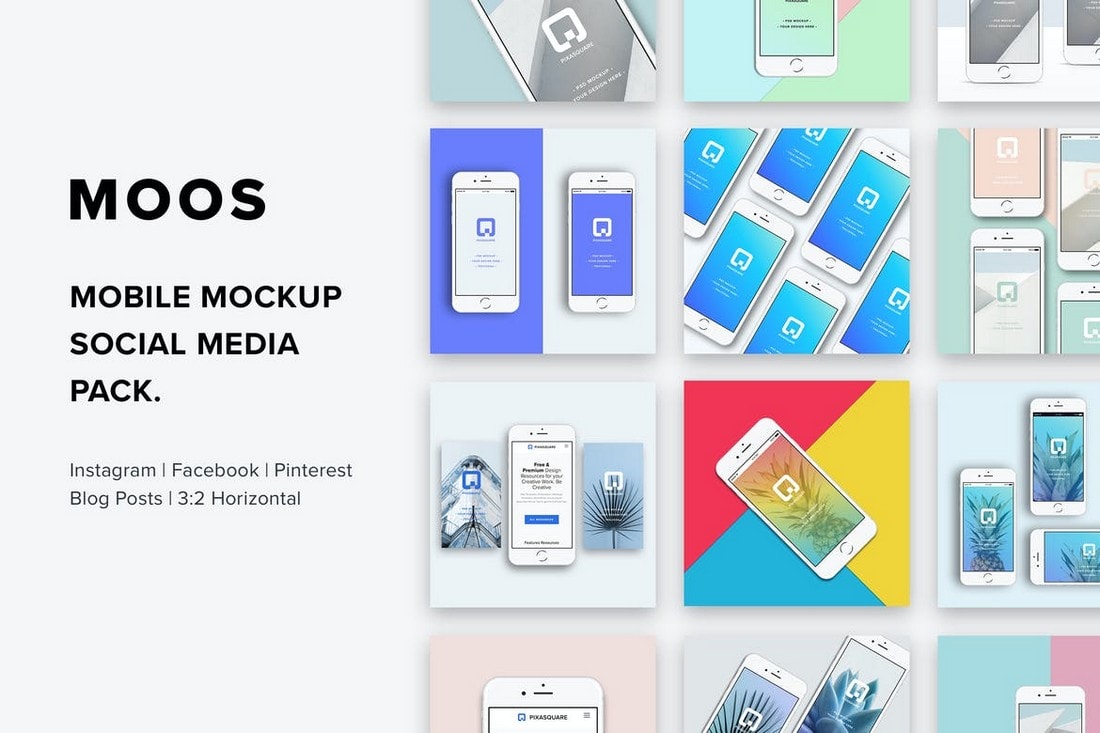 This collection of social media mockup templates is perfect for social media marketers and agencies. It includes 12 unique post mockup templates in multiple sizes for promoting Instagram, Facebook, Pinterest, as well as for blogs and website mockups. All of the templates feature editable backgrounds as well.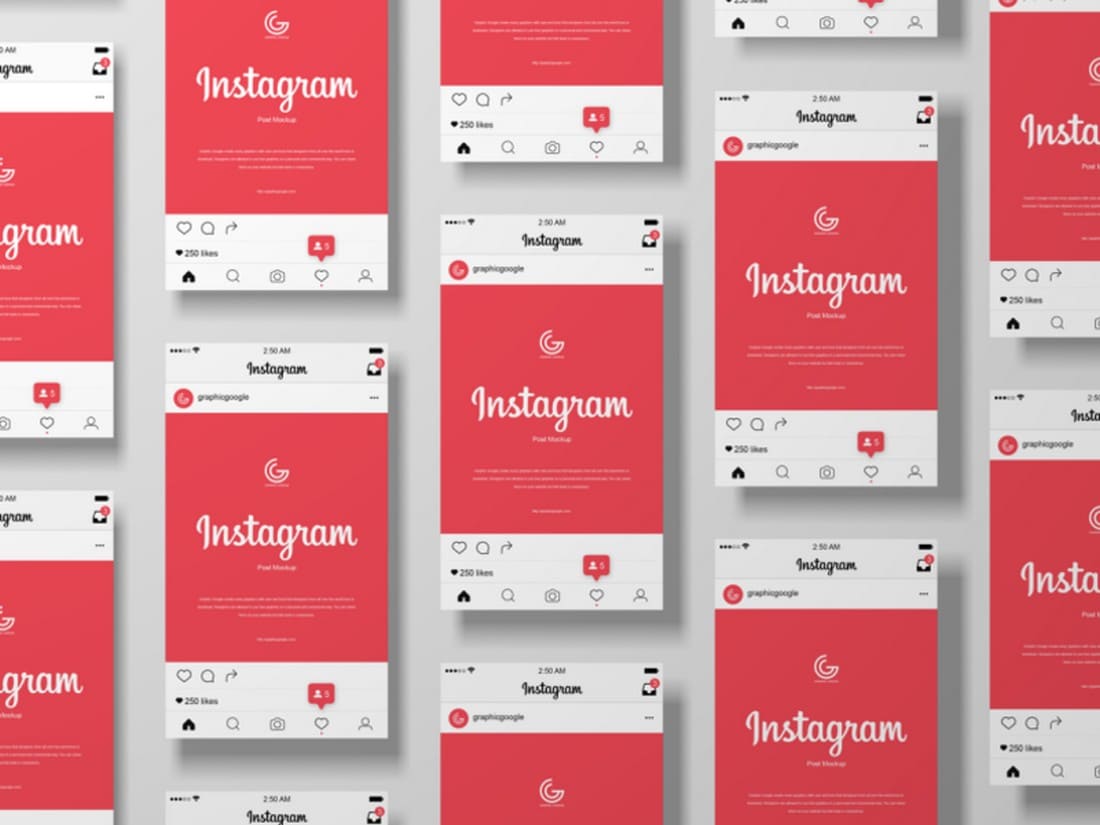 This is a free Instagram post mockup that comes with a realistic Instagram user interface. Using this template, you can make your post designs look natural and even let clients see what the designs will look like when published on the social network.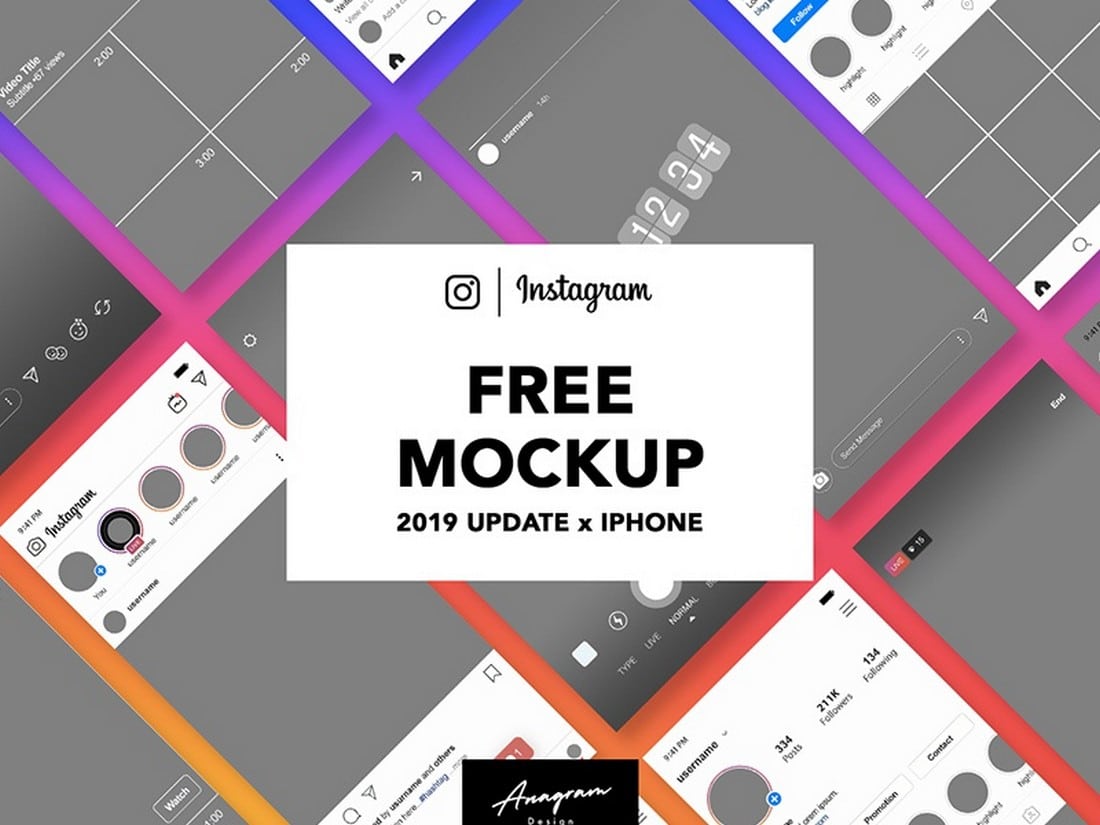 Another great free Instagram mockup bundle featuring both story and post mockup. This pack also allows you to show off your designs using a realistic iPhone and Instagram user interface layouts.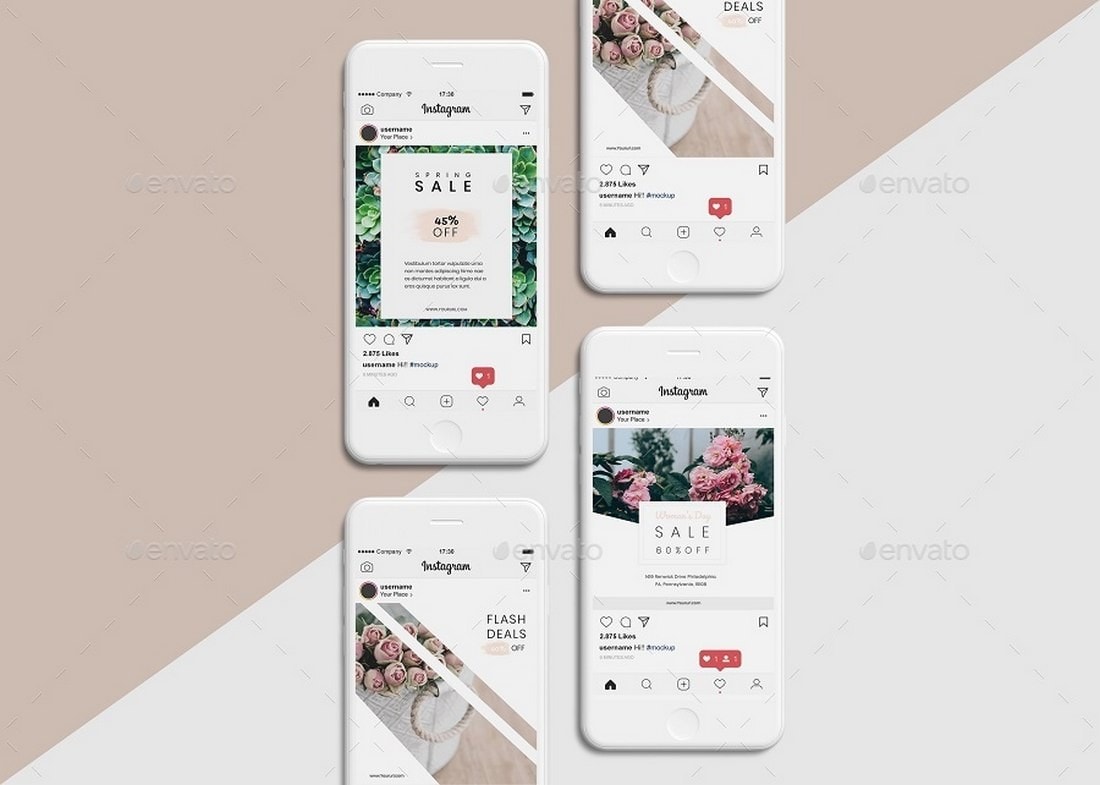 This Instagram mockup doubles as both an Instagram profile mockup and a post mockup. You can use it to show post designs in a realistic Instagram interface as well as with perspective post layouts. The bundle includes multiple mockup templates with easily editable smart objects.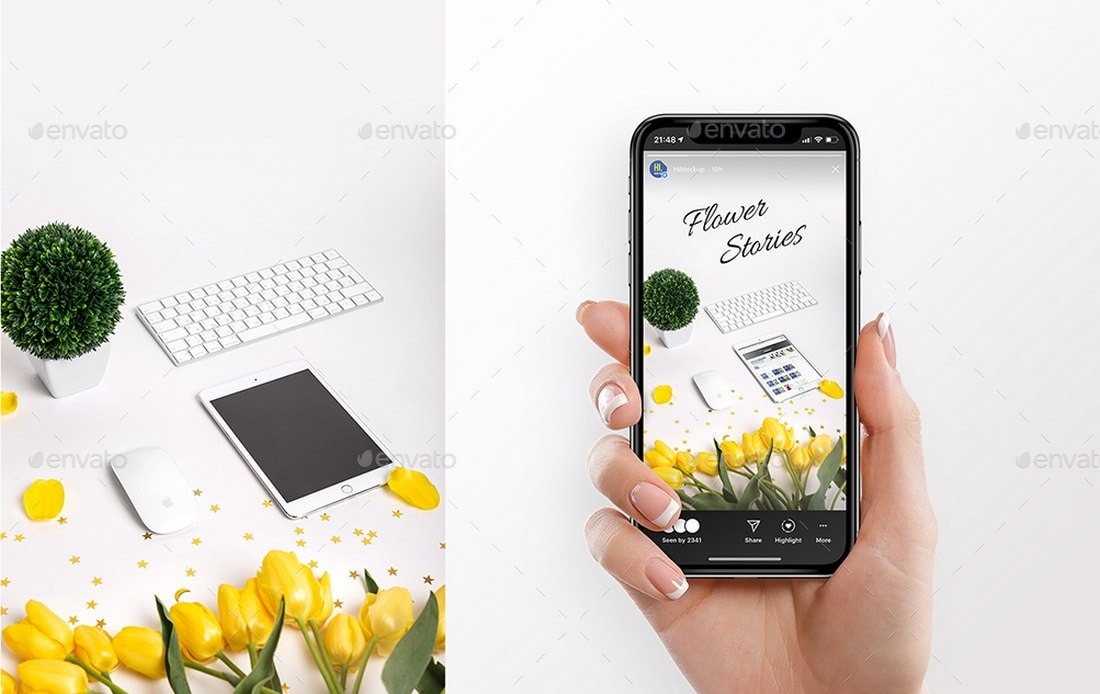 This Instagram story mockup template lets you show off your designs in a more natural way while showing it in a device being held by a hand. The template is fully customizable and it includes 5 different mockup templates as well.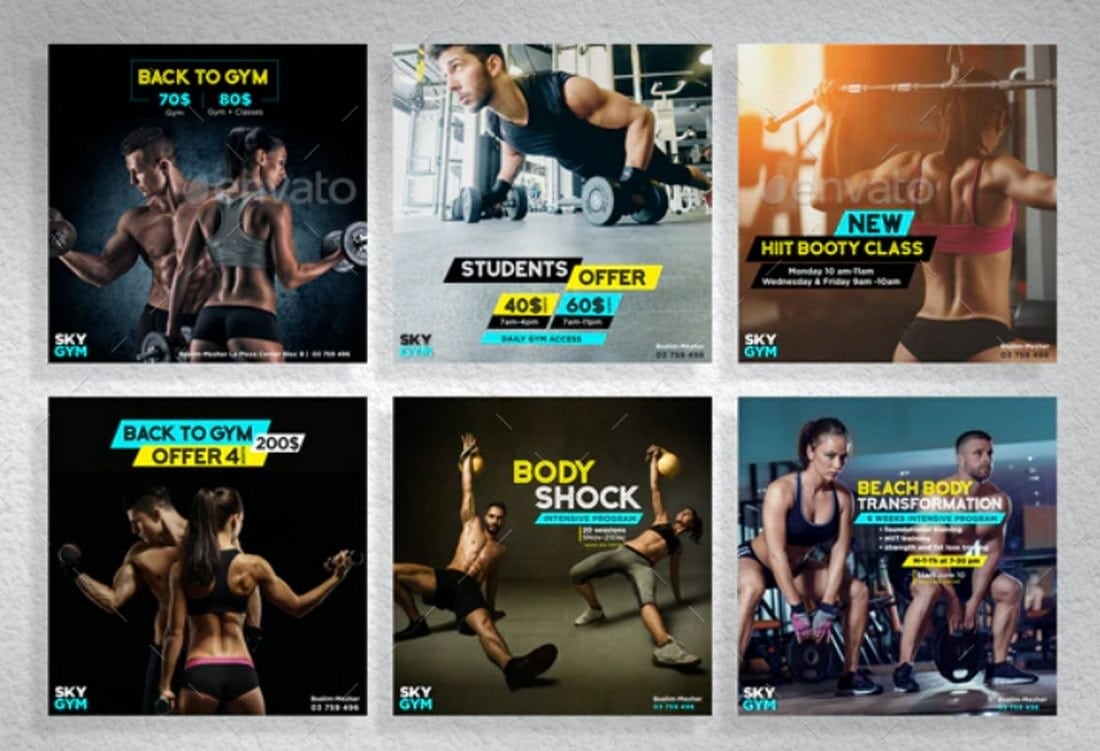 This is a multipurpose social media mockup pack that includes 5 different templates for showcasing all sizes of social media post designs, including Instagram, Facebook, and Pinterest. The templates come with organized layers and they are fully customizable.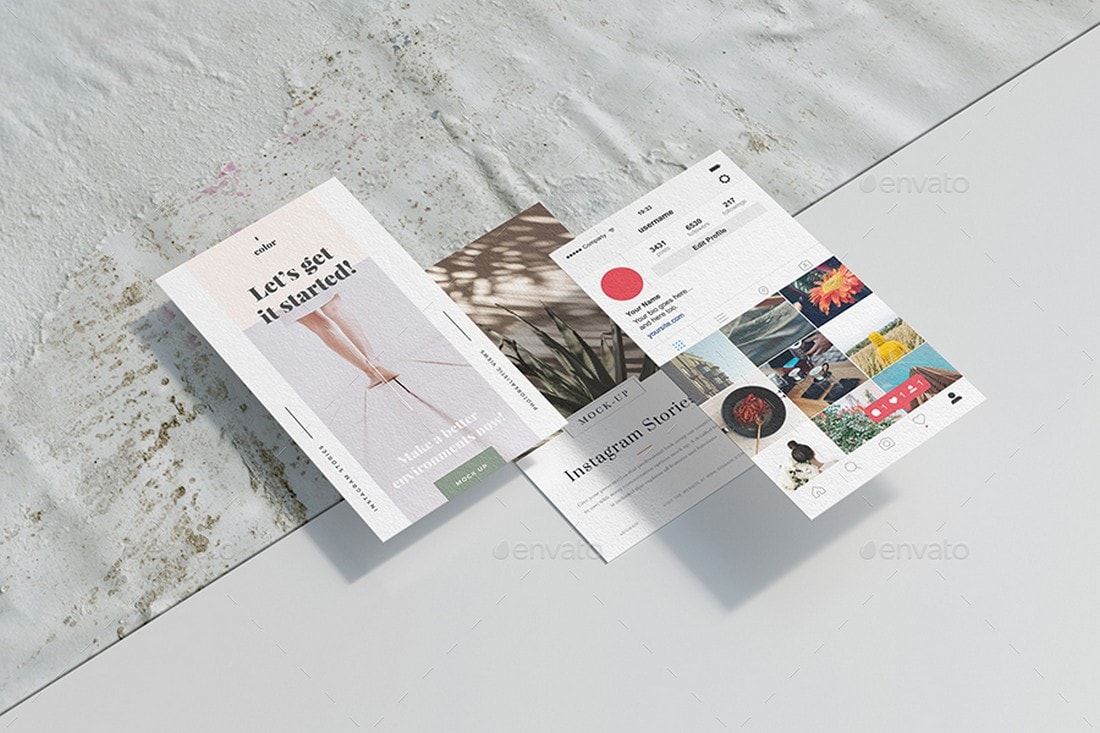 A collection of Instagram story mockups featuring perspective views. It includes 9 different views for promoting Instagram story designs. The templates are also easily editable and feature editable shadows, filters, and highlights as well.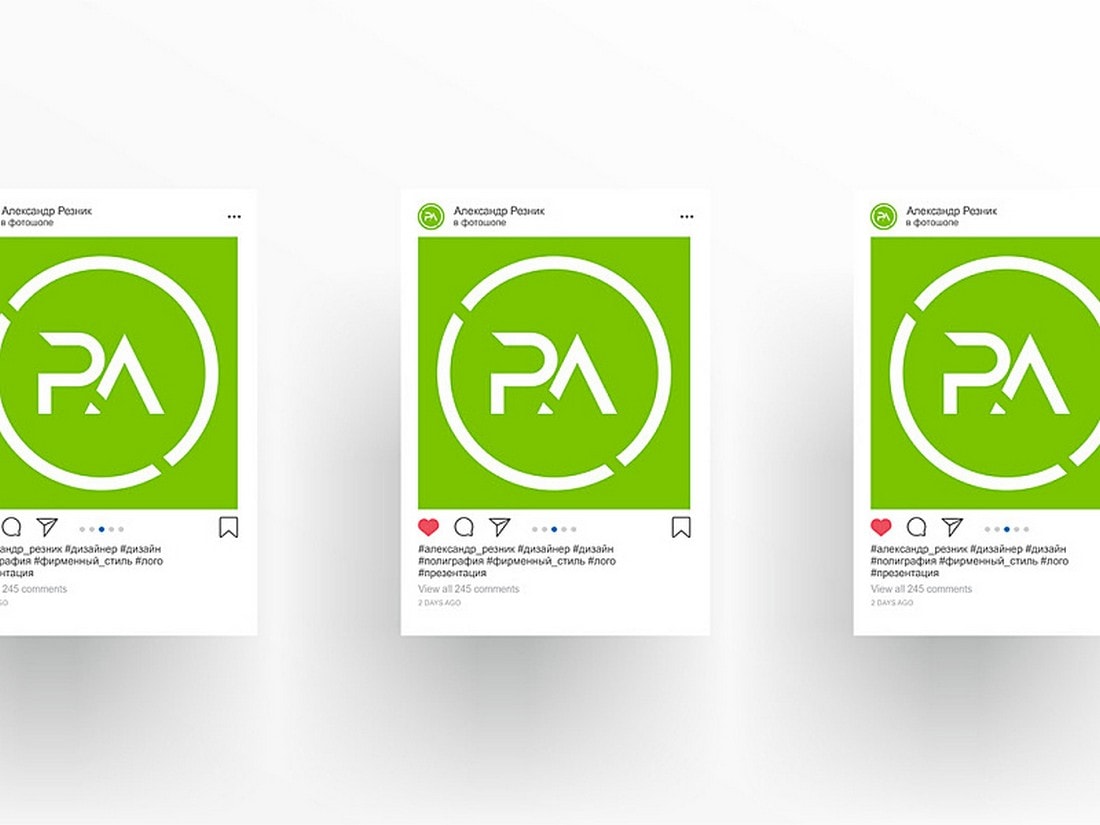 This free Instagram post mockup is perfect for showcasing your Instagram designs in a professional way. The template is fully customizable and free to download and use with your personal projects.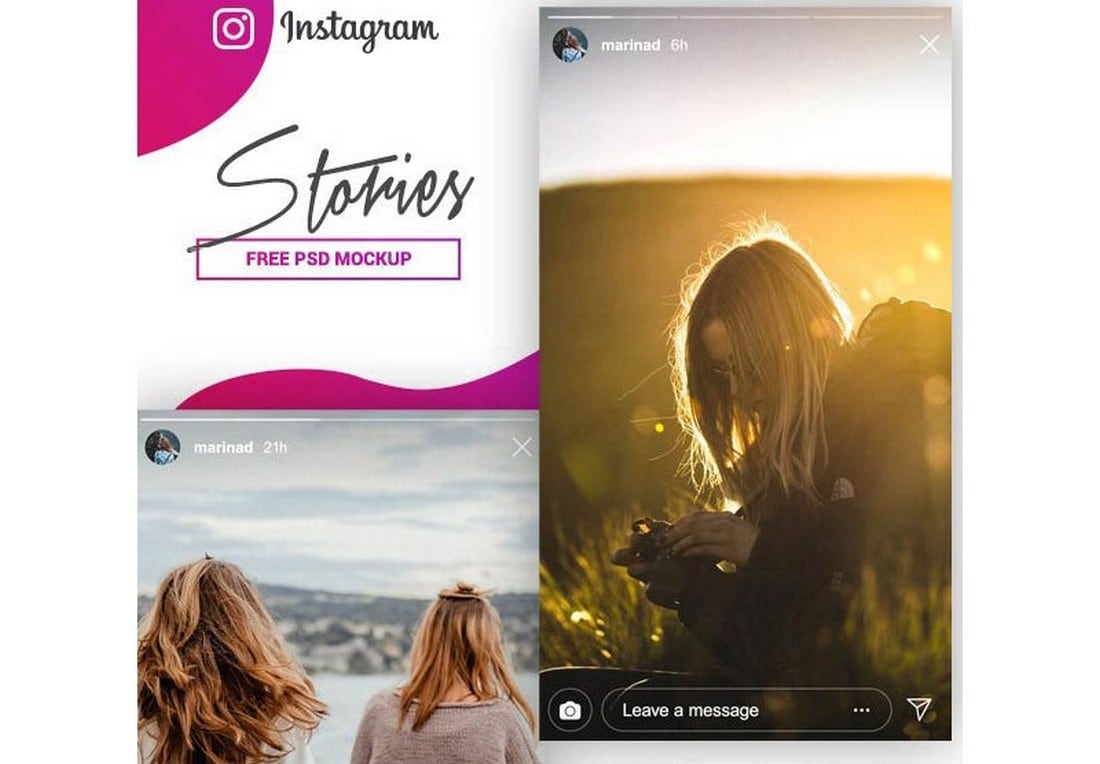 A fully customizable Instagram Story mockup featuring editable layers and Instagram user interface. You can download the mockup for free and customize it with Photoshop.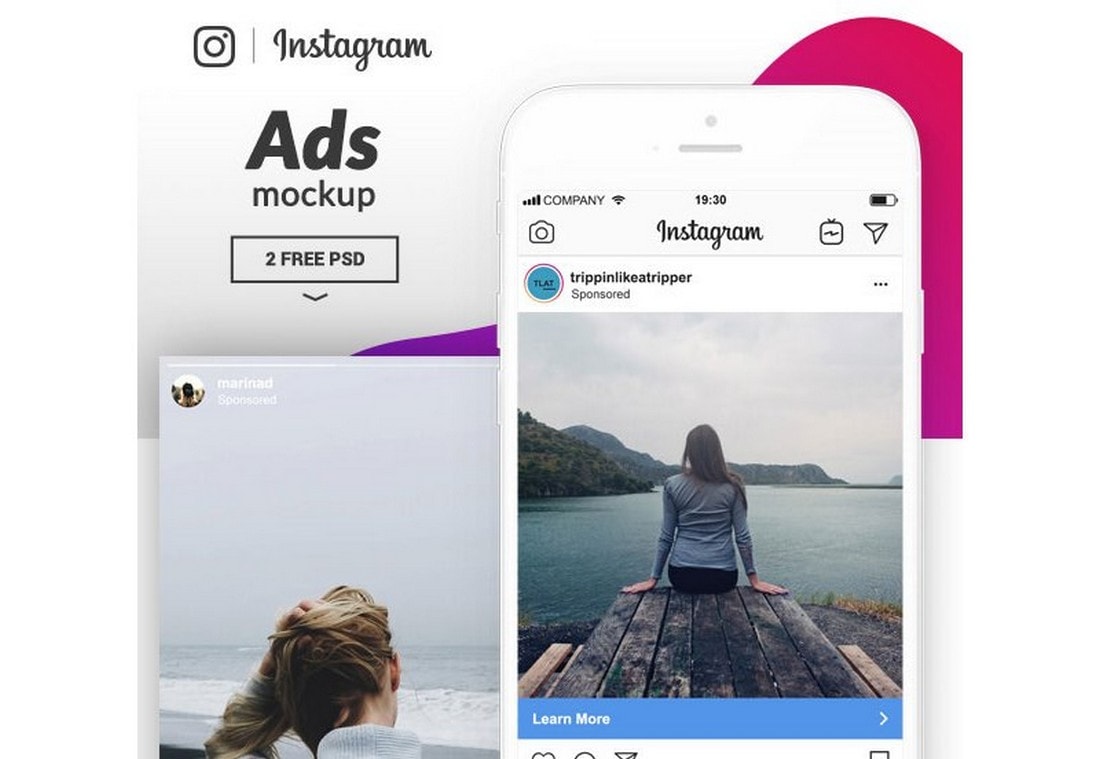 If you're working on an Instagram banner ad design, use this free template to present it to your client. This template features an Instagram sponsored post template that you can edit and customize to your preference.
Looking for Instagram templates? Then check out our collection of best Instagram post and story templates.
Instagram Templates
Learn how to supercharge your Instagram account. Craft beautiful posts and updates, improve your branding, find templates, and use Instagram in a new, creative way!