If you've recently designed a logo for your startup, or have rebranded and changed up your business aesthetic, you'll no doubt be wanting to know how your branding will look in different contexts – on letterheads and business cards, or in email signatures, or on corporate swag such as coffee mugs and laptop stickers.
One of the key areas of merchandise that typically includes a business logo or branding element is stationery, and this can include anything from business cards and leaflets to notebooks and product labels. Trying out your logo on different stationery items is a great way to see how it looks in different settings and scenarios – and it's also super helpful if you're looking to get branded stationery printed for your business!
These fabulous stationery mockup templates will allow you to do just that, giving you an idea of how your branding will look on different stationery items without having to commit to printing or producing those items until you're sure they're perfect. Featuring a range of both free and premium options, you're bound to find a suitable mockup for your purposes in the following list.
Top Pick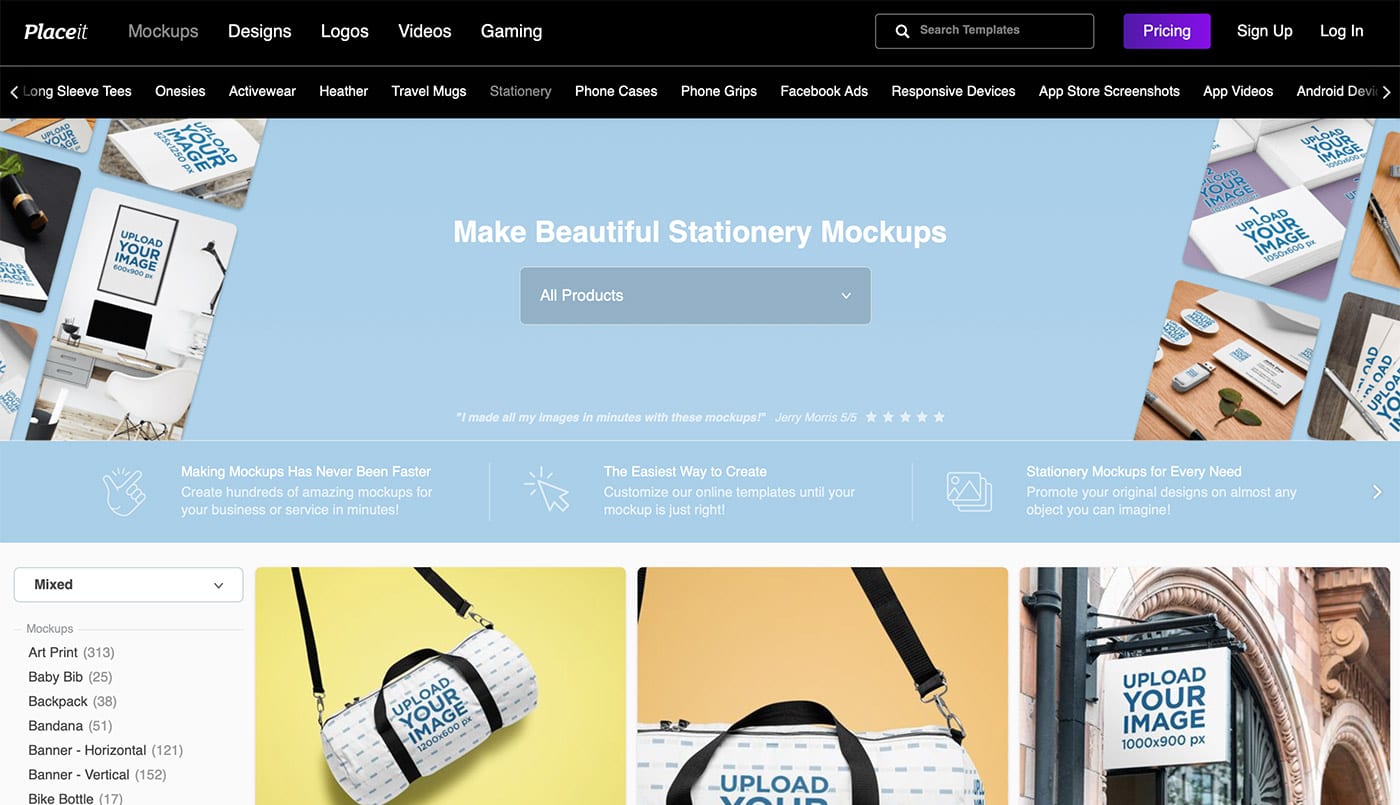 Why settle for one stationery mockup template when you have access to thousands of different kinds of stationery mockups for just one price? Plus, you can edit all these templates online, without ever needing to use Photoshop.
That's exactly what Placeit does. It lets you use high-quality mockups, edit them using its online editor, place your own designs, and download them quite easily. No need for Photoshop. And yes, it includes loads of stationery mockups too, for all sorts of stationery products, in all sorts of settings. Think of it as a stationery mockup generator. But of course, it's more than that.
Create Your Stationery Mockup Now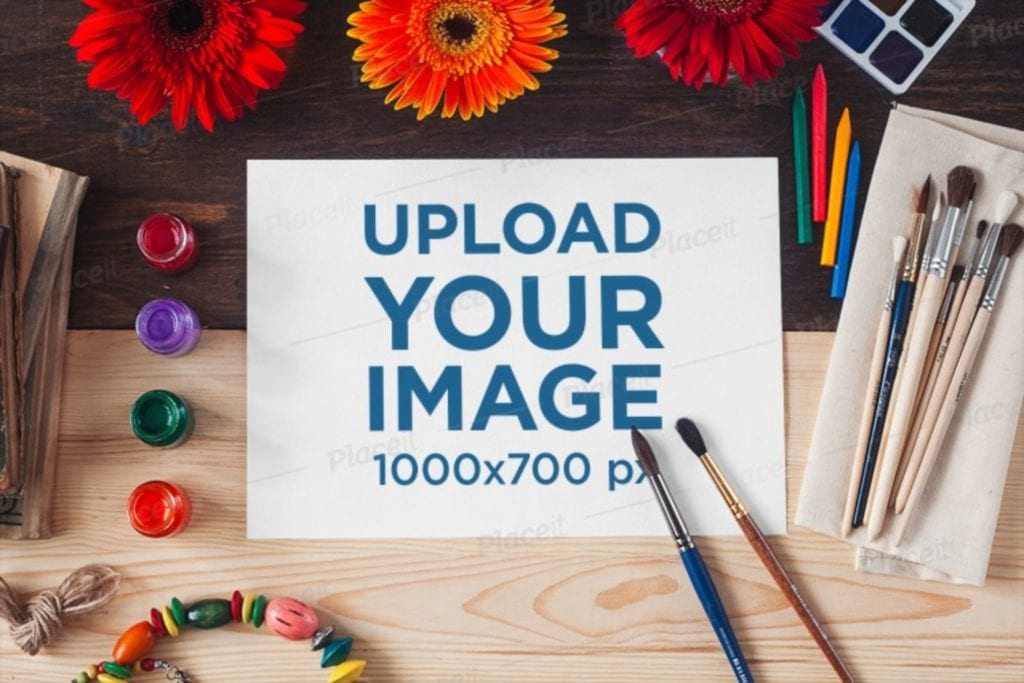 First in our lineup of stationery mockup templates is this watercolor painting themed layout, featuring watercolor paints, brushes, crayons, beads and flowers, with a landscape-oriented placeholder for your design in the center. It's perfect for arts and crafts inspired stationery, and the paper color can be customized.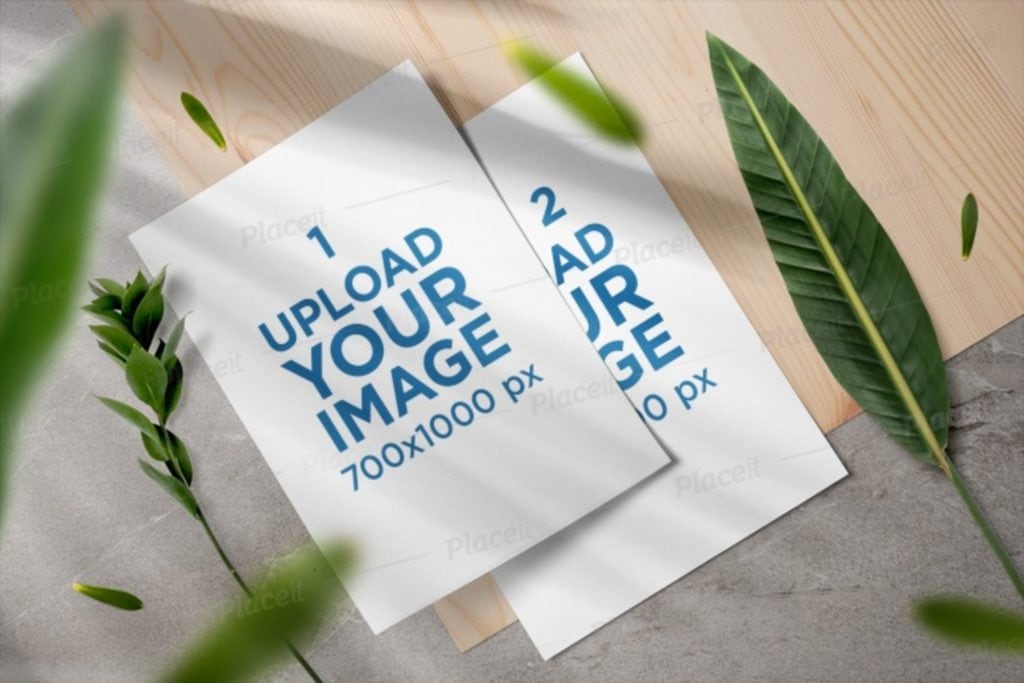 This simple yet stunning premium stationery mockup from PlaceIt displays two sheets of portrait-oriented stationery, as seen from above against contrasting wooden and marble surfaces, and with the added interest of green leaves at several different levels. It's a versatile and classy way to showcase two of your stationery designs.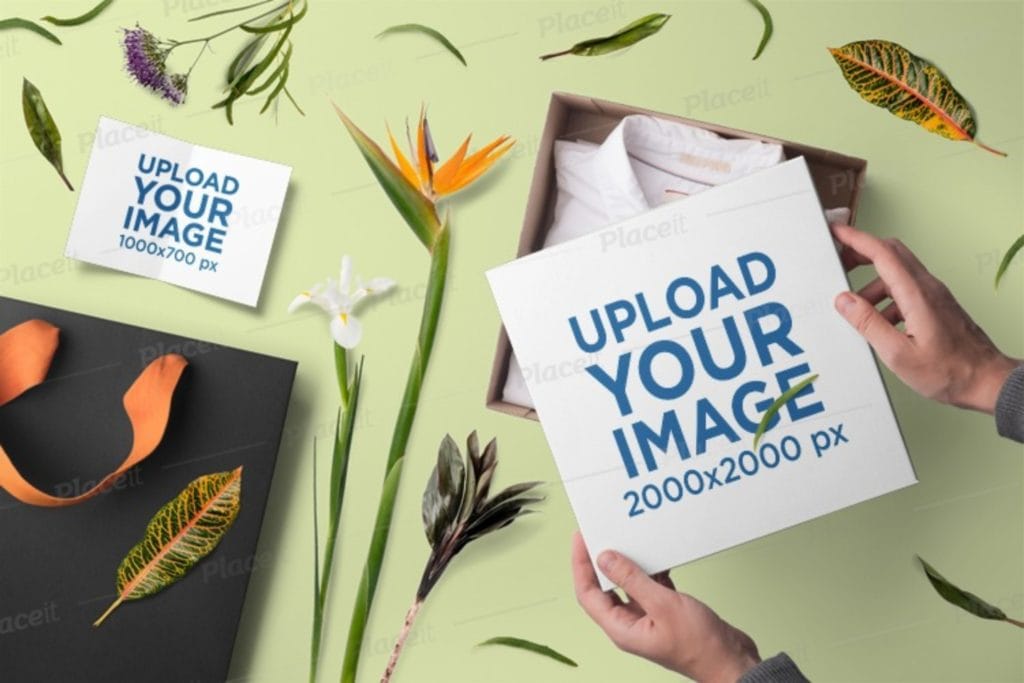 Here we have a fun, floral-themed stationery mockup template featuring two different stationery sizes – a square and a landscape rectangle with a fold in the center – next to a gift box, lying amongst an array of flowers and petals. The background, box and paper colors can all be customized.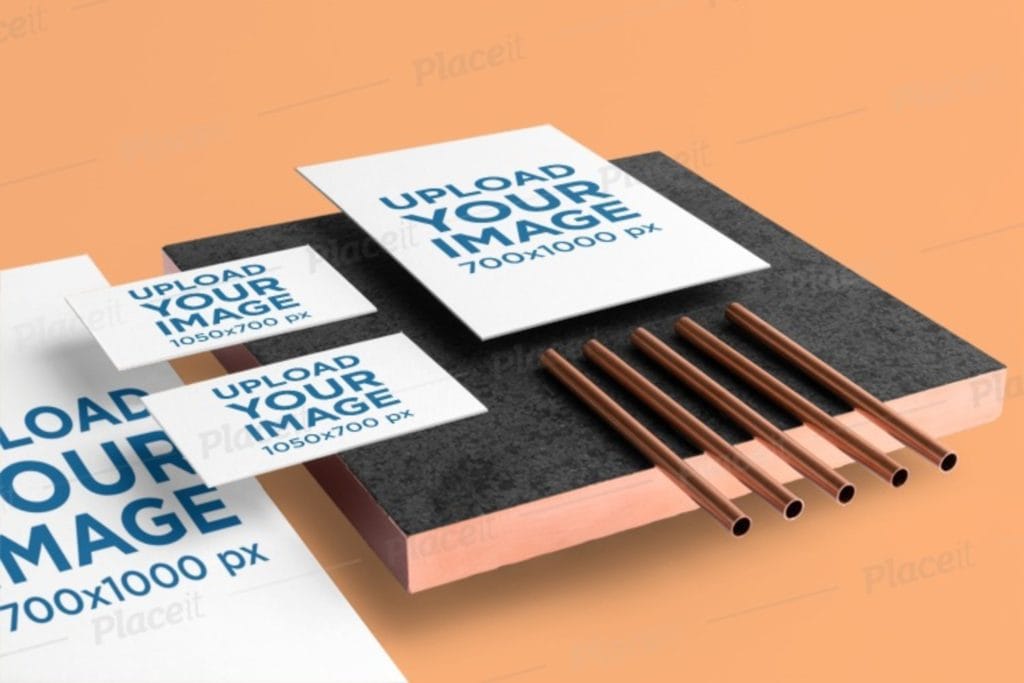 Rose gold remains one of the most popular modern stationery and design trends, and this copper themed stationery mockup template is a perfect way to add a hint of this metallic hue to your design. It allows you to display four different pieces of stationery – two small landscape cards, and two larger portrait sheets of paper.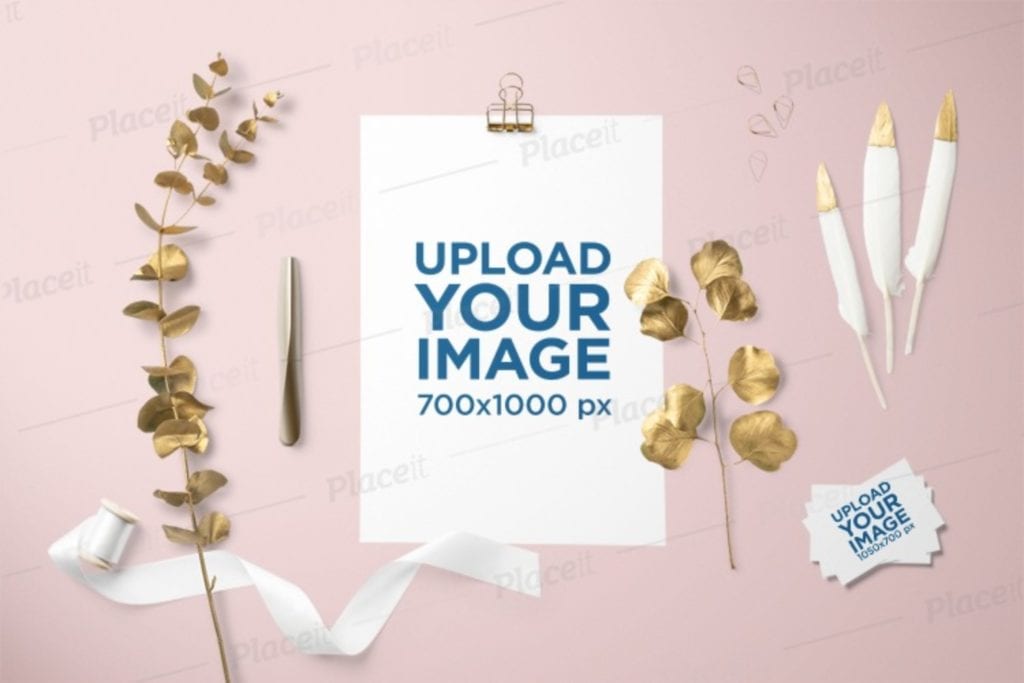 Our next stationery mockup template is a beautiful, gold-accented way to display your stationery designs, and looks amazing with a delicate, feminine design, such as wedding or beauty themed stationery. It features a portrait sheet of paper and a small, business-sized card, amongst a range of gold decor items.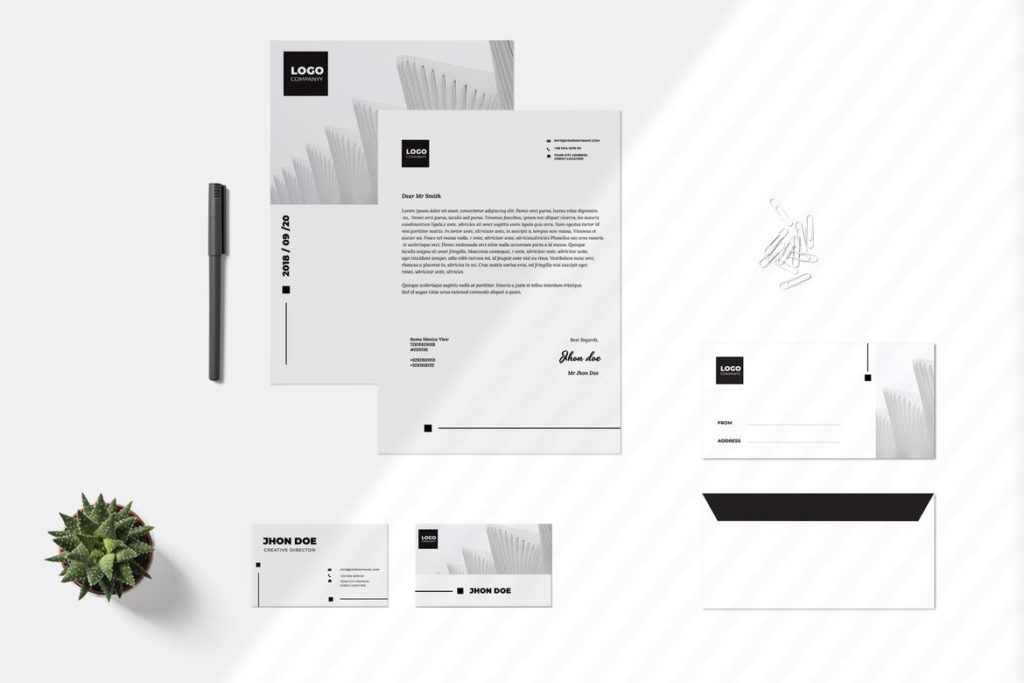 Our next stationery mockup template is a premium arrangement of various paper items from Envato Elements. It features letters, envelopes and cards arranged on a plain white background with a pen and pot plant, includes organized layers and high-quality vector graphics, and is fully customizable using Adobe Illustrator.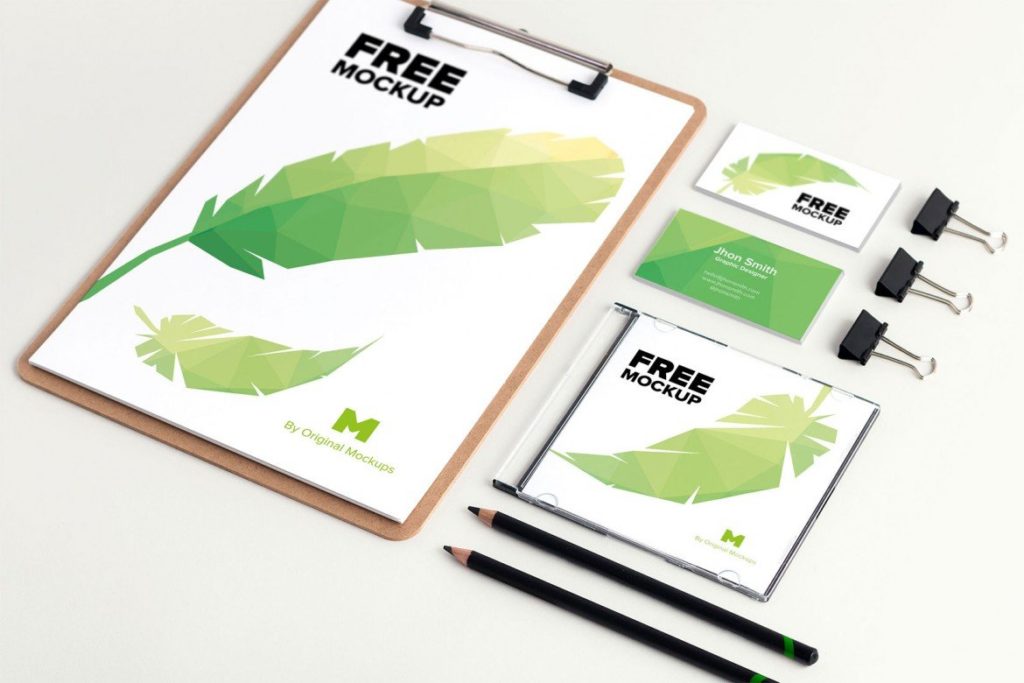 This is a clean, minimalistic stationery mockup template featuring a business card, A4 sheet of paper and a disc cover, arranged with several other stationery elements into a perfect square against a plain background. And the best part – it's available for free download via CreativeBooster.
This free stationery mockup template is a beautifully crafted series of elegant layouts, featuring neutral color tones, rich textures and artfully arranged stationery items that can be customized to suit any purpose – it looks particularly great as a way to showcase wedding stationery such as invitations, place names and thank you notes.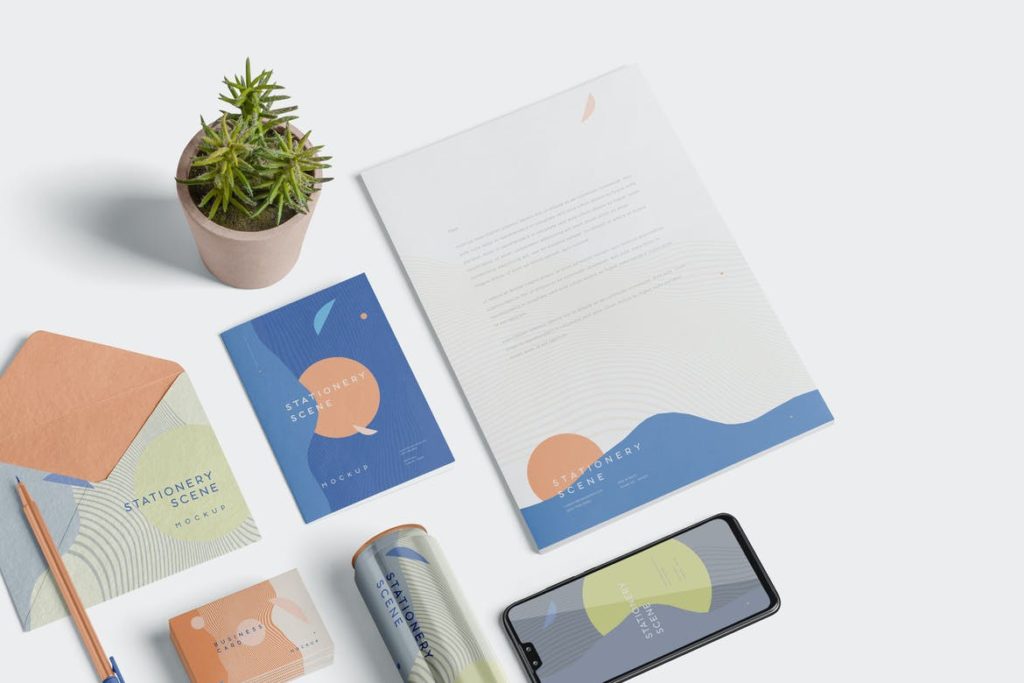 This lighthearted and versatile stationery mockup template is great for showcasing colorful, fun designs, and will show off your stationery items in a well-organized layout against a customizable surface. The realistic shadows and other effects combined with the high resolution and smart object functionality make it a brilliant premium option.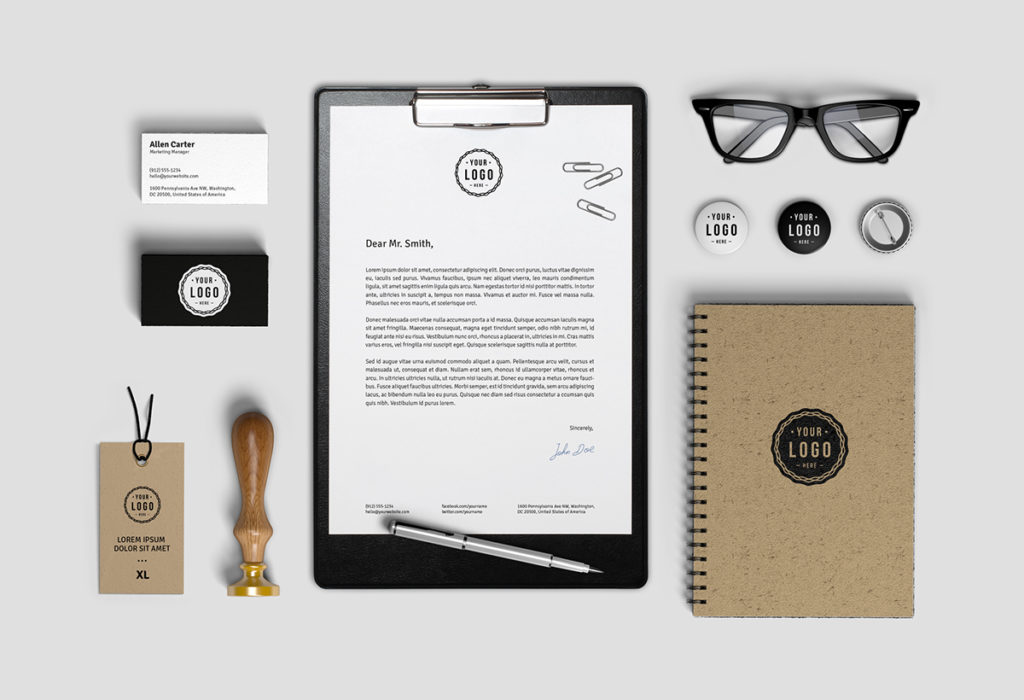 Ideal for a startup that's planning to create a range of stationery items and designs to help promote their brand, this stationery mockup template includes a wide range of items including business cards, notebooks, product labels, badges, and a letterhead. Every element of the mockup can be customized using PSD smart layers.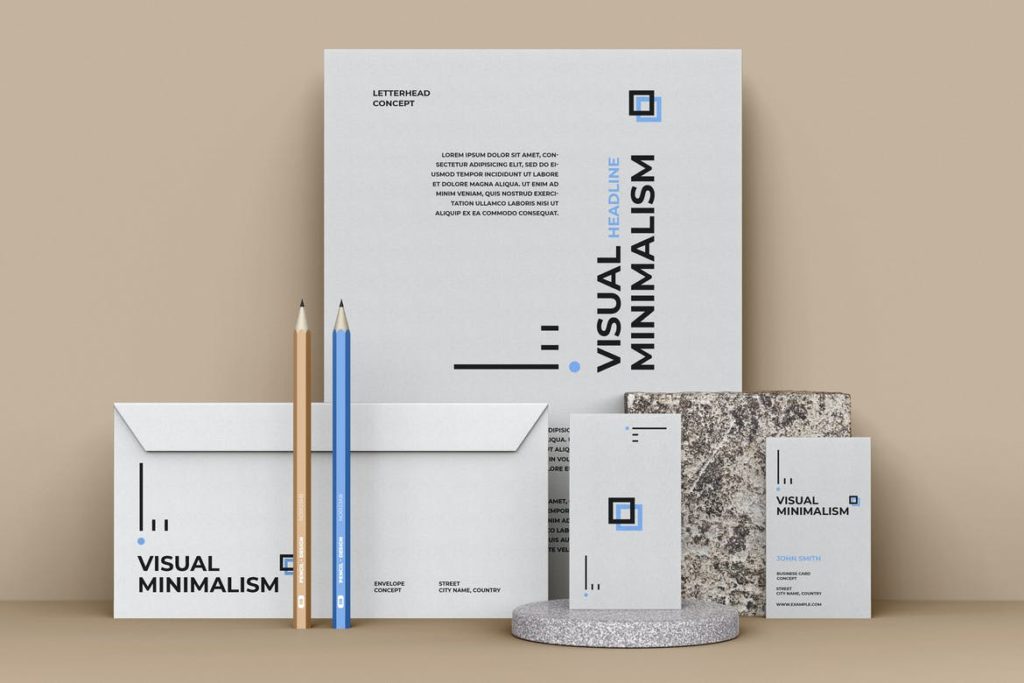 Next in our lineup of stationery mockups is this pencil and paper themed design, which is perfect if you're aiming for a subtle retro vibe – it offers you the chance to showcase an envelope, letterhead and business card, so it's a good choice if you tend to use a lot of physical paper in your line of work.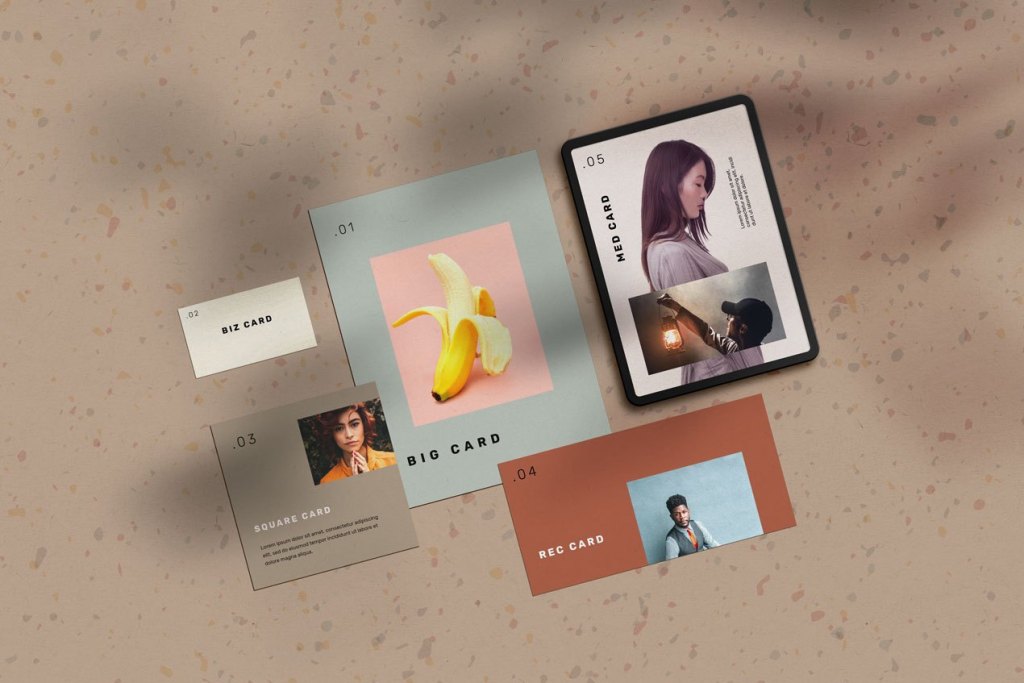 Next in our selection of stationery mockup templates is this creative option from GraphicsFuel, featuring several uniquely sized stationery items against a textured stone background. It's a great choice for fashion or design-related businesses and professionals, and is available to download for free.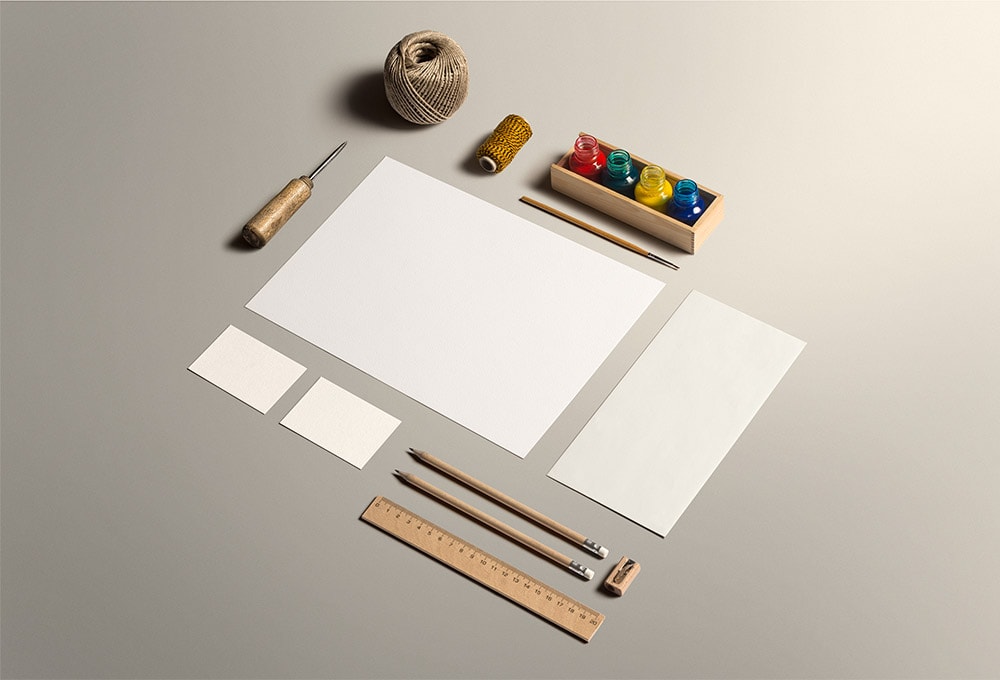 This high quality, arts and crafts inspired stationery mockup will display your branded stationery designs amongst a range of creative items such as pencils, paints, cotton and string, against a plain background. It's super easy to edit, and it's also completely free to download from DesignHooks.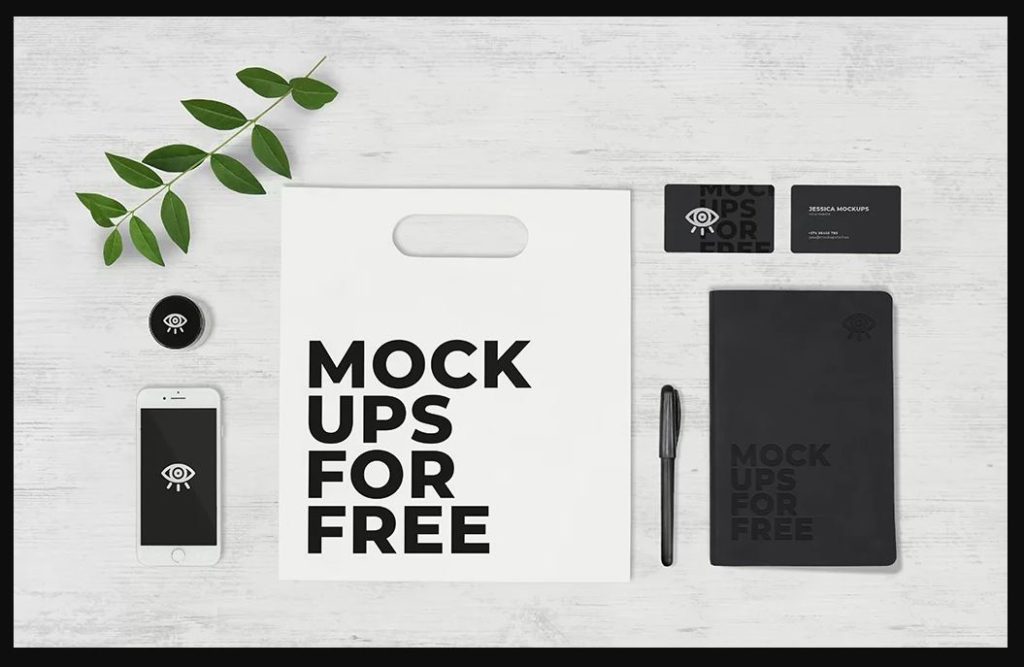 Perfect for corporate or professional purposes, our next stationery mockup template is a free collection of layouts featuring perfectly arranged paper elements, including a notebook, business cards and leaflet, against a clean, interchangeable selection of backgrounds, and several tasteful aesthetic elements such as a branch of leaves and an iPhone.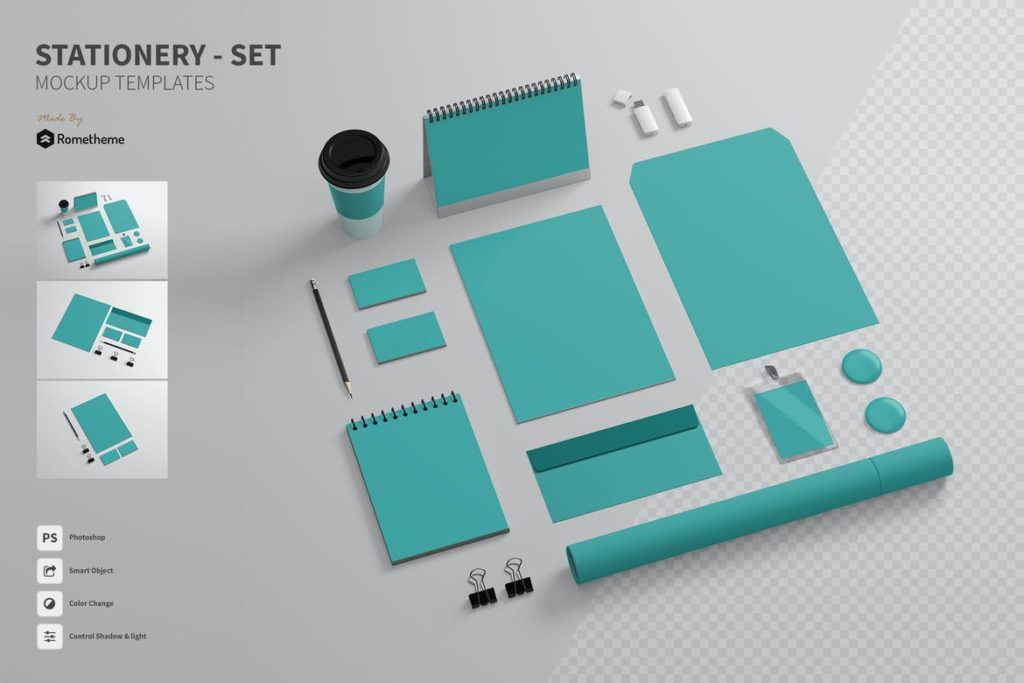 This classic and comprehensive collection of stationery mockups is super versatile and can be used for virtually any purpose, industry or aesthetic. Each of the three high-resolution templates includes a wide range of different stationery items, and can be customized using layered PSD smart objects.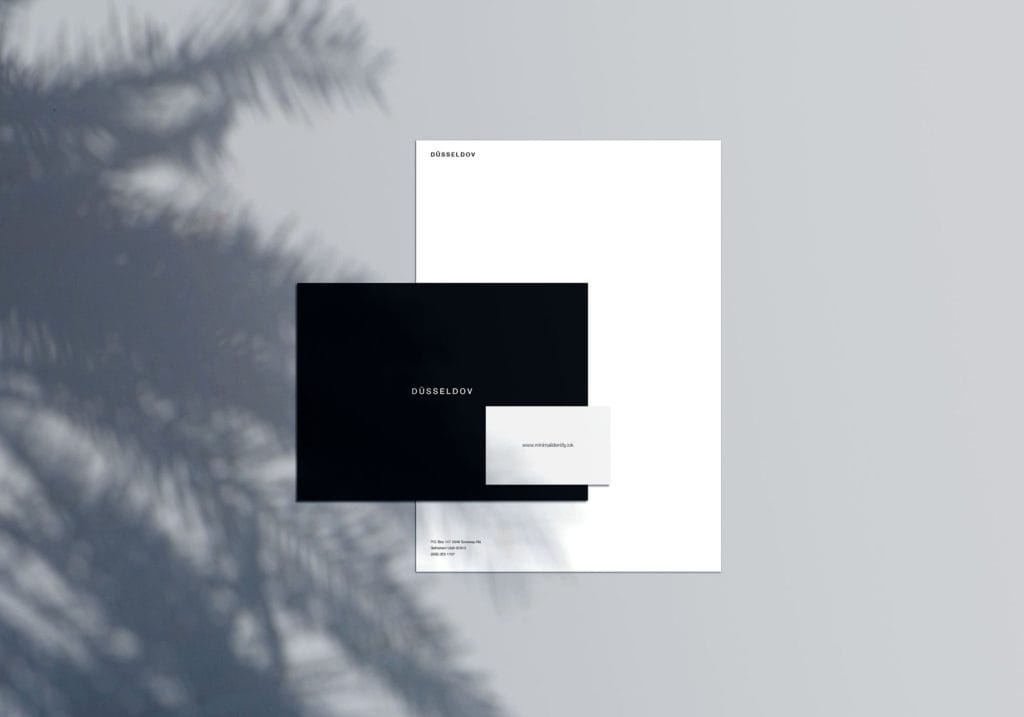 Here we have a simple stationery mockup featuring three different paper elements against a plain background, with the shadow of a tree adding a moody aesthetic. It's completely editable using PhotoShop, so you can add extra graphics if you wish, and it's also free to download from CreativeBooster.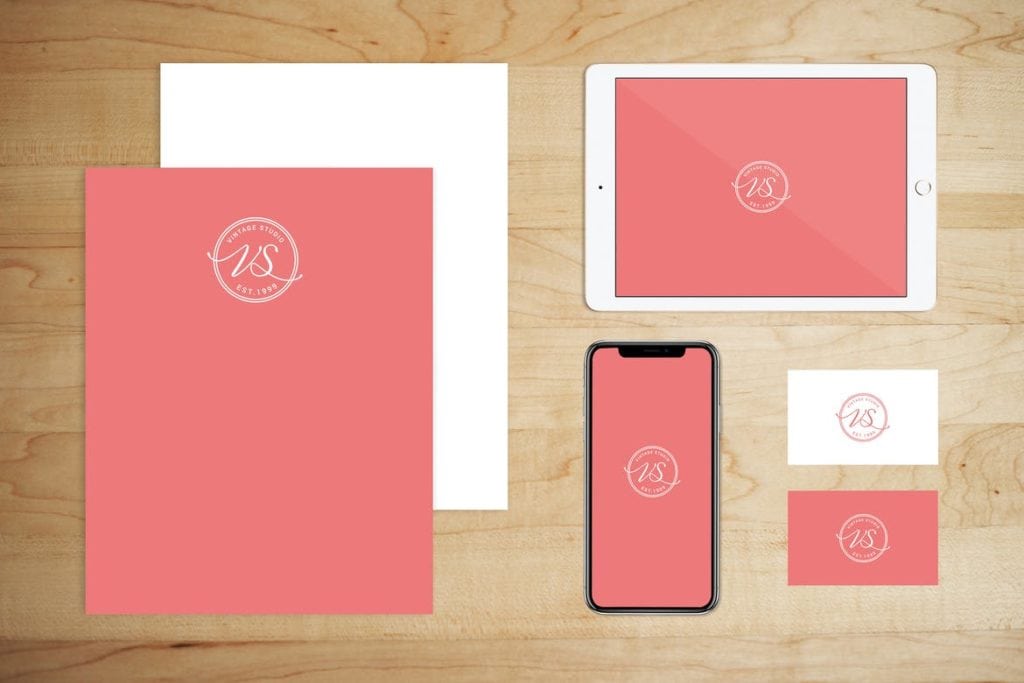 Combining both paper stationery and tech elements, this mockup template allows you to showcase your branding and designs using letterheads and business cards, as well as screen designs for an iPad and iPhone, all against a stunning wooden backdrop. Every aspect of the mockup file can be customized using PSD smart objects.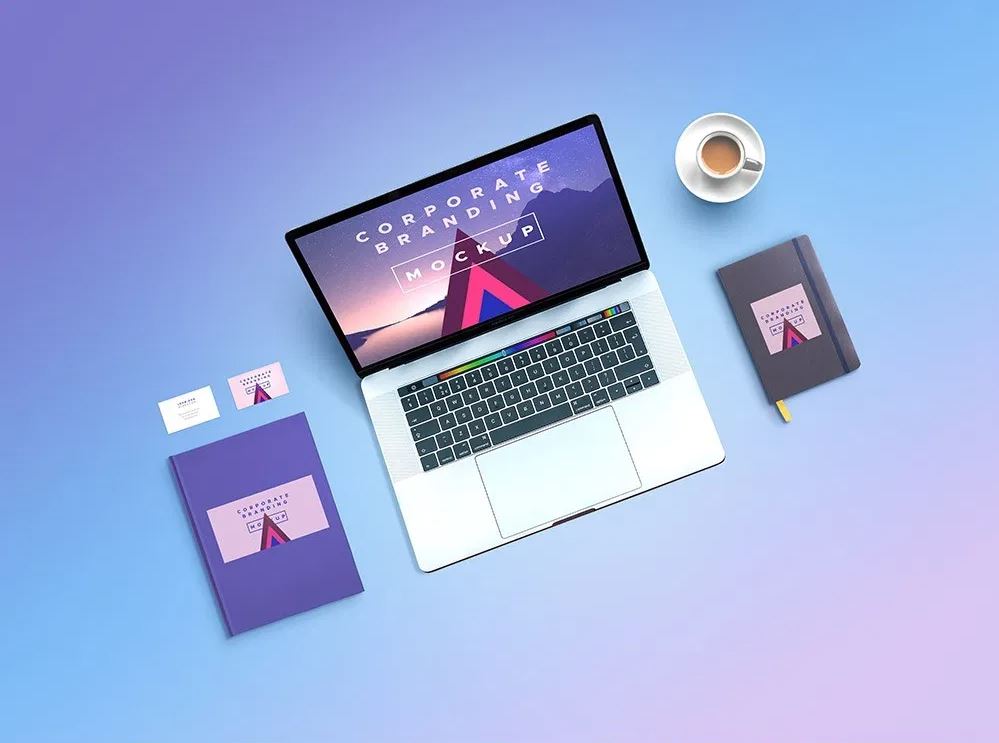 For a stunning corporate stationery mockup template that's available for free download, look no further than this high-quality option from GraphicsFuel. Featuring a MacBook Pro, notebook, business card, journal and coffee cup, the color scheme can be customized to complement your corporate branding, and the smart object layers make for simple editing.
Another free and high-quality option that's perfect for corporate purposes, this ultra-modern stationery mockup template features a clean, minimalistic layout against a plain background, with shadows and layering adding depth and realism to the design. It's also easy to customize and add your own creative flair, if you wish.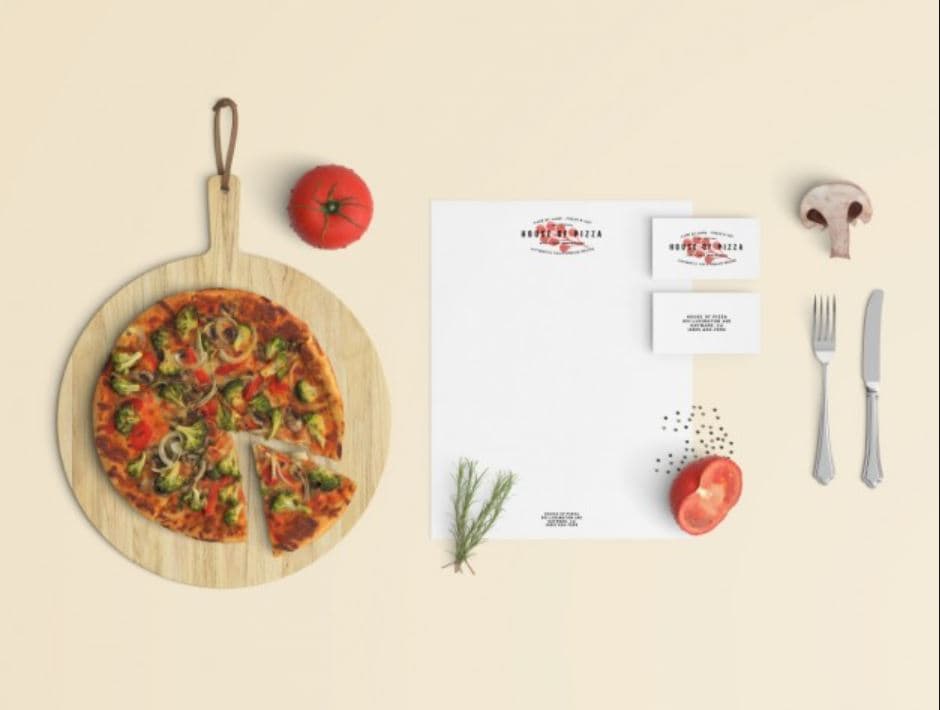 If you're opening or rebranding a restaurant and looking for a stationery mockup template to showcase your new designs, this free option from DesignHooks is a great choice – it features a pizza on a round wooden board and various garnishings surrounding your paper elements, against a plain, neutral background.
This range of versatile and highly customizable stationery mockup templates takes the risk out of trying out different stationery items with your company logo or branding, and will help you decide which options to choose – and they're all available for download right now, so what are you waiting for?!
Mockup Templates
We're teaching you how to use mockups, how to choose effective templates, and showing you where to find the best mockup templates for dozens of different design projects.