Color is an element that can make or break a design, and that rule holds true for presentation design as well. Choosing the right PowerPoint color scheme is super-important.
But there's one extra thing to consider – where your presentation will be given. A PowerPoint presentation can look quite different on a computer or tablet versus on a projected screen.
When it comes to selecting a PowerPoint color scheme, this is an important consideration. Today we've rounded up 20 stylish PowerPoint color schemes as inspiration. While darker color schemes might look great close-up on screens, opt for lighter backgrounds (for enhanced readability) for projected presentations.
Note: The last color in each scheme is for the slide background.
Download thousands of PowerPoint templates, and many other design elements, with a monthly Envato Elements membership. It starts at $16 per month, and gives you unlimited access to a growing library of over 2,000,000 presentation templates, fonts, photos, graphics, and more.
1. Modern Blue
#1a4e66#e26c22#ffffff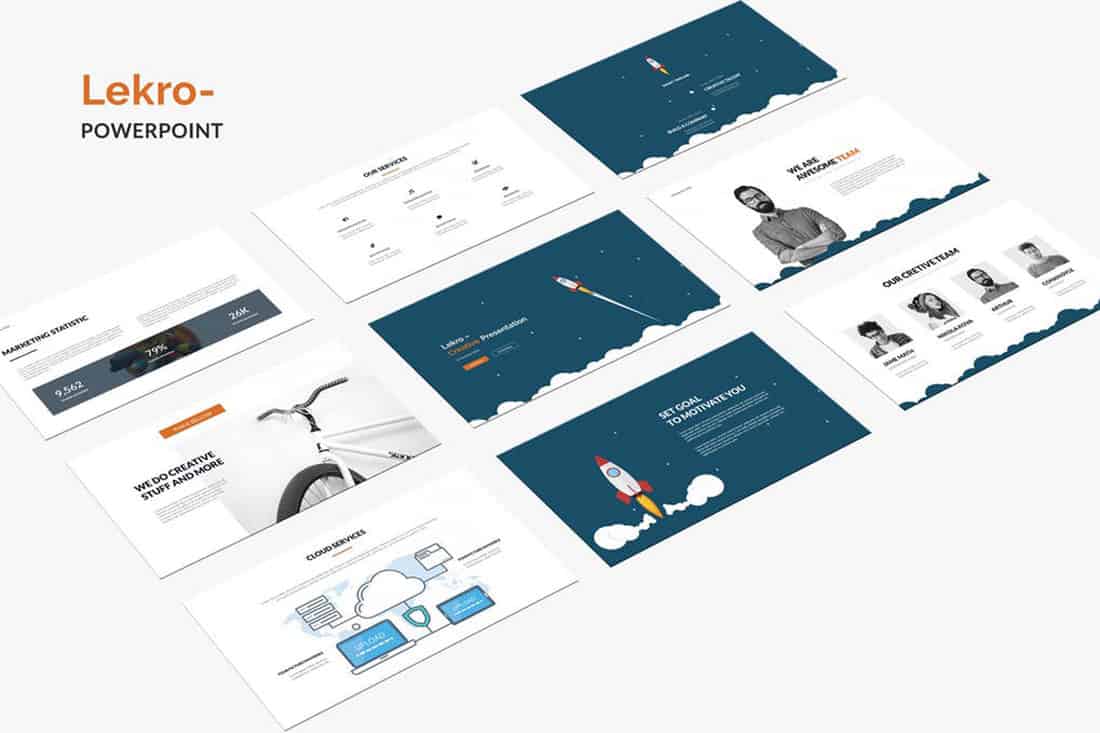 When you aren't planning to use brand colors – or maybe as a startup or independent contractor so you don't have them yet – a modern color combination can add the right flair to a PowerPoint presentation.
The bright grayish blue in the Lekro PowerPoint template – you can find it here – adds the right amount of color without overwhelming the content. Plus, subtle orange accents help guide the eye throughout this PowerPoint color scheme. https://elements.envato.com/lekro-powerpoint-presentation-67YW3M
2. Blackish and Yellow
#3a3839#fed650#ffffff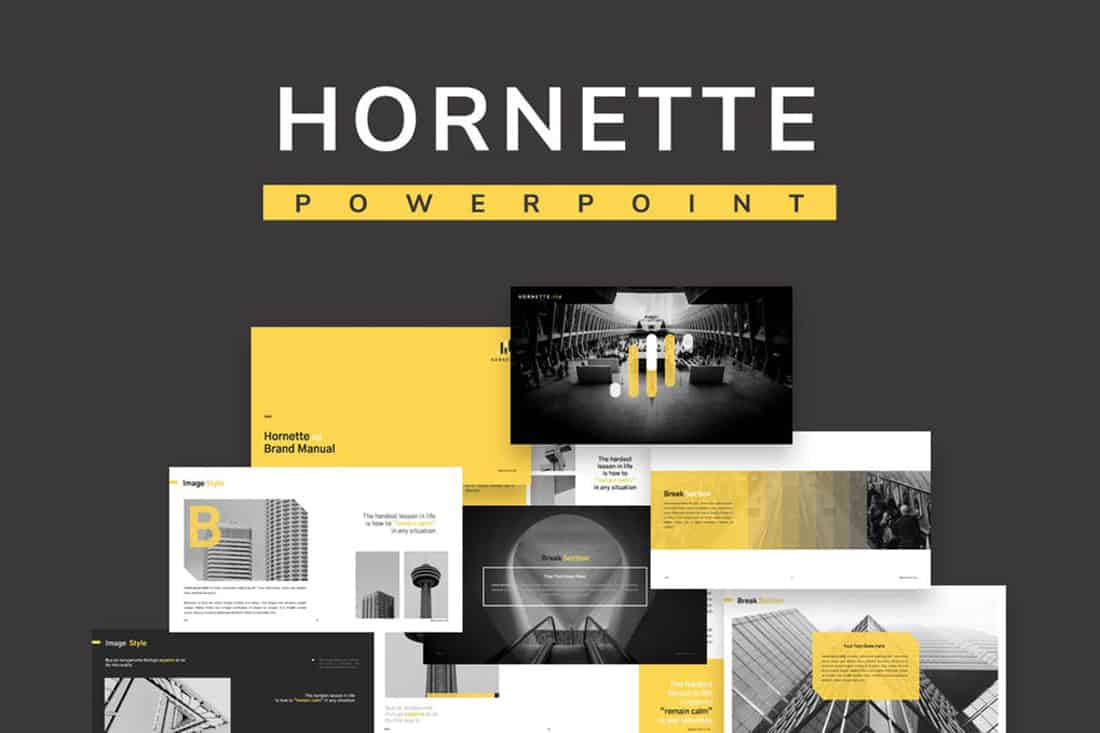 While at first pass, black and yellow might seem like a harsh color combination, it can set the tone for a project that should emanate strength. This PowerPoint color scheme softens the harshness of the duo with a blackish color, that's grayer and has a softer feel.
Pair this combo on a light background or with black and white images for a stylish, mod look.
3. Monotone Greens
#8cba60#59724b#fffff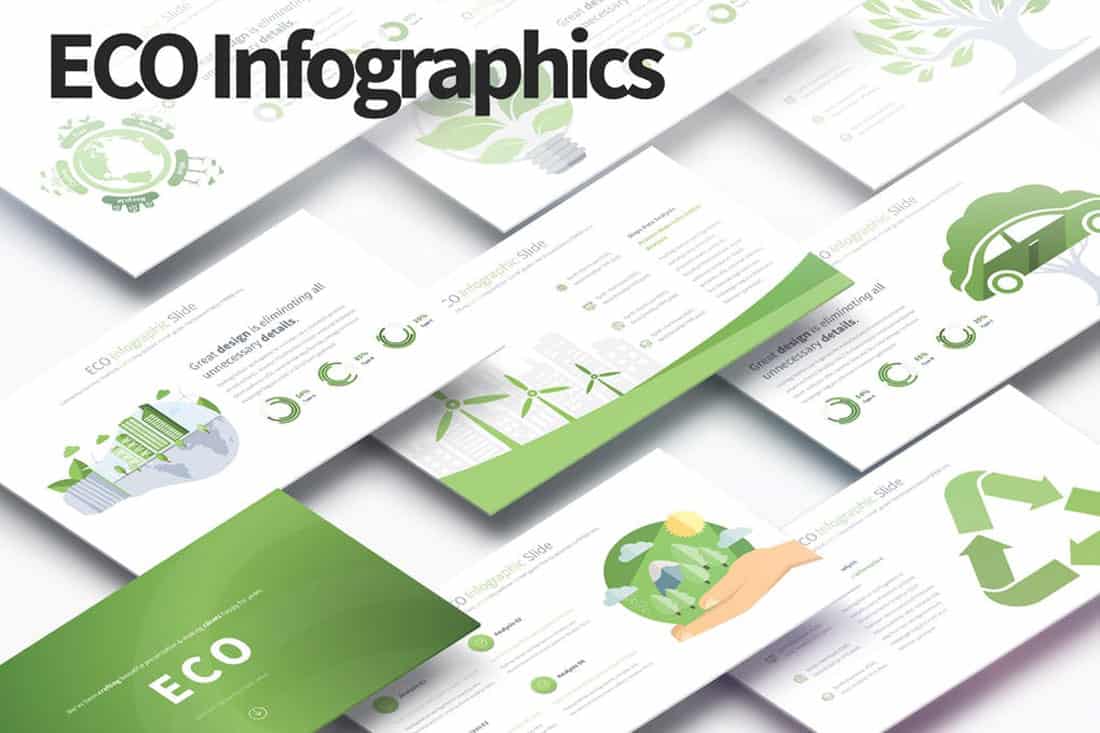 Some of the best color schemes for presentations include a monotone palette. What's nice about a single color style is that you know everything will always match!
This dark and light green pairing is simple, has a nice feel and even with a bright color creates a neutral feel.
4. Orange and White
# ff6908#ffffff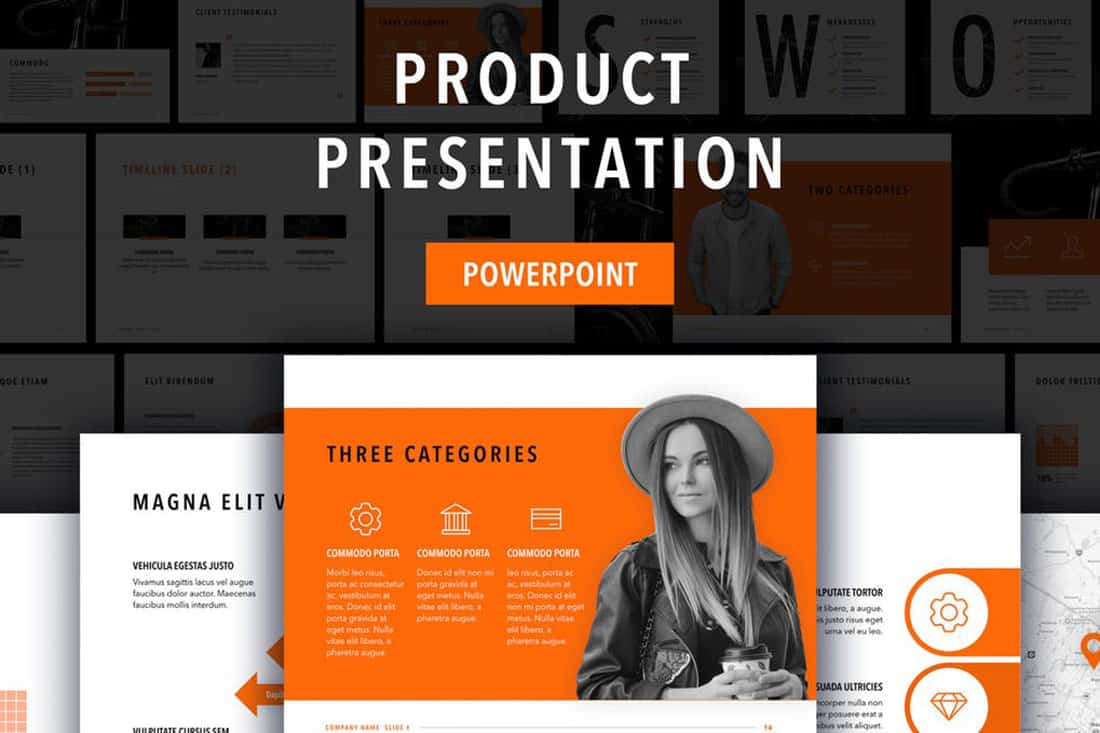 A bright color can soften the harshness of a stark PowerPoint design. Especially when used for larger portions of the content area, such as background swatches or to help accent particular elements.
The Sprint template makes great use of color with a simple palette – orange and white with black text – but has slide ideas that incorporate the color throughout for something with a more "designed" look to it. (And if you aren't a fan of the orange, change the color for use with this template to keep the modern feel.)
5. Baby Blues and Gray
#baedff#5d798e#ffffff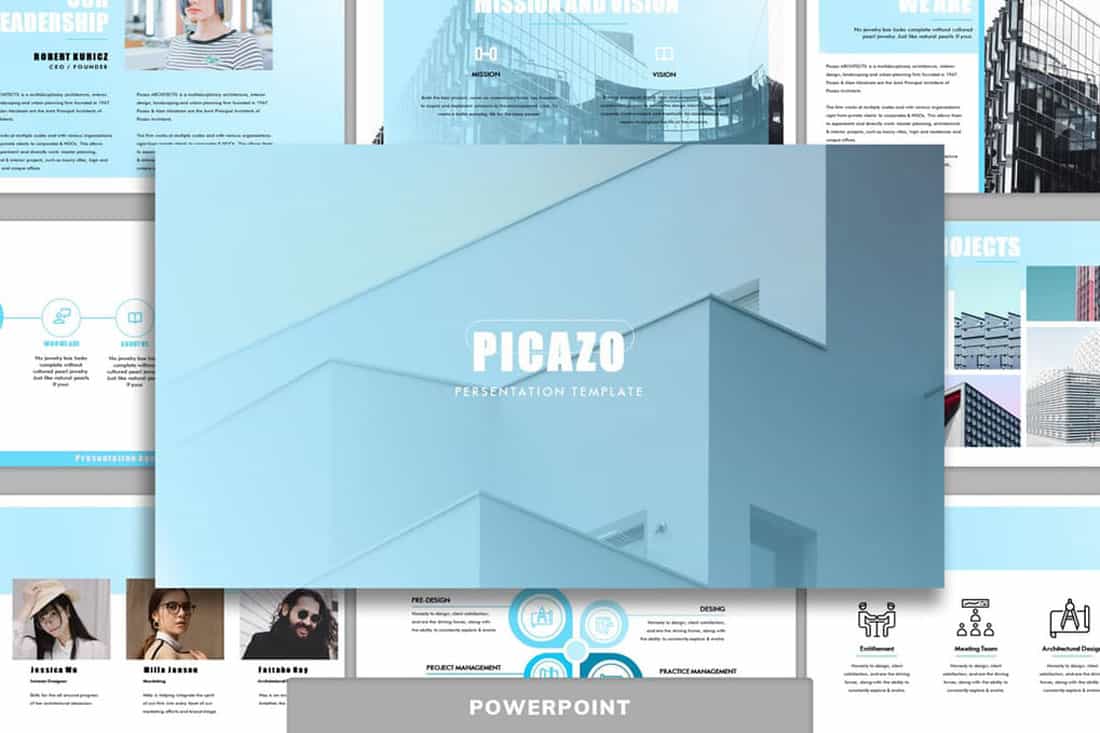 Light blue is a classic presentation color that never seems to get old. Freshen it up by pairing baby blue tones with a gray or darker gray-blue, like the featured color scheme above.
This color combo can work for almost any type of content and sets the tone for a light and calm presentation.
6. Purple
#695c78#08121b#ffffff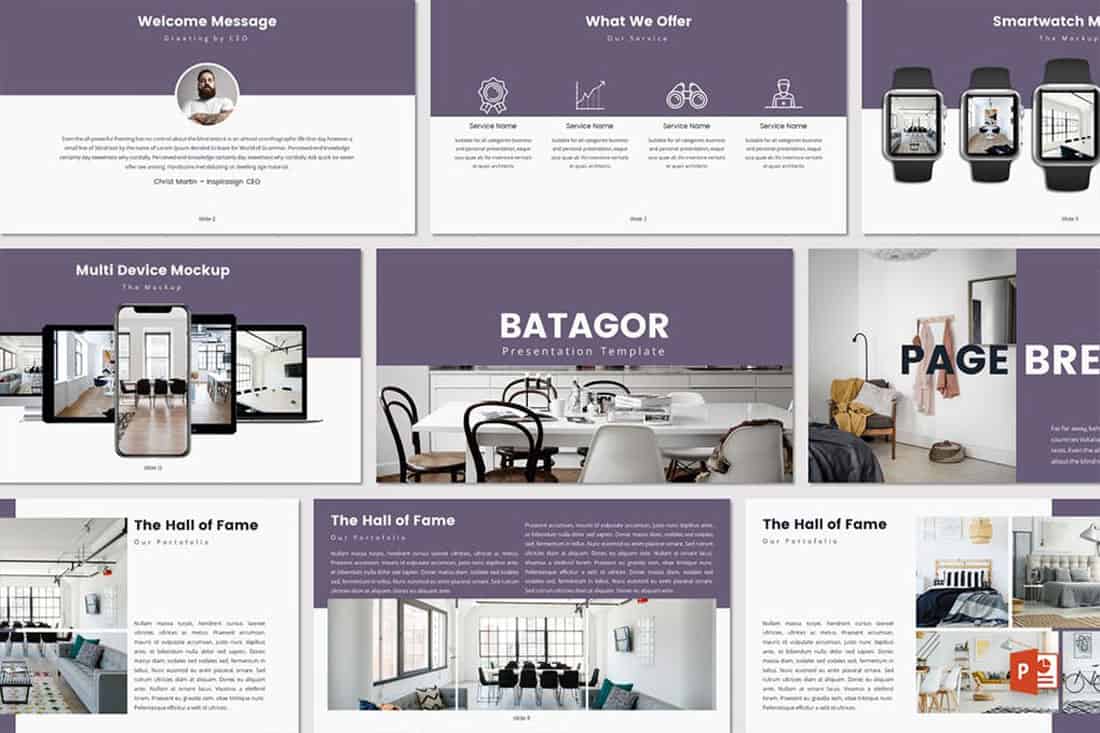 Purple presentations are in. The color, which was once avoided by many in design projects, has flourished with recent color trends.
Because more funky, bright colors are popular, a presentation with a purple focus can be acceptable for a variety of uses. The use in the Batagor template has a modern design with a deep header in the featured color, which works best with images that aren't incredibly bold in terms of color.
7. Blue-Green Gradients
#0784ba#1e997c#ffffff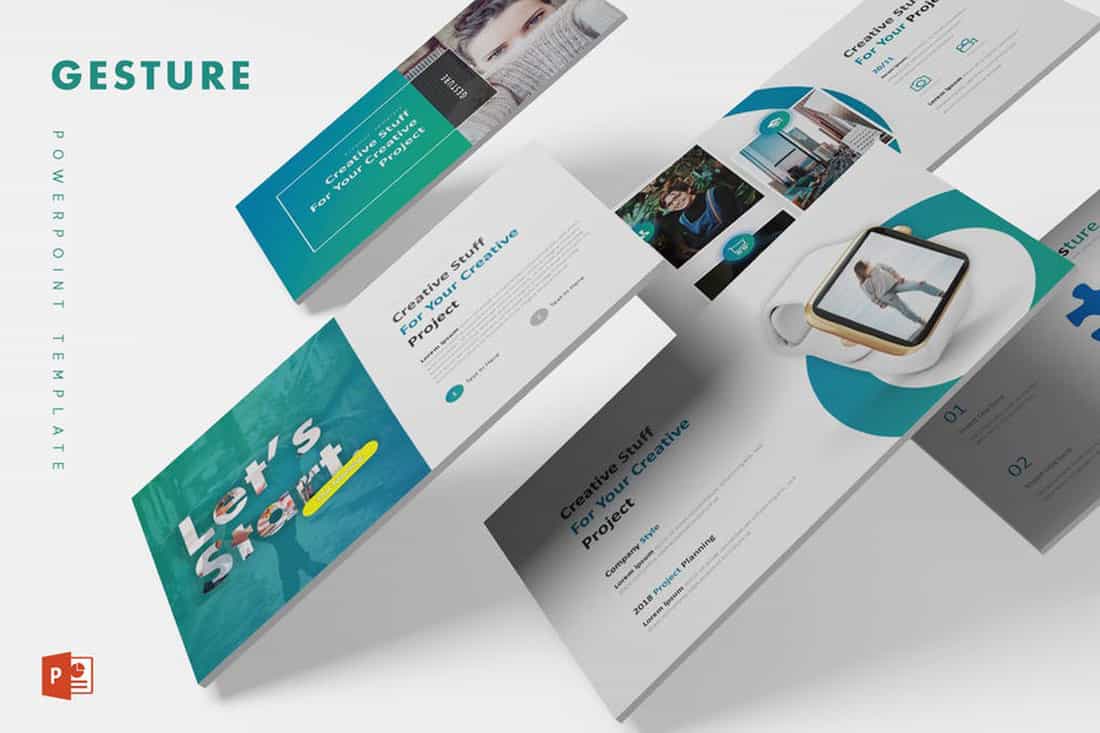 Another trending item in color is the use of gradients. This trend can be applied to PowerPOint presentations as well.
Use a blue to green gradient for a soft and harmonious color scheme that won't get in the way of content. Use each hue alone for accents and informational divots throughout the presentation design.
8. Black and White
#ececec#000000#fffff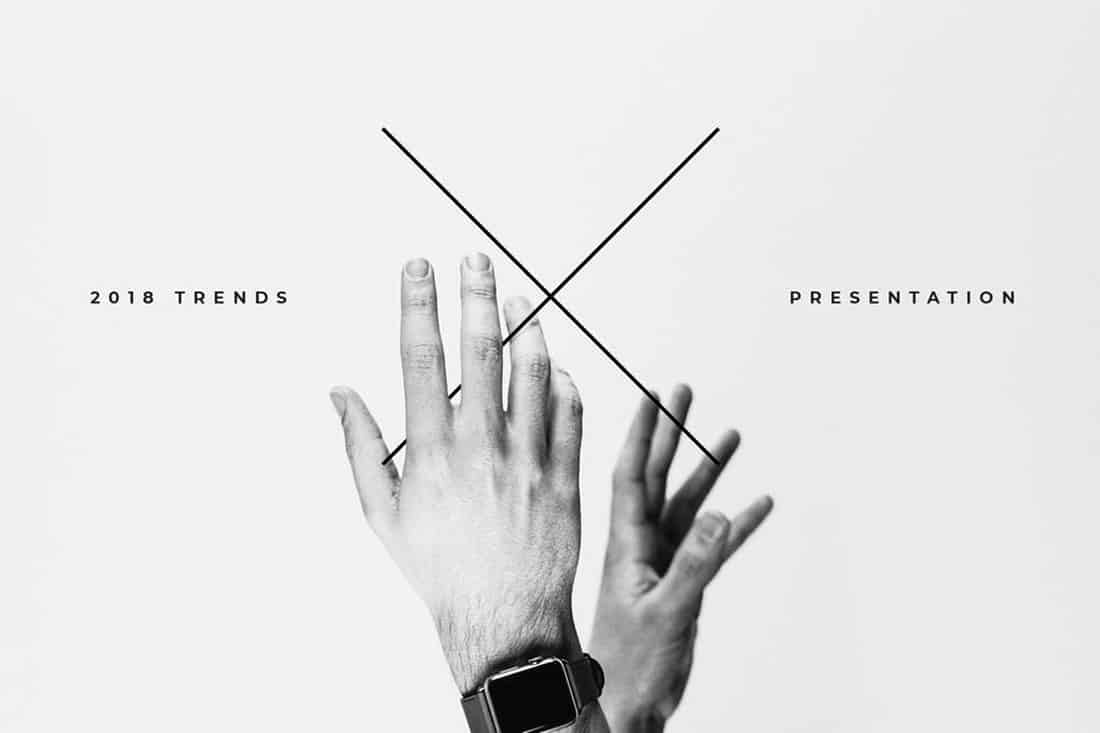 Minimalism is the design trend that never goes away. A black and white (or gray) presentation screams class and sophistication.
It can also be easy to work with when you don't want the color to get in the way of your message. And if a design can stand alone without color, you know it works.
9. Reds and Black
# e90039#ff1800#2b2b2d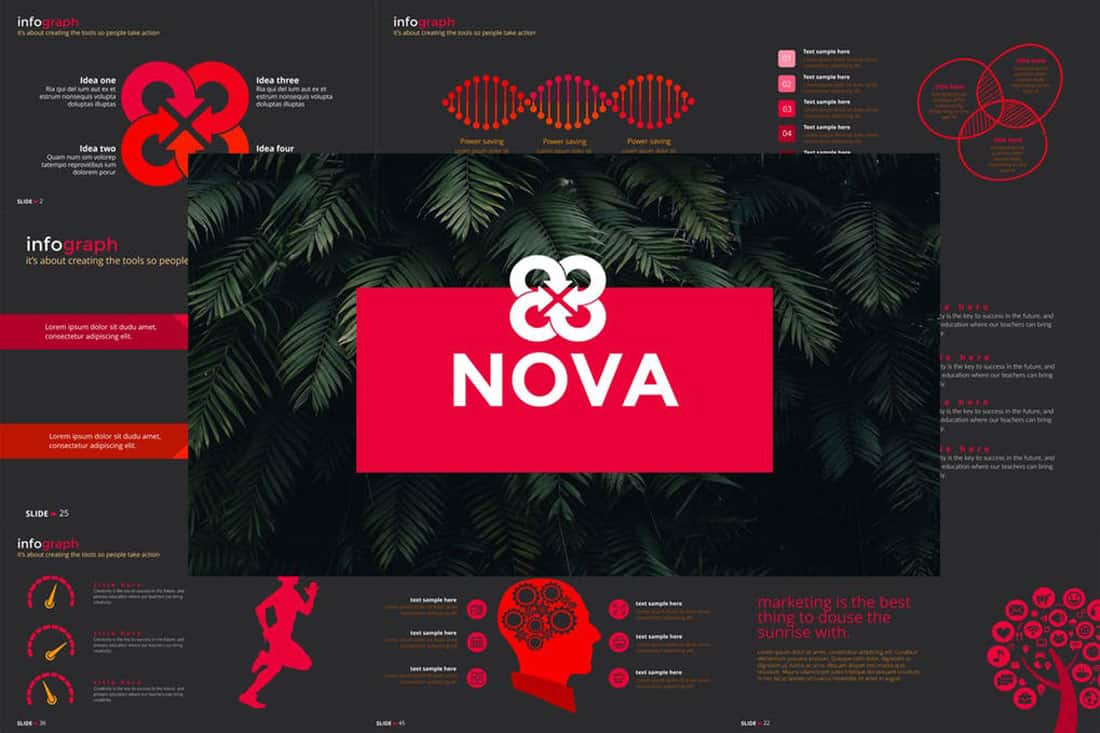 If you are designing a presentation for viewing on screens, such as desktops or tablets, a dark background with bright color accents and white text can work well. (This combination gets a lot trickier on projector displays.)
While reverse text and red aren't always recommended, you can see from the Nova template that it can be a stunning combination. But note, this modern color scheme is best for specific content and audiences.
10. Mono Blues
#0f4efd#c6d8ff#ffffff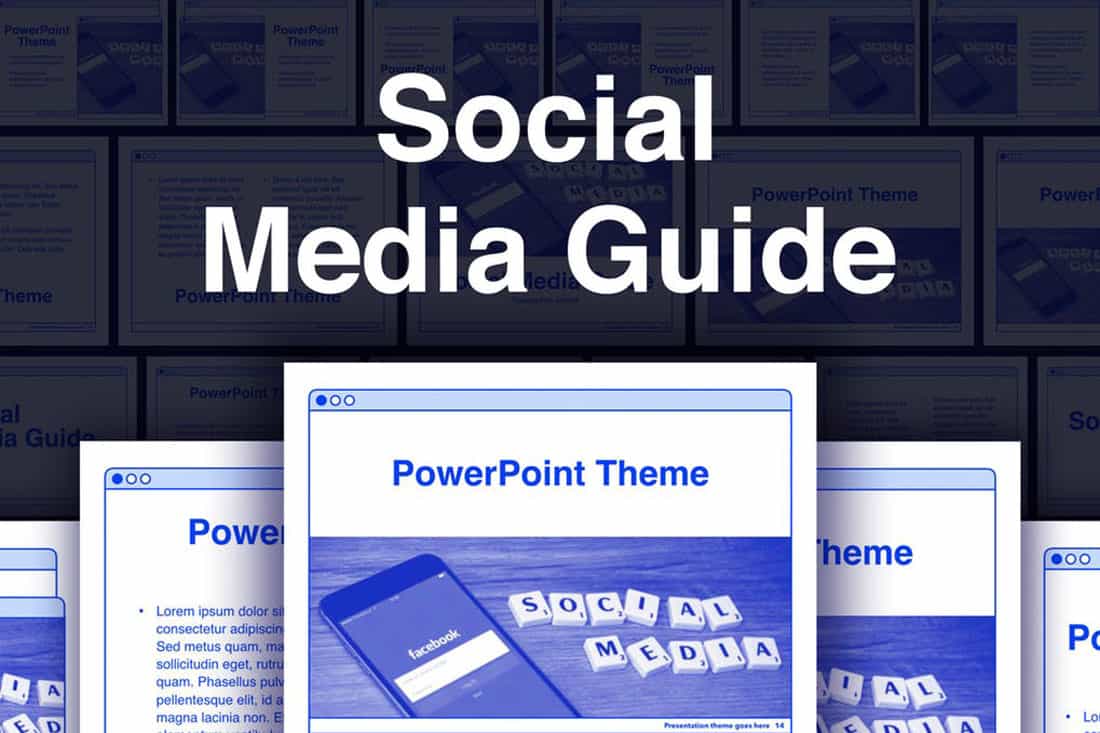 With a modern spin on a monotone palette, you can have a lot of fun. The dark and light blues in the Social Media Guide template prove this is a highly usable color scheme.
The old school feel has a look-at-me design and with the same mono overlay on images, this can be quite the stunning combination.
11. Blue and Pink
#264190#f68484#ffffff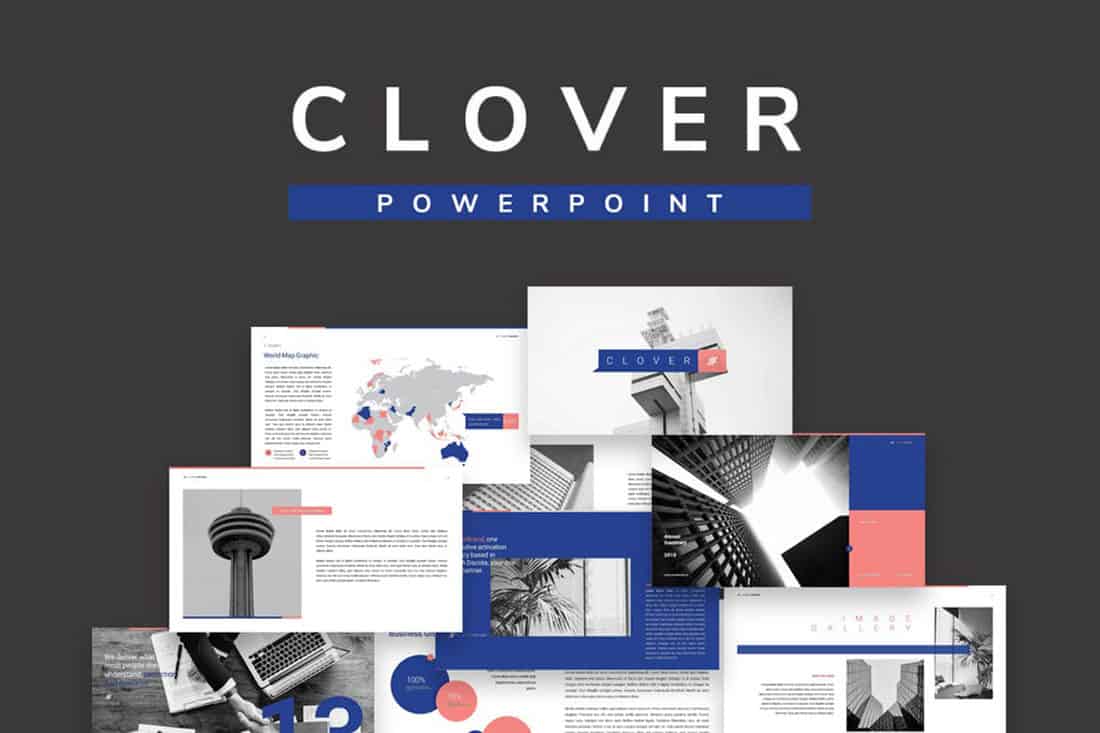 This color scheme is a spin on Pantone's colors of the year from 2016. https://designshack.net/articles/graphics/how-to-use-the-pantone-color-of-the-year-in-design-projects/ The brighter, bolder versions of rose quartz and serenity and fun and sophisticated.
The unexpected combo sets the tone with a strong, trustworthy blue and adds softness with the paler pink. The colors work equally well with white or darker backgrounds.
12. Blue and Green
#95a78d#b0dcff#ffffff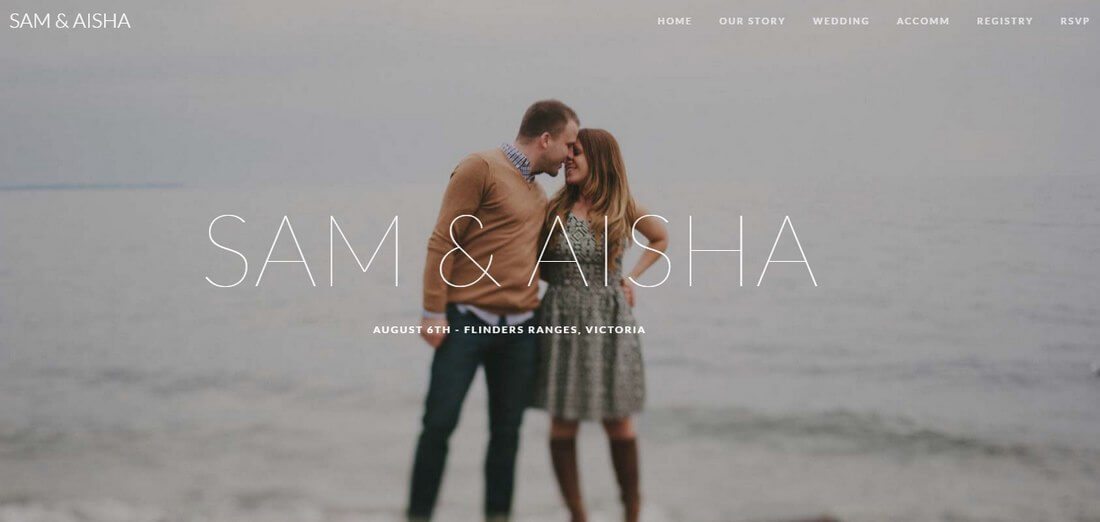 Blue and green accents can help a black or white background come to life in a presentation template. The colors here can work with either background style, based on how you plan to display your presentation.
What's nice about these colors is that they are pretty neutral – since both are found in nature – and can be used with ease for design or text elements in a PowerPoint color scheme.
13. Beige and Gray
#eddacc#ddded9#ffffff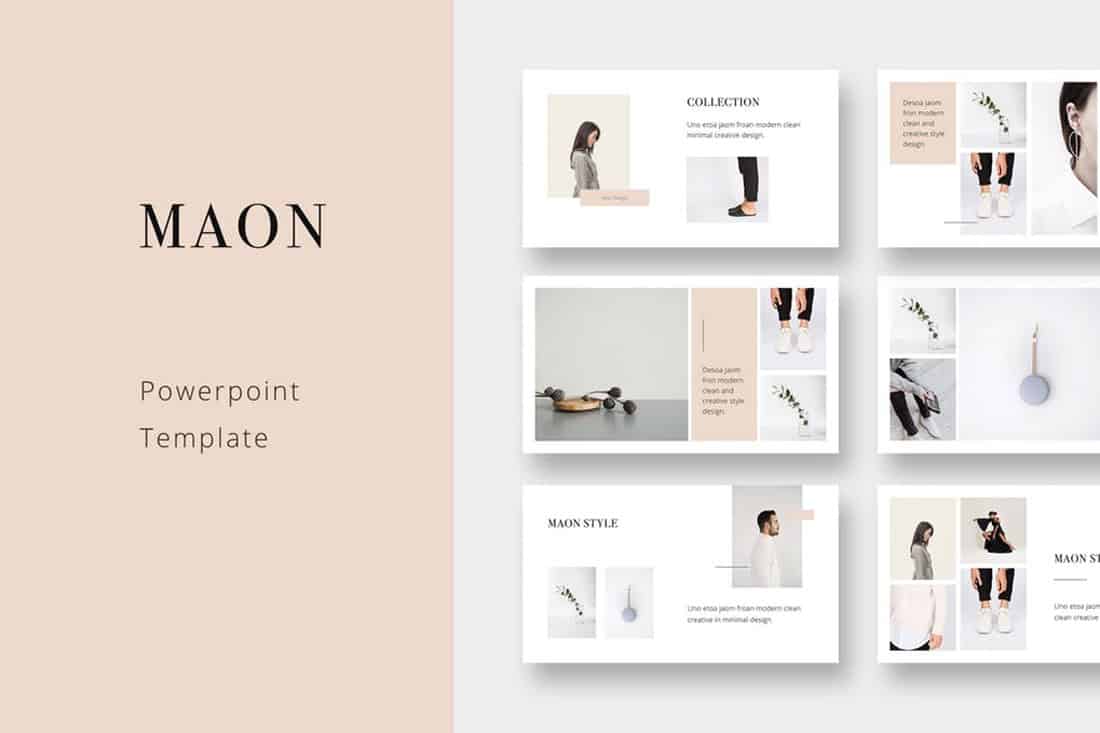 If you are looking for a softer color palette, consider beige and gray. These hues can work well on screens or projected, making it a versatile option.
The nice thing about such a neutral palette is that it gives content plenty of room, so that will be the true focus of the presentation.
14. Tints and Tones
#525368#7a7a7a#ffffff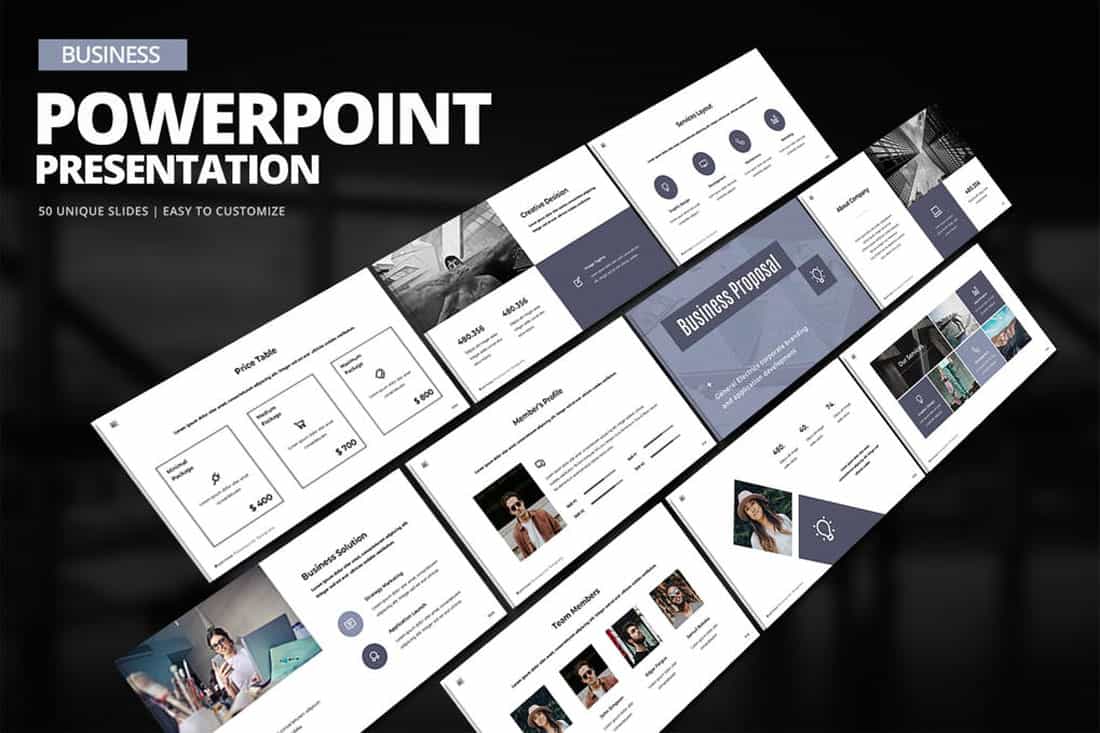 While the purplish-blue-gray in the Business PowerPoint Presentation template is stunning, it represents a greater trend in presentation design. Pick a color – maybe your dominant brand color – and use tints and tones for the presentation color scheme.
By mixing the color with white or black and gray, you'll end with up with a stunning set of color variations that match your messaging.
15. Bold Rainbow
#702e52# f2503b#febe28 #fffff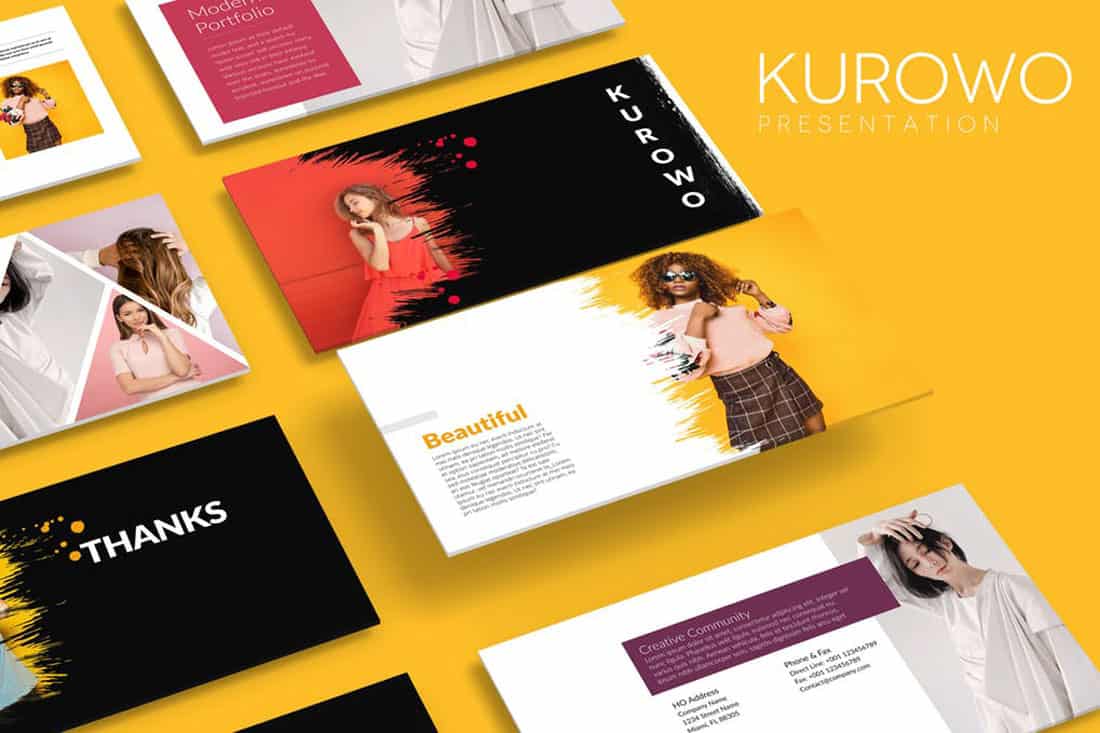 While most of the color schemes featured here only include a color or two, bright color schemes with wider color variations are trending.
This distinct "rainbow style" can be somewhat difficult to use without rules for each color. Proceed with caution.
16. Bright Neutrals
#89b374#b5c266#e4e4e4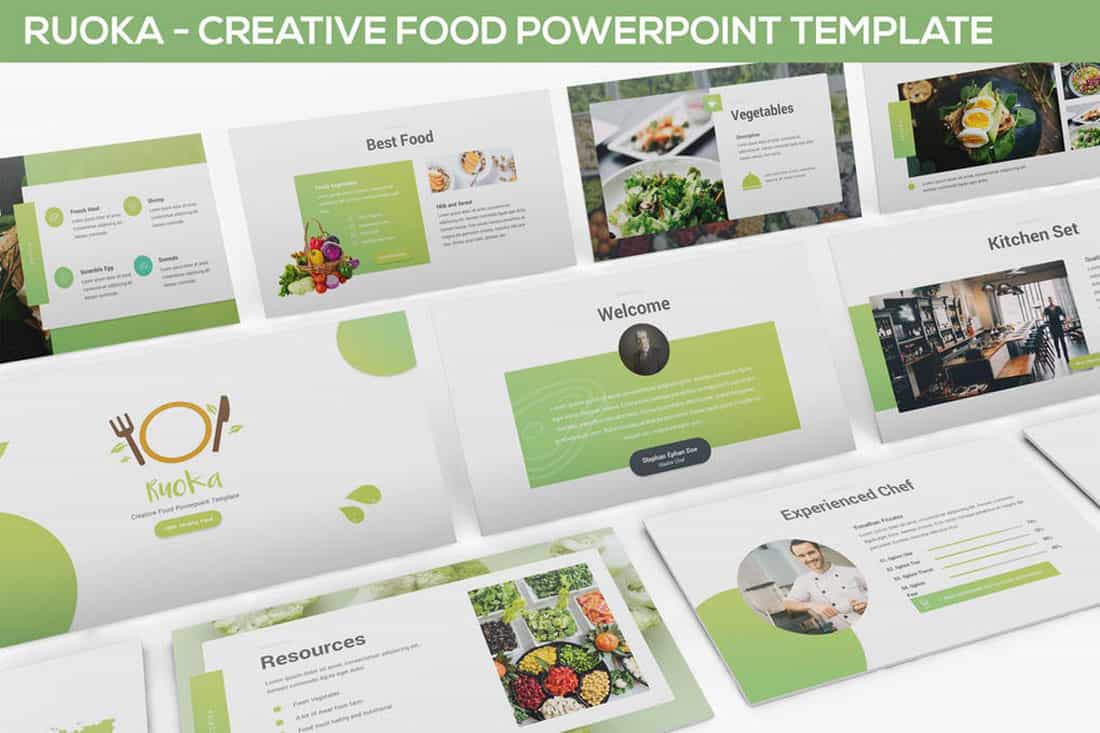 Lime green is the brightest "neutral" you might ever use. A fun palette that's versatile can be a solid foundation for a color palette.
It works exceptionally well in the Rouka PowerPoint template thanks to a pairing with a subtle gray background. Using a light, but not white, background can be great for screens and projected presentations because it takes away some of the harshnesses of a white background. The subtle coloring is easier on the eyes for reading and viewing.
17. Rich Browns
#90816a#272727#fffff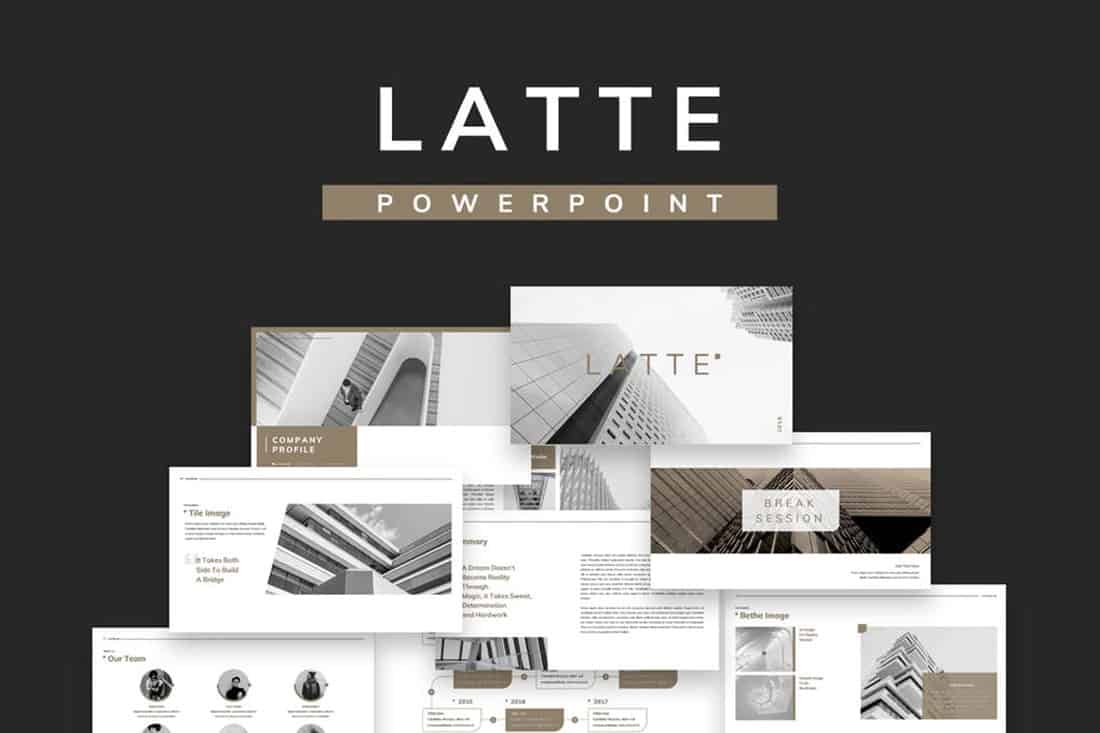 Browns aren't often what comes to mind when thinking of building a color scheme, but rich browns can be a modern option.
Pair a neutral beige-brown with a darker color for an interesting contrast that works with almost any style of content.
18. Mint Green
#3eb9a5#e9a02f#ffffff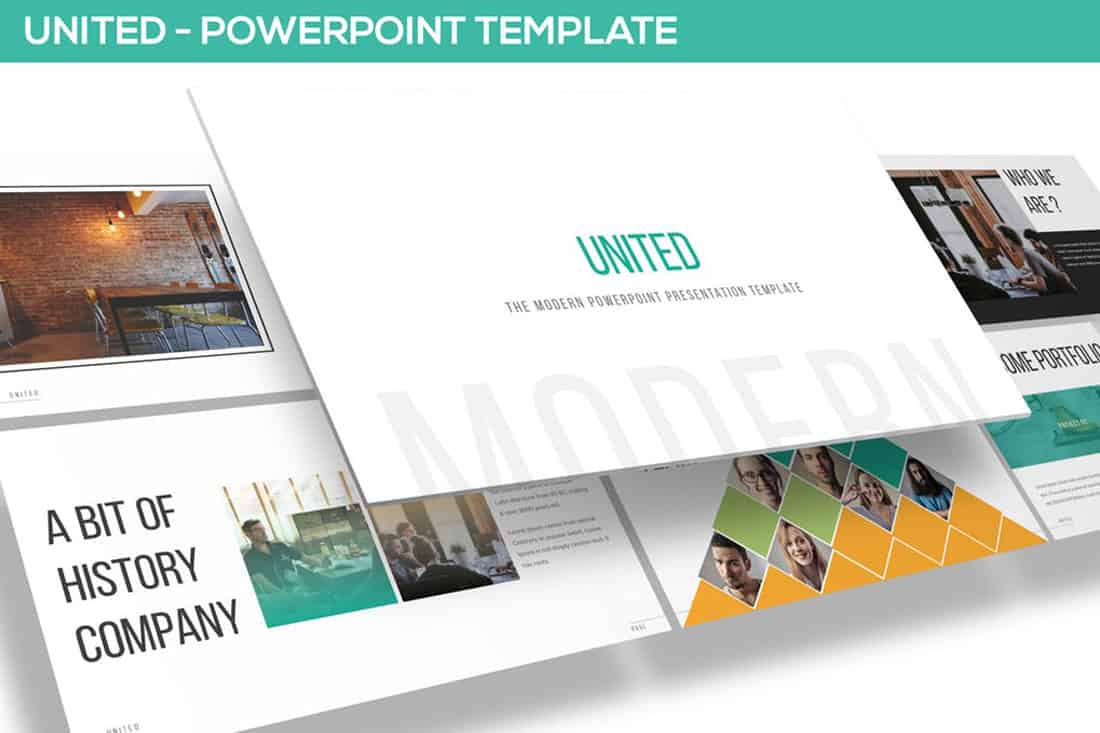 Go super trendy with a modern and streamlined palette of mint green and gray on white. While this combination can have a minimal feel, it also adds a touch of funkiness to the design.
Add another hint of color – think orange – for extra accents.
19. Dark Gray and Blue
#387490#01acb6#2b2b2d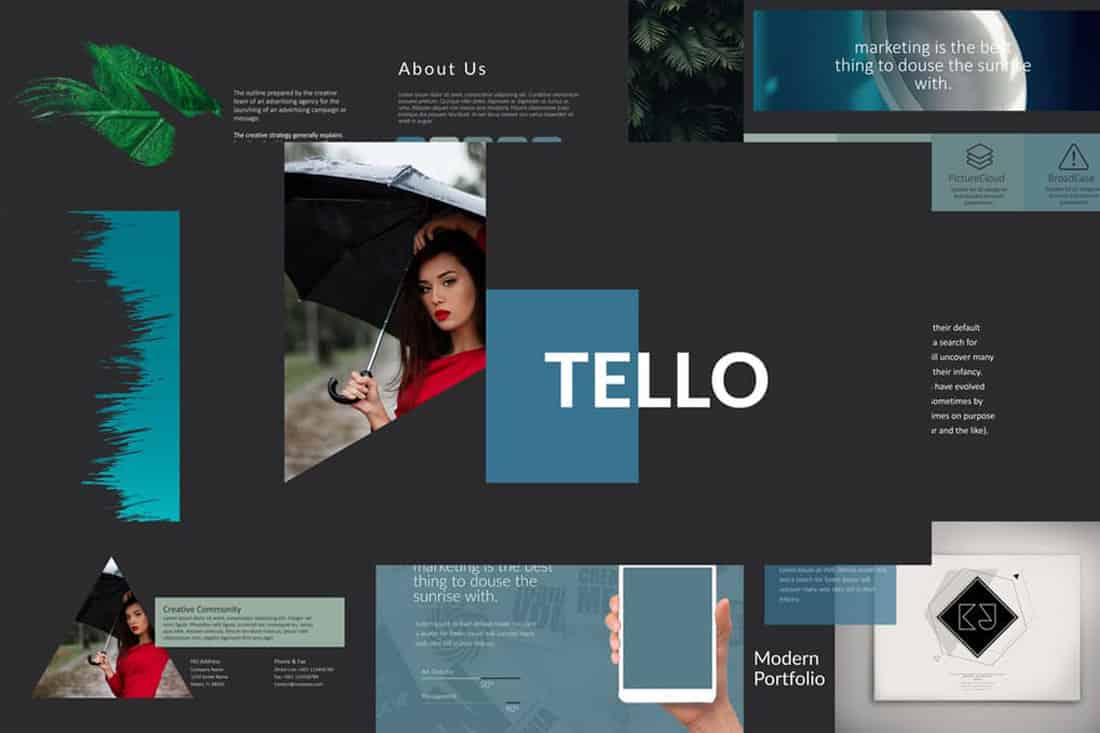 It doesn't get more classy than a combination of grays and blues. This new take on a classic color scheme adds another brighter blue as well to pick up on modern trends.
Just be careful with text using a dark background such as this one. White is probably your best option for typography, and look for a font with thicker strokes.
20. Rainbow Themed
#1ca385#9cbb5d#f29b27#bd382f#ffffff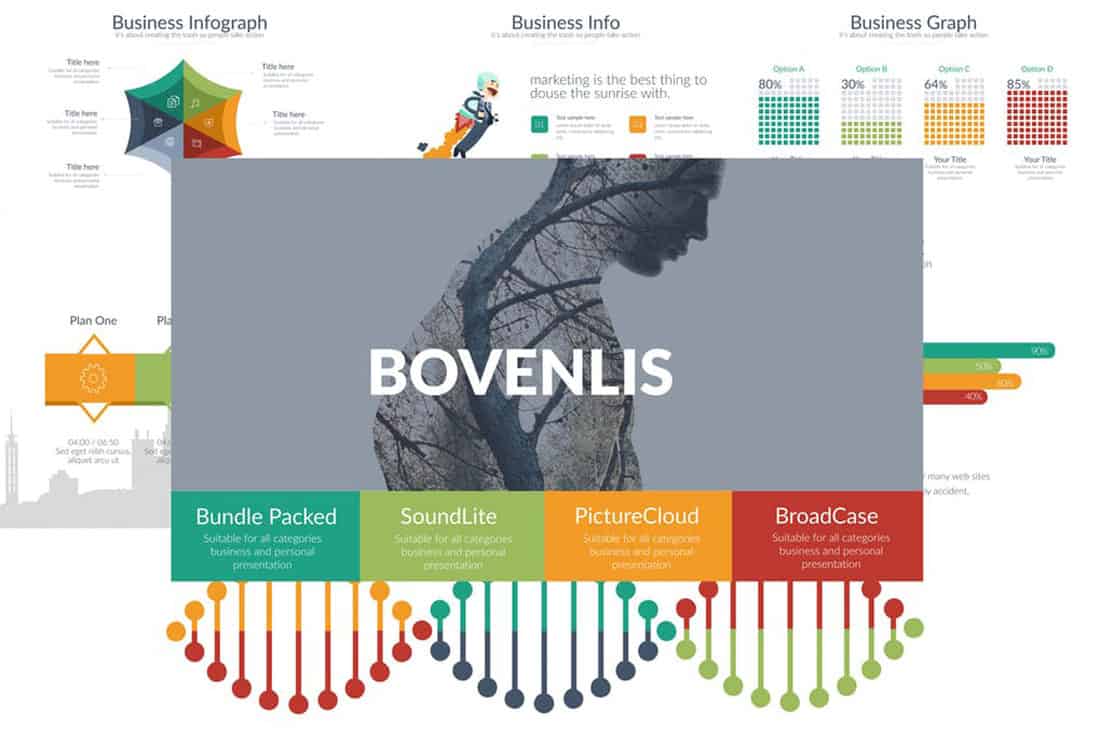 While most designers stay away from color schemes with more than a couple of colors, a bright rainbow-style option can work for presentations. It's visually interesting and can help break up a deck with a lot of slides.
When working with a large color palette, give each color a purpose in the design, so that the overall scheme looks intentional.
PowerPoint Templates
Microsoft PowerPoint (PPT) is the go-to choice for creating presentations. This series shares tips and ideas for working with PowerPoint, as well as beautiful PowerPoint templates and themes to make your presentations look stunning.