Retouching and enhancing portrait photos is a time-consuming task, and starting from scratch with every photo can be frustrating. Using a portrait Photoshop Action can save time, and give you a beautiful result with a few clicks. Let's dive into some of the best portrait Photoshop Actions available today.
These Photoshop Actions help you save time and improve your workflow when editing a portrait photo. You can use them to instantly retouch photos, add makeup, enhance colors, add effects, adjust toning, and much more with just a single click.
Say hello to a faster, simpler workflow (and some impressive end results!). And if you're looking for more advice and guidance on using these, our Photoshop Actions feature is a great place to start.
We're also sharing our tips for editing portrait photos to help give you a head start.
Download thousands of stunning Photoshop actions and add-ons with an Envato Elements membership. It starts at $16 per month, and gives you unlimited access to a growing library of over 2,000,000 actions, presets, design templates, themes, photos, and more.
Top Pick
Skin retouching is a complicated process. You can't get that job done with just one Photoshop action. Which is why this pack comes bundled up with 34 retouching Photoshop actions.
It includes PS actions for everything from airbrushing to skin toning, enhancing lips, teeth whitening, and much more.
Why This Is A Top Pick
This complete bundle is a must-have for portrait photo editors as it'll drastically improve your workflow of enhancing photos and all levels of skin retouching with simple, one-click Photoshop actions.
Oceania is a collection of professionally crafted Photoshop actions you can use to optimize your portraits, travel, and social media photos. It includes 5 different actions with various color styles and effects. The actions work with Photoshop CS4 and higher.
This is a set of 15 different Photoshop actions that are designed for improving your fashion photography and portraits. The actions create non-destructive effects that are also easily customizable to your preference.
Perfectly suited for portrait, wedding and event photography, Freya is a fully-automated set of five photoshop actions designed to improve the overall appearance and mood of your pictures. It offers gorgeous non-destructive and customizable skin tones with soft matte touch tranforming your images into stellar shots.
Kickstart editing portraits with this fine-tuned and one-of-a-kind Photoshop action. It converts your photos into amazing-looking portraits in just one click and is non-destructive enabling you to get back 100% of your original photo.
Wanting to achieve a professional artistic sketch effect for your images? Look no further than our next option featuring fully customizable colors, layers and other elements. It also comes with a video tutorial to help you make the most of the pencil sketch effect.
Give your images a beautiful finish with the collection of 50 Photoshop actions in just a couple of minutes. Its not just super easy to create stunning portrait effects but also a lot of fun to play around with all the customizable features.
Next up we have a fantastic set of six portrait Photoshop actions that will give a nice grainy touch to your photos. These are fast editing actions and will change the mood of your images in just a few seconds. This set of actions is compatible with Photoshop CS3 to CC.
A massive bundle full of 50 different Photoshop actions. This pack includes many types of effects that help you adjust and optimize the contrast of your photos while giving them a unique look. The actions work with RAW and JPEG images.
Another collection of unique portrait Photoshop actions that feature a stylish infrared effect. This pack comes with 12 different effects that give your photos a gothic vibe with an infrared effect.
This collection of Photoshop actions lets you turn your photos into oil paintings. It includes 10 different Photoshop actions featuring all kinds of oil painting effects for giving a comic-book look to your portrait photos.
The film look is a popular effect widely used in portrait photography. This bundle comes with a set of Photoshop actions that features a mix of both film and matte effects that create a unique look in portraits.
The pack includes 3 different Photoshop actions with various strengths of the effect. You can apply the action with just one-click and customize the effect to your preference afterward as well.
High-quality free portrait Photoshop actions are hard to find. This is one of the actions that truly stand out from the crowd as it features a professional-quality effect you can download and use with both personal and commercial projects for free.
This is a bundle of free Photoshop actions featuring matte effects. It includes 10 different effects you can use to improve the tone and mood of your portraits.
Scarlet is a creative duo of Photoshop actions that will allow you to create a fantasy film-like effect in your portrait photos. The actions work best with outdoor photos with natural sunlight. And they are compatible with Photoshop CS4 and higher.
Give your photos a dark and gritty look and feel using this set of Photoshop actions. This pack includes 9 different actions featuring various effects. They are perfect for improving all types of photography.
Wanderlust is a set of 3 unique Photoshop actions that are designed to help enhance portraits and lifestyle photos. These actions will optimize your photos to adjust the mood and tone and make them look more professional.
Bouquet is a set of Photoshop actions specially designed for wedding photography. They work well with all types of wedding photos, including outdoor landscapes and portraits. It features 6 different actions with various effects.
This is a free Photoshop action that allows you to give a stylish film-like matte look to your portrait photos. This action works with Photoshop CS3 and higher, including Photoshop CC.
A bundle of free HDR Photoshop actions that will make your portraits look as if they were shot with a high-quality DSLR camera. It includes 3 different presets you can apply with just one-click.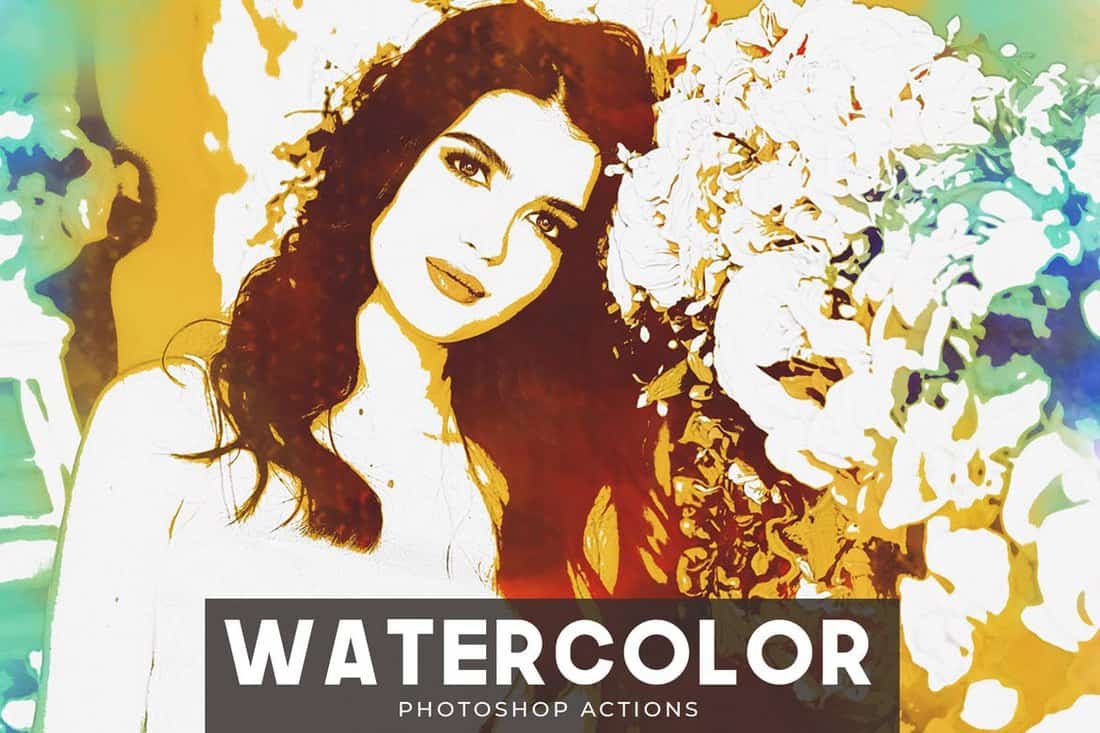 If you're not a fan of oil painting effects, you can use this pack of Photoshop actions to make your photos look like watercolor paintings. The actions are compatible with Photoshop CS3 and higher.
This collection of Photoshop actions comes with 2 different versions you can use for both low and high-resolution images. The actions create an old-school pinhole halftone effect.
The duotone effect is quite popular among all kinds of graphic designers. This pack comes with multiple duotone effects you can use to give an authentic duotone look to your photos almost instantly.
This is a set of filters you can use to quickly adjust and optimize the toning of your portrait photos. The pack includes presets for Photoshop actions as well as Camera RAW. It's compatible with Photoshop CS5 and higher.
This bundle of Photoshop actions is perfect for fashion and glamor portraits and photoshoots. It comes with a set of 10 unique Photoshop actions that create unique filter effects.
A set of 3 unique Photoshop actions that feature high-quality toning effects. These will help you instantly improve the tone of your portraits without an effort.
With this free Photoshop action, you'll be able to make your portrait photos look like a scene out of a movie. The action is compatible with all types of images and its customizable as well.
This bundle comes with a set of 6 unique toning Photoshop actions with a fantasy effect. It's ideal to be used with portrait and fashion photos taken in outdoor natural light settings. You can the actions to adjust the photos taken in low-contrast settings, adding an atmospheric tone, and more.
Caramel is a pack of Photoshop actions especially designed for wedding portraits. It comes with 2 different actions to improve your post-processing workflow by quickly adjusting the photos taken in natural light and outdoors. The actions also generate adjustment layers for customizing the effects to your preference.
This bundle of Photoshop actions includes several stylish pastel effects for adding a colorful and hipster vibe to your portrait photos. It comes with 22 actions, all of which are non-destructive and fully-customizable.
Frequency separation is a technique used in Photoshop when airbrushing the skin of portrait photographs. This actions pack automate that process to get it done with just one-click. The frequency separation action is available in several different styles and versions, including 8-Bit, 16-Bit, and 32-Bit versions.
This stunning Photoshop action is perfect for adding a unique visual effect to your portrait photos and posters. The double light effect mixes two colors to give your portraits a sci-fi themed vibe. The action allows you to choose from 10 different color FX settings as well.
When talking about portrait photography, baby portraits is something we can never forget. This pack of Photoshop actions is made specifically for making your baby photos extra adorable. It includes over 40 unique Photoshop actions for enhancing your baby photos, including foundation actions, retouching actions, workflow actions, artistic toning, and more.
Peony is a set of 2 Photoshop actions made for outdoor and fashion portraits. It allows you to instantly adjust and enhance photos by giving them a rich toning effect. It will even give your dull photos a better color depth, especially for greens and flowers.
This bundle of Photoshop actions includes 5 unique actions that help you to achieve a boho-style effect for your portrait and fashion photos. It's perfect for giving your photos a hipster look.
Suburbia is a collection of Photoshop actions that will help adjust the toning of your portrait and outdoor photos. It includes 6 different actions for giving rustic, soft, contrast, and other styles of effects for your photography.
If you're a photographer or a designer who works with lots of beach photography, this bundle of Photoshop actions will come in handy. It includes 21 presets for enhancing and adding visual effects for your beach and bright light outdoor photos.
This collection comes with 4 different Photoshop actions for giving cinematic effects for your portrait photos. You can use the actions to give moody and cold effects as well as adjusting the tone of your photos.
Redwood is a set of 3 unique Photoshop actions designed to give your outdoor portrait photos a fantasy-themed effect. It includes a morning haze effect, a twilight haze effect, and an evening sunset effect.
This is a collection of 5 Photoshop actions that allows you to turn your portrait photos into paintings. Each action in this pack will give a different style of a painting effect with various brush stroke intensity. It also includes a sharpening action and 3 noise actions as an added bonus.
Tallgrass comes with 2 Photoshop actions for enhancing your portrait photos, especially outdoor and travel photography. It will help enhance the color depth and tune the greens to achieve a stunning visual effect.
This Photoshop action pack includes 3 different actions for achieving the perfect black and white effect for your portrait photos. It will allow you to enhance your photos with a soft charcoal black and white effect to give them a retro and classic vibe.
Another Photoshop action that turns turn your photos into watercolor paintings. This action allows you to choose from 5 different color options to give a realistic watercolor painting effect to your portrait photos.
Bleach action comes in 2 variations that allow you to instantly improve your portrait photos to bring out more detail and color. It's specially designed for photos taken in studios and photos with low exposure.
This is a bundle of 25 Photoshop actions, which includes 19 cinematic effects actions and 6 toning adjustment actions. The effects in this pack have been designed inspired by movies such as the 300, Life Of Pi, Matrix, and Skyfall to help you achieve the same movie-like effects.
A massive bundle of 50 different Photoshop actions containing different styles of cinematic and film noir effects. All of the actions in this pack are crafted to perfection by an award-winning photographer. It includes 30 cinematic color enhancing actions and 20 B&W color actions.
3 Tips for Editing Portrait Photos
If you're new to editing portrait photos, these tips will help you get a better understanding of how the editing process works.
1. Try to Use RAW Images
As you know, JPG is a file format that uses compression to try and reduce the size of your images while preserving the quality of the image. As a result, the JPG file format sacrifices some data and quality elements captured by the sensor of your camera in exchange for convenience.
This is why most professional photographers use the RAW file format. This format captures photos in much higher quality without affecting the quality of the image whatsoever. Even most modern smartphones now have the option to enable RAW file format.
Use it whenever you can to capture high-quality images so when you edit them in Photoshop, you'll have a much better and uncompressed image to work with.
2. Master the Art of Toning
Toning is the process of adjusting the color balance, brightness, and contrast, and saturation levels to achieve the perfect balance in your photos. This process usually differs from one photo to another based on certain conditions like lighting conditions and camera settings. When it comes to portraits, this also applies to skin toning as well.
Whichever process you follow to set the mood with toning, always remember to use adjustment layers in Photoshop to create non-destructive adjustments. This way you'll be able to easily edit or revert your changes however you like.
3. Don't Overuse the Healing Brush
Healing brush is a handy tool in Photoshop that is widely used when editing portrait photos to get rid of things like pimples, freckles, and more. However, most designers make the mistake of taking it too far and using these tools to make photos look unrealistically flawless.
This is not what Photoshop is made for. Remember to preserve the natural look of the portraits while you improve the photos. Know your limits especially when using tools like healing brush and clone stamp.
The Photoshop actions in our list are designed to automate some of these basic adjustments. They are quite useful if you're new to photo editing.
Photoshop Actions
Photoshop Actions are the perfect timesaver to save you doing the same processing on multiple images. Using other people's actions can help you tap into creative techniques, cutting edge post-processing styles, and beautiful effects. In this series, you'll learn how to use Photoshop Actions and find professional examples to use in your own design work.