Building more inclusive websites that provide equal experiences to all audiences, especially for persons with a disability, should be the main goal of every web designer.
According to the World Bank, more than one billion people, or 15% of the world population, suffer from some form of disability. And it's your job as a designer to make websites accessible to everyone.
WordPress is a great software you can use to make accessible websites. The software itself is well optimized for accessibility and, more importantly, it allows you to easily implement accessibility solutions for your websites using third-party plugins.
In this post, we take a look at the best WordPress web accessibility plugins you can use to make accessible websites that serve all audiences equally.
Why Use WordPress Web Accessibility Plugins?
WordPress has its own accessibility team dedicated to ensuring each version and software update they release is compatible with the Web Content Accessibility Guidelines (WCAG). That's how important accessibility is to the company.
However, not every business can afford to have a dedicated accessibility team. It could cost you somewhere between $5000 to $50,000 per year to hire a web accessibility agency to optimize your website.
WordPress web accessibility plugins, however, offers a more affordable and convenient solution for small to medium businesses to make their websites more accessible without having to hire agencies or developers.
These plugins allow you to implement accessibility tools that help a person with a disability to easily navigate your website. Check out the plugins below to see how they work.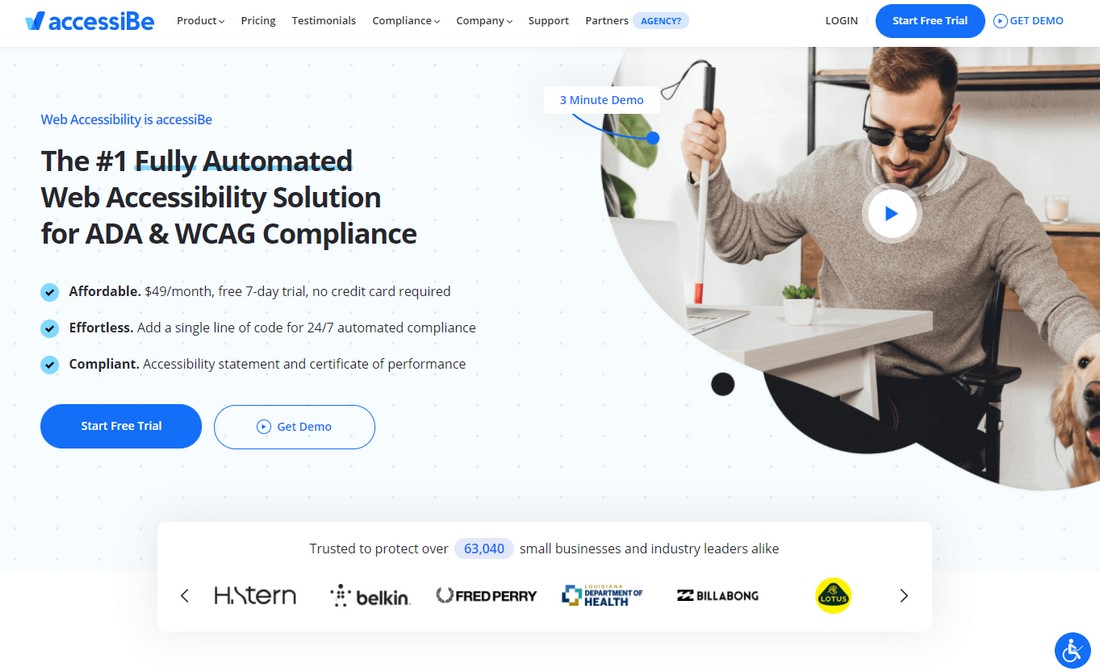 accessiBe is an AI-powered solution that automatically optimizes our website for accessibility based on the user's preference. It works with any website. All you have to do is copy and paste a single line of code. Or, if you're using WordPress, install the plugin with just a few clicks.
Once installed, accessiBe adds an accessibility panel to your website. Using this panel, your website visitors can choose to change the design and orientation of your website according to their needs.
accessiBe is also one of the few WordPress plugins that provide complete WCAG and ADA compliance.
Main Features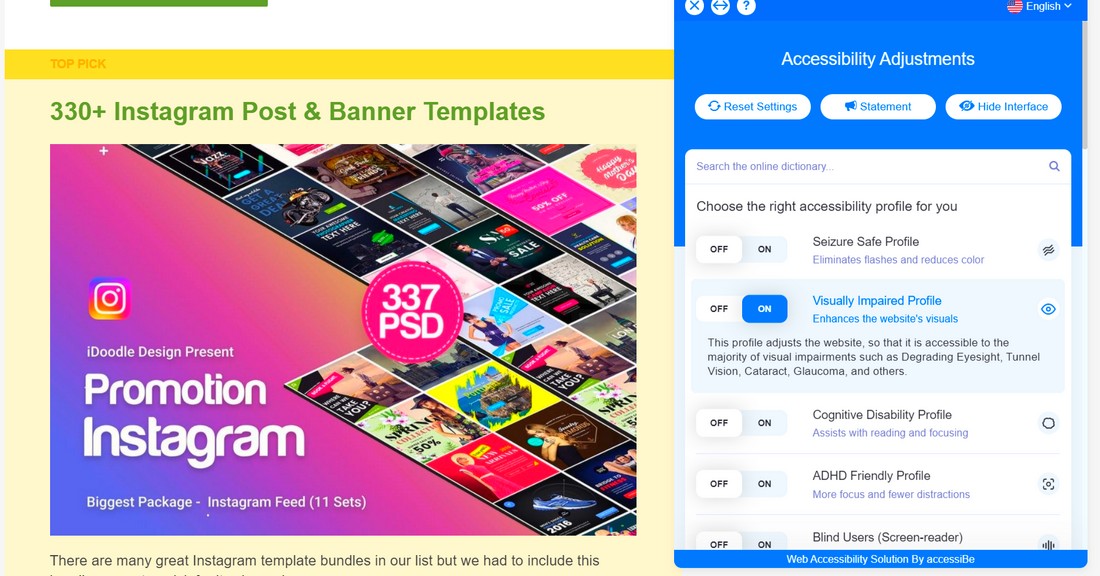 Automatically adds screen-reader adjustments using AI technology
Adds keyboard navigation, color and contrast adjustments, as well as content and UI improvements
Scans your website daily to find and fix any accessibility issues
Provides a monthly audit of accessibility compliance
Offers multiple profiles for users to instantly adjust content based on different disabilities
Pricing Plans
accessiBe pricing plans starts at just $49 per month or $490 per year for the standard plan, which is ideal for websites with up to 1,000 pages.
For websites with 10,000 pages, it costs $1,490 per year. And it's $1,990 per year for sites with 100,000 pages.
You can test the software before making a payment using its free trial.
Who Should Use This Plugin?
Since accessiBe is quite easy to install and offers complete compliance with WCAG and accessibility laws, it's perfect for all kinds of businesses ranging from small blogs to online retail stores, corporate websites, and everything in between.
You can read our accessiBe review to learn more about the plugin.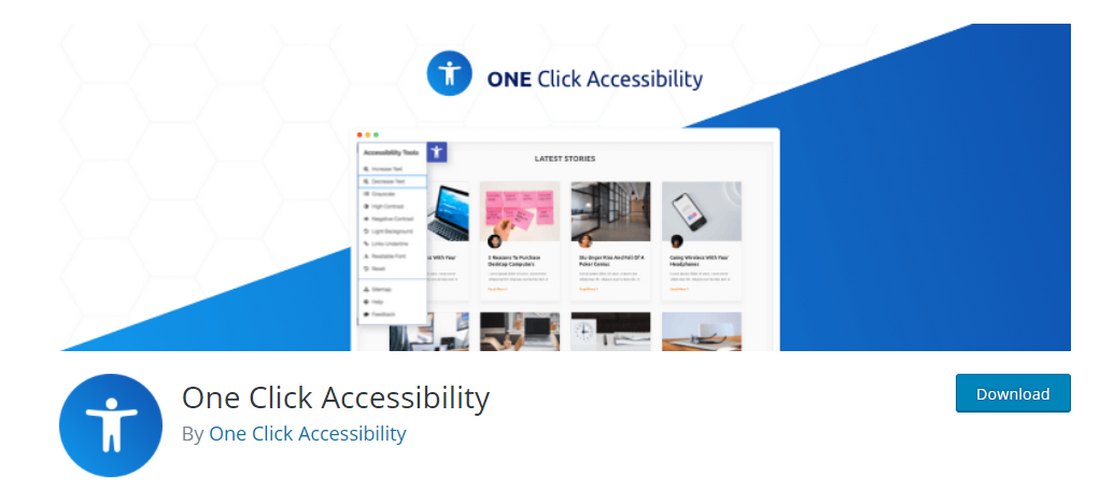 One Click Accessibility is a free WordPress plugin that works similarly to accessiBe. The plugin is designed by the same team behind the Elementor page builder.
This plugin adds an easy to use accessibility toolbar to your website where visitors can choose to make basic adjustments to your websites like adjusting text size, contrast, background, and more.
Main Features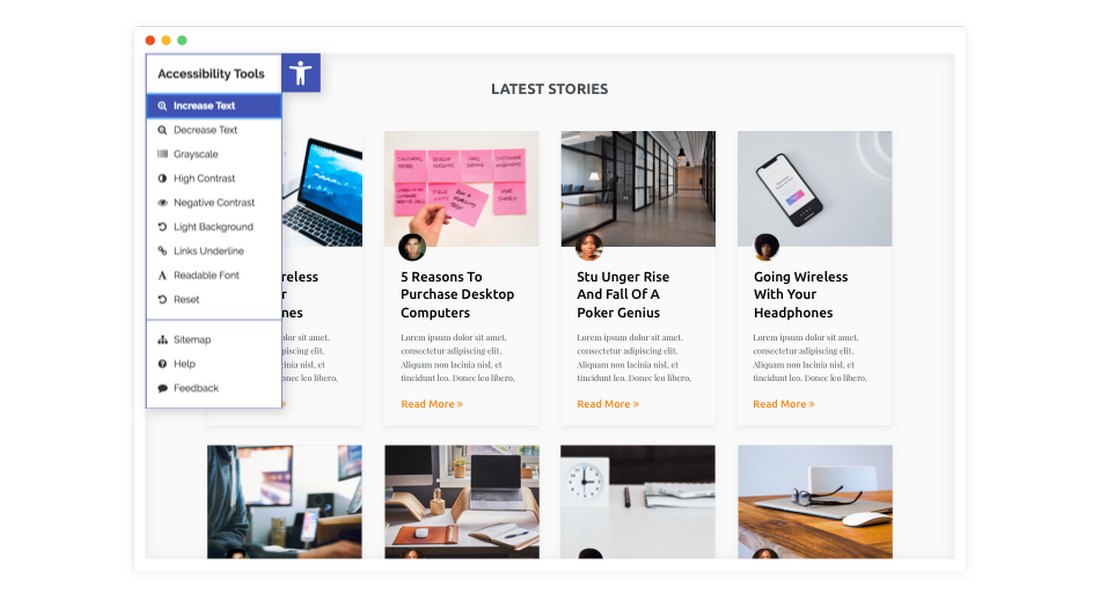 Easy to install and adds basic but important accessibility adjustments to your website
Adds font resizing, contrast adjustments, underline links, and more
Customize the toolbar to give priority to specific options
Automatically saves accessibility preferences of the visitors
Pricing Plans
One Click Accessibility is completely free to use with any website without any limitations.
Who Should Use This Plugin?
One Click Accessibility is a good solution for adding basic accessibility features to small blogs and websites. However, it will not help make your website fully compliant with WCAG and ADA.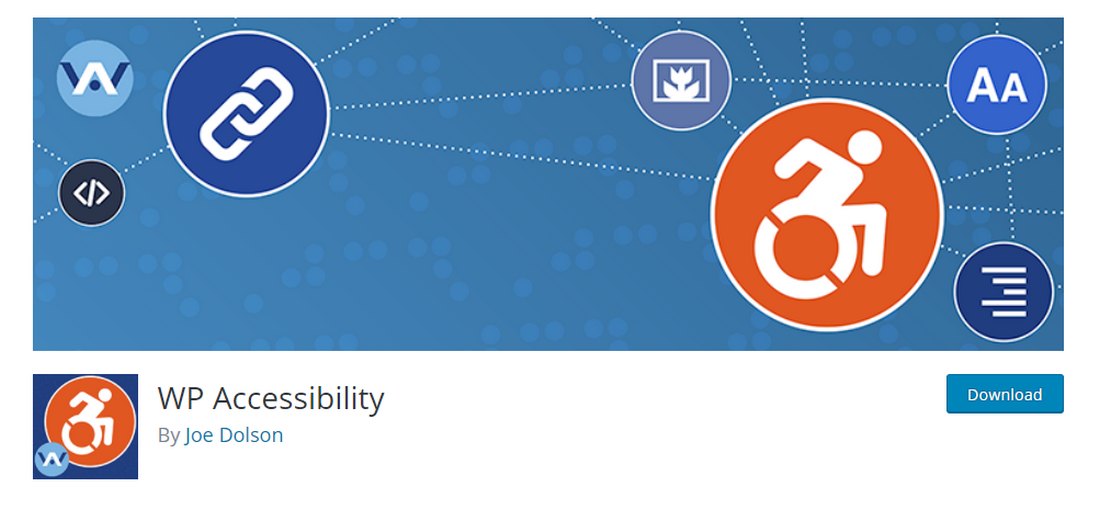 WP Accessibility is another free WordPress plugin you can use to add simple accessibility features to your existing website. The plugin is most suitable for improving your WordPress themes and fixing common accessibility issues.
A benefit of using this plugin is that it allows you to manually enable and disable specific functions of the accessibility system. If one of the features have conflicts with your theme or other plugins, you'll be able to easily disable them.
Main Features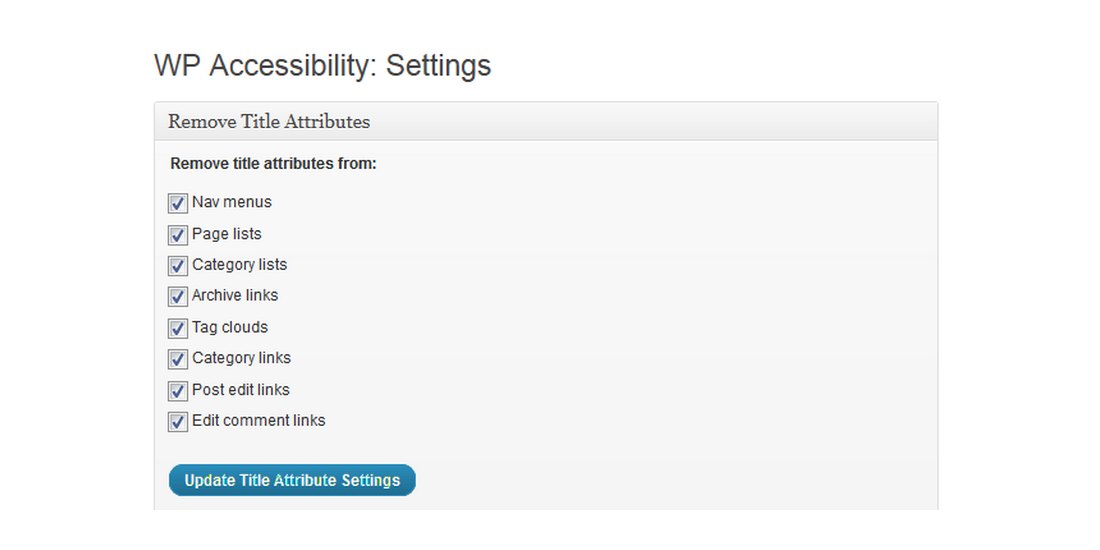 Adds long descriptions to images to support screen reading software
Adds language and text direction attributes
Allows you to add labels to form fields such as search and comments
Easily customize the functions of the plugin
Pricing Plans
WP Accessibility is also completely free to use and it has no limitations.
Who Should Use This Plugin?
WP Accessibility offers very few features and it's missing some of the most important accessibility functions. So it's best used together with other accessibility plugins.
The plugin author also clearly states that the plugin "is not intended to make your site compatible with any accessibility guidelines."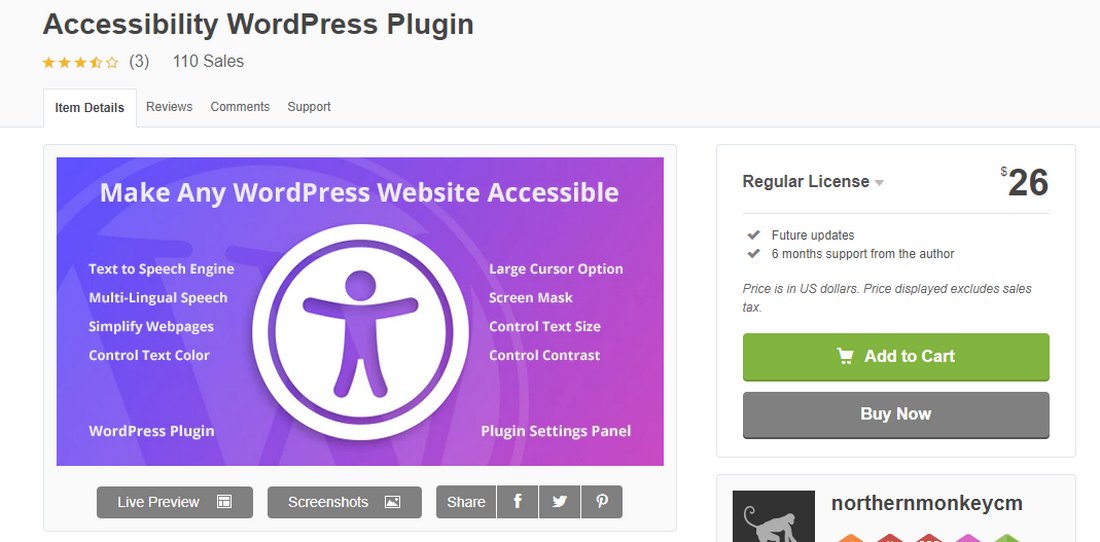 This WordPress accessibility plugin allows you to add a few useful features to your website to make it more accessible to persons with a vision disability.
An easy to use text-to-speech engine that includes multi-language support is the most useful function of the plugin. Of course, it includes several other accessibility options as well.
Main Features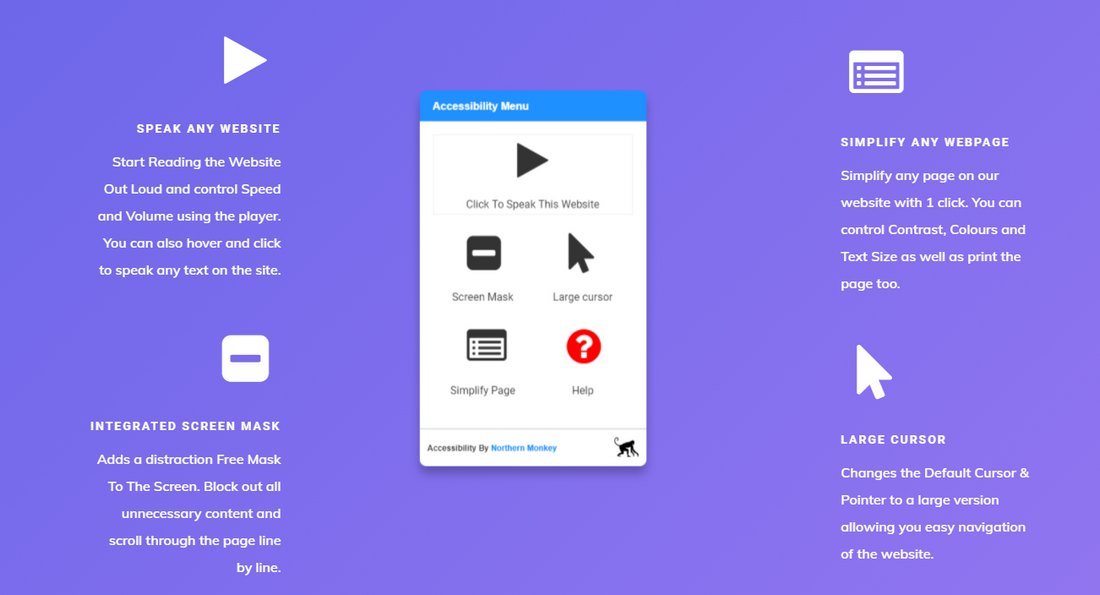 Adds a powerful text-to-speech engine with multi-language speech
The screen mask option provides a distraction-free experience to visitors
Easily add a large mouse cursor
Ability to control text-size and contrast colors
Pricing Plans
Accessibility WordPress Plugin costs a one-time price of $26. You will also receive its future updates for free.
Who Should Use This Plugin?
This plugin is most suitable for blogs, magazines, and news websites as it will make your content much easier to read and consume for a person with a vision disability.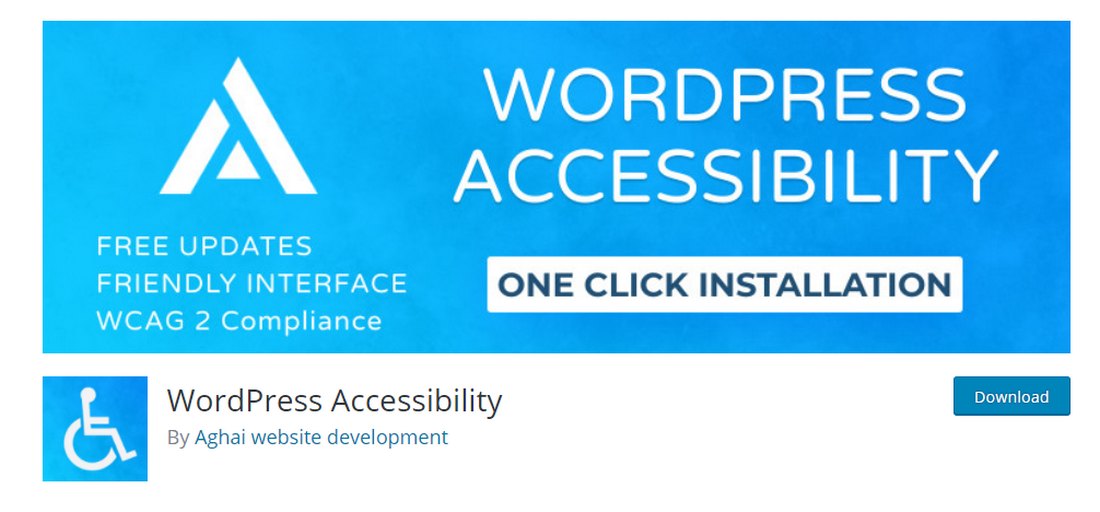 WordPress Accessibility plugin adds a simple toolbar to your website with a set of useful accessibility functions. It makes your website more compatible with keyboard navigation.
The plugin also brings several other functions like underlining links, skip to content feature, font resizing, and more.
Main Features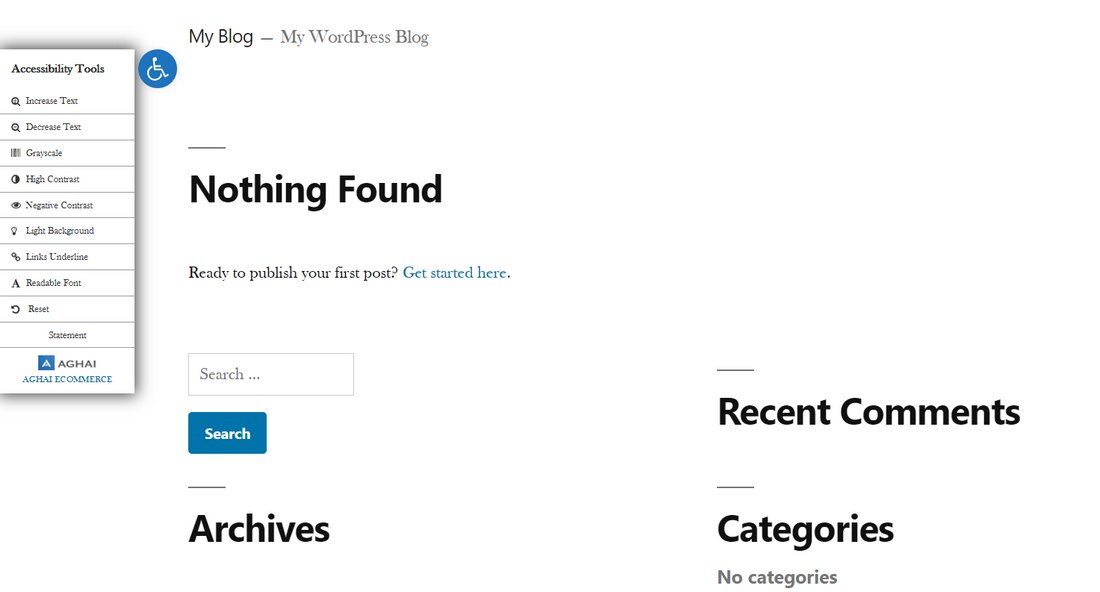 Add a sidebar panel to easily make accessibility adjustments
Supports text-resizing
Adjust colors, background, and contrast
Ability to remove target attribute from links
Pricing Plans
WordPress Accessibility is completely free to use with as many websites as you want.
Who Should Use This Plugin?
This plugin is suitable for adding basic accessibility support to personal blogs and small websites. Especially for improving your theme with keyboard navigation support.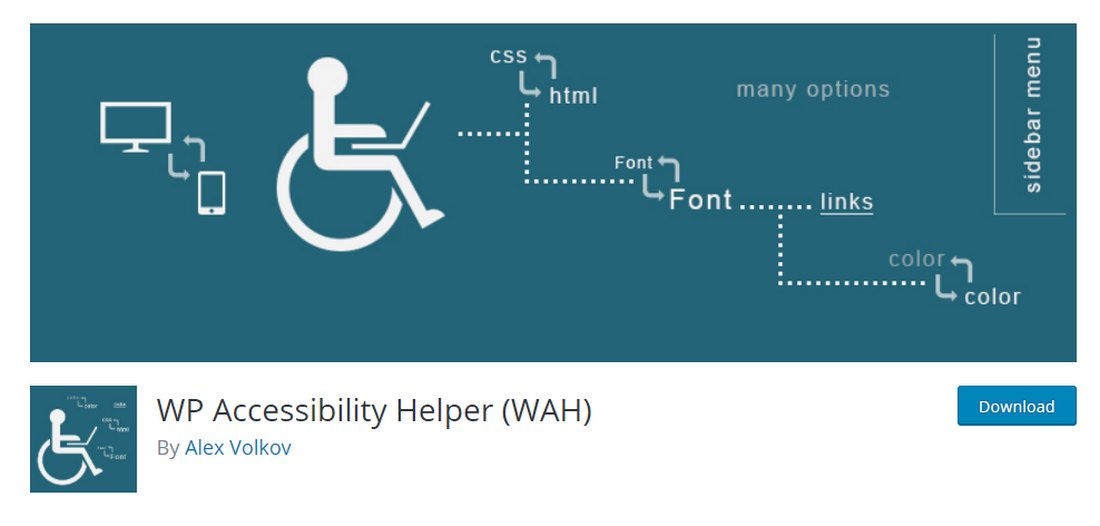 WP Accessibility Helper is a powerful and free web accessibility plugin that comes with more than 30 different adjustments to make your website more accessible.
The plugin features many useful user interface and design adjustment functions for improving website design and content. It also includes a special feature called Attachments control center where you can add alt-tags to your images to better support screen reader software.
Main Features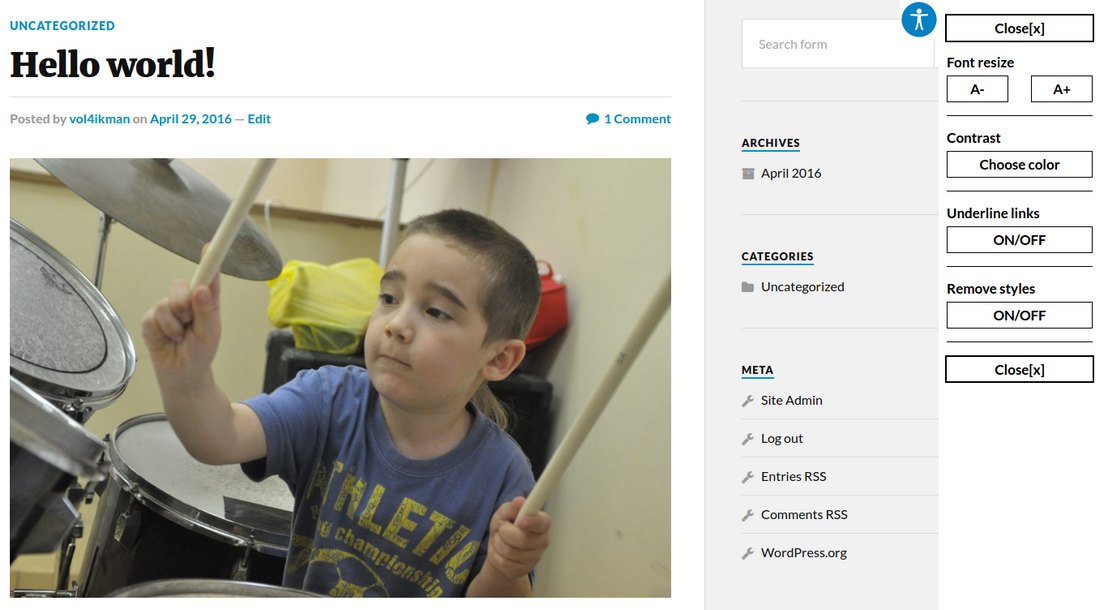 Adds functions for adjusting colors and contrast
Easily manage image alt-tags using Attachments control center
Manage accessibility options using accessibility sidebar panel
Underline and highlight links
Pricing Plans
WP Accessibility Helper is free to use. It also has a Pro version that costs $99 with paid add-ons for adding additional accessibility features.
Who Should Use This Plugin?
Even though WP Accessibility Helper is much more advanced than most other free accessibility plugins, it will not protect your site from accessibility lawsuits.
For this reason, the plugin is most suitable for small blogs and non-commercial websites.
Which Web Accessibility Plugin Should You Use?
While free WordPress plugins are great for adding a few accessibility features to your website, they will not help make your website compliant with WCAG or ADA. This means your business will still be vulnerable to lawsuits.
For us, accessiBe is clearly the best option for all kinds of businesses and websites as it provides a complete accessibility solution while making your website compliant with all accessibility guidelines and laws, with one-click accessibility being a second.
But, if you can't afford a premium solution, consider using a couple of free plugins. Even though they won't protect you from lawsuits, at least you will be able to make your website accessible to a disabled person. That's better than not using any plugins at all.