Do you ever find yourself looking for an easier way to build a website? WP Page Builder is a drag-and-drop plugin for WordPress to help you create a website quickly without a lot of coding.
It's made for designers who want to get a website finished fast or beginners that want to play with a website but don't have design or coding experience. Here's a look at the tool and how you use it.
What Is WP Page Builder?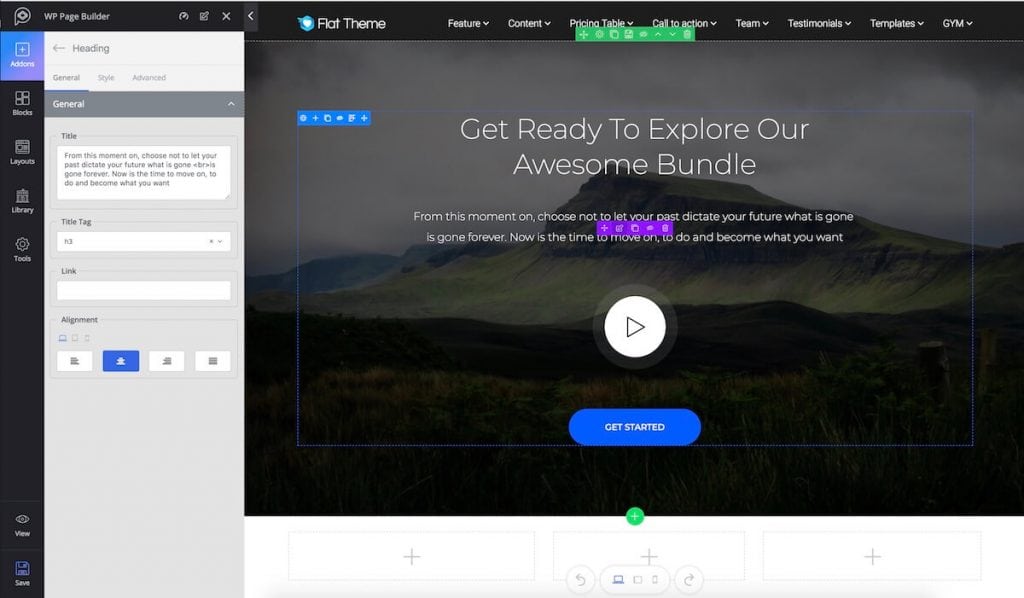 WP Page Builder helps you build responsive websites in WordPress with visual tools that work on the screen. The page builder includes a library that's packed with elements and modules that you can drag and drop onto pages to create a design.
Almost anyone can design and build beautiful websites without writing a single line of code using this tool. And no design experience is needed.
The best feature of WP Page Builder is the combination of ease of use and uptime speed. You really can build a website extremely fast with this tool.
Unlike themes that you download, apply and customize in WordPress, WP Page Builder is a plugin. It installs and works with other plugins, widgets, and themes that are already a part of your WordPress website. It makes using all these other tools that much easier.
WP Page Builder is backed by a company that knows WordPress. Themeum is a WordPress theme and plugin development company with plenty of experience creating elements to make the popular content management system easier to use.
What Does WP Page Builder Do?
[youtube https://www.youtube.com/watch?v=EKDZ7pvNSLs?rel=0&w=750&h=422]
But what exactly does WP Page Builder do? How can a plugin make it easier for you to create a professional-looking website?
Easy.
WP Page Builder is a completely front-end based tool (which means you design the website in a mode where you can see what's happening). It's packed with premade options so you just drag out the element you want to use from the sidebar – such as a set of social media icons or page to highlight your team – and then edit the content to fit your needs.
That's it.
But you can customize everything even more. Change the size of a bog by dragging and dropping the edges. Make a row taller the same way. Switch the positions of elements using drag and drop. Fixes and changes that used to require changes to the code are doable for any user with this visual tool.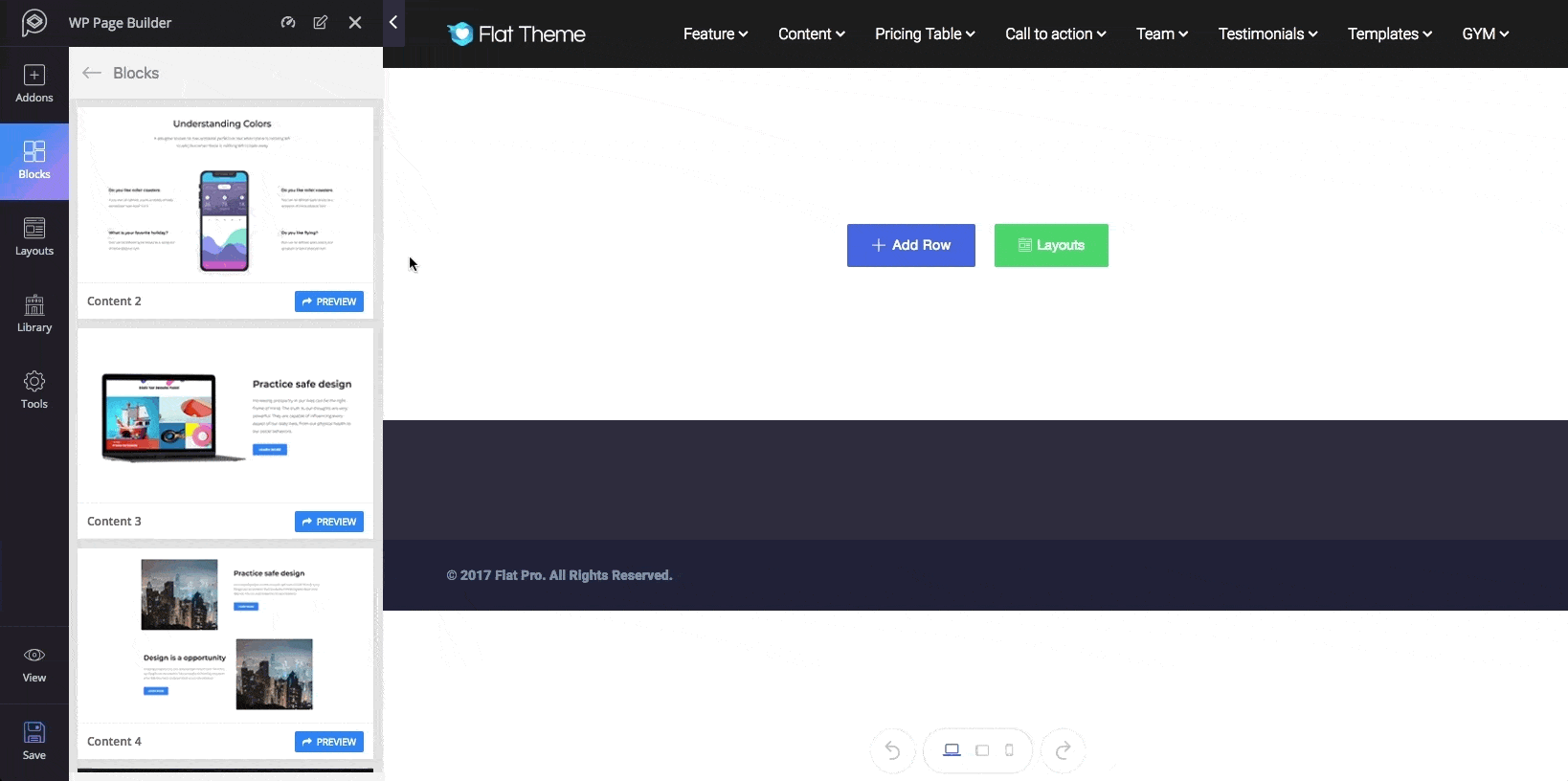 WP Page Builder can be used as an add-on tool for users that want to make small changes or it can be used to design a complete website. Not only does it include plenty of drag and drop elements, WP Page Builder also includes plenty of pre-designed page templates. (Do you can actually drag and drop an entire page in the layout and make adjustments to design options such as colors or fonts.)
What you might find most surprising is that WP Page Builder is free. You have to pay for many premium themes that come with "easy to use features," but most of these still require deep design or coding knowledge. All of these WP Page Builder features are available to any user; just download the plugin and get started.
Key Features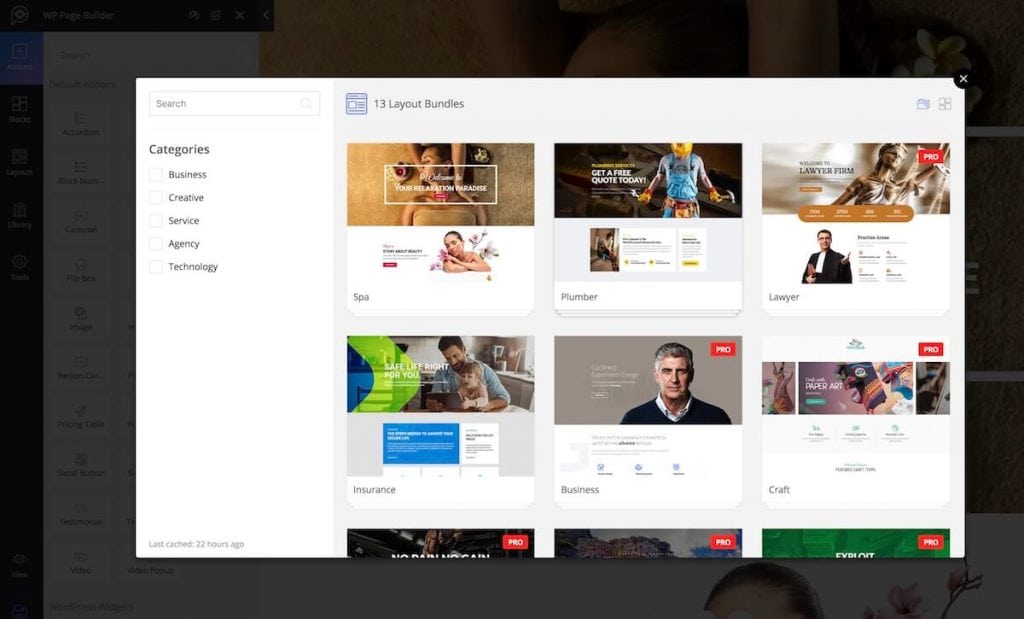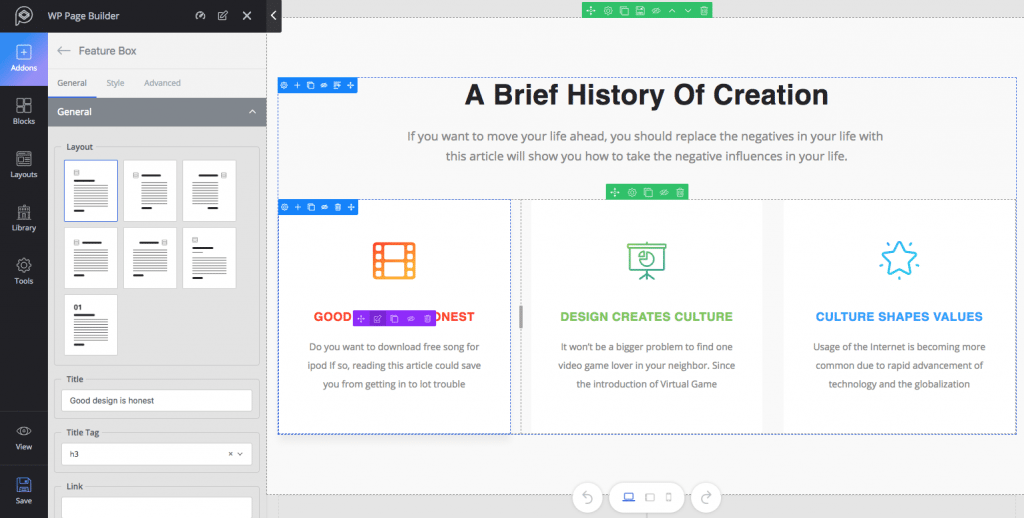 WP Page Builder is packed with easy to use, premium design tools, including 60 "building blocks" and six layout packs.
Key features include:
Real-time front end website building with no coding
It works with any theme you want to use
Drag and drop elements appear immediately so you can see changes instantly
Design flexibility that lets you add rows or columns and adjust sizes and padding
Library lets you use premade elements or save your own designs to use on any page
Predesigned templates help you create one page or an entire website
Everything within WP Page Builder is customizable
Import and export designs and elements
Unlimited number of undo and redo options
Works with other WordPress tools, including support for widgets
Duplicate elements or designs with one click
Packed with popular icons that are ready to use; includes 340+ IcoFont line icons and 670+ Font Awesome icons
It's translation-ready
Professional designs
Built-in SEO tools
Ability to add custom CSS to pages (if you want to)
And Plenty of Add-ons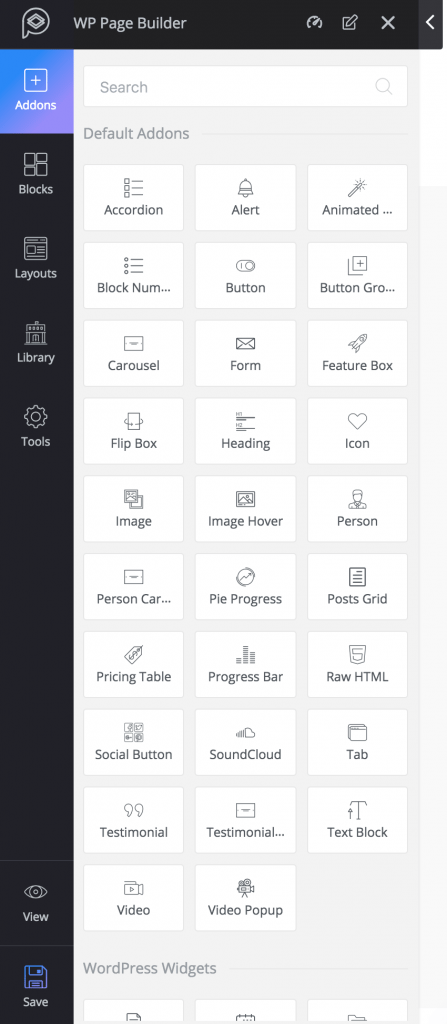 For designers or developers that like the idea of using a quick, drag and drop tool like WP Page Builder, the plugin is packed with add-ons that you can drag into a layout and modify. It comes with more than 30 add-ons and more are on the way.
Key add-ons include:
Forms: Create forms independently or manage another form builder
Carousel: Build hero sliders with dynamic elements
Alerts or notifications
Profile of people with a "person carousel" option
Progress bars and pricing tables
Social media integration and sharing
Video: Insert videos from YouTube or Vimeo
Create buttons or groups of buttons
Add animations
Create elements with raw text or HTML
How Do You Get WP Page Builder?
WP Page Builder is available as a direct WordPress plugin download or you can get it from the Themeum website and install it yourself.
Conclusion
WP Page Builder is a solid tool that can make building a website easier for a lot of people. It's packed with sleek designs, features, and add-ons that aren't often part of page builder plugins, and are likely only found in premium themes (which might still require coding).
Overall, this is a great option for anyone who isn't completely confident in their design or website building ability or even for more experienced designers that just want to build a website fast. Give it a try and see how easy it is to create something that looks great with WP Page Builder.