Looking for a faster and better alternative to Adobe Photoshop? While Photoshop has been a standard for years, that's starting to change with plenty of new tools for Windows that make easy work of photo editing. Many of these new tools include smart functions that will speed up workflows.
The best Photoshop alternatives pack in just the features you need without a lot of fluff you won't use. Here's a list of the best Photoshop alternatives for Windows in 2021.
Take note of special features to find the one that's right for you.
1. PhotoWorks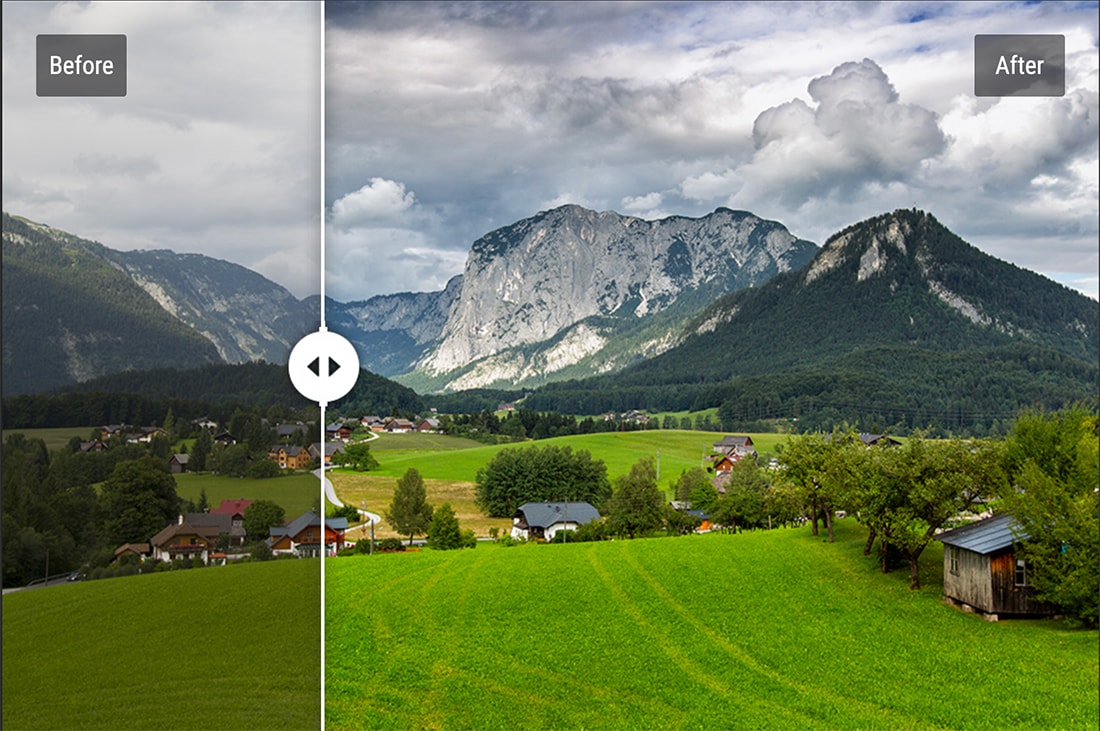 PhotoWorks is a robust alternative to Photoshop for Windows users. It's a powerful photo editor and includes automatic photo editing, so you can get a spectacular photo edit with just a couple clicks. The tool is so intuitive it can even fix photos that you think are no good because of lighting issues or subpar conditions.
Then there's Portrait Magic. This tool uses an intelligent module to make portraits look amazing. And you won't spend a ton of time tweaking tiny edits. It can make workflows easy and efficient for sure.
The algorithms for landscapes and portrait corrections are different so you'll get the best content-aware functionality around – and you don't have to do it all manually.
Other key features:
Neat face sculpting tool to experiment with facial features
Change the background with a couple of clicks
180+ effects and filters that you can use on any image
Perspective and distortion correction
3D LUT color correction that comes with ready-to-use presets (or create your own)
Plenty of professional tools that you'd expect from robust software such as curves, tone mapping, cropping, and more
Cost: Starting at $19.25
Try it: Download from PhotoWorks
2. GIMP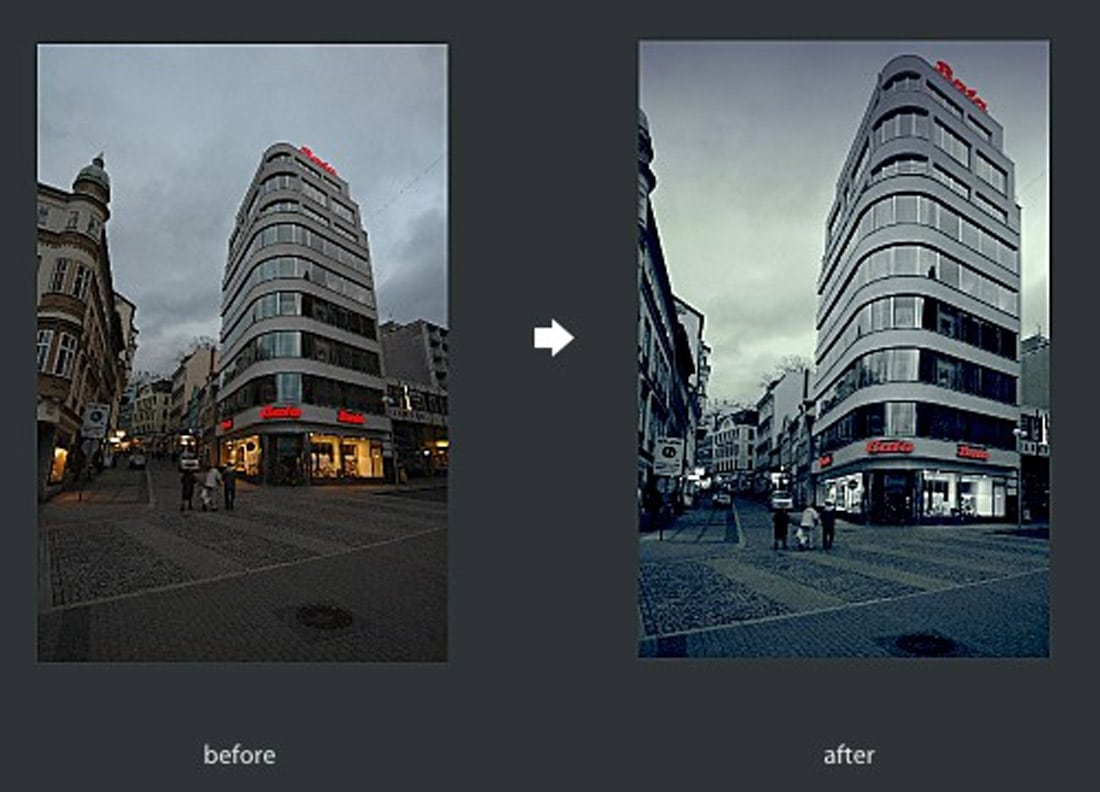 GIMP is a program like Photoshop for Windows with developers in mind. It is free and open-source, so you can change the source code and distribute changes. GIMP is designed for high-quality photo manipulation, including retouching images and photo restorations. Users can also use it to create original artwork.
Other key features:
Offers plenty of customization options and plugins
Create design elements and edit photos
Extensive library of tutorials and learning resources
Scripted image manipulation (C, C++, Perl, Python, Scheme, and more)
Color management tools included with Scribus, Inkscape and SwatchBooker
Cost: Free, although you can make a donation toward future development
Try it: Download from GIMP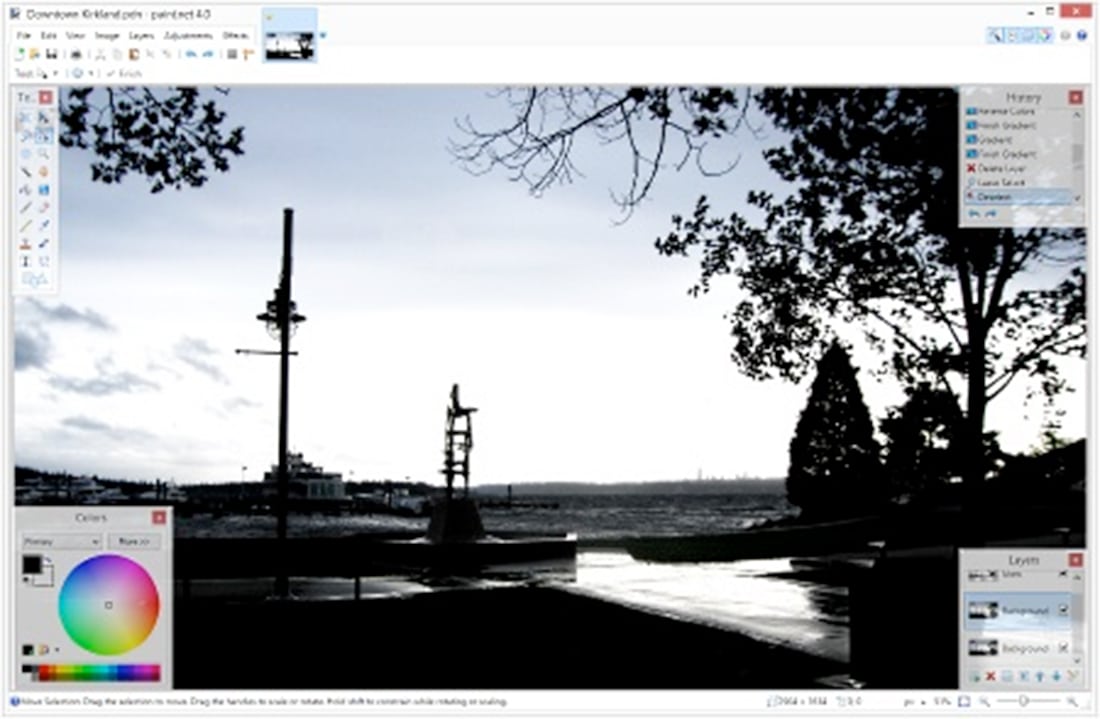 Paint.net is a free Photoshop equivalent. It features an intuitive and innovative user interface with support for layers, unlimited undo, special effects, and a wide variety of useful, and powerful tools, especially for free software.
Other key features:
Replacement for the popular MS Paint
Active online community of users
Plugins available
Cost: Free, donations accepted
Try it: Download from Paint.net
4. Pixlr

Pixlr is a Photoshop replacement that offers plenty of options depending on how you use the tool. It includes a photo editor-only option or full-feature professional tools. What's different about Pixlr is that you don't have to download anything to use it. All the tools are right in your browser and includes tools you'd need for photo work including layer masks, multiple brush options, curve and level adjustments, color and blend modes, effects and filters, and transform and wrap tools.
Other key features:
Ability to draw on photos
Easy retouching
Included photo filters
Light or dark mode options for your workspace
10,000+ photo templates
Cost: Includes free and paid options (Pro is $5 per month)
Try it: See the Pixlr options
5. Affinity Photo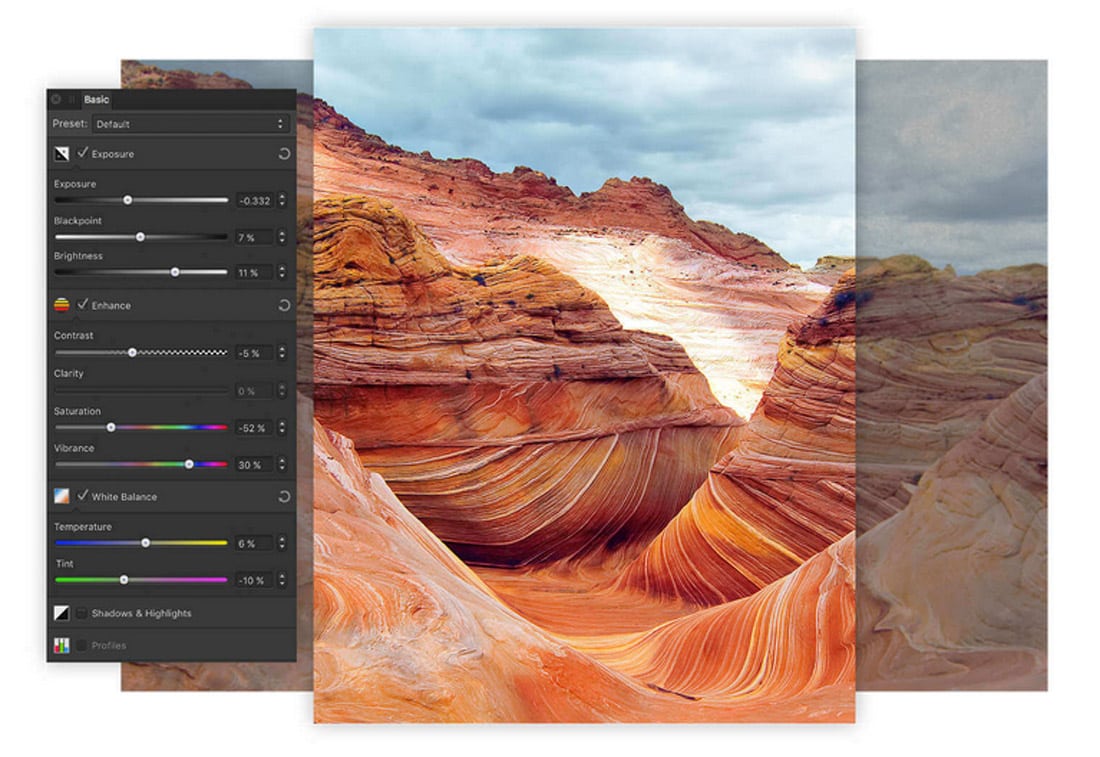 Affinity Photo is a newer option when it comes to finding an alternative to Photoshop for Windows because it was once Mac-based. The tool lets you edit and retouch images as well as create multi-layer pieces. The professional corrections and adjustments tools rival any other app out there, and it has a great noise-reduction filter. Retouching options include the usual dodge, burn, clone, patch, blemish, and red eye tools, but there's also an inpainting brush and liquify feature.
Other key features:
HDR merge feature
Batch processing
Large brush library included
Ability to import and export to and from other tools
Frequent development and updates
Cost: $49.99
Try it: Download the Windows version from Affinity Photo
6. PicMonkey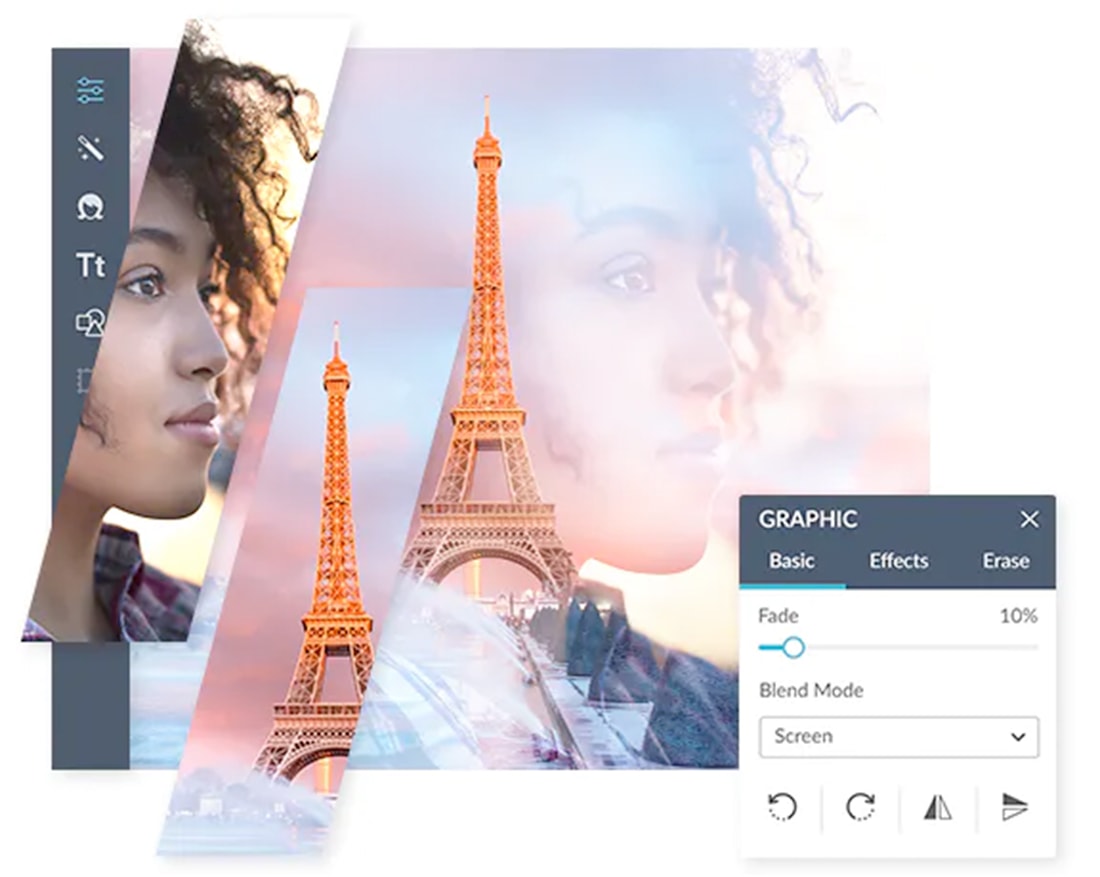 PicMonkey is an Adobe photoshop alternative that's pretty well-known. While it has some free and lower-cost editing tools – everything you'd expect – more advanced tools (save and export, advanced retouching, effects and overlays, fonts) only unlock with upper-tier plans. Users like how straightforward this tool is.
Other key features:
Ability to do photo editing and design
Collaboration tools
Templates to start projects from
Tools and effects for photo editing
Ability to create a photo collage
Cost: Starts at $7.99 per month
Try it: Get started at PicMonkey

7. Luminar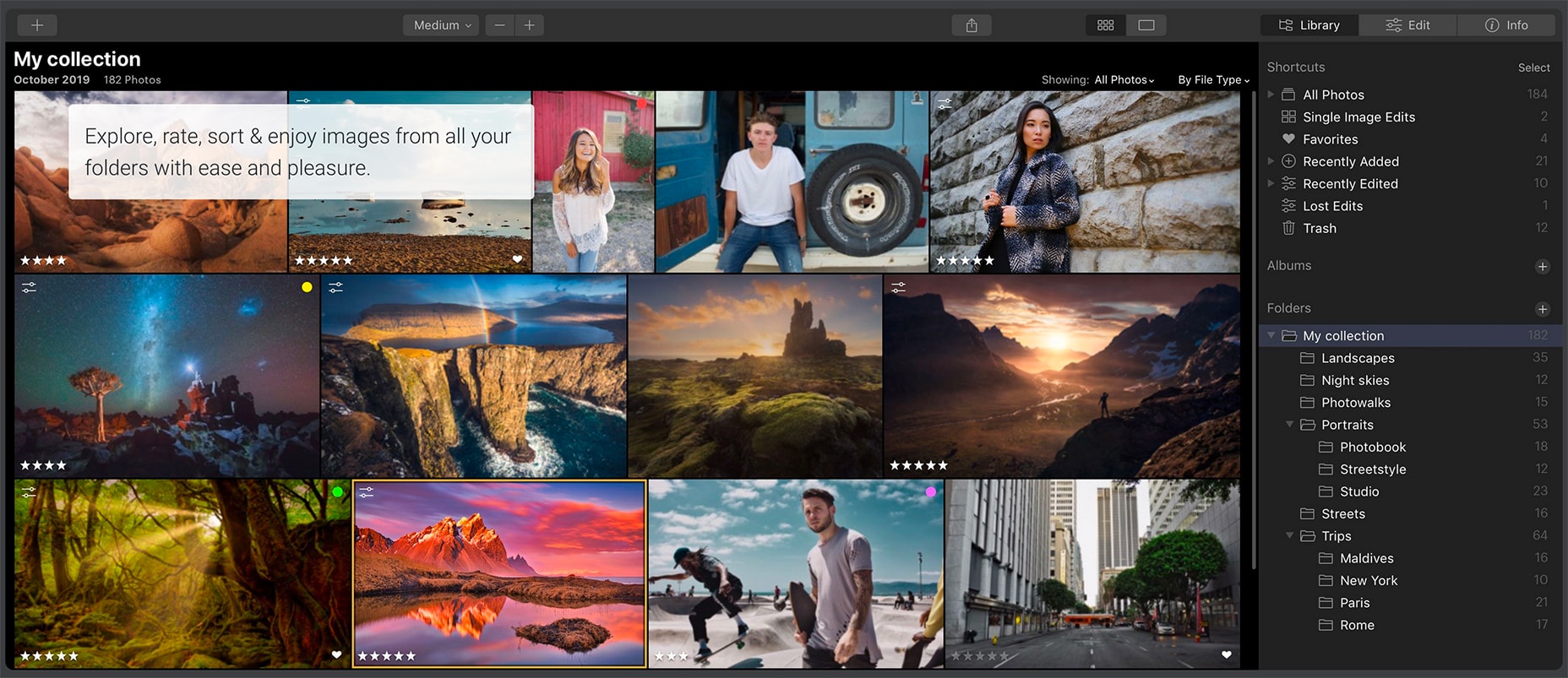 Luminar is a piece of software like Photoshop that you can use alone or integrate with Adobe tools. It works as a standalone photo editor and browser with plenty of cool algorithmic editing tools. The best feature may be the included image browser for finding photos fast.
Other key features:
Add "instant looks" to photos
Easy to use creative tools
Noise remover filter
Smart contrast tools to help color look better
Extensive video library of tutorials
Cost: Starts at $89
Try it: Get it from Skylum
8. DxO PhotoLab 3
DxO PhotoLab 3 is a Photoshop alternative for Windows that's made for working with raw images. The tools include the ability to editing using control points to work on just the parts of a photo you want to edit, there are plenty of brushes for precise work, a graduated filter makes landscape photos look great, and the auto repair mode can remove unwanted elements from images.
Other key features:
Contrast optimization
Denoising tools
Repair tool with a clone mode
Smart lighting tool
Ability to load a large photo library
Cost: $129
Try it: Download it from DxO