If you are running a website on WordPress, then you likely understand the value of managed WordPress hosting. Managed hosting helps keep your site up and running smoothly, often comes with backups, core and plugin updates, and monitoring security.
That's a pretty expansive package that helps provide website peace of mind.
And you can get it all with Kinsta, a cutting-edge managed WordPress hosting provider with everything you need to take care of your website. (We trust it so much that we're running this website on Kinsta.)
What is Kinsta?
Kinsta is a managed WordPress hosting provider that offers services for websites and businesses of all sizes.
Hosting is fully managed – there are real people taking care of your website – and everything runs on a platform with top-notch security. You'll notice that your website is fast and backed up daily so if anything ever goes wrong, Kinsta has got your back.
The primary benefit of managed hosting through Kinsta is that you won't have to think about the technical aspects of your website. It will always be online, monitored, and ready to scale as your business grows. The Kinsta team will even contact you if they think you need a different type of service.
The best part of this tool might be that it's not too technical and easy. The MyKinsta Dashboard is designed for beginners but packed with advanced features for developers, too.
If you want to expand your knowledge base, Kinsta can help there. The team isn't shy about sharing knowledge and information and the blog is packed with great info, or you can download one of their free ebooks to learn more about website management.
MyKinsta Dashboard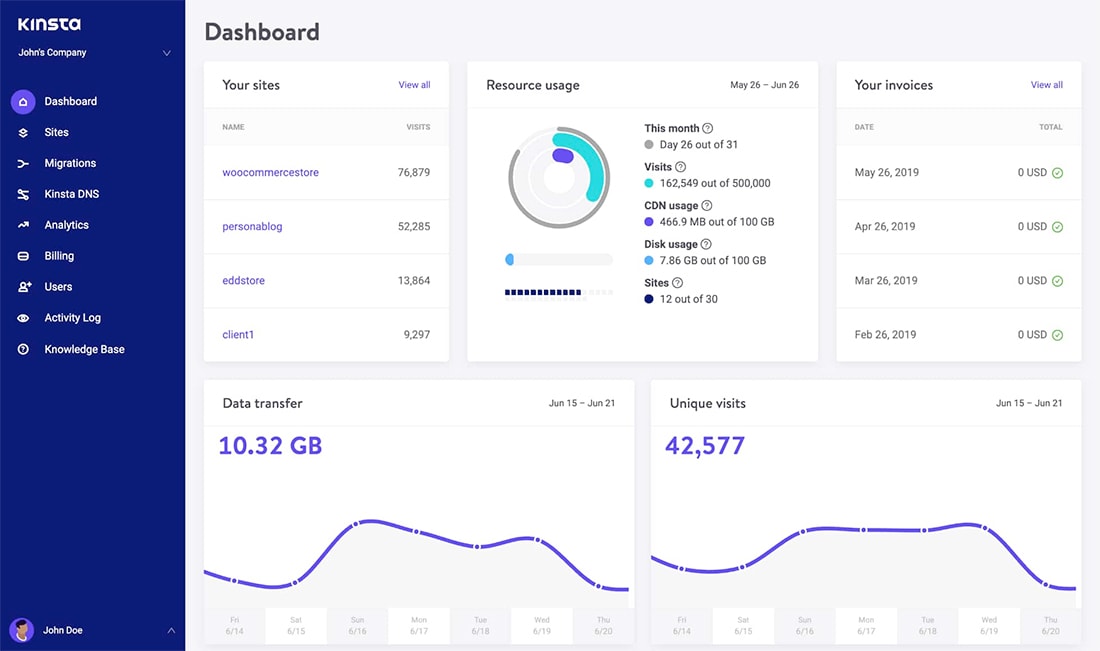 The visual, easy to read dashboard makes Kinsta different than other hosting providers.
MyKinsta is a control center where you can see everything about your websites, whether you have one or are managing multiple sites for clients. You can see bandwidth usage, SSL certificates, invoices, and more in one location.
You can track in bulk or by website – a great resource for freelancers or agencies building client websites. Plus, you can grant access to users (full account or by website) so clients can see their site statistics, too.
MyKinsta has a demo available so you can see all the neat things the dashboard can do for you. Access it here. It is free.
Key Features
Kinsta is packed with everything you need in managed WordPress hosting. Designers will like that the interface is sleek and beautiful as well.
The company has been working with WordPress for more than 10 years and has a high-quality solution that's fast, secure, and flexible.
Key features include:
Zippy hosting with state of the art technology (Nginx, LXD containers, PHP 7.4, and MariaDB)
High-security network with DDos detection, hardwire firewalls, uptime monitoring, and SSL support
Powered by Google Cloud Platform with 23 data centers for your data
Free site migrations to Kinsta so you don't have to worry about how to move a website
Uptime checks every 2 minutes so your website won't go down
Full daily backups
Flexible architecture that scales for traffic surges so your site won't go down if you go viral
Hack-proof guarantee with a team that's monitoring suspicious activity, before it happens
Fast and knowledgeable support team
Easy to use dashboard for beginners
One-click staging areas for development and testing included
Developer-friendly tools such as WP-CLI, SSH, and Git are supported; plus, single-click PHP version changes
Options for WooCommerce and e-commerce hosting and enterprise volumes
Pricing
Kinsta has plan options for website owners and business of every size and capacity.
Every plan comes with daily backups, free migrations by the Kinsta team (so you don't have to move your website), free SSL and CDN, and staging environments. Yearly plans also get 2 free months.
Plans include:
Starter ($30 per month): 1 WordPress install, 20,000 visits, and 10 GB disk space
Pro ($60 per month): 2 WordPress installs, 40,000 visits, and 20 GB disk space
Business 1 ($100 per month): 5 WordPress installs, 100,000 visits, and 30 GB disk space
Learn more about for 10 to 150 WordPress install here
Not sure if you are ready to switch? Every plan comes with a 30-day money-back guarantee (just in case). Plus, you can upgrade or downgrade plans at any time with instant prorated refunds, if applicable.
Conclusion
If you are looking for a different WordPress hosting solution or just aren't quite satisfied with your current environment, give Kinsta a try. It's fast, safe, and easy to use.
We love the dashboard – especially for multiple clients – and think you'll like all the tools and functionality. Mostly, you'll like the set it and leave it concept behind this hosting option. Give it a try today.