Designers working with desktop publishing may want to take a look at Affinity Publisher. The tool, which is now available for Mac and Windows platforms, is emerging as a powerful and flexible design option.
The tool is part of the Serif line of graphic design products, which also includes Affinity Photo and Affinity Designer, both super-capable platforms in their own right.
Here's a look at Affinity Publisher and how it compares to a tool you may already be familiar with – Adobe InDesign.
What is Affinity Publisher?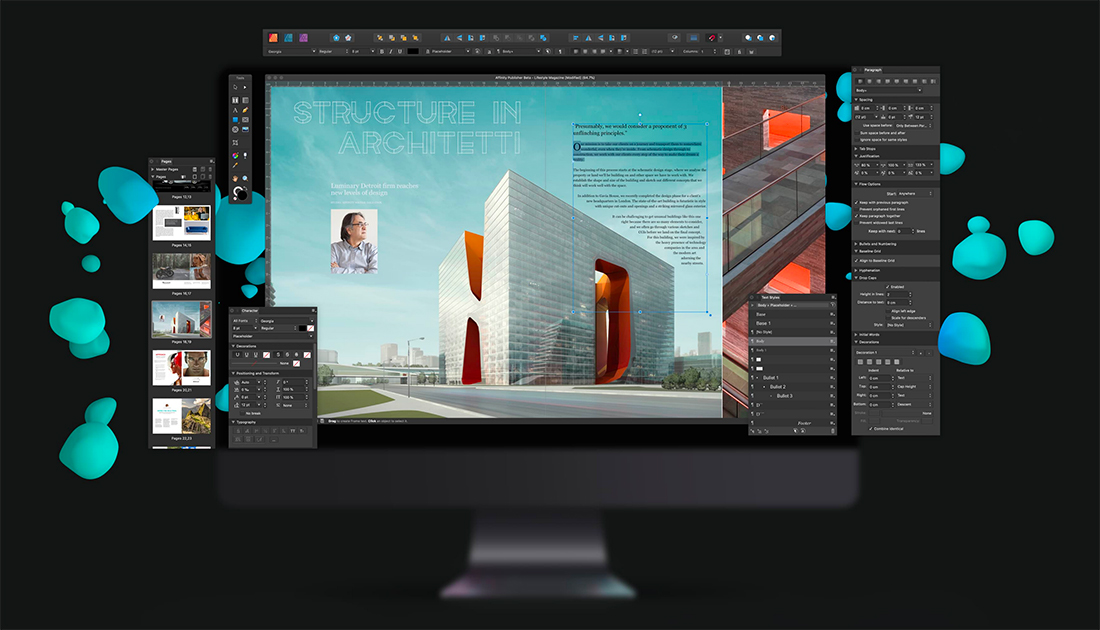 It works with other Serif products as well as native Adobe files
Affinity Publisher is a professional design software package. It's made for desktop publishing, including books, magazines, marketing collateral but can also be used for digital materials as well.
The app allows you to manipulate and work with images, graphics, and text to create almost endless layout possibilities with workflow boosts to make large documents easy to work with and manage.
It works with other Serif products as well as native Adobe files and has the power to handle complex vector elements without losing functionality or speed.
The biggest reason Affinity Publisher may be growing in the marketplace is cost. It does not include a subscription model and runs off your local machine. It works on Mac or Windows computers and the download is $49.99 with a free trial available. (You can get it directly from the Affinity Publisher website or in the Mac App Store.)
Affinity Publisher Basics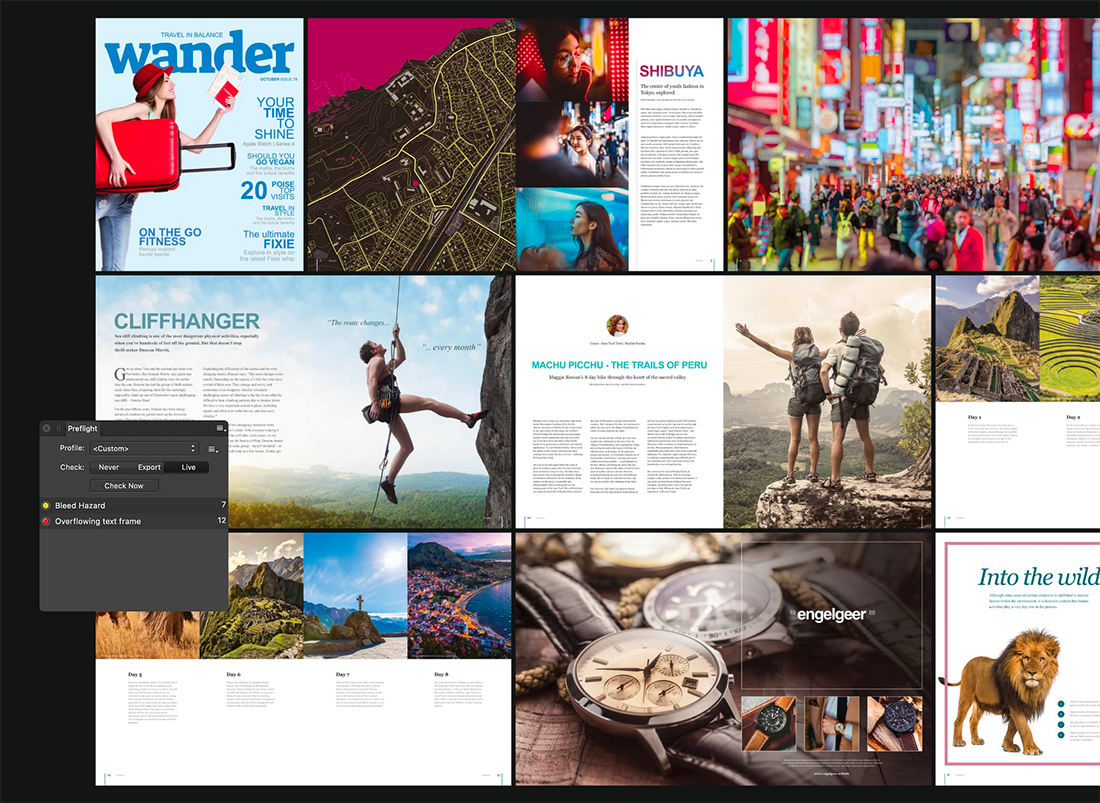 The Affinity package of tools has a neat feature – StudioLink – that lets you hop between tools in the same app.
Affinity Publisher makes it easy to try this tool with a great price and single app download pricing model. It's robust and includes everything you would want in a desktop publishing app.
The only downsides are that it can feel unfamiliar and a little clunky if you are used to InDesign. Some of that is likely because it is different or maybe because the tool is a little newer and they are still working out some of the finer details.
The Affinity package of tools has a neat feature – StudioLink – that lets you hop between tools in the same app. If you are planning to switch to all Affinity products for design tasks, this is a time-saving option that's highly functional.
When you get into the software itself, everything is there – you can see some of these key features in the next section – although some things work a little differently than what you may be accustomed to with Adobe products.
Key differences include lack of document setup presets on launch – although you can find third-party templates on design marketplaces – and master pages and layers that require a little more thought until you get used to us.
Designers working on laptops may love this: The software is light and fast without losing render or image quality.
Affinity Publisher Key Features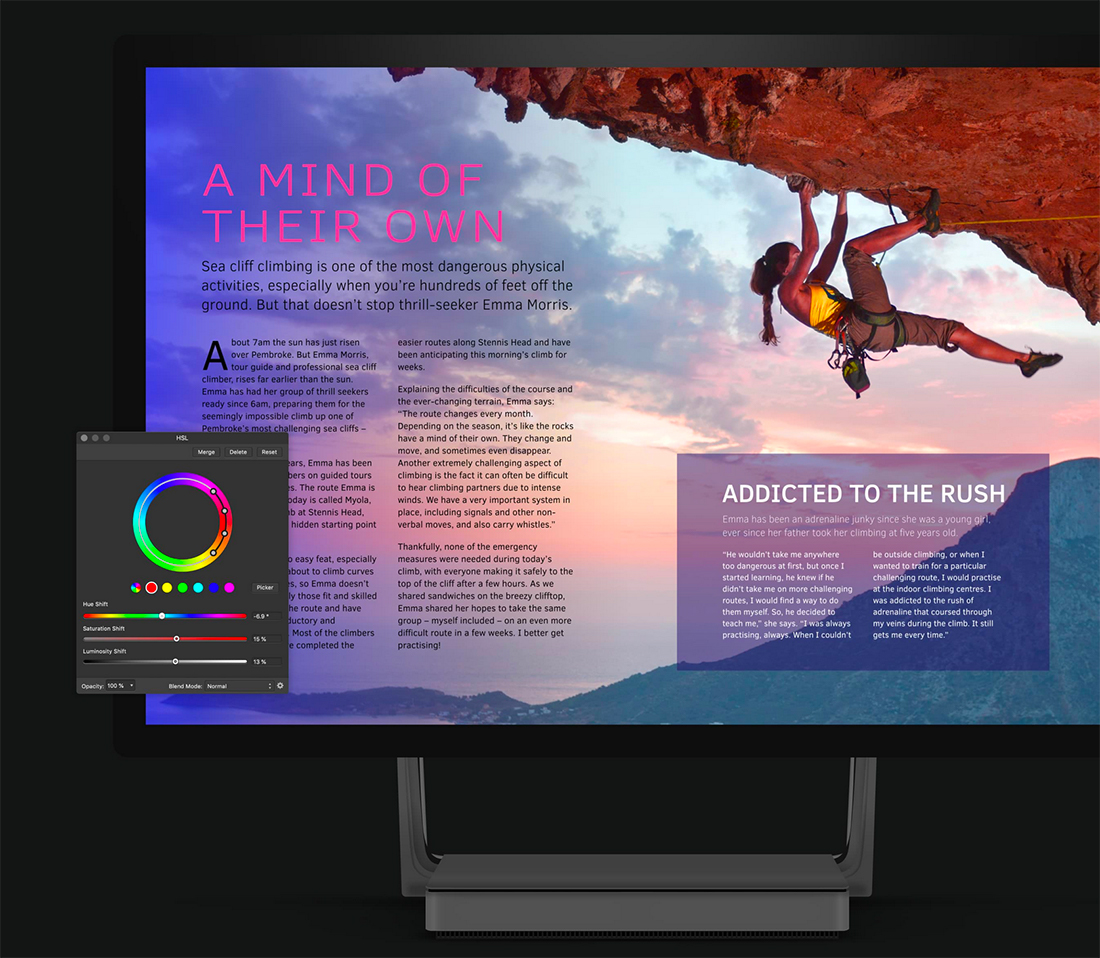 So, what can Affinity Publisher do? That's always the big question when it comes to using or switching to a new tool.
Key features include:
Layout functionality for double page spreads, live master pages, custom shaped frames (including for text), frame linking, tables, and ability to share across apps or devices
Tons of text manipulation options and control with decorations, drop caps, paths, artistic options, baseline grid, and flow features
Pixel-perfect graphics that you can link or embed, plus non-destructive layer adjustments
Pen and node tools, boolean operations, layer effects, and fill options
Ability to package and export files
Data merge tools for complex documents with an external data element (supports text/CSV, JSON, and Excel files)
Live preflight checks
Color control with end to end CMYK, spot color support, Pantone library, and ICC color profiles
Asset management tools to help you keep most-used elements at hand
Preview mode for grids, guides, bleed, and margins
Affinity Publisher vs. Adobe InDesign
The biggest tool comparison is Affinity Publisher vs. Adobe InDesign when it comes to desktop and print publishing. For those not working with either tool on a daily basis, they may seem almost identical at a glance.
They are pretty stiff competitors with the edge going to InDesign because of time on the market and familiarity for so many users. But cost and function could negate that advantage.
Affinity Publisher has all the layout tools regularly use including master pages, spreads, grids, tables, typography options, text flow, presentation or print output settings, and more. You can import IDML files, use the preflight checker, create smart master pages, and work with OpenType fonts. Linking or embedding graphics files is a non-issue.
There are plenty of other similarities as well.
Works on Mac and Windows desktops
Have fairly intuitive interfaces
Allows you to work with native Adobe files
Ability to create pro quality documents for print or digital publishing
Plenty of tutorials and templates available
Include free trials (Affinity Publisher's is 30 days, compared to 7 for Adobe InDesign)
Core tools and publishing functionality are similar
Excellent export capability in a number of file formats
The most obvious difference between Publisher and InDesign is probably price and pricing structure.
Affinity Publisher comes with a one-time fee when you download it, $49.99.
InDesign is part of Adobe's Creative Cloud suite of software and comes with a monthly fee, which is based on your plan. The single app price is $20.99 per month.
Conclusion
Affinity Publisher is a powerful design and layout tool that's highly comparable to Adobe InDesign.
It's flexible and easy to learn. And the price is hard to beat.
For current Adobe InDesign users, it could be a little tougher to switch software because while it has much of the same functionality and end result, it just feels different to use. Switching will totally depend on your comfort level.
Either way, the download and trial are worth a try!
Affinity Publisher Templates
In this feature, we've covered the basics of Affinity Publisher with tutorials and software comparisons, as well as the best Affinity Publisher templates.