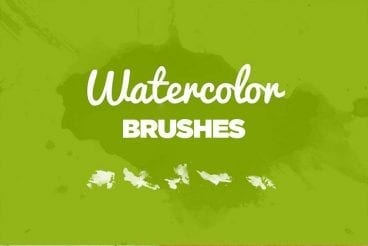 Watercolor design is a popular trend, not just used in digital backgrounds, but also in greeting card and wedding invitation designs. In this post, we're sharing the best Photoshop watercolor brushes for creating your own unique watercolor designs.
If you've been looking for a way to make designs look more vibrant with colors, using a watercolor-themed design is the best way to get that job done. Of course, you can't create an authentic watercolor effect with just any Photoshop brush. You need brushes that have been handcrafted with watercolor strokes and swashes.
We've found a collection of watercolor-themed Photoshop brushes created by professionals, most of which include brushes based on real paintbrush strokes. Feel free to download and experiment!
Download hundreds of stunning Photoshop brushes, actions, and add-ons with an Envato Elements membership. It starts at $16 per month, and gives you unlimited access to a growing library of over 2,000,000 actions, presets, design templates, themes, photos, and more.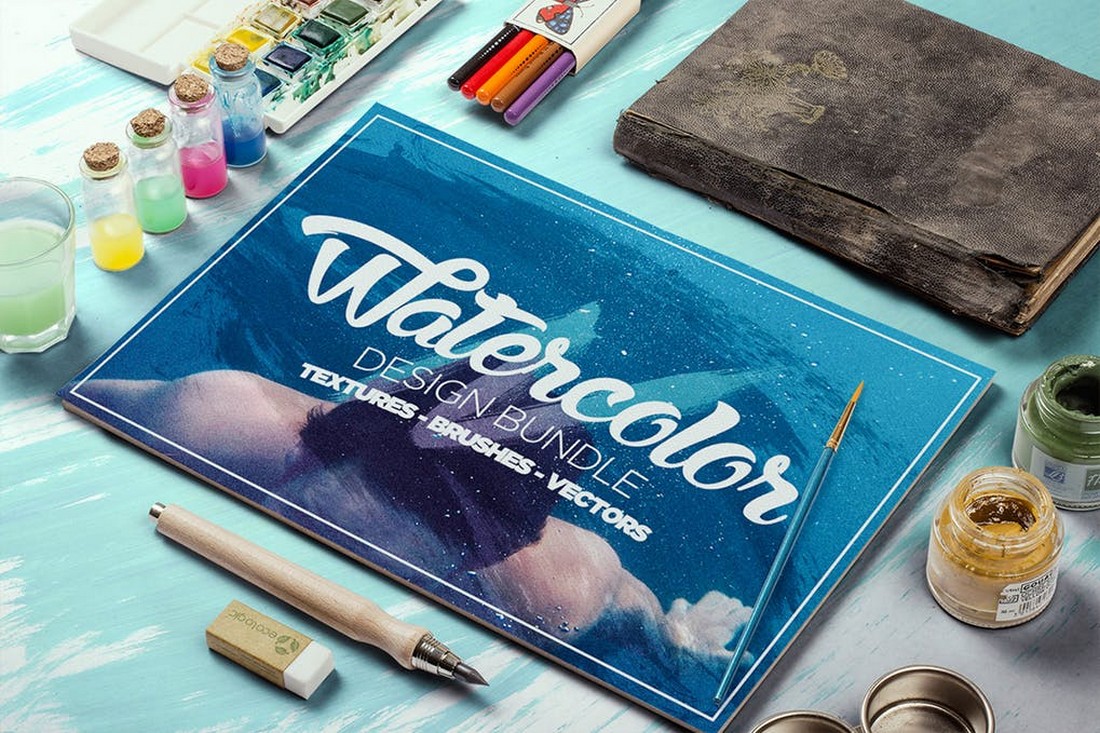 This is a massive bundle that contains several unique elements you can use to craft your own stylish watercolor designs. The pack includes 169 handcrafted watercolor brushes, 64 watercolor textures, and more than 100 watercolor textures in Illustrator file format. It's the perfect pack for designers and illustrators.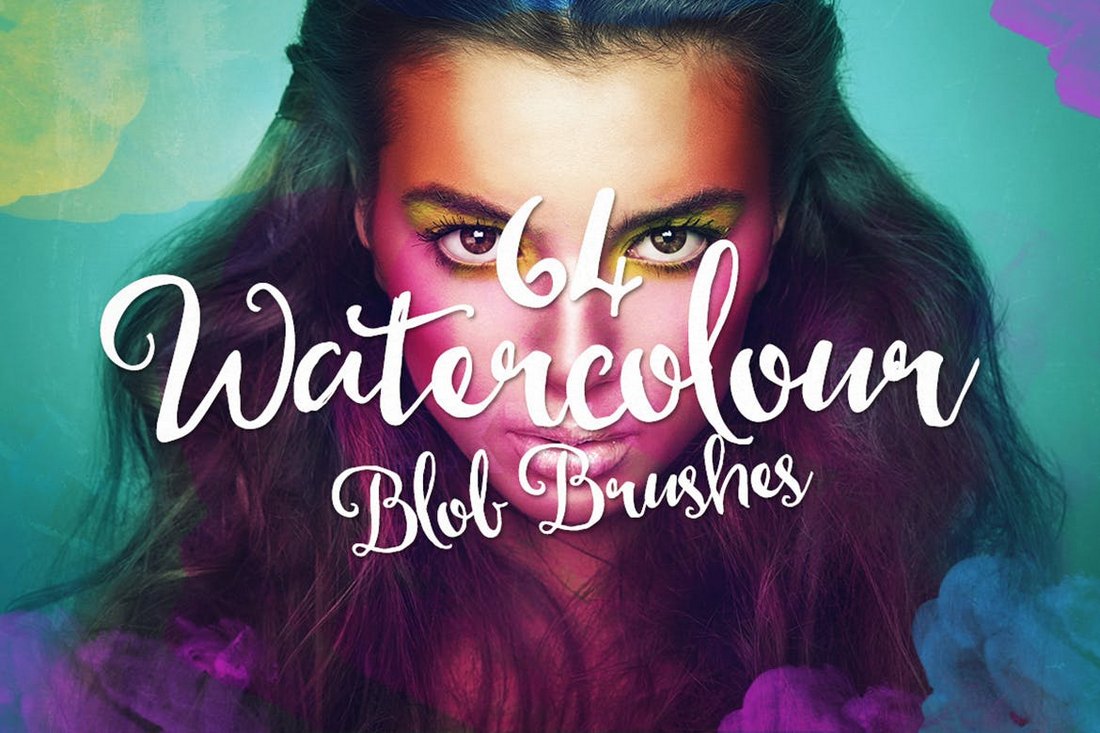 This bundle of Photoshop brushes includes 64 different watercolor blob designs in 850 to 1200px resolutions. They're perfect for designing everything from unique artworks to background designs. The brushes can also be easily scaled to any size you want as well.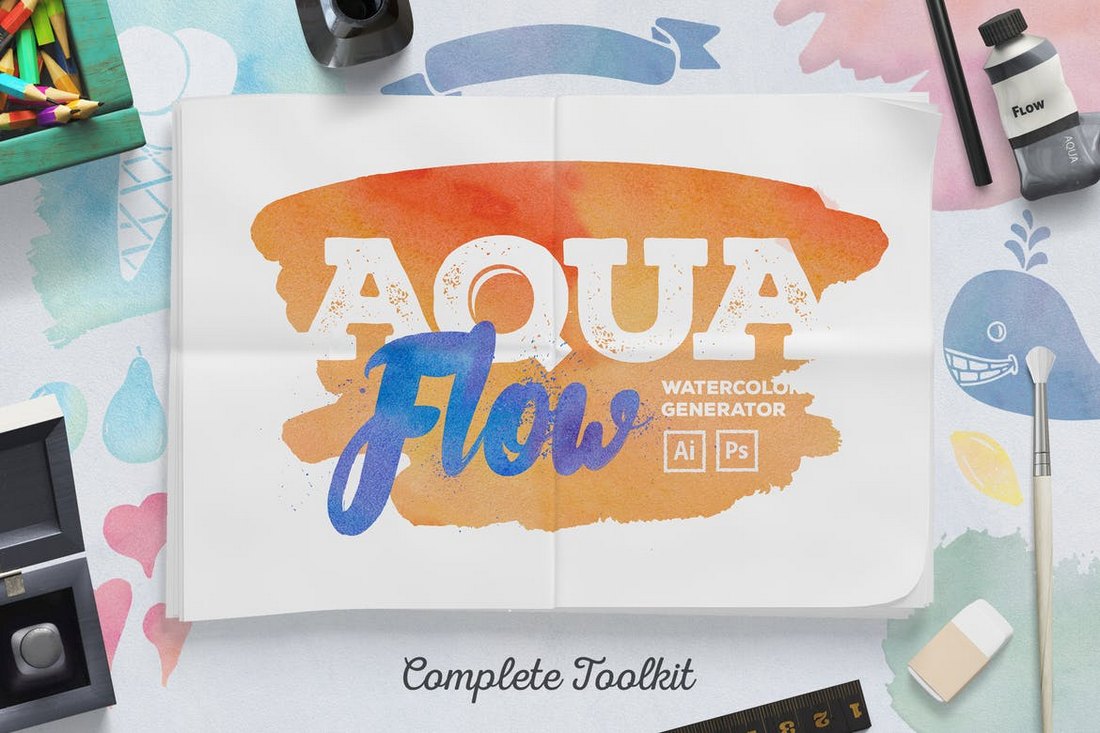 AquaFlow is a complete bundle of watercolor elements that includes lots of different brushes and vectors that you can use to create beautiful watercolor-themed designs. It comes with 54 vector brushes for both Photoshop and Illustrator as well as vector shapes, seamless texture patterns, and Photoshop layer styles.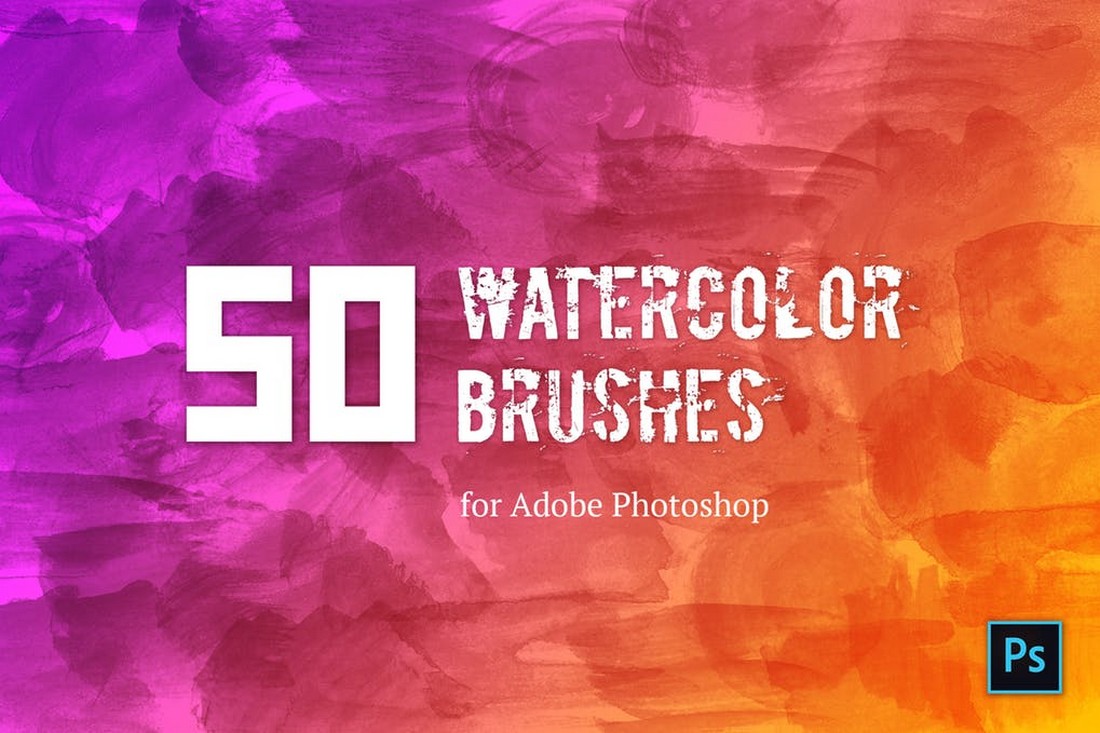 This bundle includes 50 different watercolor brushes in both dynamic and stamp forms. The brushes are compatible with Photoshop CS3 and higher. In addition, it includes all of the brush smoke designs in JPG file format as well.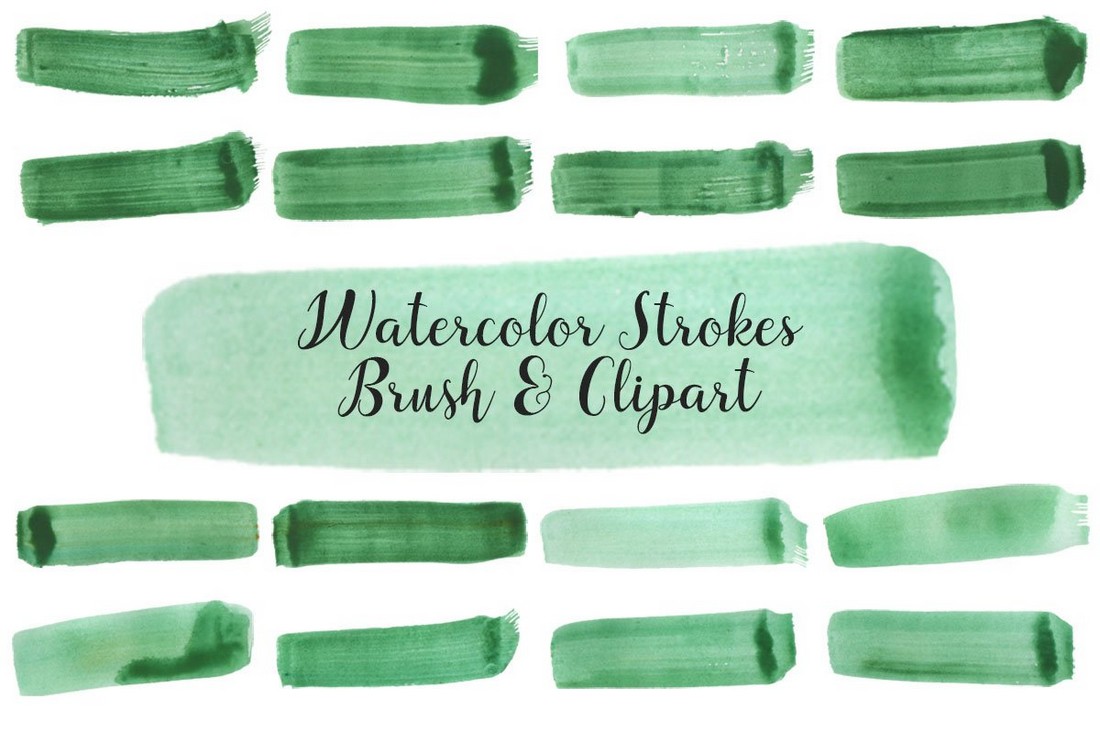 This is a bundle of free Photoshop brushes that also feature a set of unique watercolor strokes in PNG format. It includes 31 different brushes and strokes you can use with your creative projects.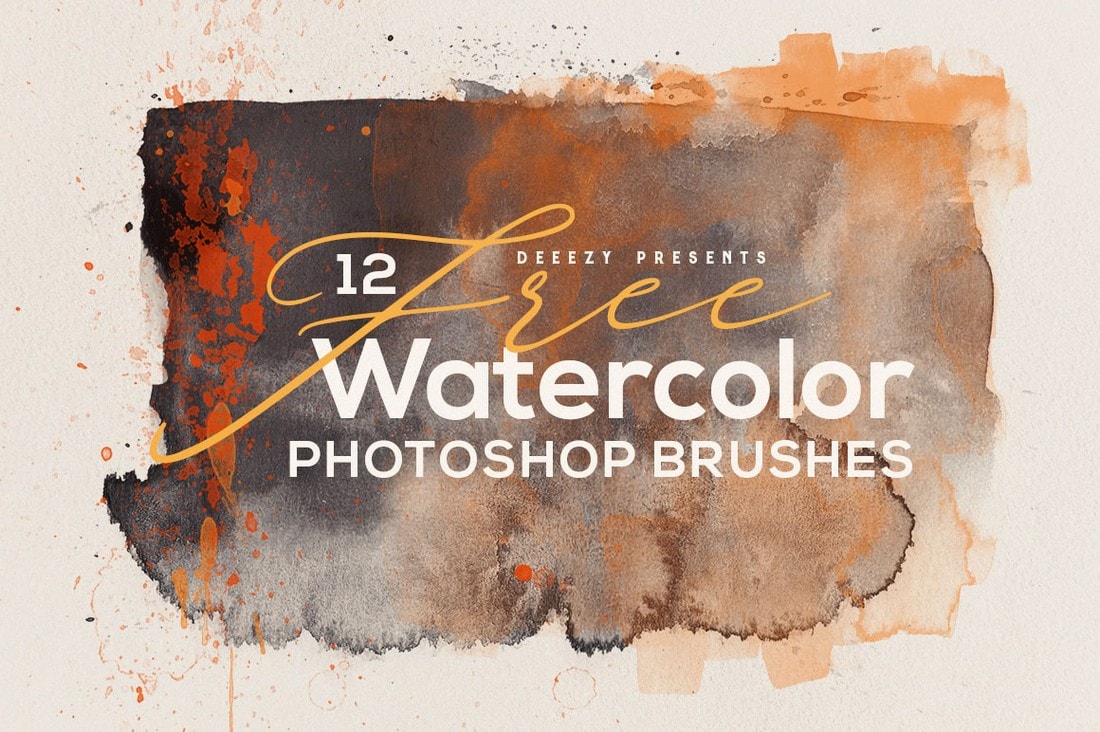 A collection of free Photoshop brushes featuring various abstract watercolor designs. This pack has brushes that are suitable for all types of design work including graphic illustrations and background texture designs.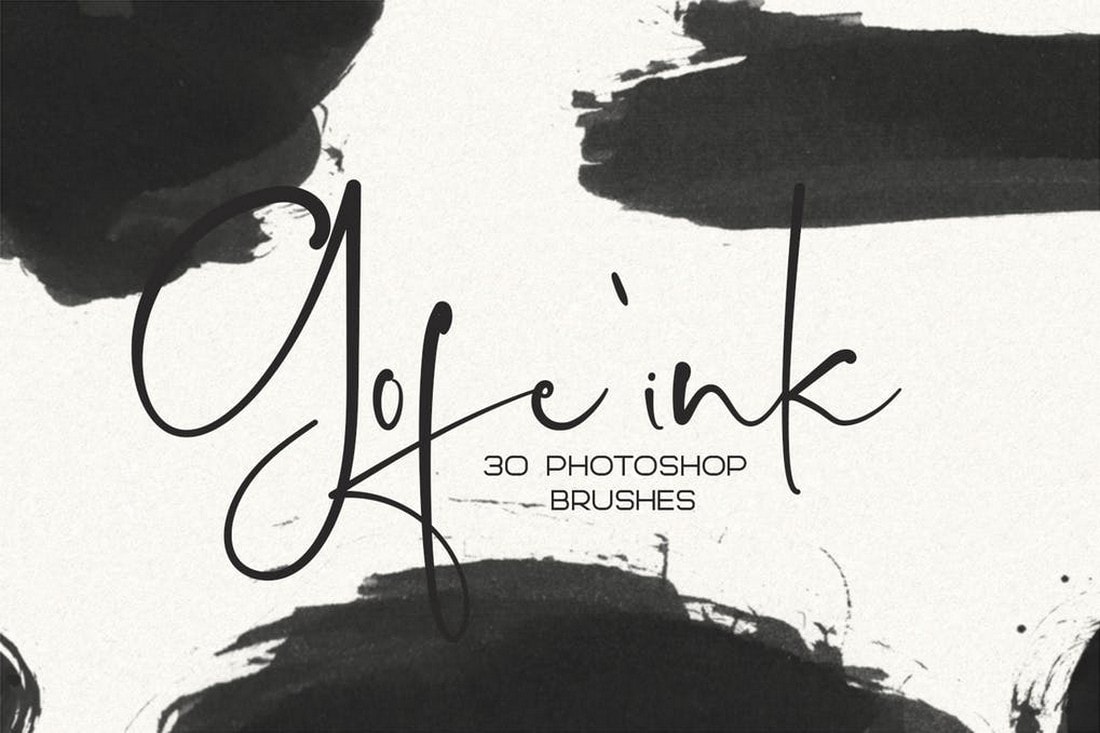 This bundle includes 30 ink-style brushes for Photoshop. Even though these brushes aren't technically watercolor-based, they closely resemble watercolor brush strokes and art designs. This makes them perfect for designing attractive designs with a personalized touch of your own.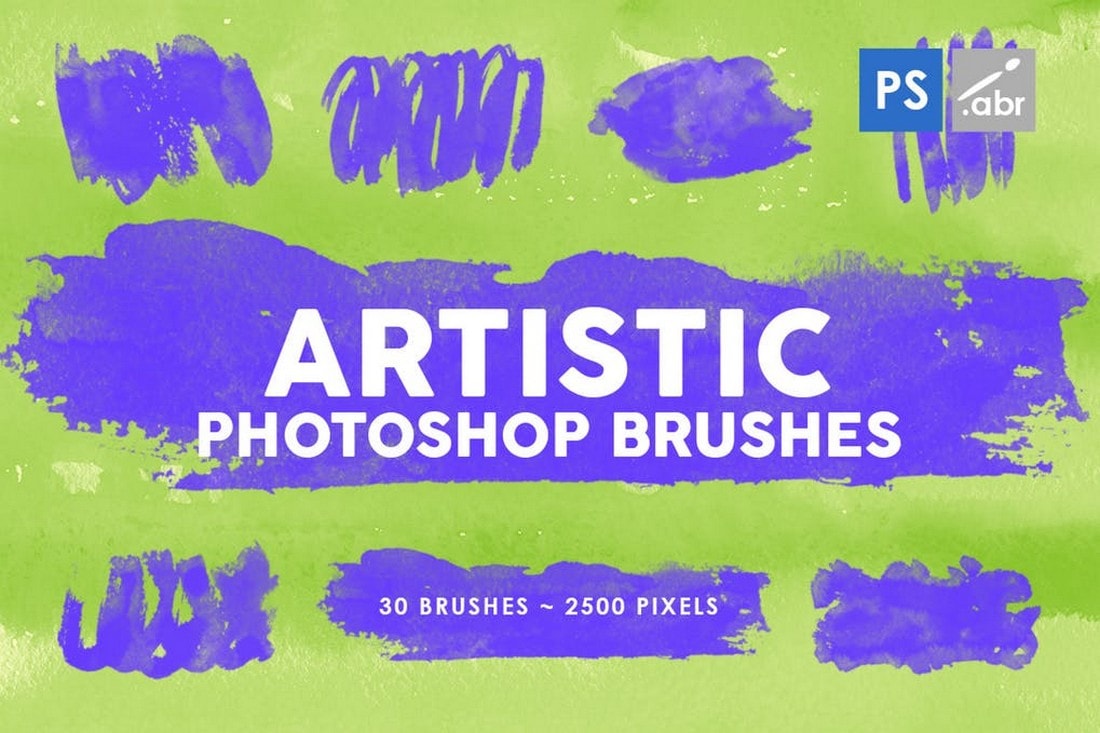 A pack of 30 Photoshop stamp brushes that feature various hand-painted designs based on ink designs. This pack is ideal for adding a unique look to your watercolor designs and making them stand out from the crowd.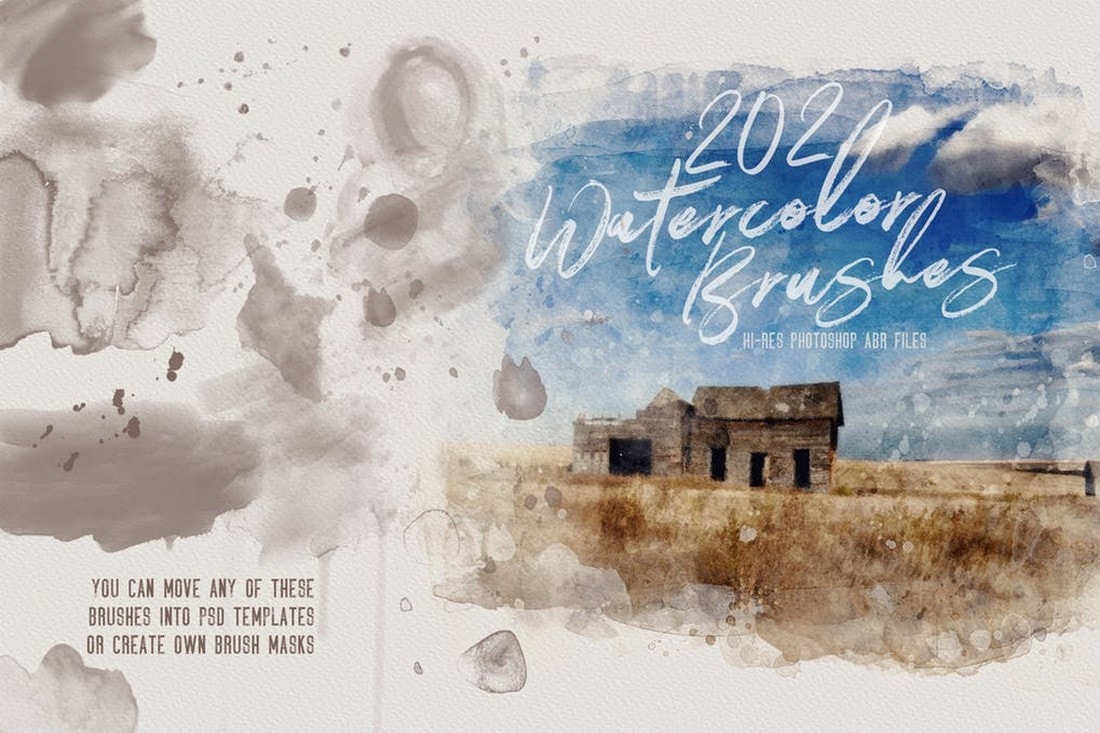 With more than 200 different brushes to choose from, you'll have plenty of choices to craft various watercolor designs using this pack of Photoshop brushes. It includes brushes with different floral and abstract designs.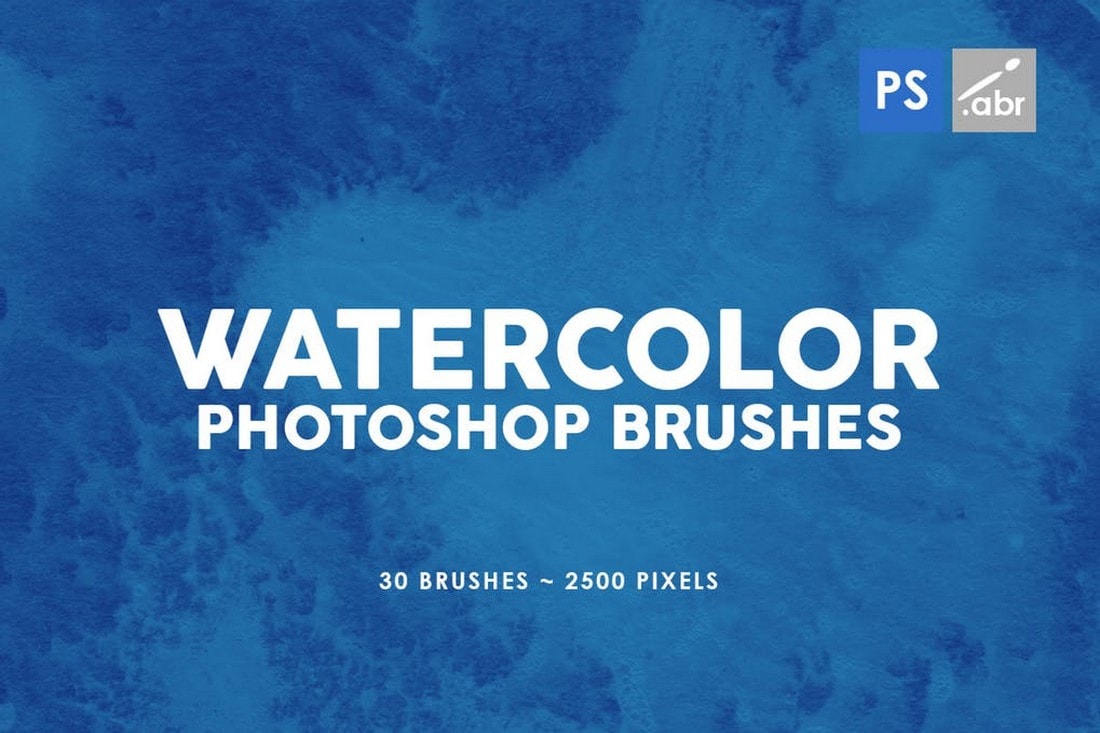 Another set of artistic Photoshop stamp brushes featuring watercolor texture designs. This pack is most suitable for designing creative backgrounds and adding texture to various types of designs. The brushes work with Photoshop CS2 and higher.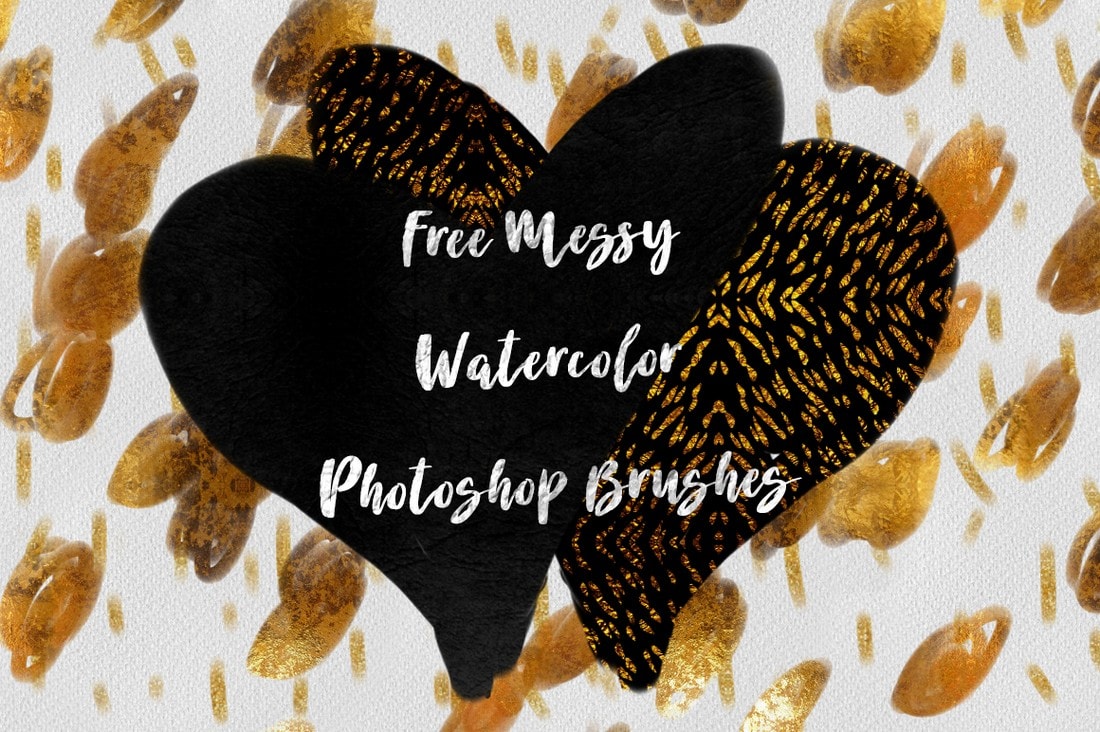 This bundle includes 26 unique Photoshop brushes featuring hand-crafted watercolor designs. These brushes will help add a personalized look to your designs. They are free to use with your personal projects.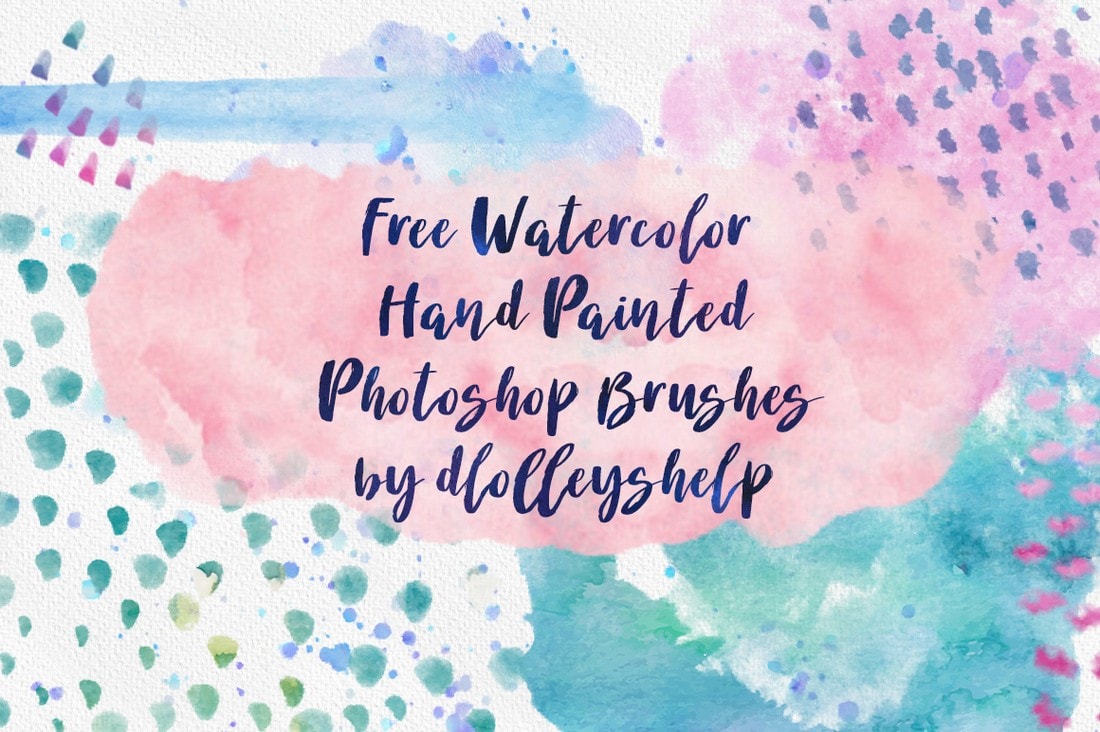 A massive bundle of watercolor Photoshop brushes you can use with various design work. This pack includes more than 170 different Photoshop brushes featuring hand-painted watercolor designs.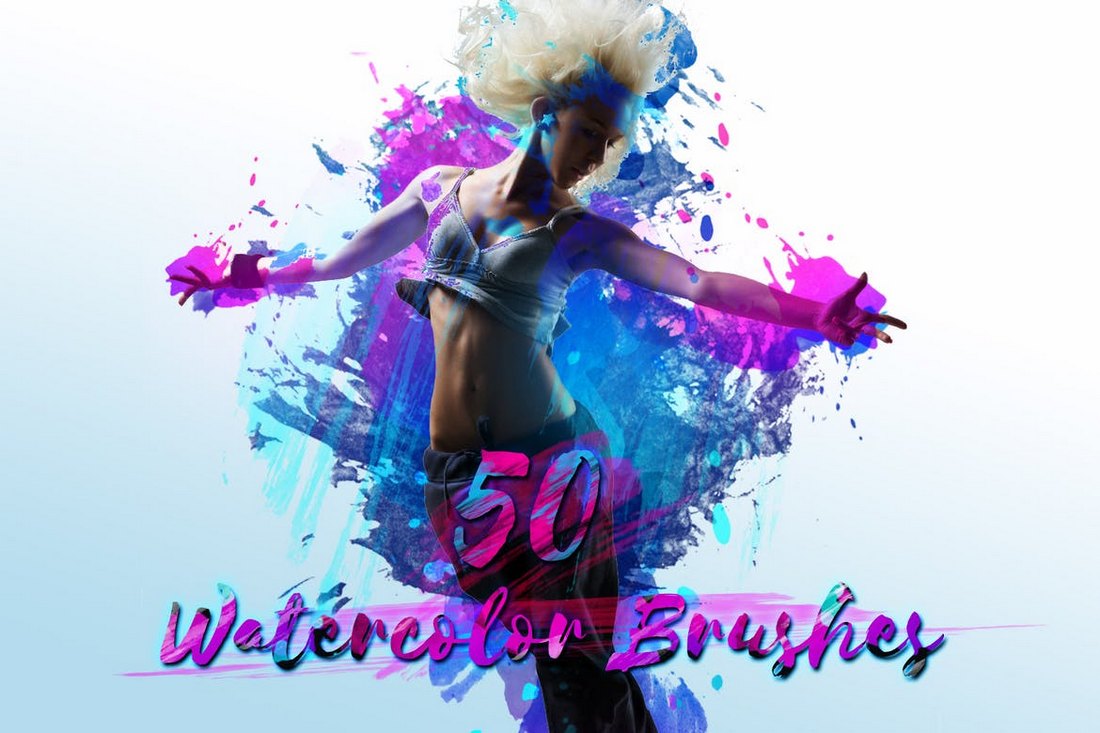 If you use watercolor designs to add more color to your poster designs and create backgrounds, this bundle will come in handy. It includes 50 Photoshop brushes with different watercolor designs and in high-resolution.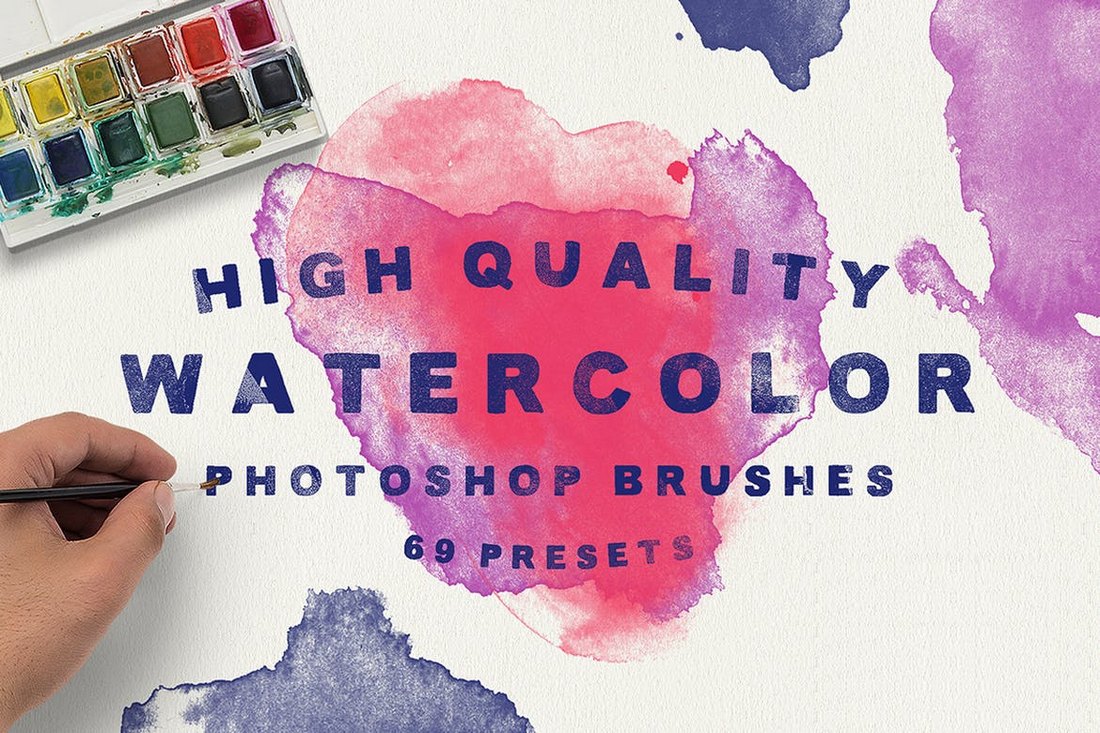 This brush pack is perfect for adding texture and a personal touch to your designs using watercolor brush strokes. It includes 69 different brushes in a .ABR file. As a bonus, it also comes with 11 textures in a layered PSD file as well.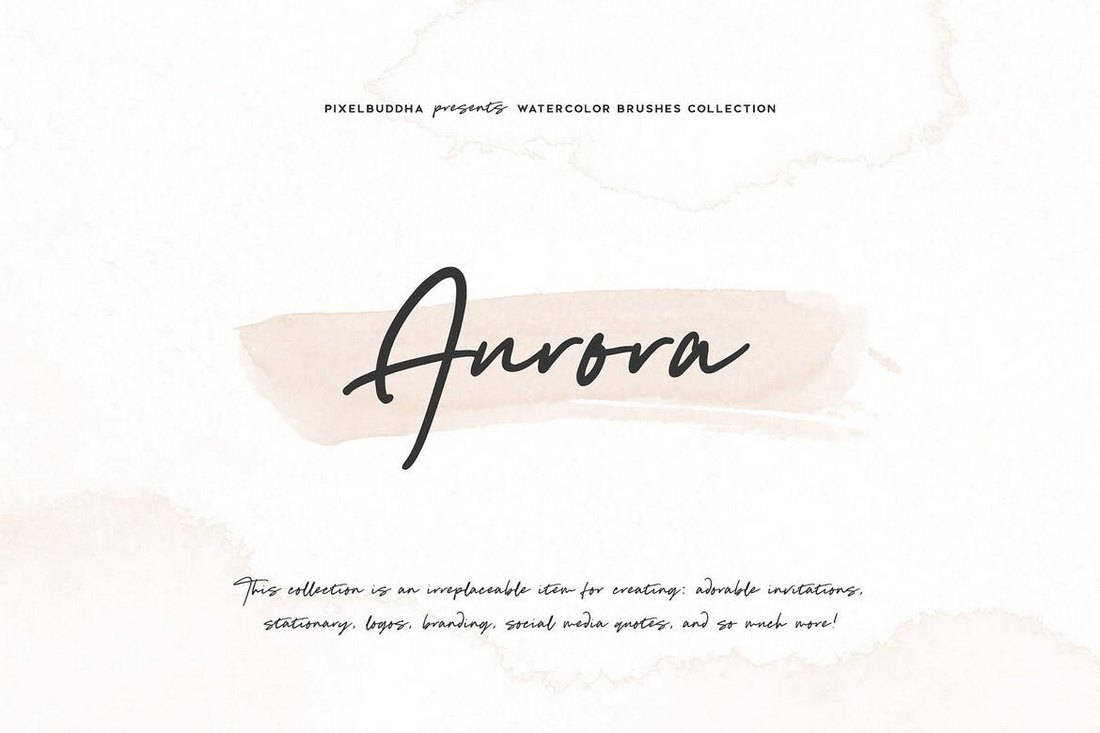 Aurora is a collection of unique watercolor Photoshop brushes that feature a set of light brushes you can use to add more texture to design, create patterns, craft backgrounds, and much more. The pack includes 45 different brushes in sizes ranging from 2000 to 4000 px.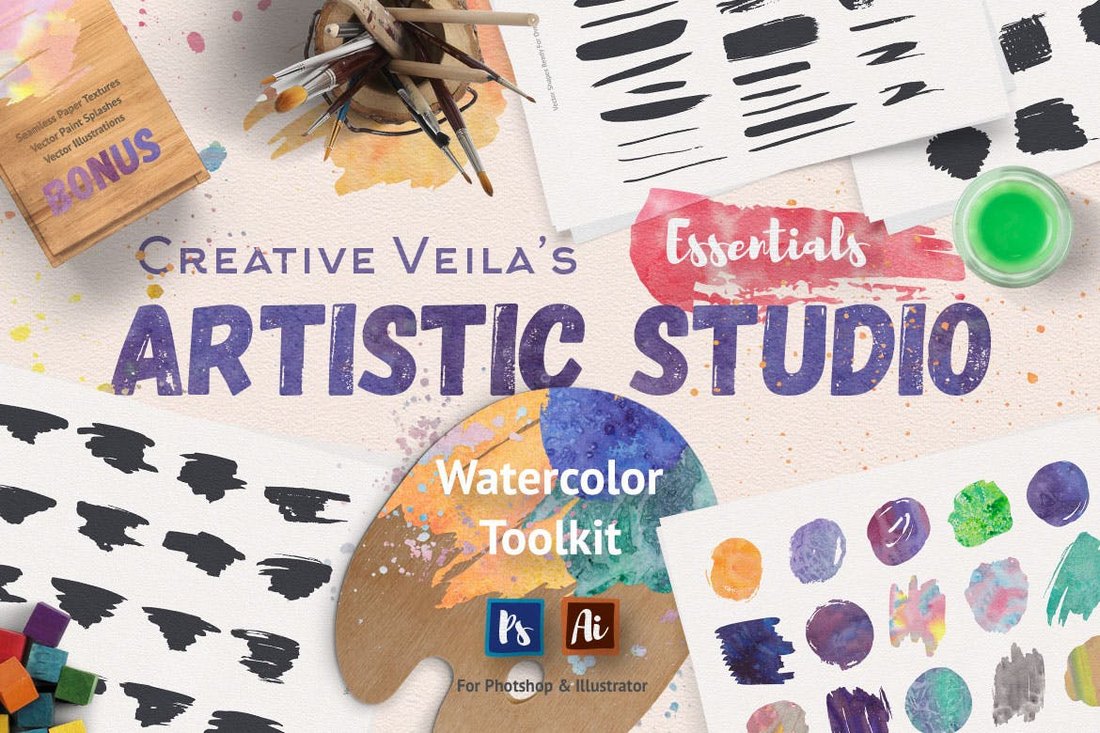 Artistic Studio comes with a massive collection of all sorts of watercolor vectors, brushes, and designs, including 35 Photoshop brushes featuring watercolor strokes, 38 seamless patterns with pastel designs, hand-drawn vector shapes, strokes, spray splashes, and much more.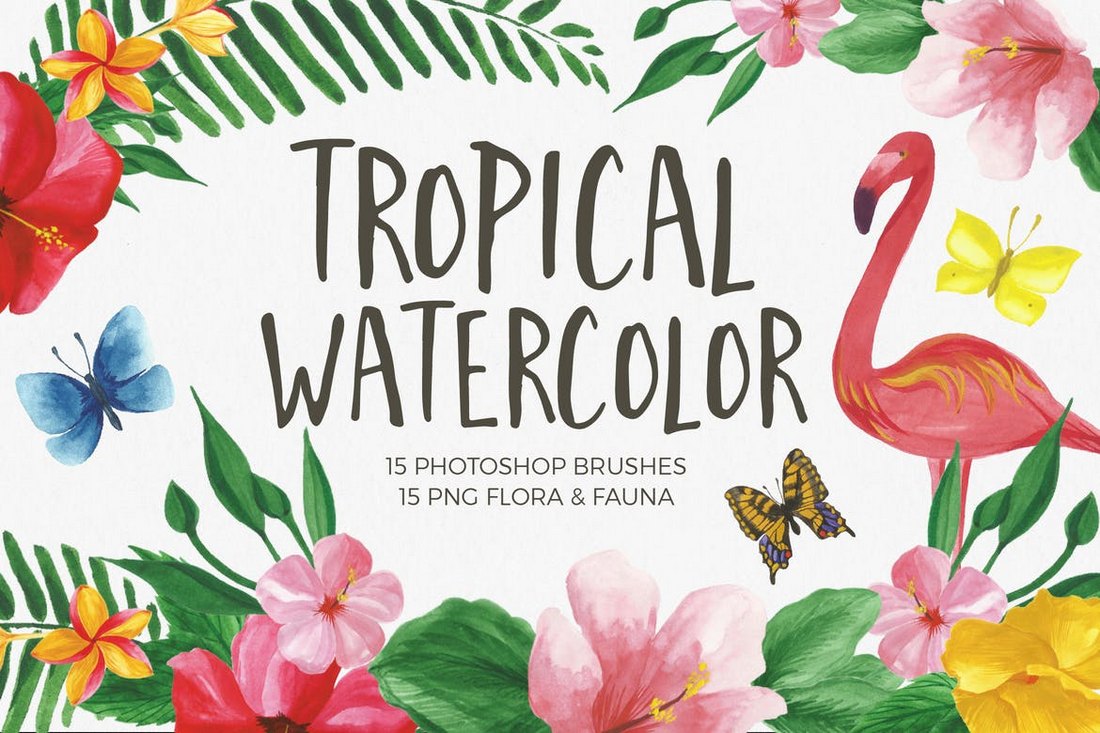 A collection of professionally crafted Photoshop watercolor brushes that are perfect for drawing illustrations, creating backgrounds, and adding texture to your greeting cards and invitation designs. The pack includes 15 different brushes.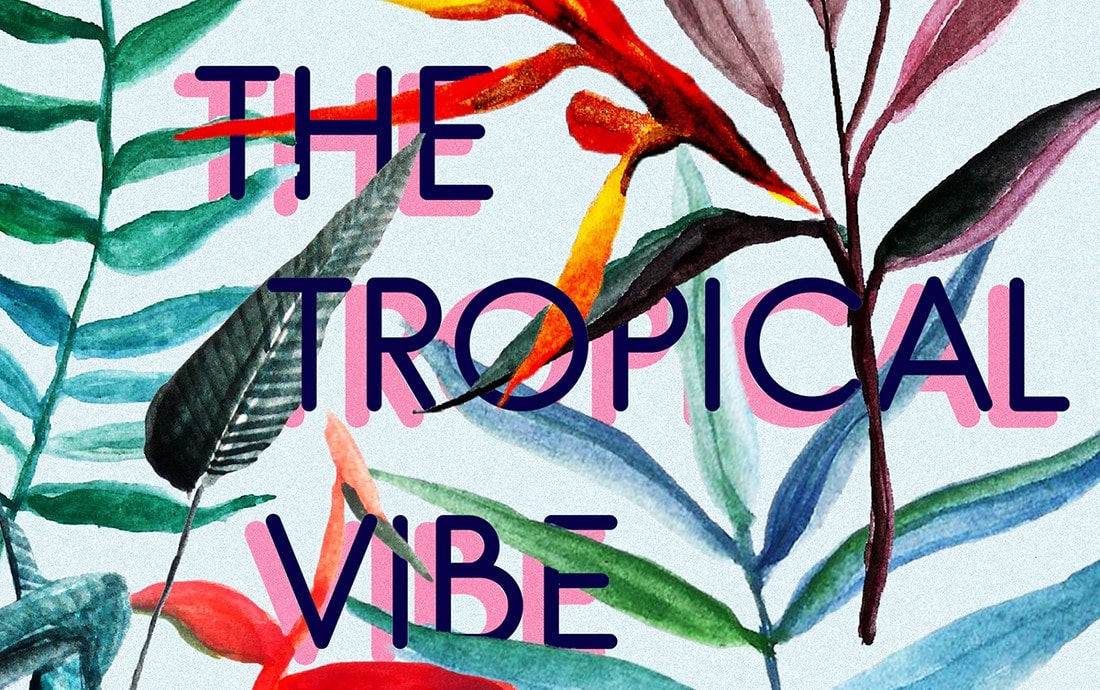 This is a watercolor elements pack that includes a collection of hand-drawn watercolor elements such as plants and flowers. It also comes with a watercolor Photoshop brush used to draw the elements as well. All of which are free to download.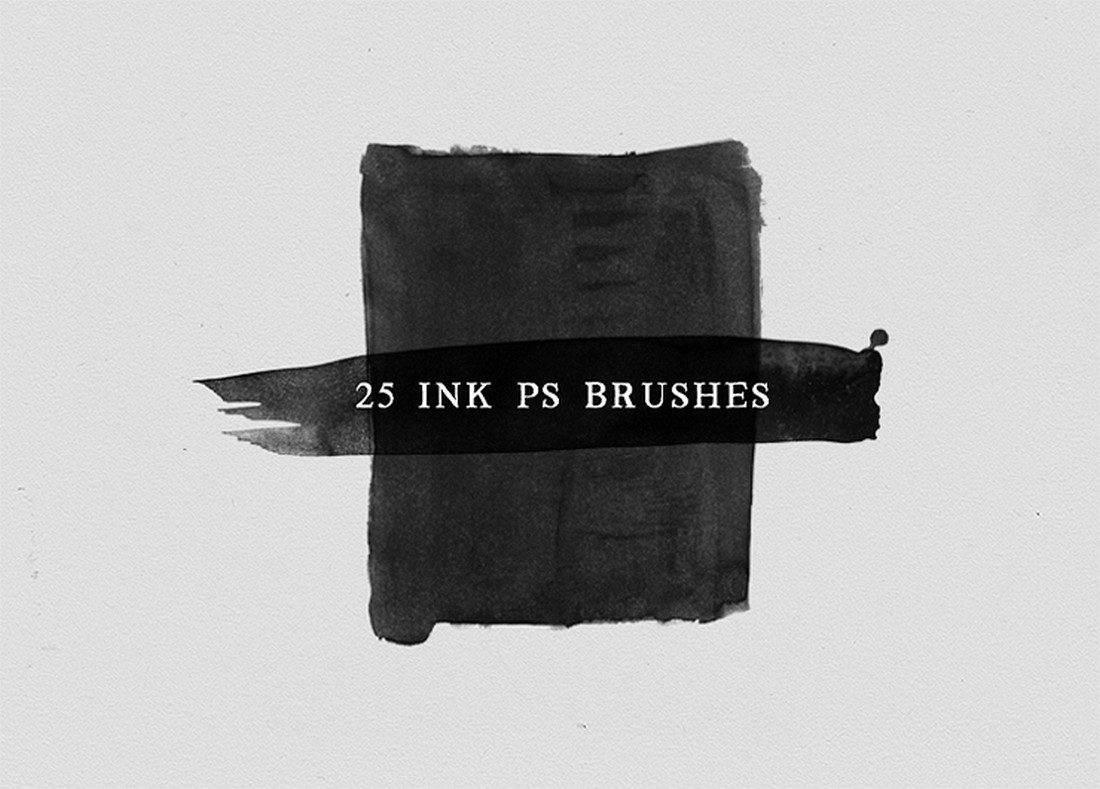 A free pack of Photoshop watercolor brushes that include 25 different watercolor and ink brush designs. This bundle is free to download and use with your commercial projects.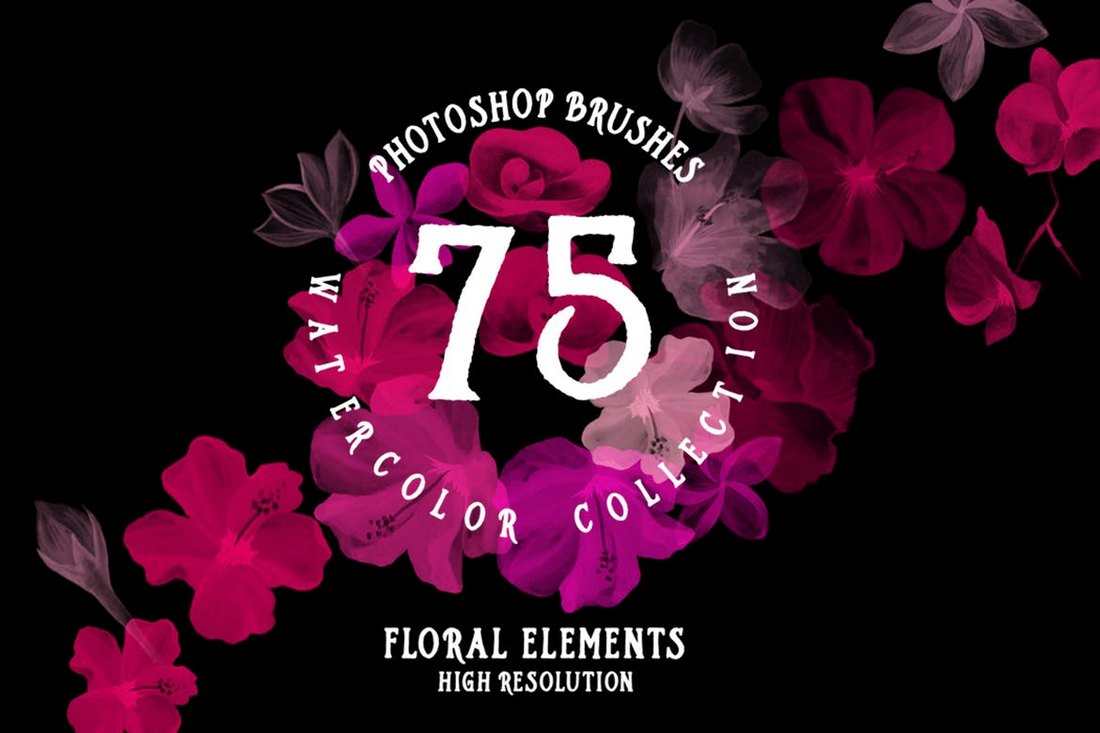 Add lots of beautiful floral elements and illustrations to your designs using this pack of Photoshop brushes. The bundle comes with 60 brushes featuring different kinds of floral elements along with 5 fauna brushes, 4 garlands brushes, and 6 wreath brushes.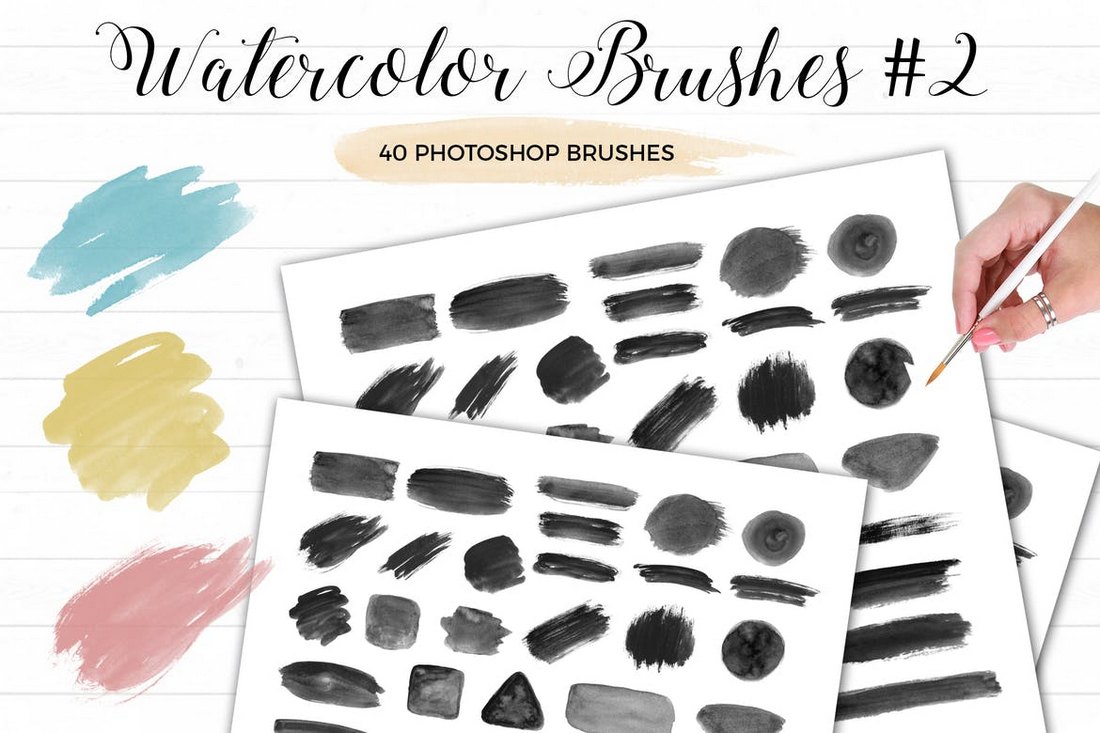 The second edition of the Watercolor Photoshop brushes collection comes with even more beautiful and unique brush designs. This pack features 40 brushes with creative and artistic watercolor brush stroke designs.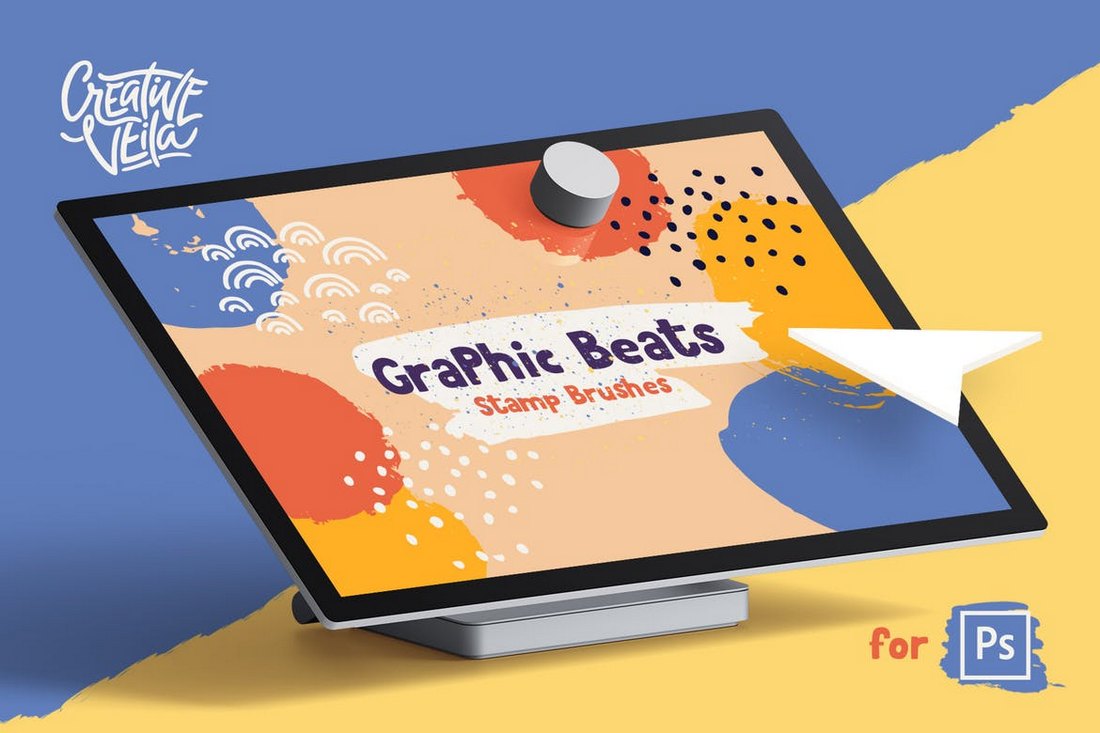 Graphic Beats is a collection of Photoshop brushes featuring watercolor inspired brushes in 5 different categories. In this pack, you'll get access to over 330 brush strokes with swooshes and splashes for crafting all kinds of artworks, backgrounds, and textures.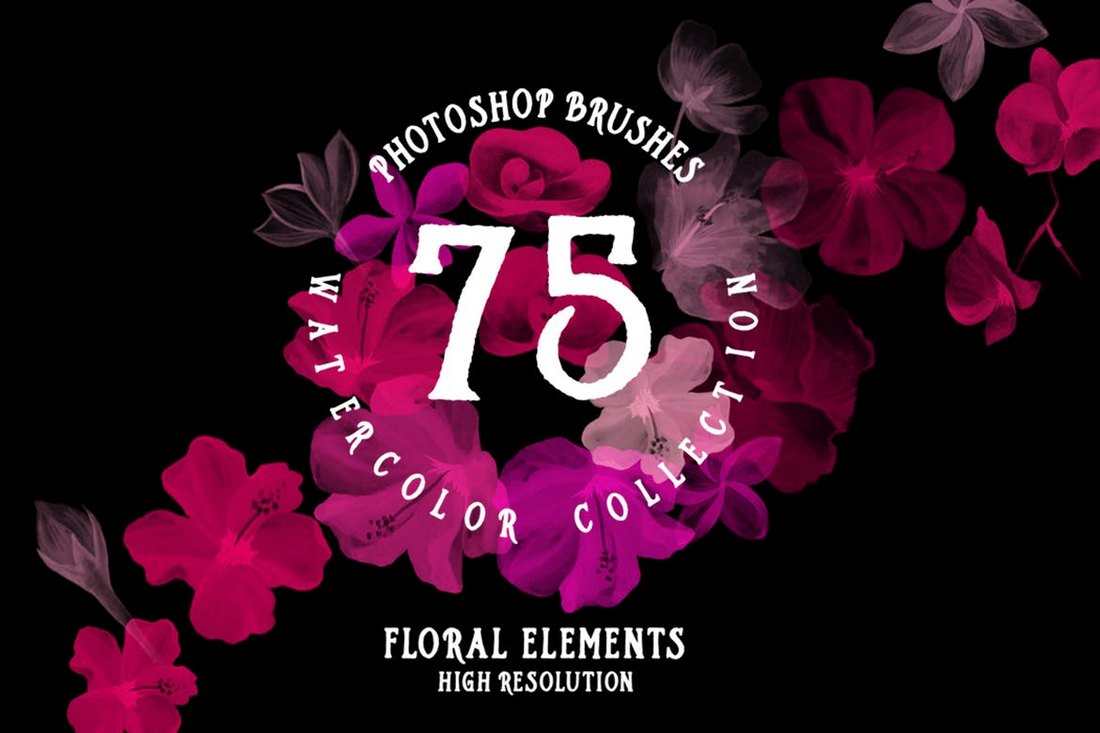 Floral designs are widely used in the greeting card and invitation designs. Especially when it comes to wedding invitations, you can never go wrong with a beautiful floral stamp. This bundle of Photoshop brushes includes 358 different floral stamp brushes separated into 6 different categories. You'll have plenty of options to add more beauty to your designs.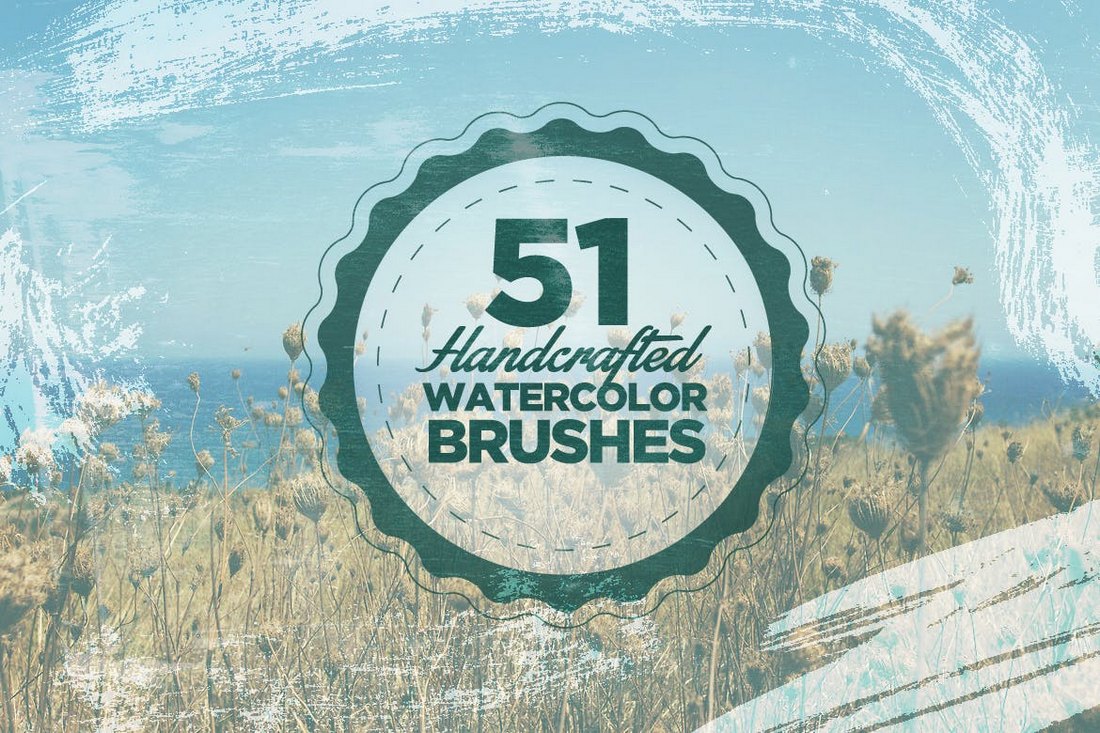 This bundle comes with 51 different Photoshop watercolor brushes featuring designs handcrafted from scratch by professional artists. The brushes are available in 1000×1000 px resolution and in 300 DPI to let you use the brushes with both digital and print design projects.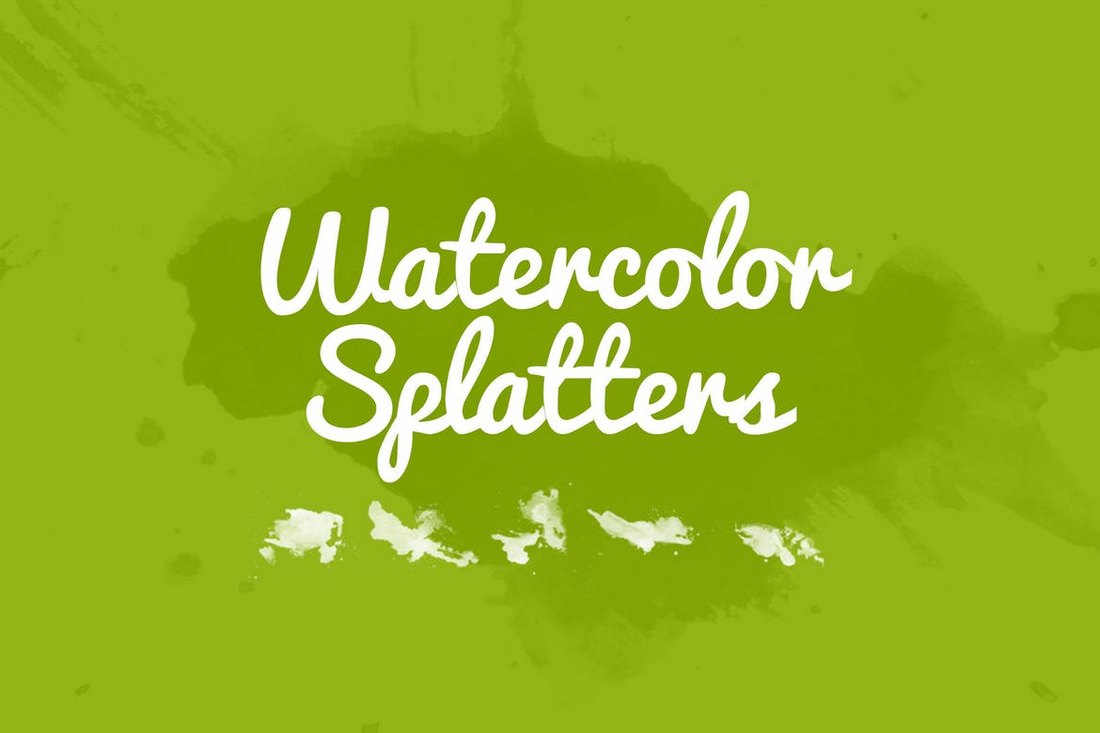 Watercolor splatter designs are perfect for creating unique typography designs as well as adding texture and vector shapes. This bundle comes with 32 different brushes featuring watercolor splatter strokes for creating all those designs and more. The brushes are available in 5000px resolution for newer Photoshop versions and 2500px for Photoshop CS5 and lower.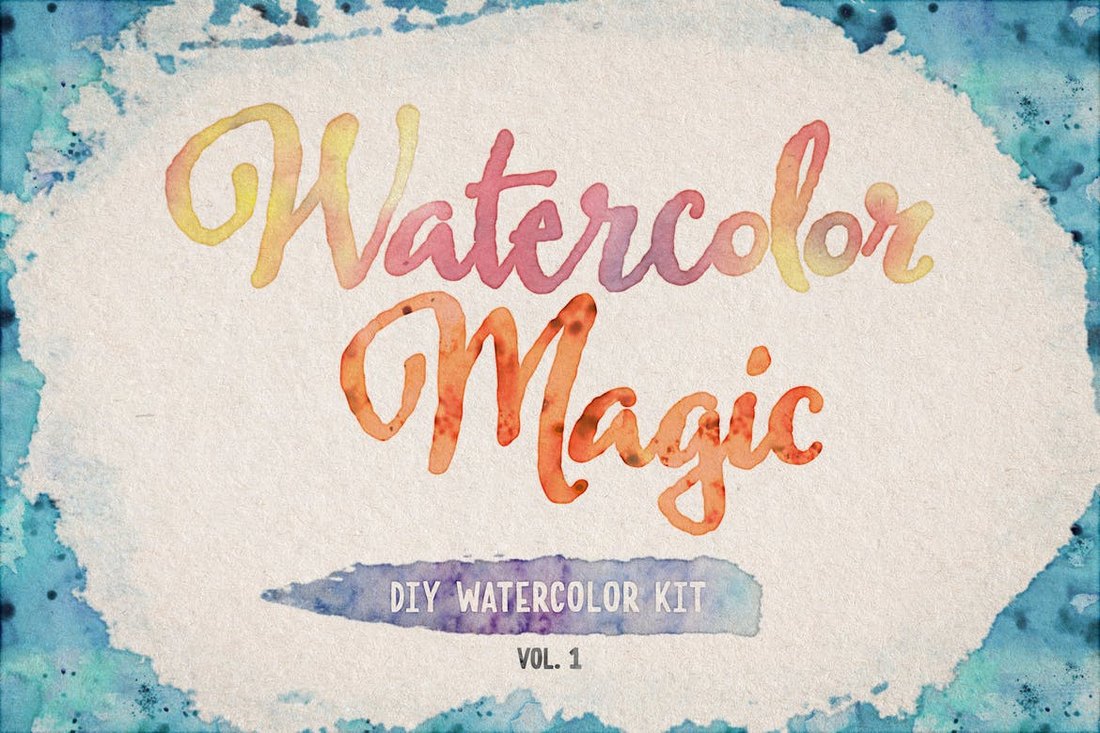 With this bundle of watercolor Photoshop brushes, you'll be able to create true magic. It comes with 25 unique brushes featuring handcrafted designs. The pack also includes additional 15 realistic watercolor Photoshop styles as well as 15 seamless patterns and hand-drawn vectors.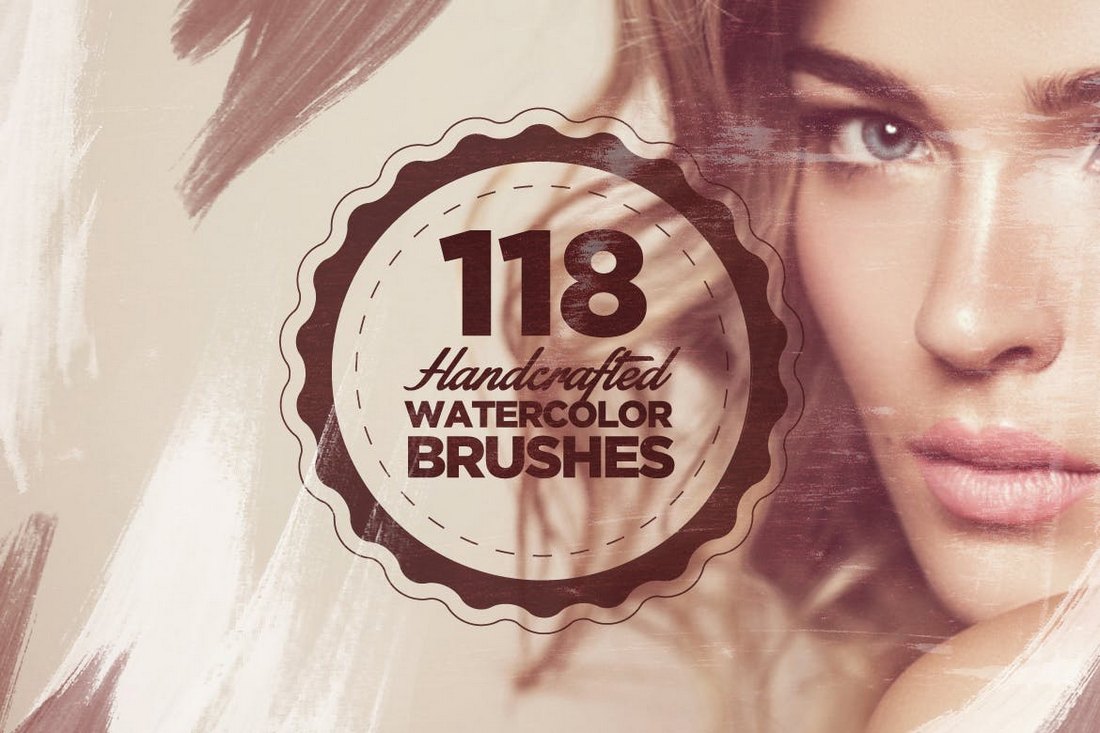 This is a big bundle of Photoshop brushes featuring various styles of watercolor strokes and designs. It includes 118 brushes in .ABR format and in 300 DPI that are also compatible with Photoshop CS1 and better.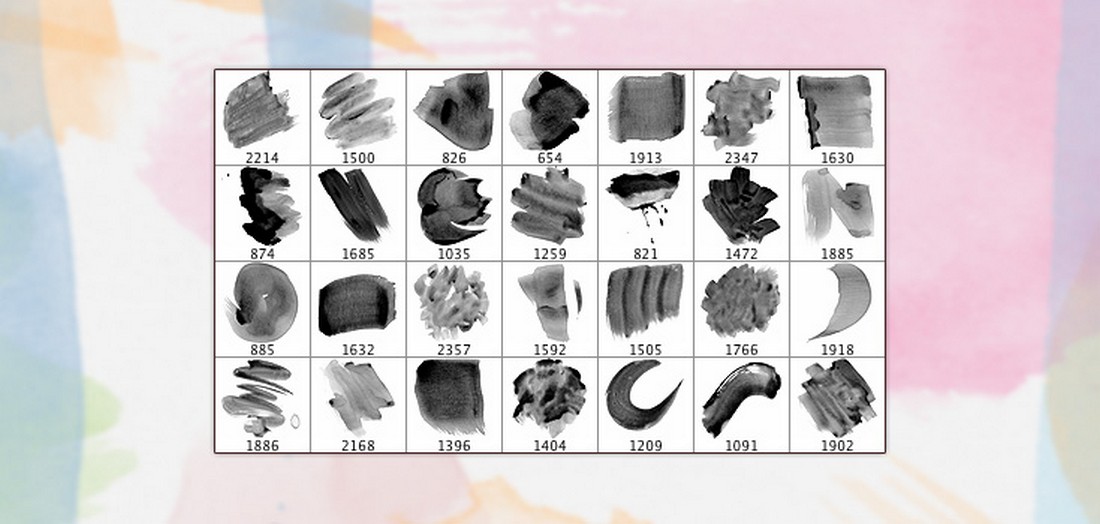 Another collection of free Photoshop brushes. This pack comes with a mix of both ink and watercolor brush designs with resolutions ranging from 600 pixels to 2200px.
Using this pack of free Photoshop brushes, you'll be able to mix both watercolor and acrylic paint designs in your work. It includes 483 different brushes with various designs you can use in your personal projects.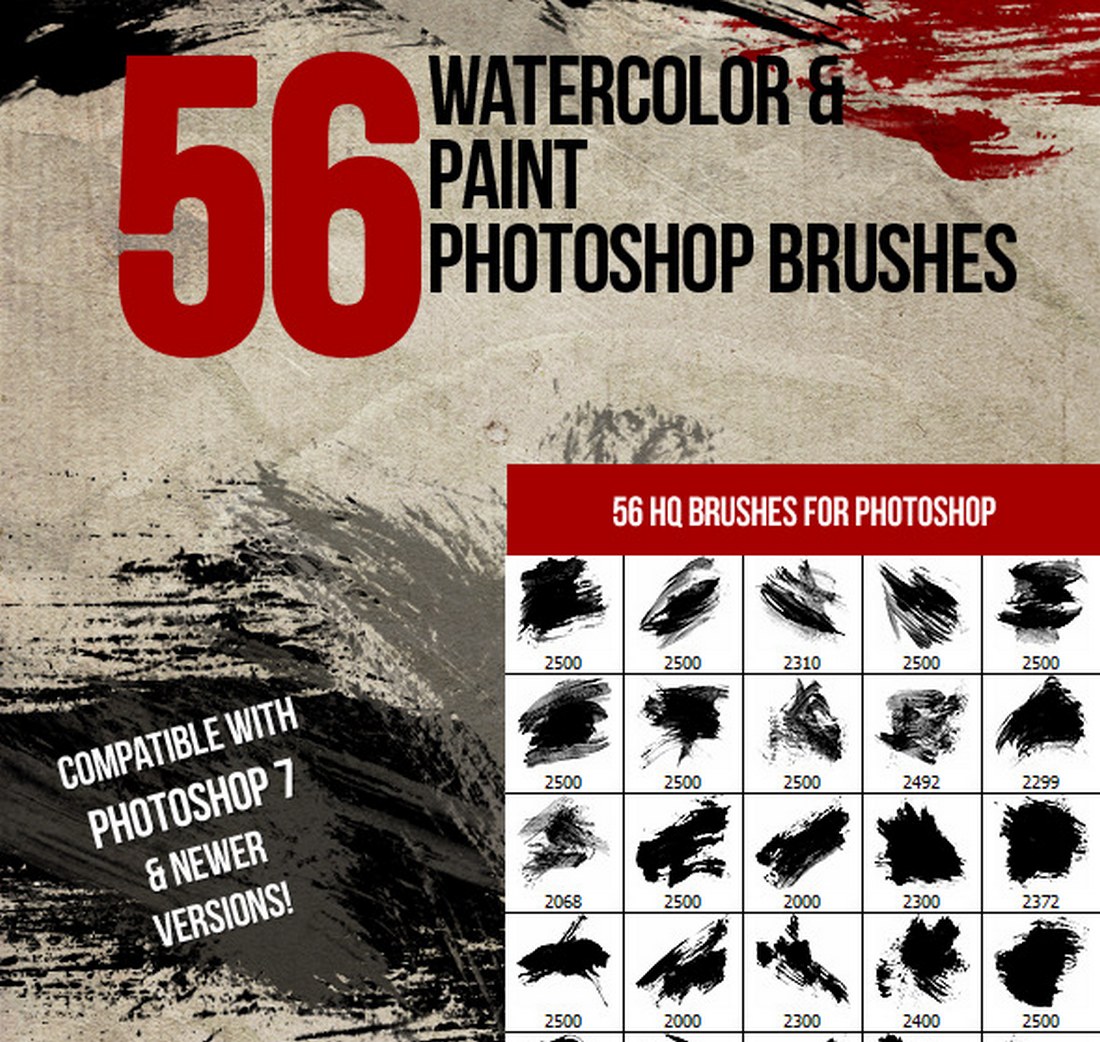 This bundle comes with 56 unique watercolor brushes as well as paint brushes for Photoshop. It's compatible with Photoshop 7 and all of the latest versions of the app as well.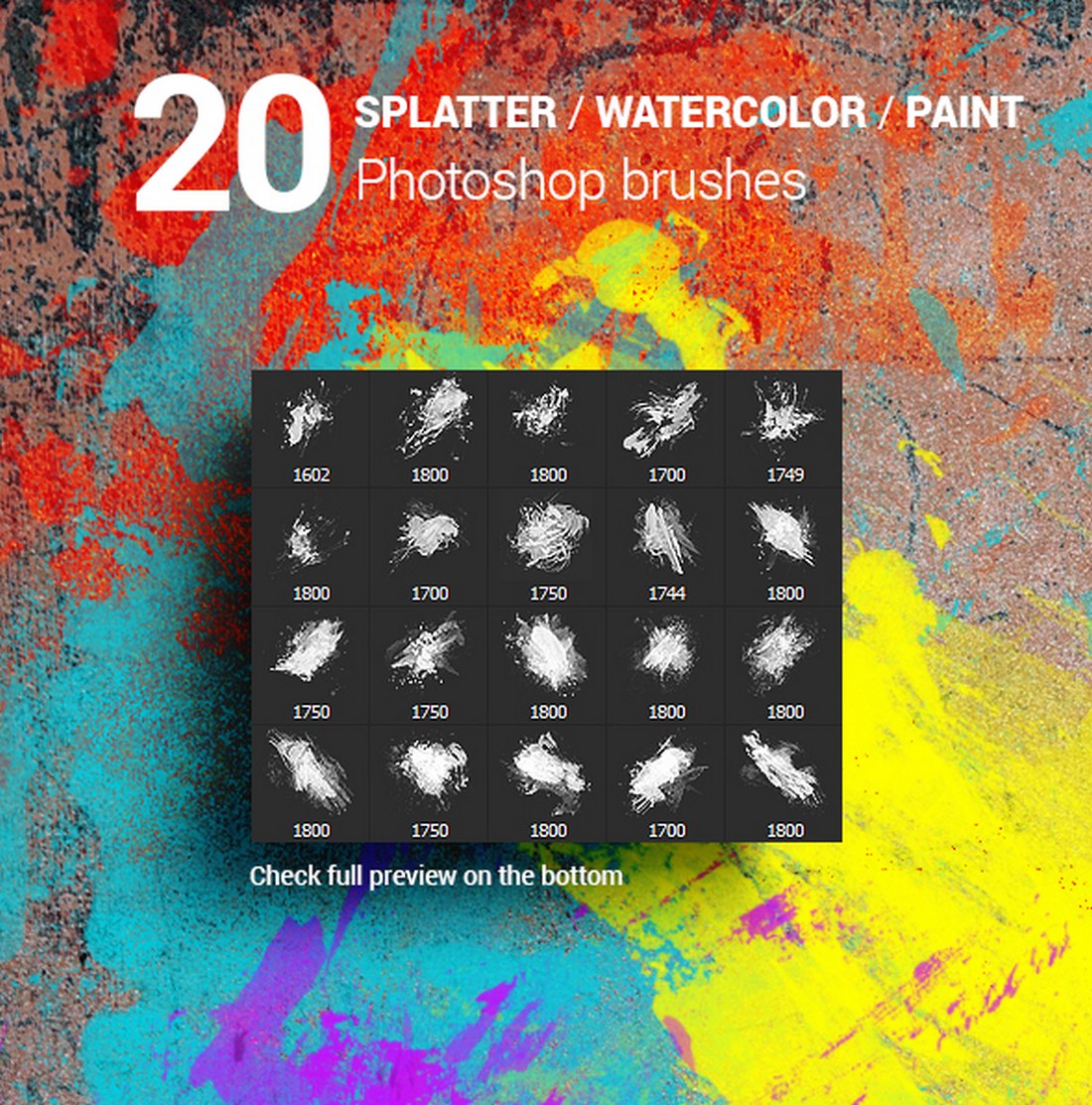 Another collection of unique Photoshop splatter paint brushes that can also be used to design creative watercolor artworks. This pack includes a mix of 20 brushes.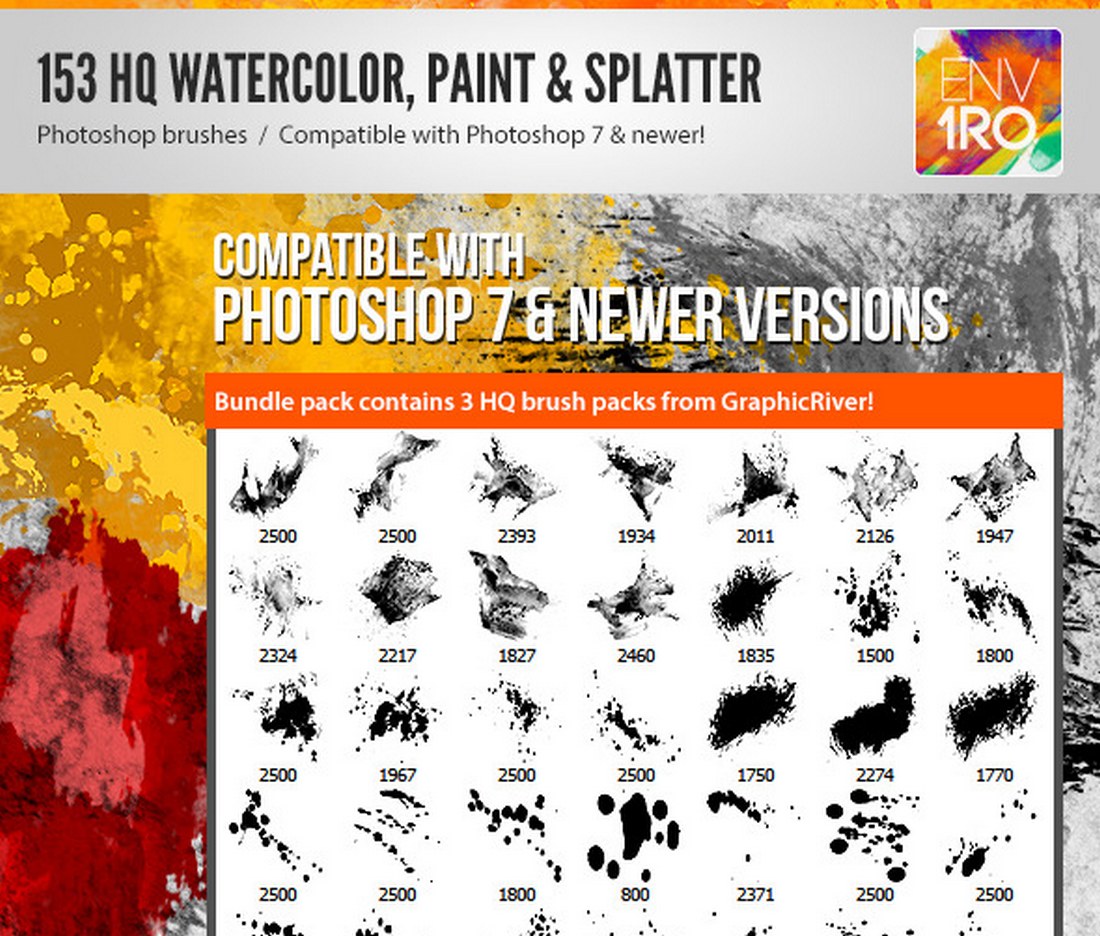 A collection of high-quality watercolor and splatter paint brushes. This bundle includes over 150 different brushes with various styles of strokes and splatter designs.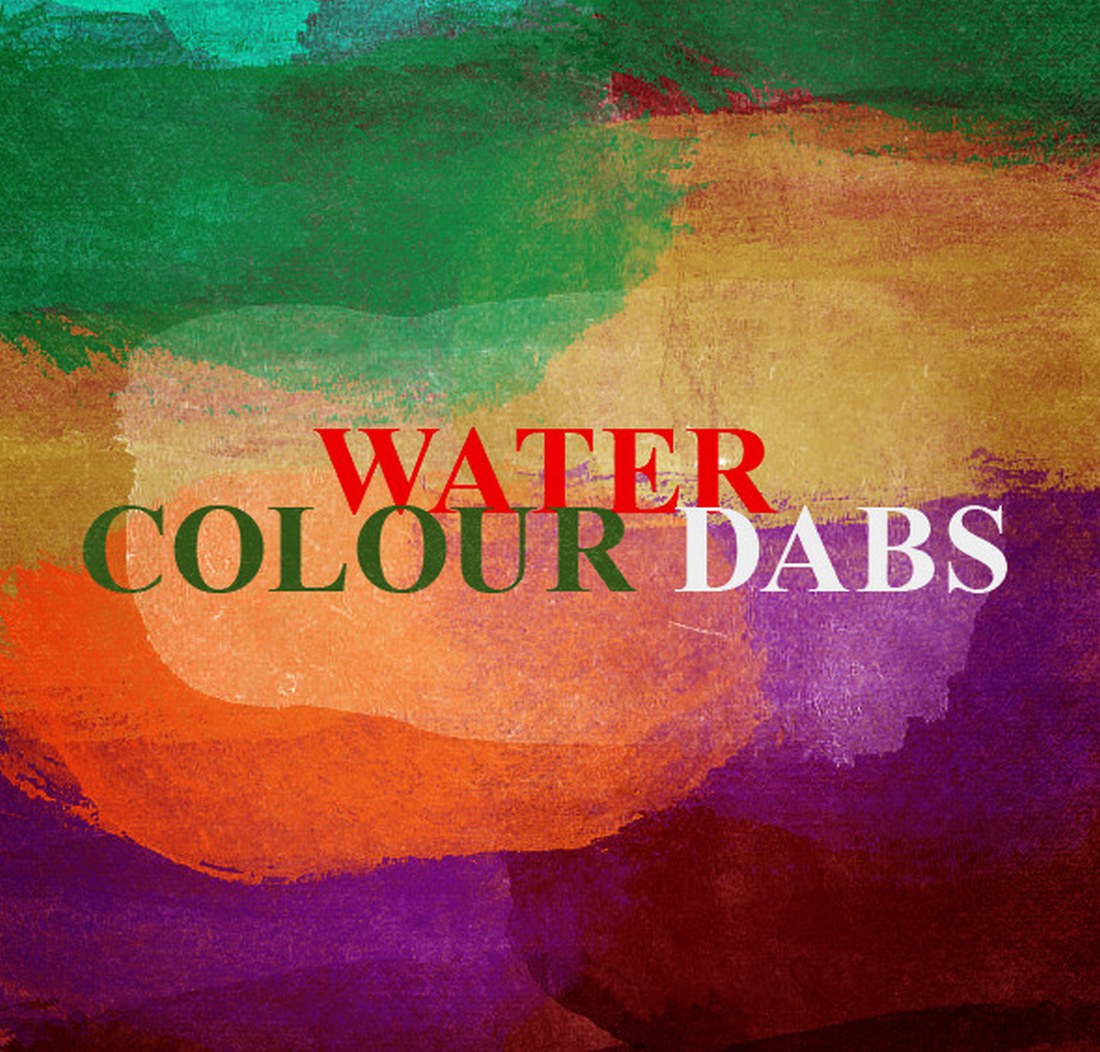 Another collection of watercolor dabs. These brushes have been handcrafted for creating more authentic watercolor-style designs. It comes with 30 different brushes.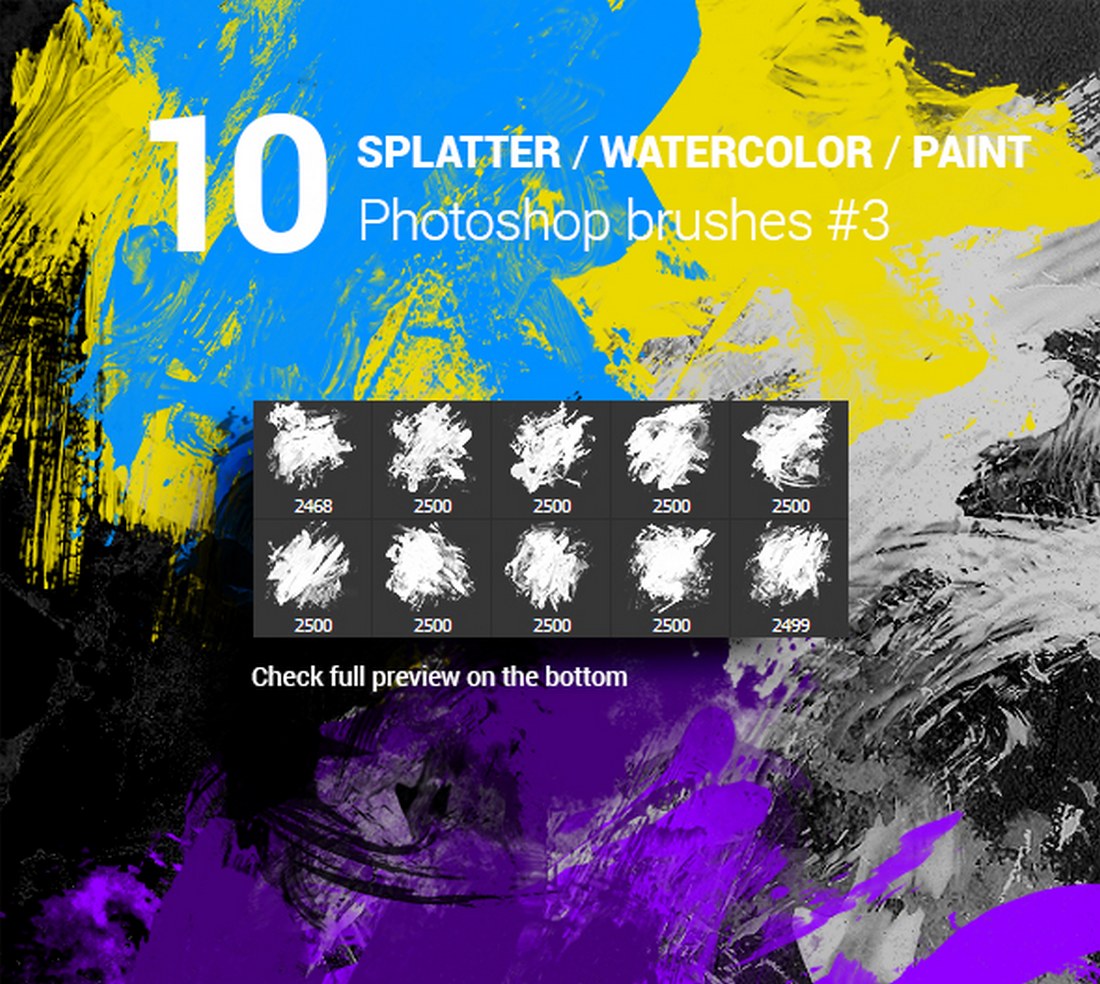 A set of unique Photoshop brushes with watercolor splatter designs. This pack includes 10 different watercolor strokes brushes in 2500px resolution.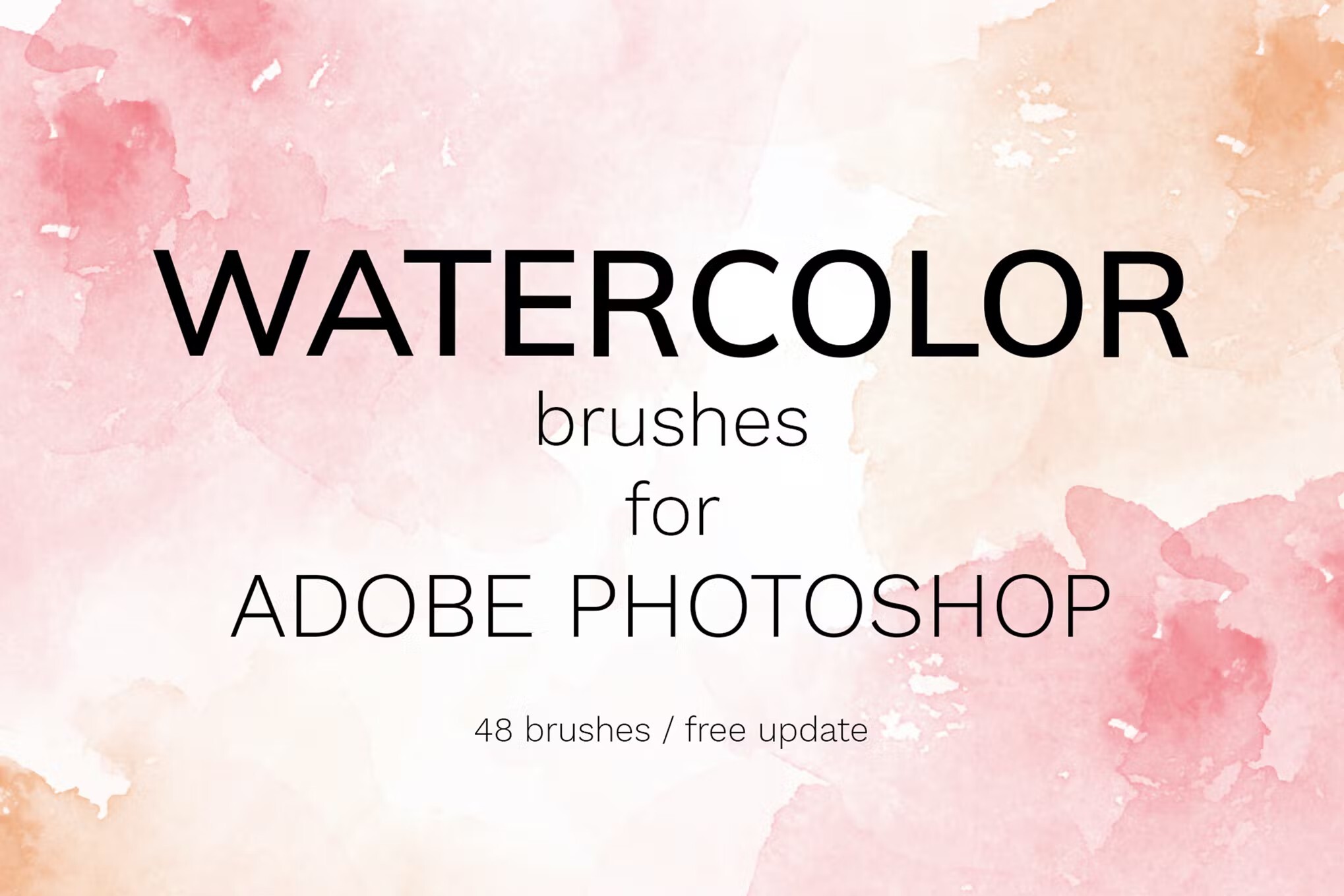 These naturalistic watercolor brushes will help you to create any background easily. This brush pack features a huge range of textured strokes that were sampled from real watercolor for maximum authenticity. Brushes are set up in a way so that they are automatically spinning while you move the pen or computer mouse.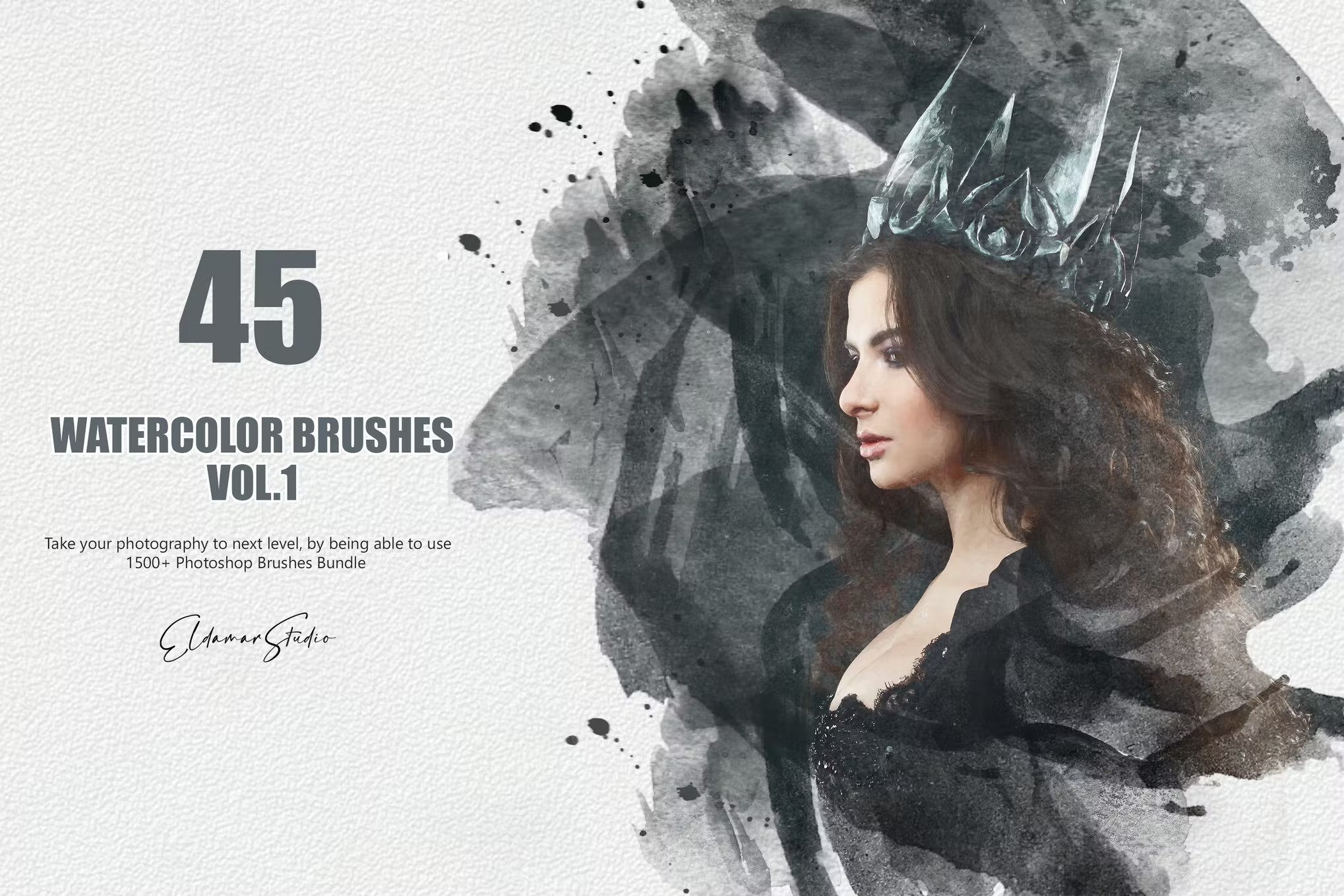 Create a unique design and get fun when you paint. You can use these brushes to realize your wildest ideas in design. Brushes are perfect for creating posters, branding and packaging, business cards, logo design, invitations, social media design, greetings cards, pattern design, and more.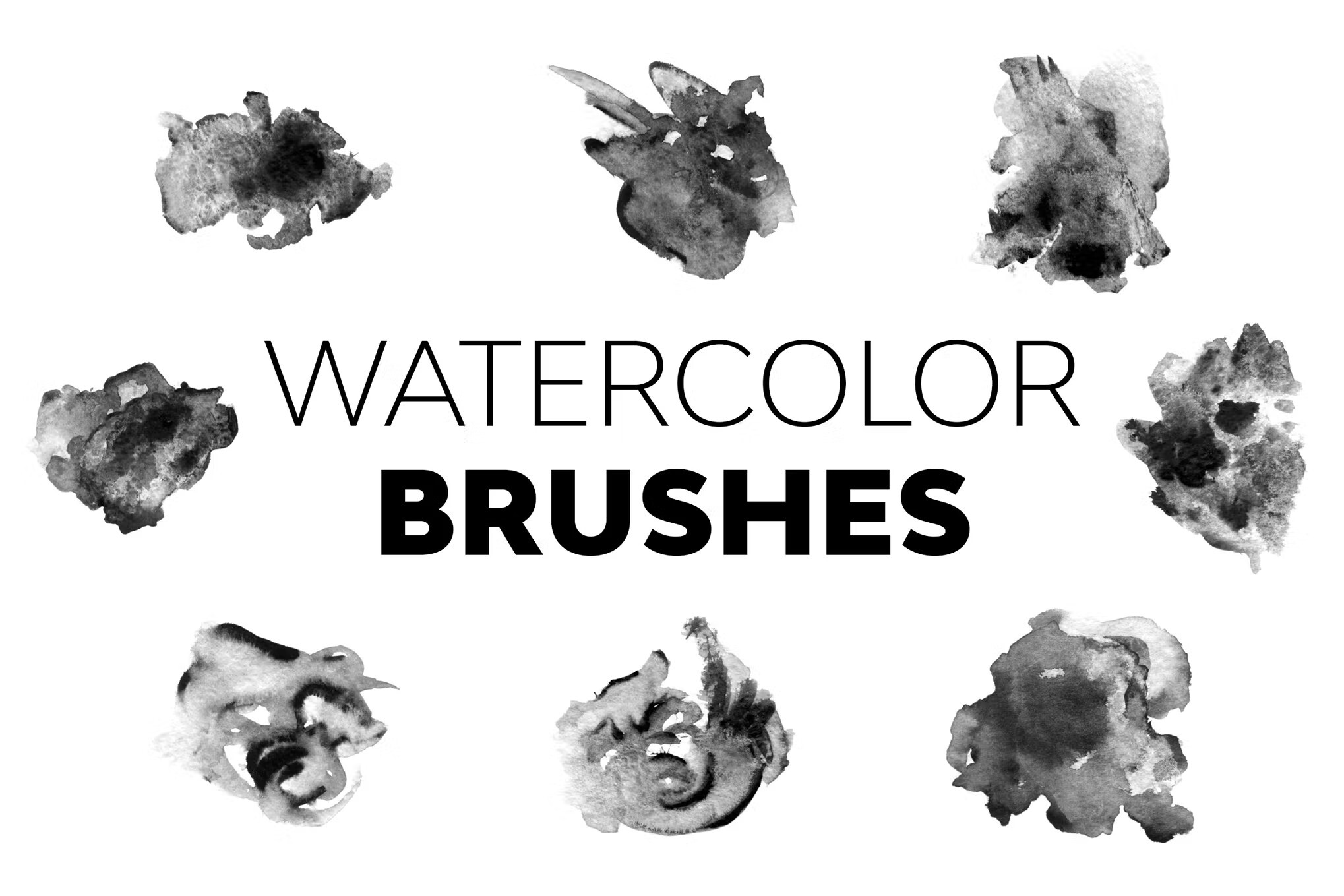 Create amazing watercolor artworks and watercolor effects with this set of 23 watercolor brushes included! The brushes are high-quality and resolution.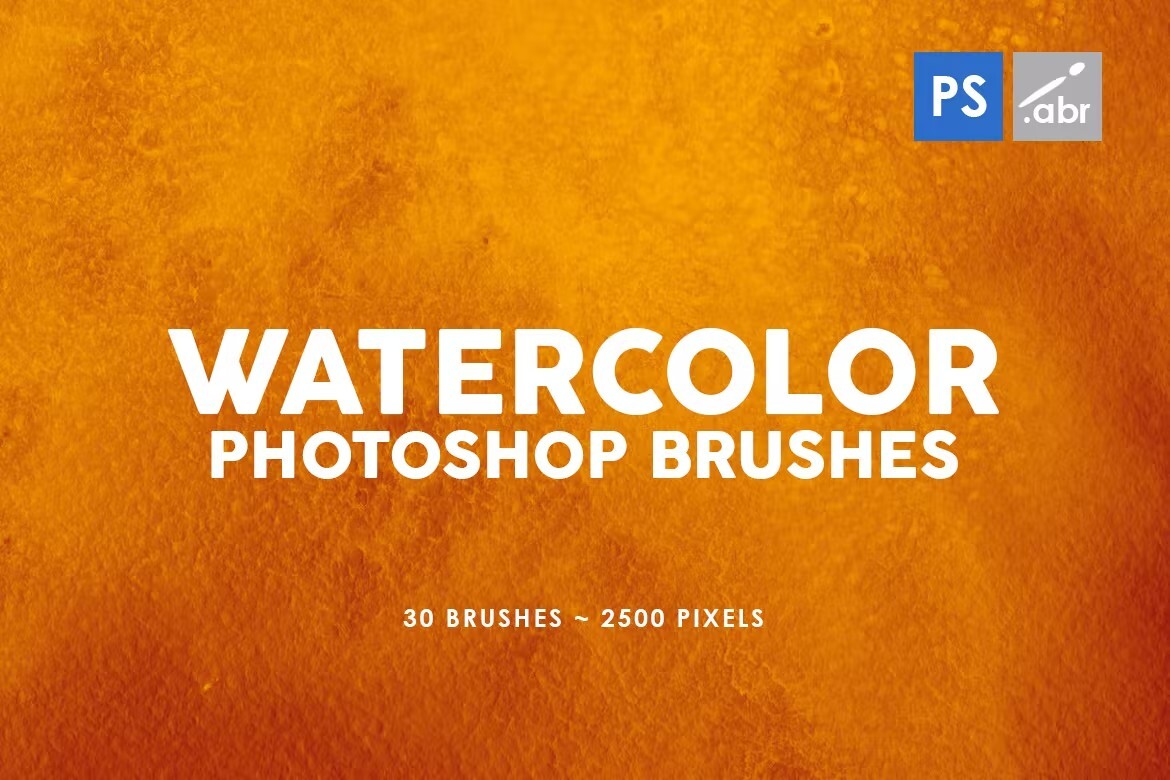 These brush textures are high resolution and could be a great addition to any project. You can use them as decorative elements for photos, print templates, social media, and backgrounds for your projects.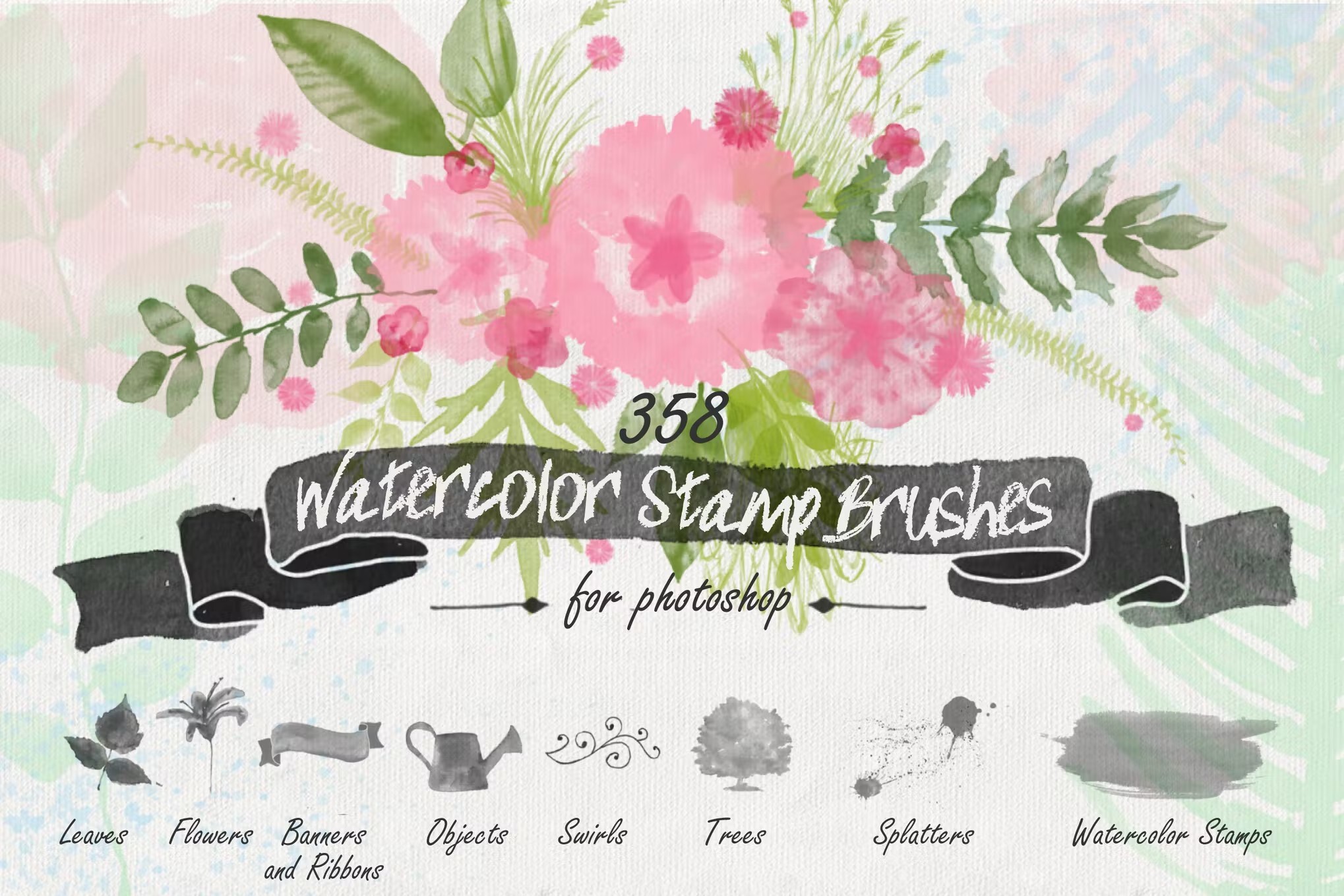 This is a set of watercolor high resolution stamp brushes for Photoshop. The set includes leaves, branches, grass, flowers, ribbons, banners, watercolor textures, different objects, swirls and splatters. All brushes are hand painted with watercolors. You can easily pick up any color and create endless designs with these brushes.
Don't forget to check out our collection of the best high Photoshop brushes of the year!
Photoshop Brushes
Photoshop Brushes are a great way to save time and create stunning digital artwork by using a pre-built set of graphics and elements. There are thousands of Photoshop brushes that can help you create more polished and engaging graphic art. This series collects some of the best Photoshop Brushes and explains how to use them.