It's astounding how many people weddings provide employment to: photographers, caterers, florists, and even designers can make a great living by focusing partially or even completely on clients planning their marriage.
Wedding invitation card design is one of the most creative areas of print design today. Talented designers really pull out all the stops and create some amazingly inspirational pieces. Keep reading to see fifty astounding examples of wedding invitation design (and a few trends to watch out for).
Download thousands of wedding design assets, invitation templates, wedding websites, and photo effects. An Envato Elements membership costs $16 per month, and gives you access to everything you need to design a beautiful wedding!
Just looking for some inspiration for your wedding invitation or card design? No problem. Let's dive in!
Trends
Before we launch into our huge list of invitations, it will be helpful to point out a few trends. These will help feed your creativity and teach you what you can expect clients to be looking for in a professional design.
Floral Design
A wedding isn't complete without flowers. The same can be said about wedding invitations as well. Having a set of beautiful flowers decorating the design of your wedding invitations and save the date cards can add an extra bit of beauty to their overall look and feel.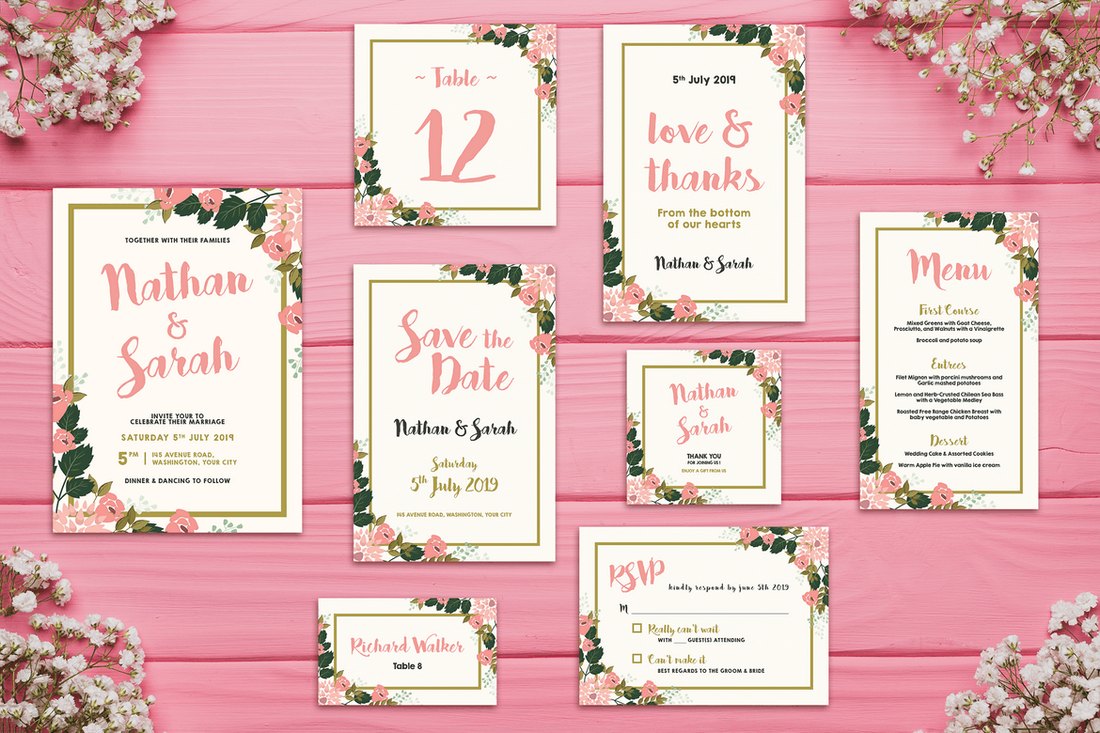 It's no wonder how quickly the floral design trend took over the wedding invitation designs. You can clearly see how stunning these designs look with those beautiful floral decorations.
Chalkboard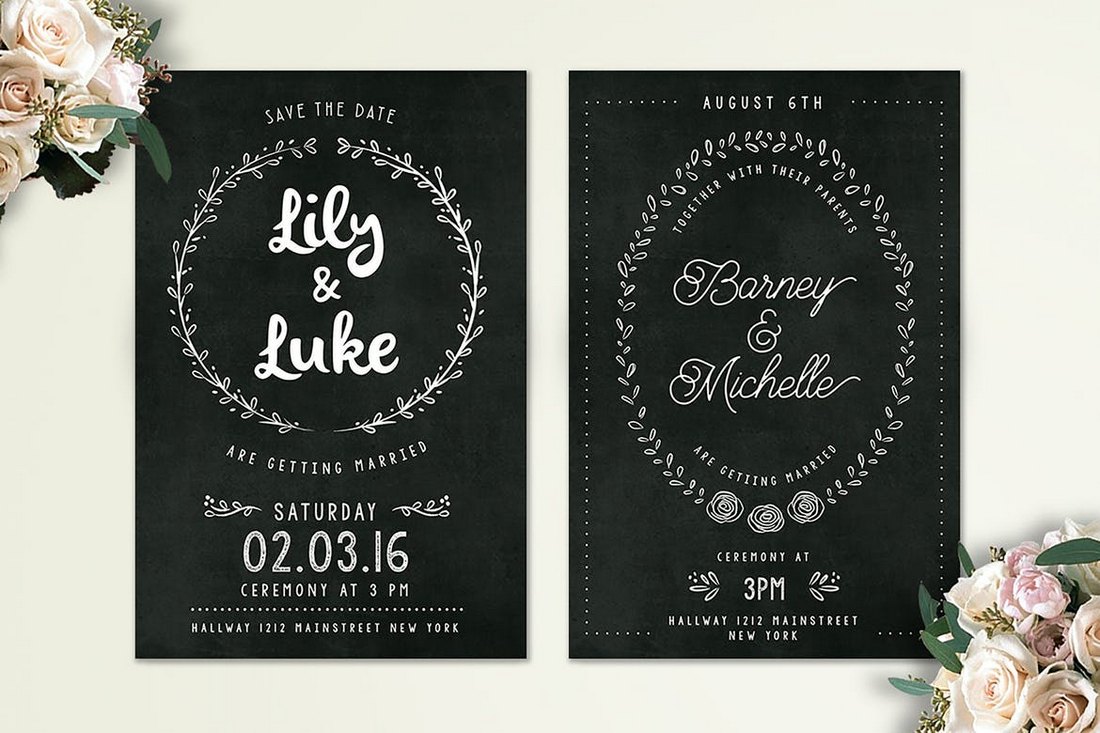 The chalkboard design is a popular trend in greeting card designs. And it slowly made its way over to the wedding invitation over the last few months. Without a doubt, it's a refreshing change that makes all kinds of wedding card designs look amazing.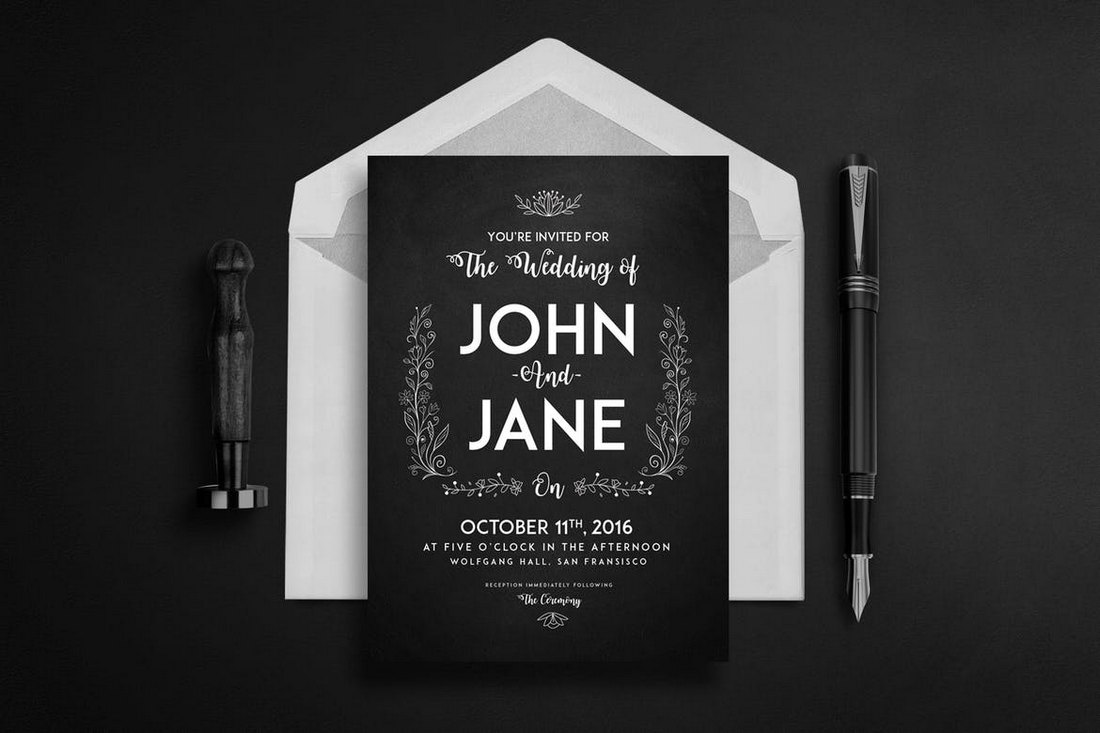 The ability to highlight the text more clearly while keeping a minimalist look is what makes chalkboard designs truly one of a kind.
Watercolor Design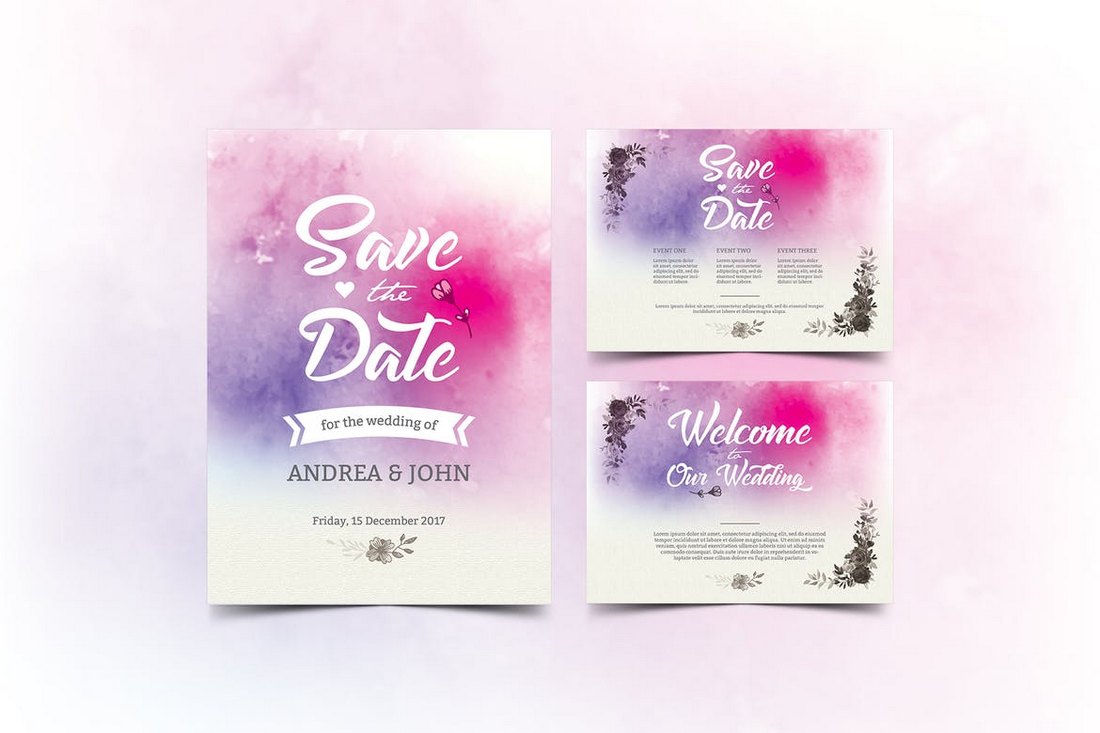 What makes watercolor designs more attractive is that it adds a certain authenticity to any kind of design. Especially when it comes to wedding invitations, a watercolor themed design makes it look more unique and hand-crafted than other types of designs.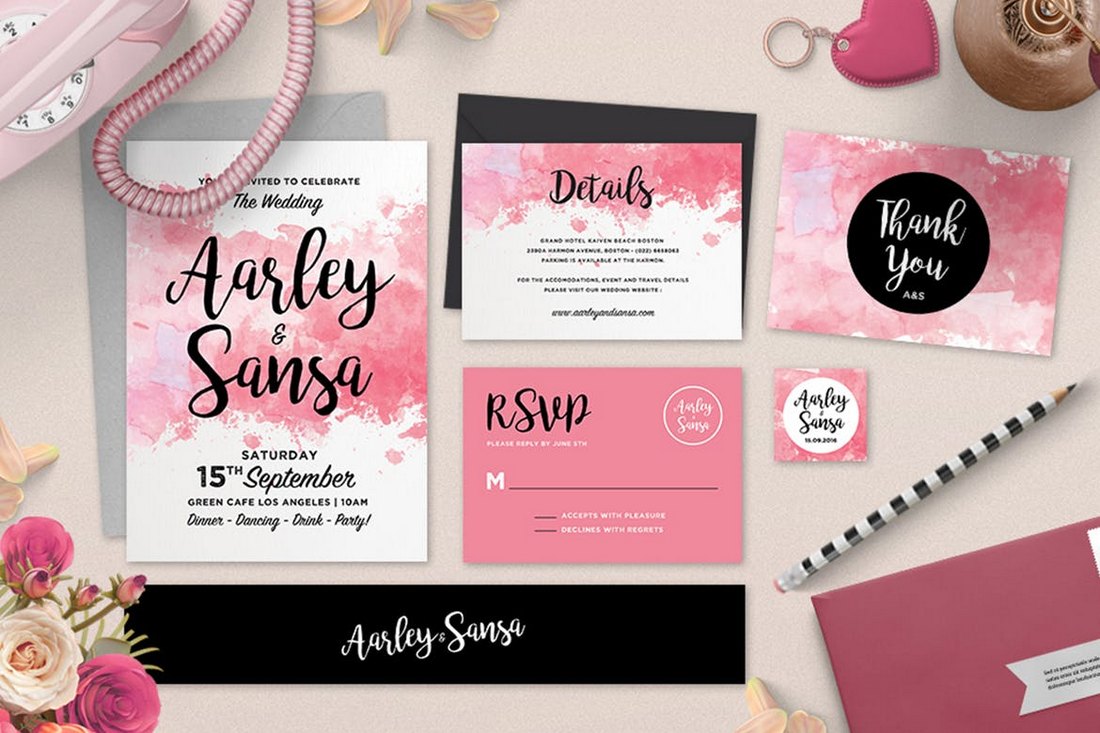 Watercolor invitations also have a specific minimalist look that allows you to highlight the important sections of an invitation in a colorful background without sacrificing the beauty of the overall design.
Letterpress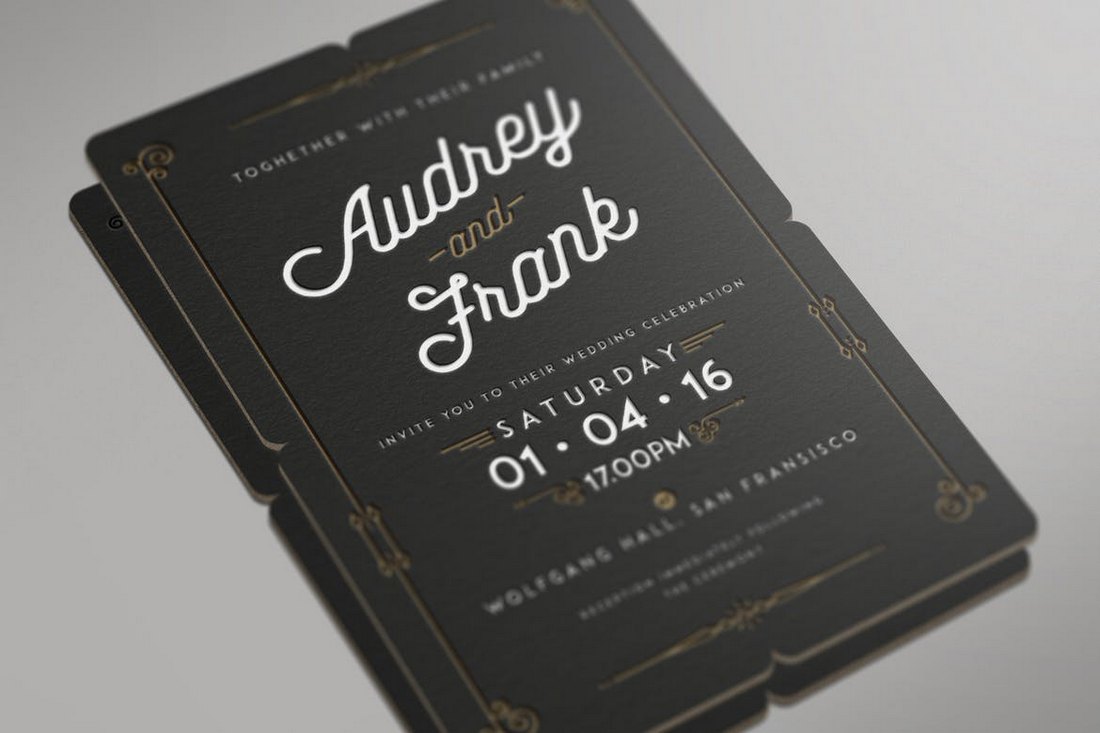 By far the most popular trend I came across was letterpress printing. This relief printing technique uses an inked, raised printing plate to create an imprinting effect on text and images.
The result is a high quality, classic feel that is absolutely perfect for wedding invitations. It's not always the cheapest route but it's certainly a good way to impress your guests.
Vintage Typography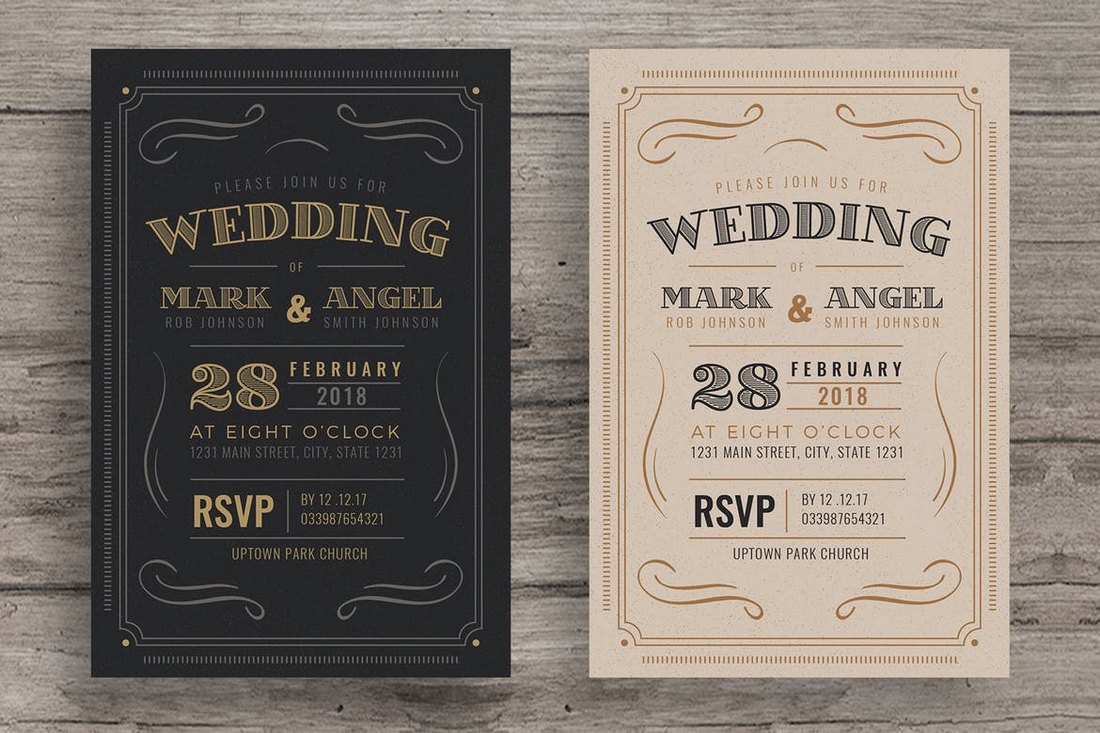 Another extremely popular trend is using a typographic treatment as the primary design feature. These layouts typically mix several types of old style typefaces and incorporate interesting word shapes and ornate line graphics.
As you can see in the example above, it's hard to beat a good vintage type treatment. There's just something so undeniably eye-catching about it!
Custom Illustrations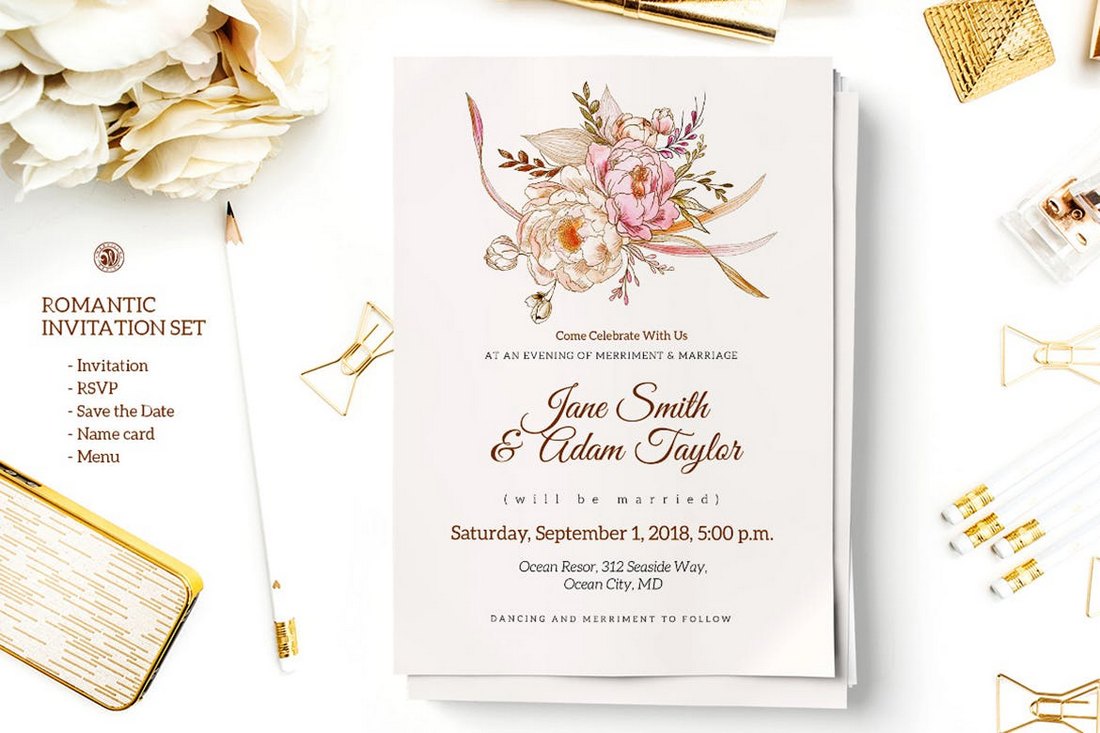 If you're good with a pencil, wedding invitations provide the perfect outlet for your artistic genius. Brides and grooms often love something personalized with a comically drawn version of themselves.
Recipients of these invitations will instantly know that the couple went out all on custom design rather than simply buying a cheap template.
The Whole Package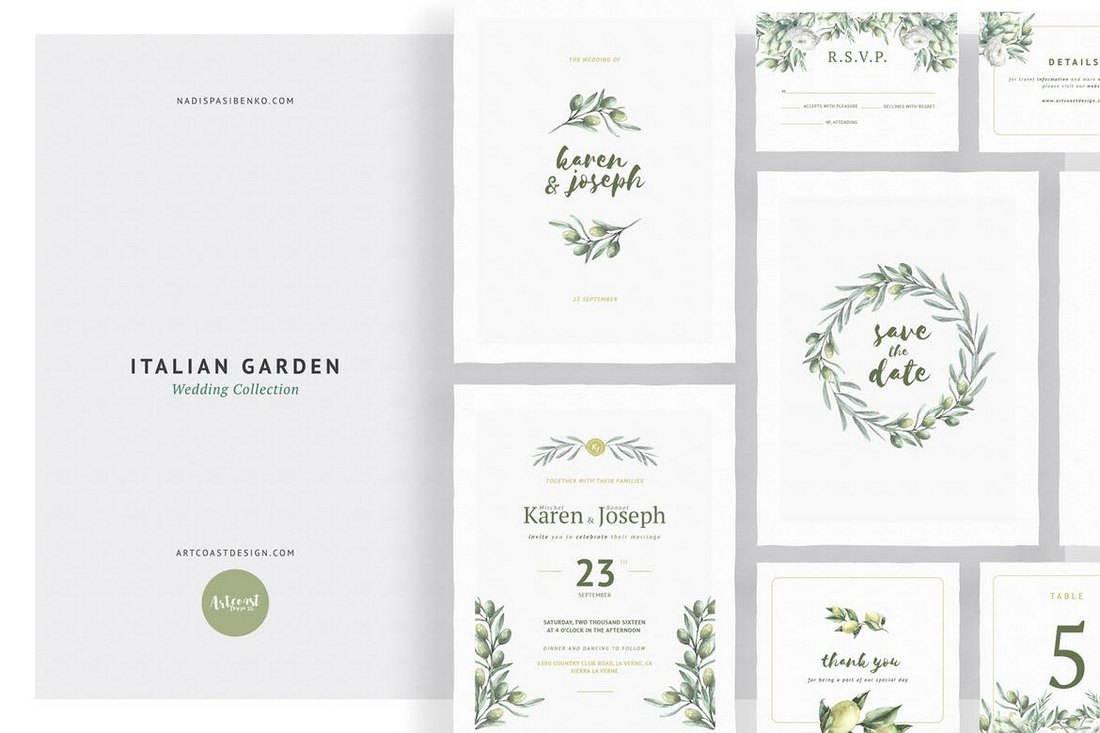 Don't stop at mere invitations, wedding clients require lots of printed materials and getting them all in one place with one coherent theme is an enticing deal.
In addition to invitations you can throw in "Save the Date" cards, RSVP cards, custom envelopes, maps to the church and reception locations, wedding day programs and "Thank You" cards.
Unique Packaging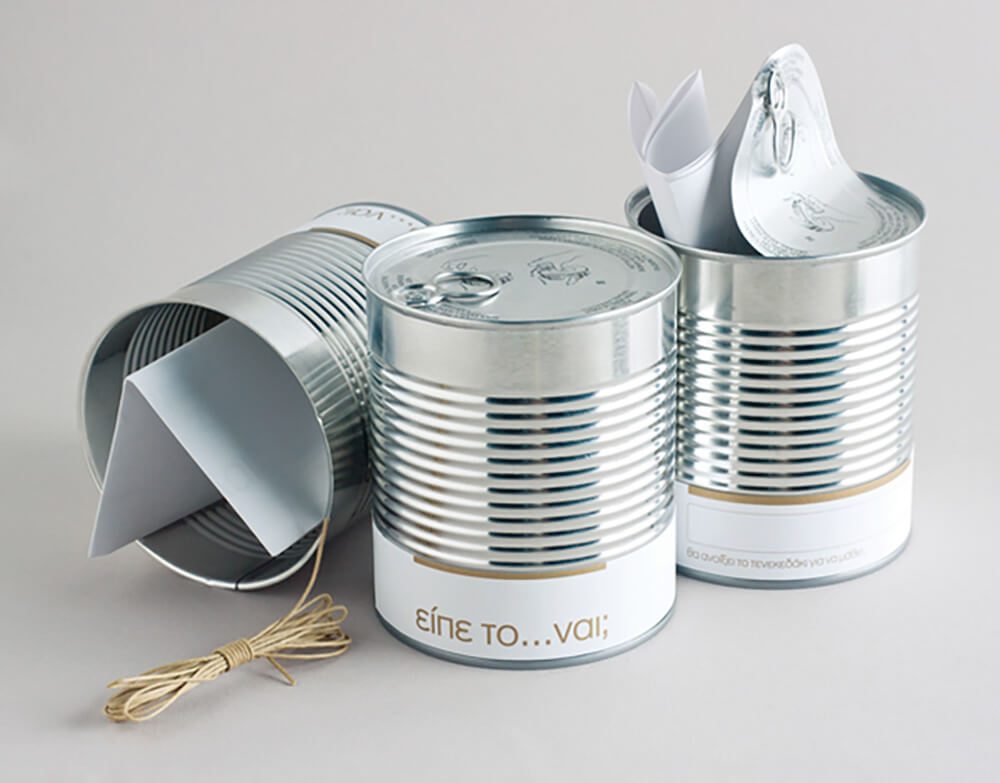 If your clients have a decent budget to play with, try putting some creative thought into how you present the invitations. The awesome example above uses a pop-open can containing the invitation. Guests are encouraged to then bring the can to the wedding and tie it to the back of the bride and groom's car for that classic "just married" look.
The Invitations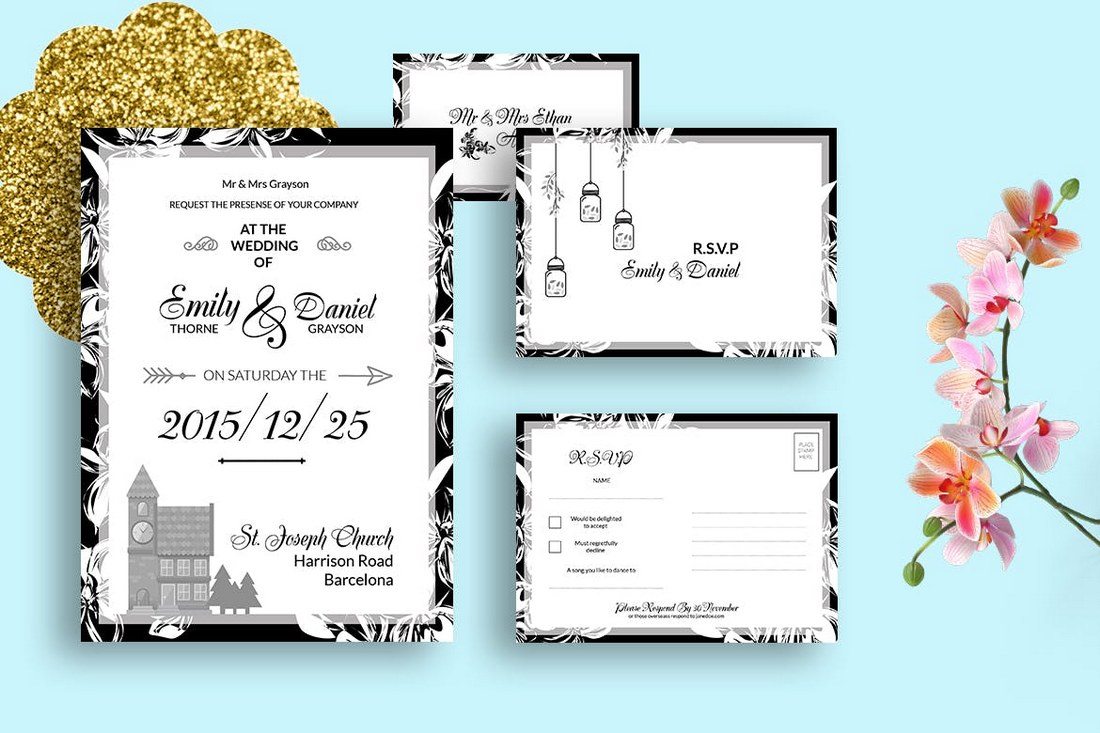 A creative and a clean approach to wedding invitation design, this PSD template is ideal if you're planning a minimalist wedding. It also includes templates for the RSVP card, save the date, menu, table cards, and more.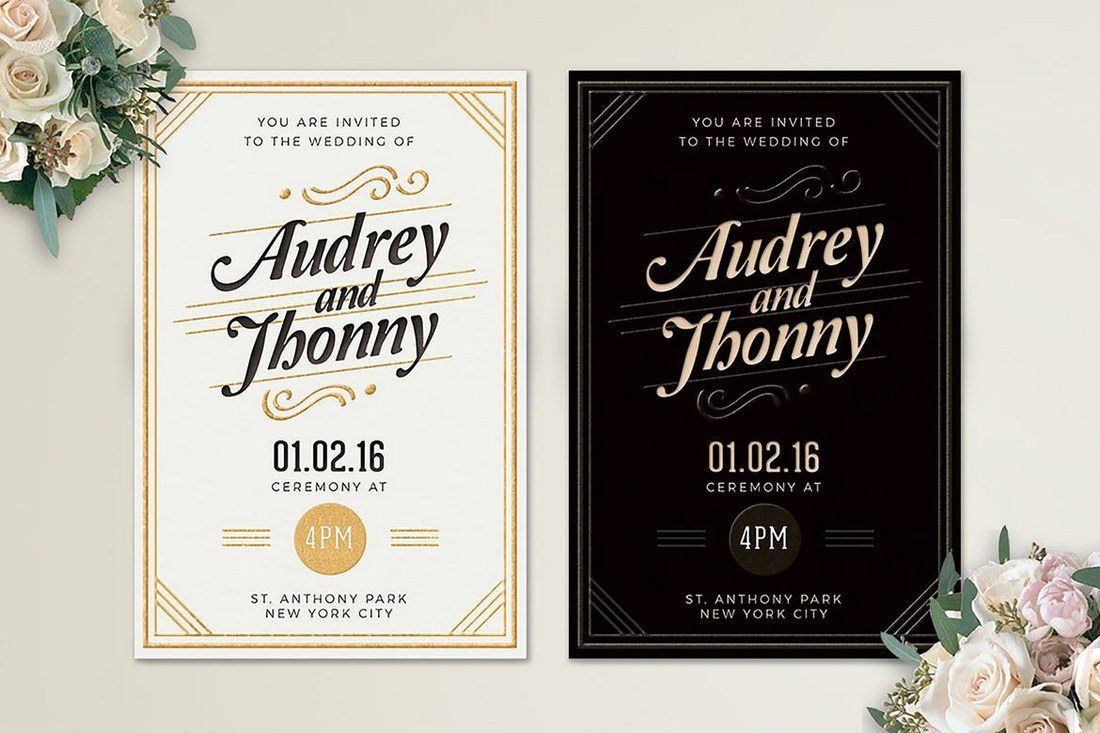 This simple wedding invitation template features a retro-inspired design that gives a more elegant look to your invitation card. It also includes 5 other color variations of the PSD template for you to choose from.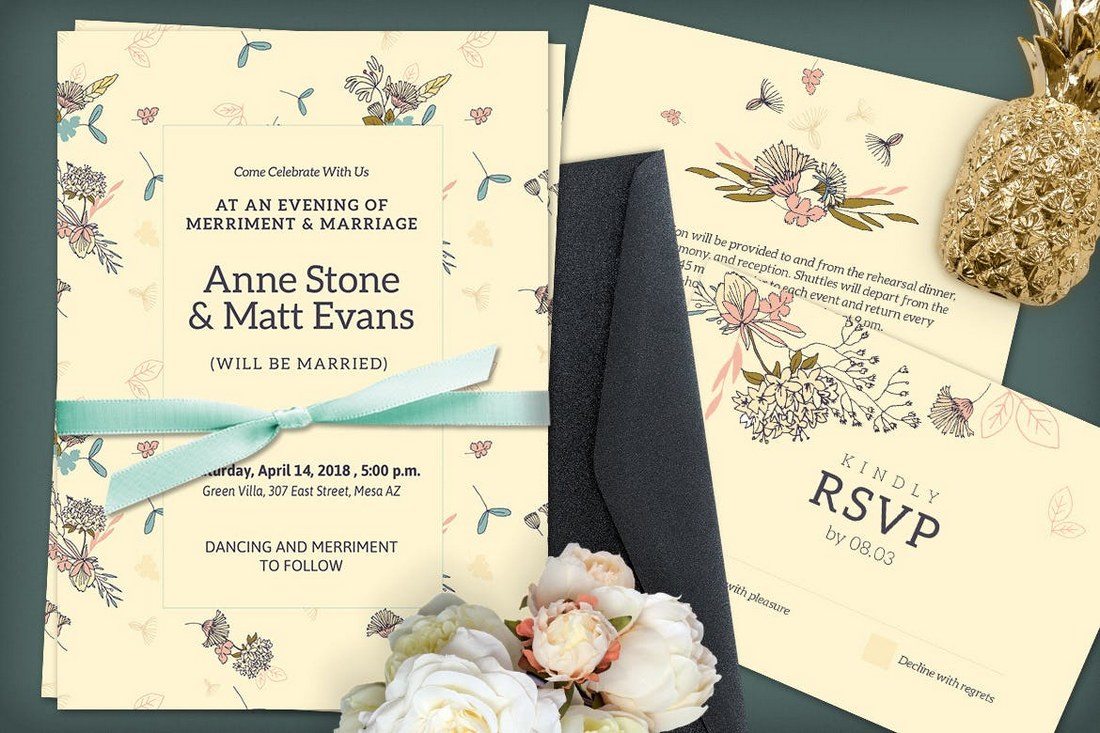 A unique wedding invitation template for creatively sending the message across to your loved ones. This PSD template features a unique playful design that makes it one of a kind. An info card and an RSVP card template are also included with this pack.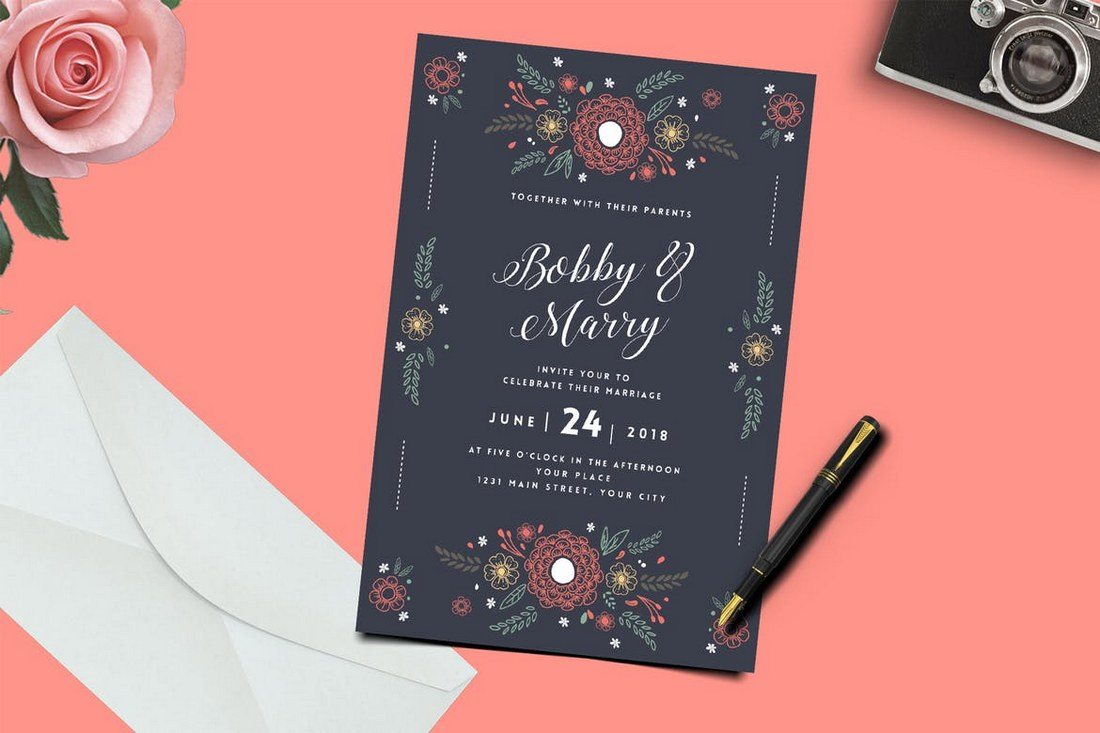 Unlike other floral designs, this wedding invitation template comes with a stylishly modern design that attracts attention. The template is fully customizable using Adobe Photoshop and Illustrator as well.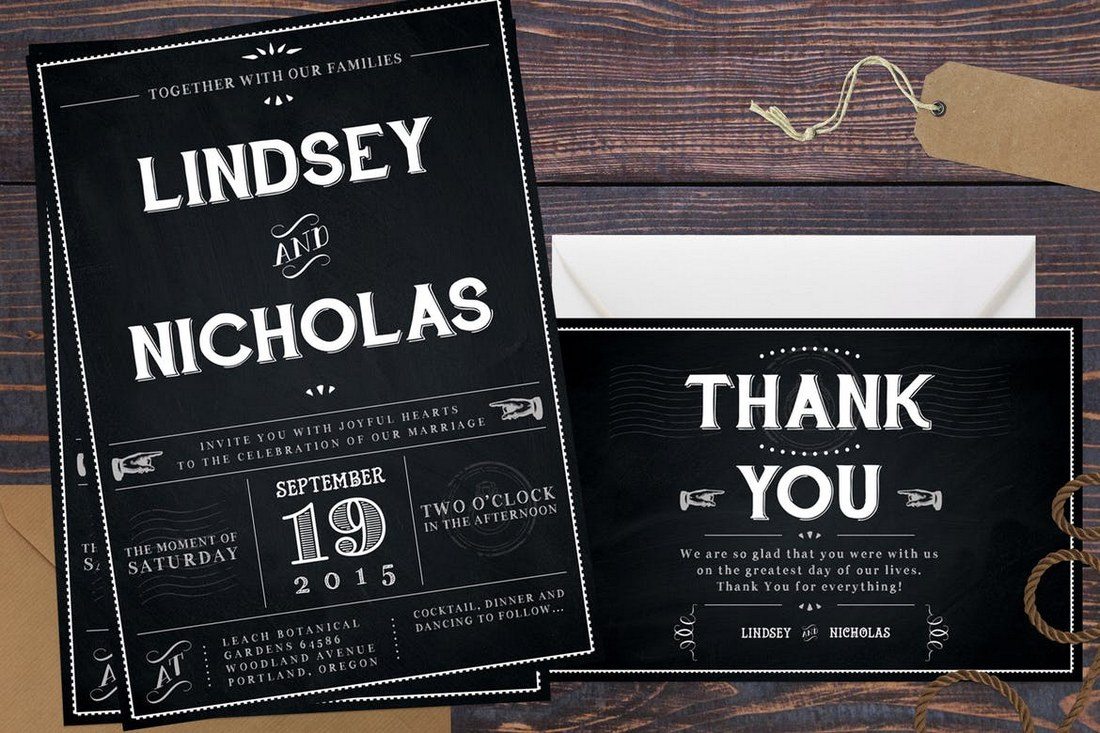 The chalkboard design is quite a popular trend in the wedding invitation design world. This template comes in 3 different color schemes featuring the same chalkboard design. In addition to the invitation template, it also includes RSVP card, thank you card, save the date, and many other templates.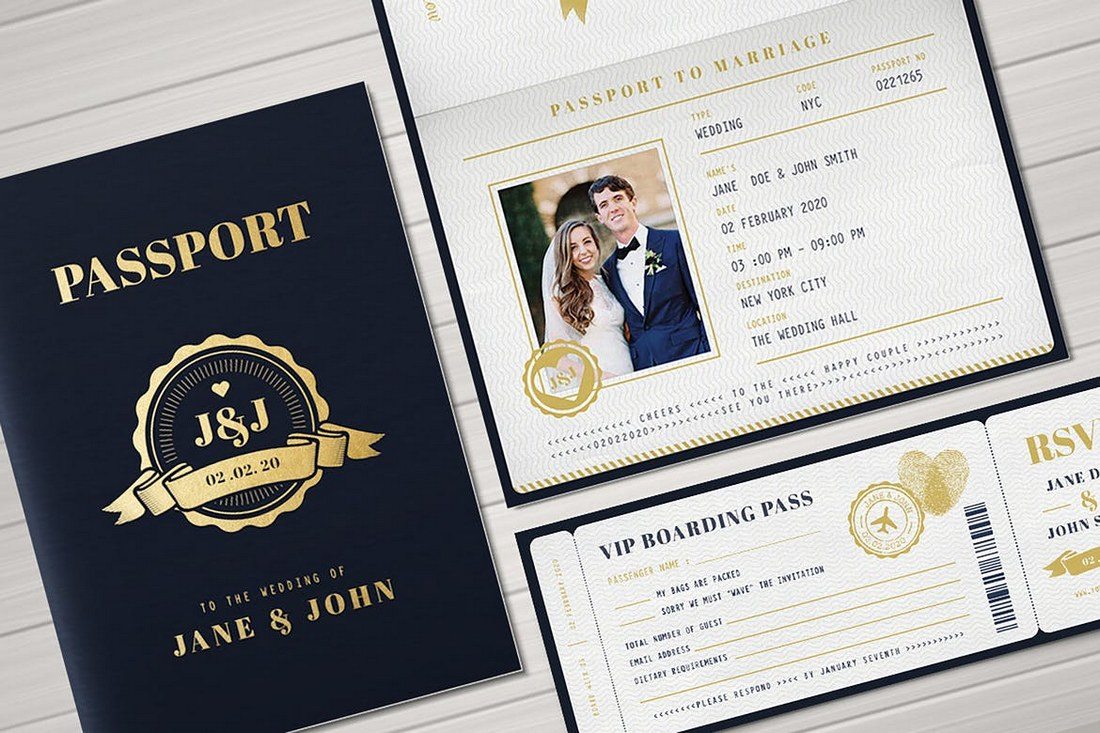 If you're planning a playful wedding and want to send an invitation with a bit of humor attached, this is the perfect template for you. This wedding invitation is designed in the shape and style of a passport. It's perfect if you're planning to have a wedding abroad as well.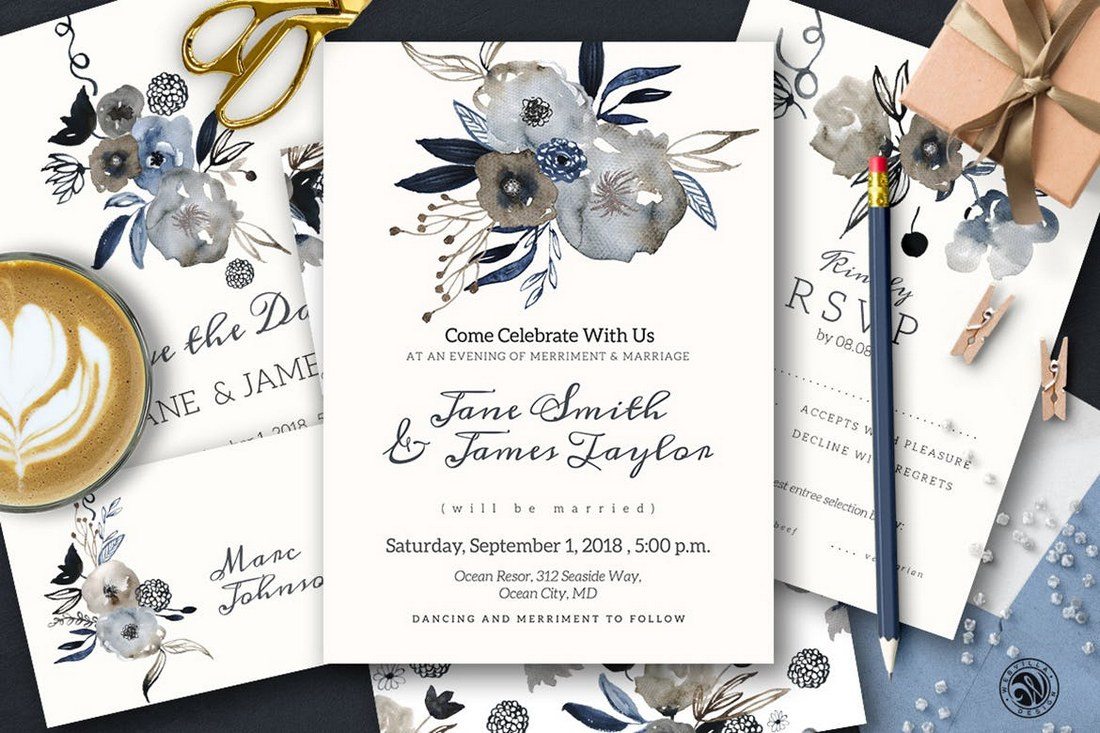 A set of wedding invitation, RSVP, name card, and save the date templates. All the templates come with minimal and professional designs. You can easily and quickly customize the design to your preference.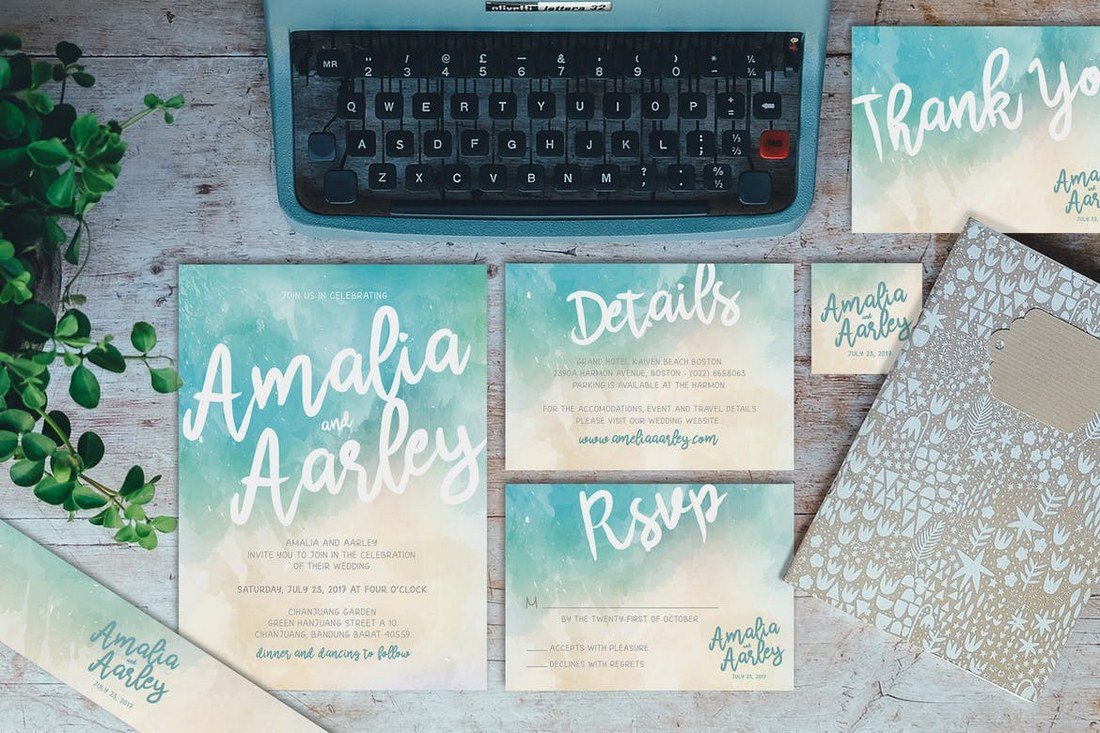 This wedding invitation template features a unique design done in the style of a watercolor painting. It also comes with all the other templates for sending RSVP, thank you card, detail cards, and much more.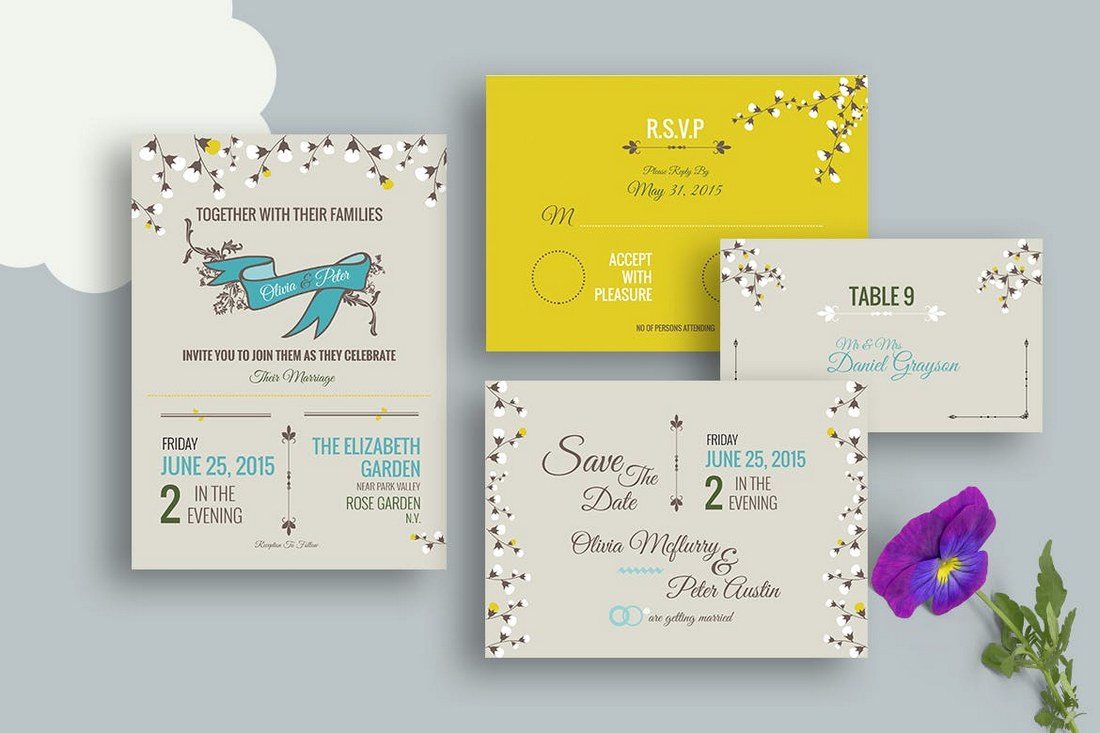 A fully-editable PSD template that you can customize however you like. This wedding invitation template set also includes RSVP card templates, save the date, escort cards, and more as well.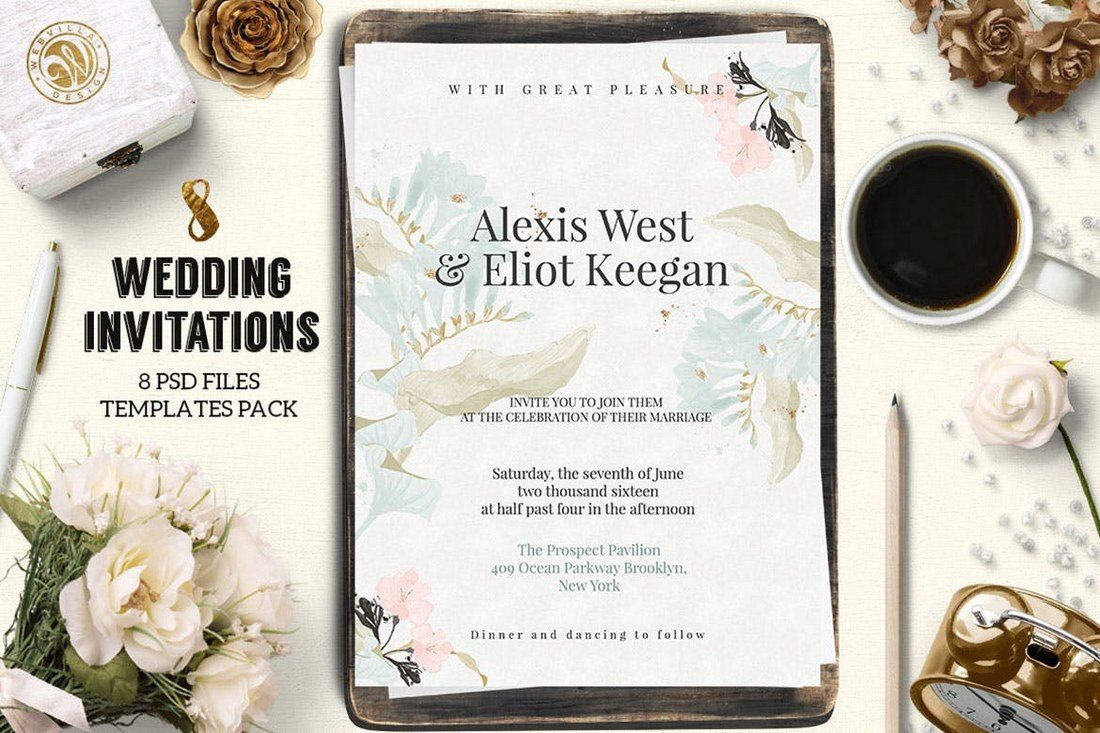 This is a bundle of wedding invitation templates that includes 8 different designs for you to choose from. All the templates feature unique and creative designs. They are also ready for print.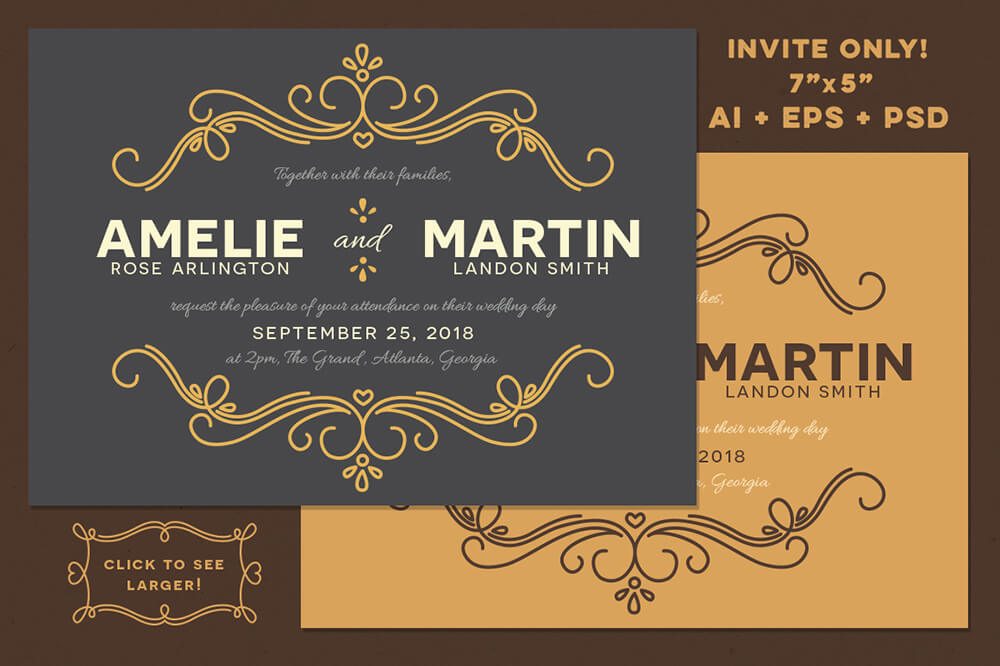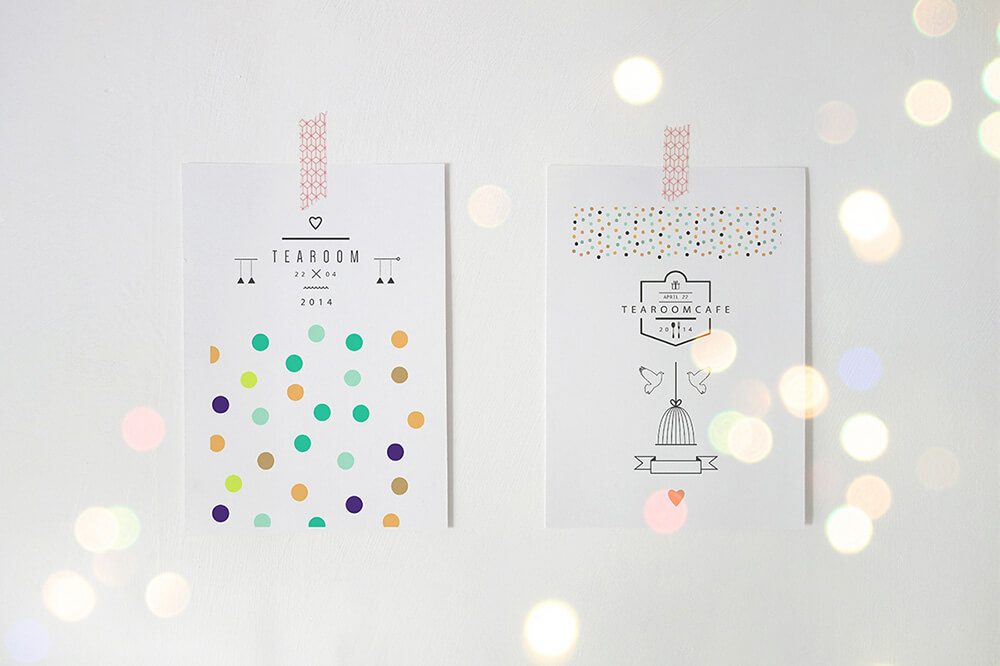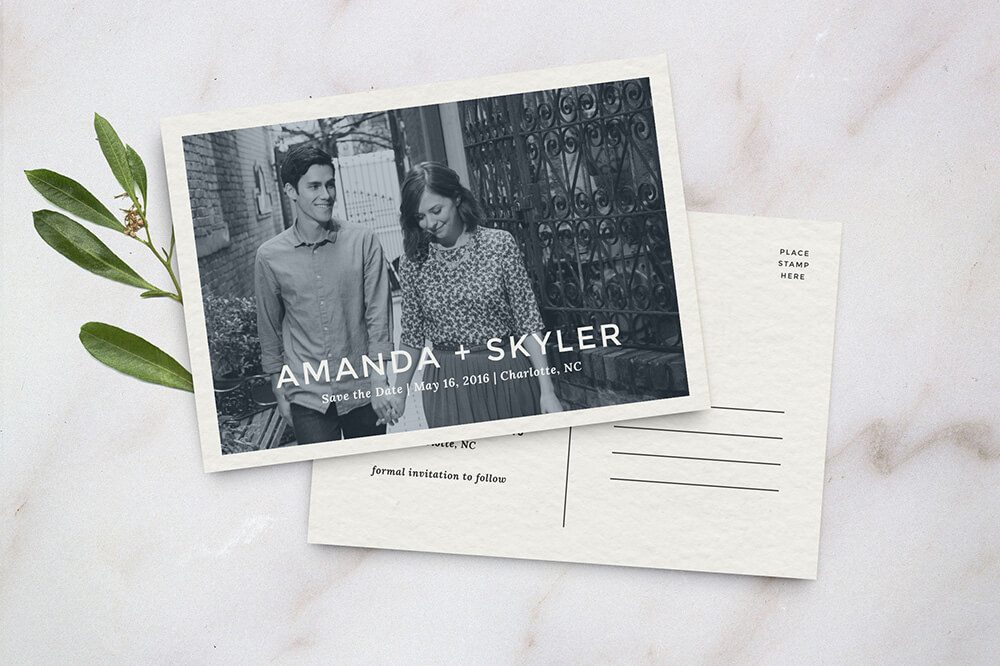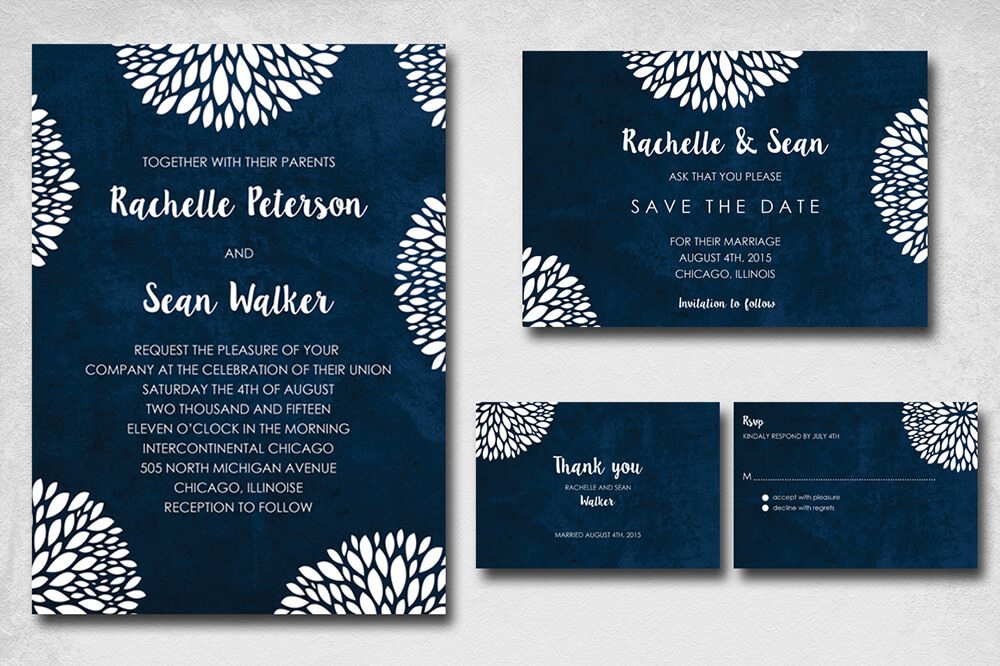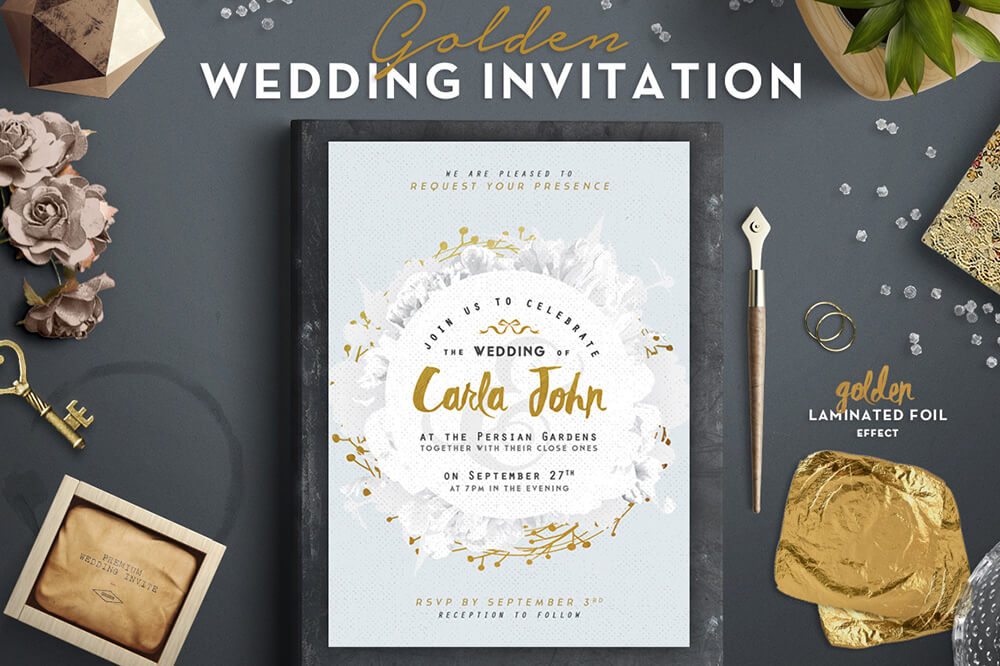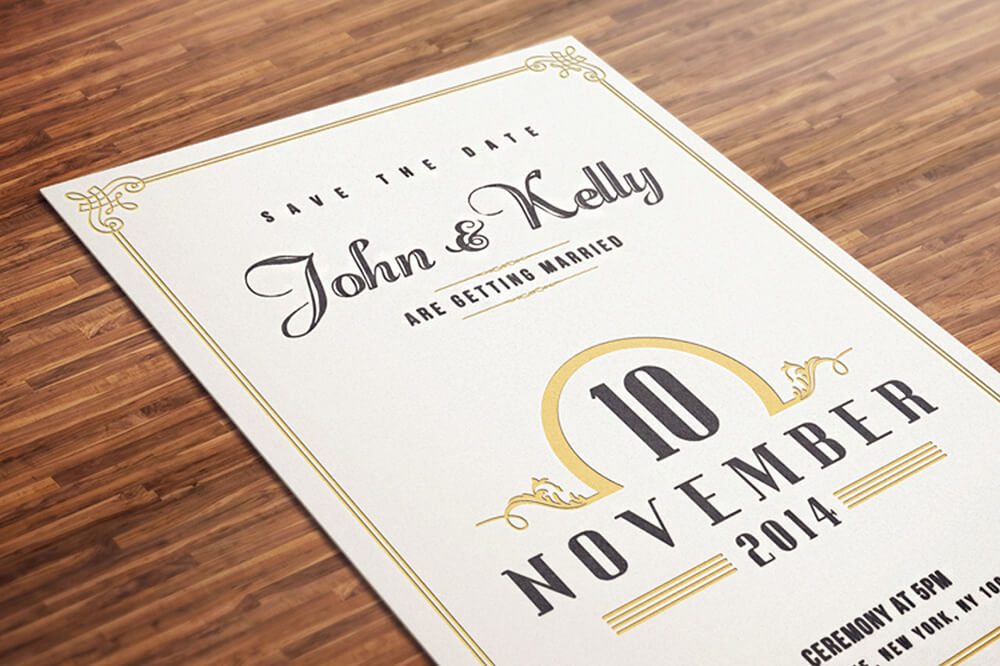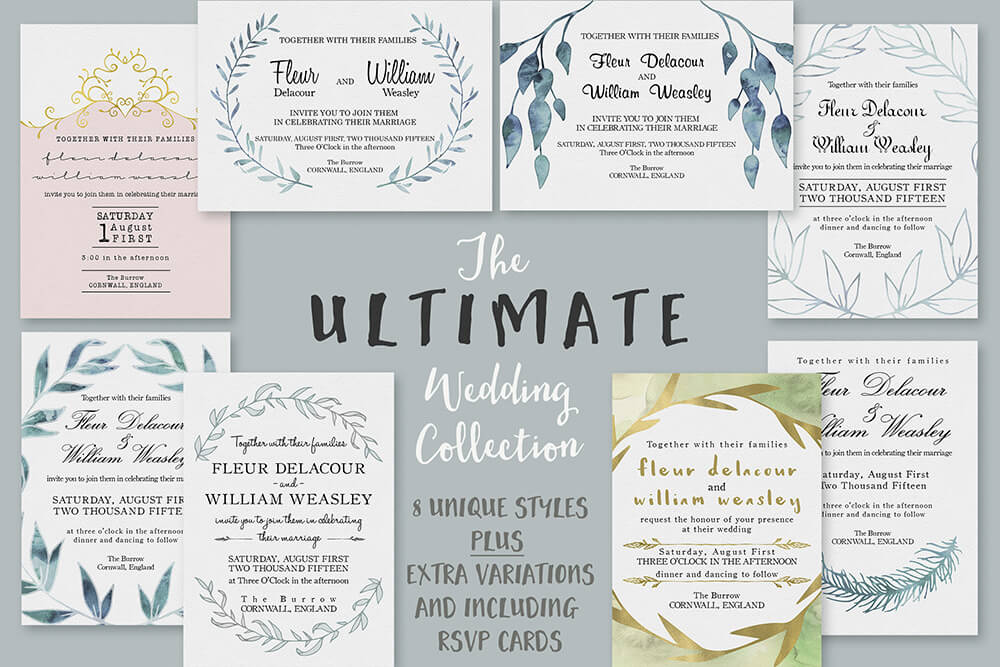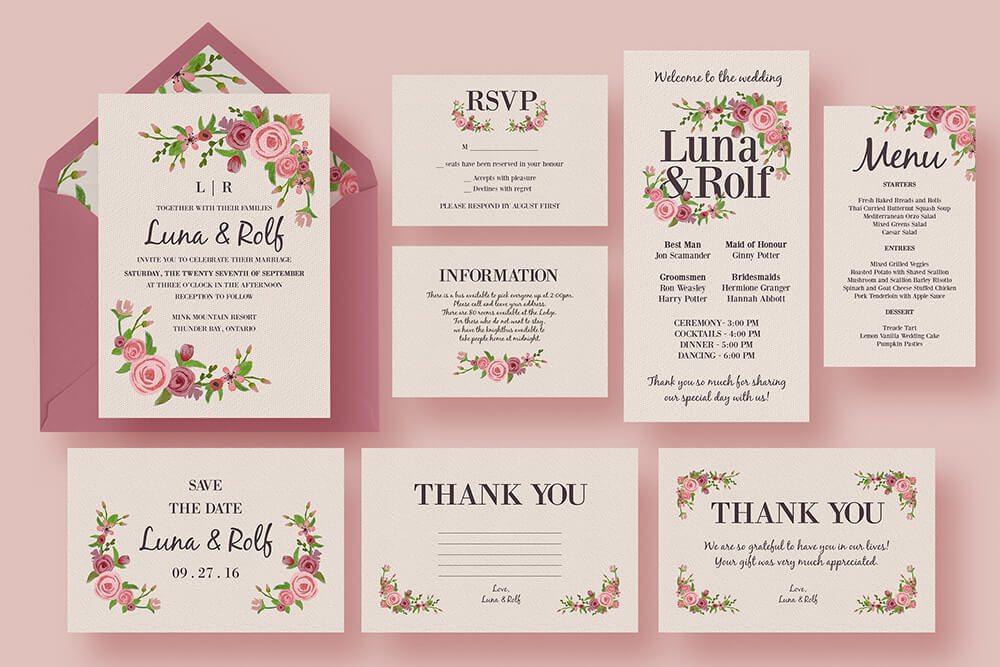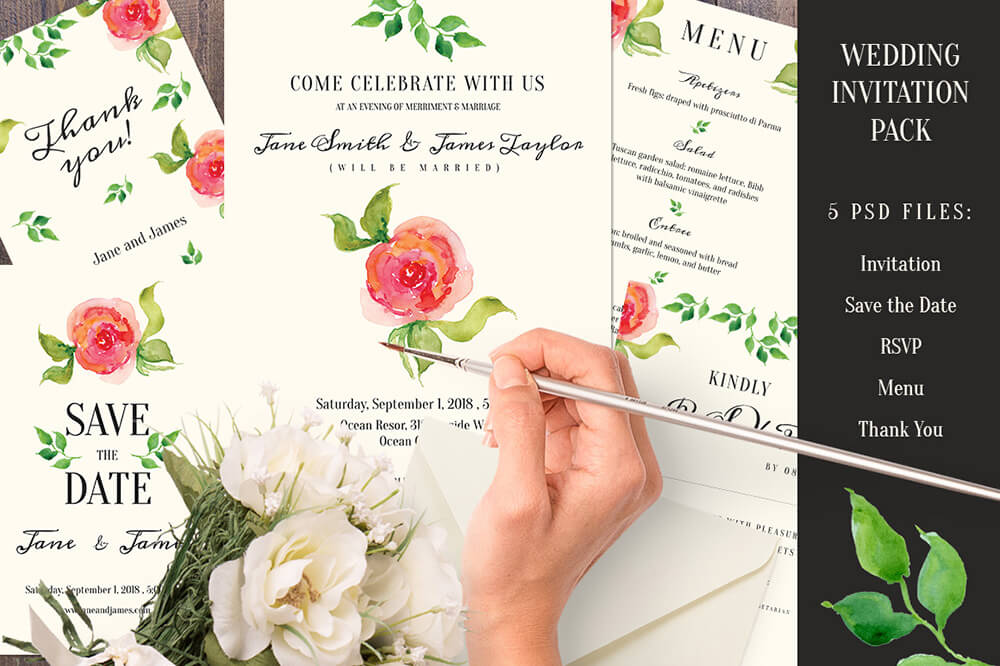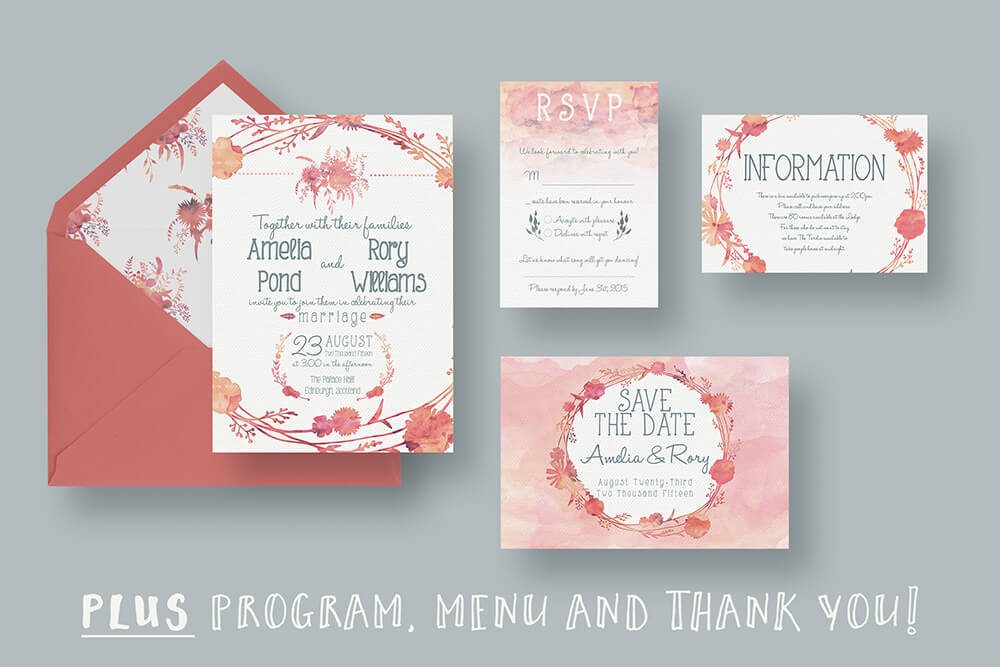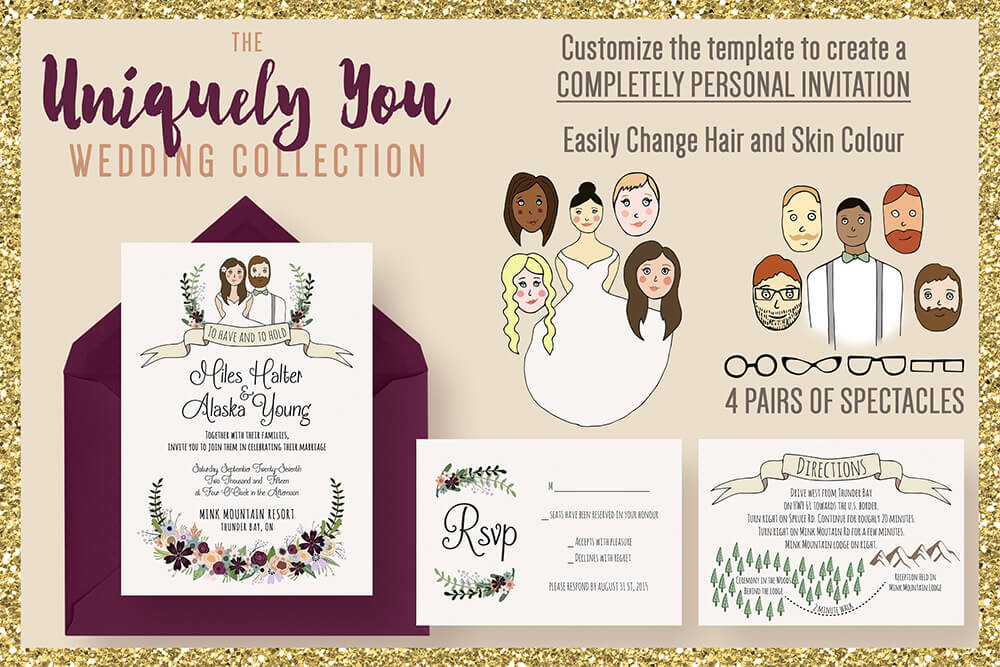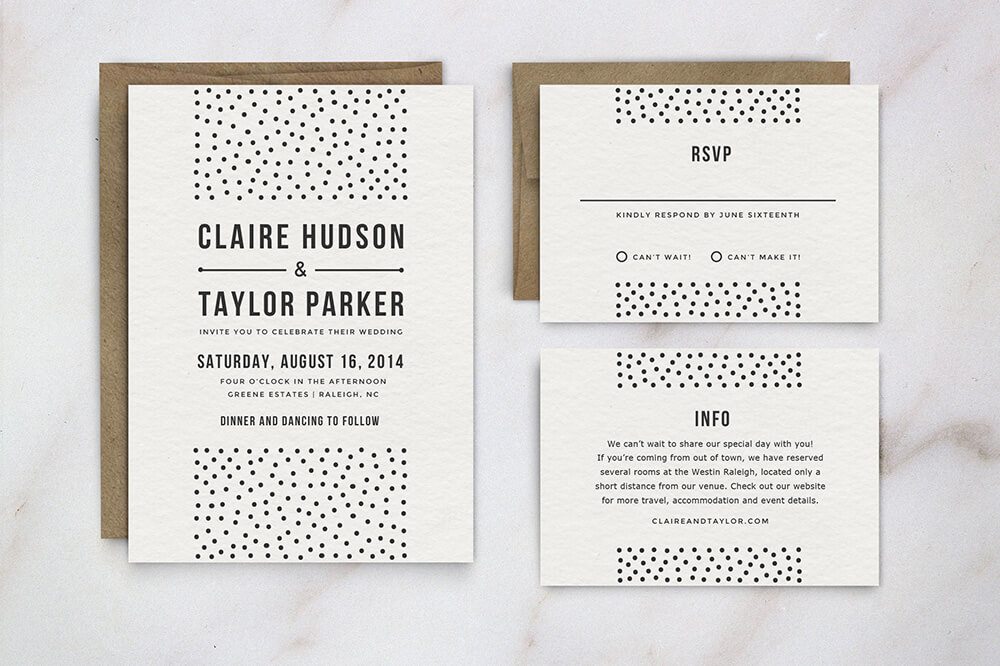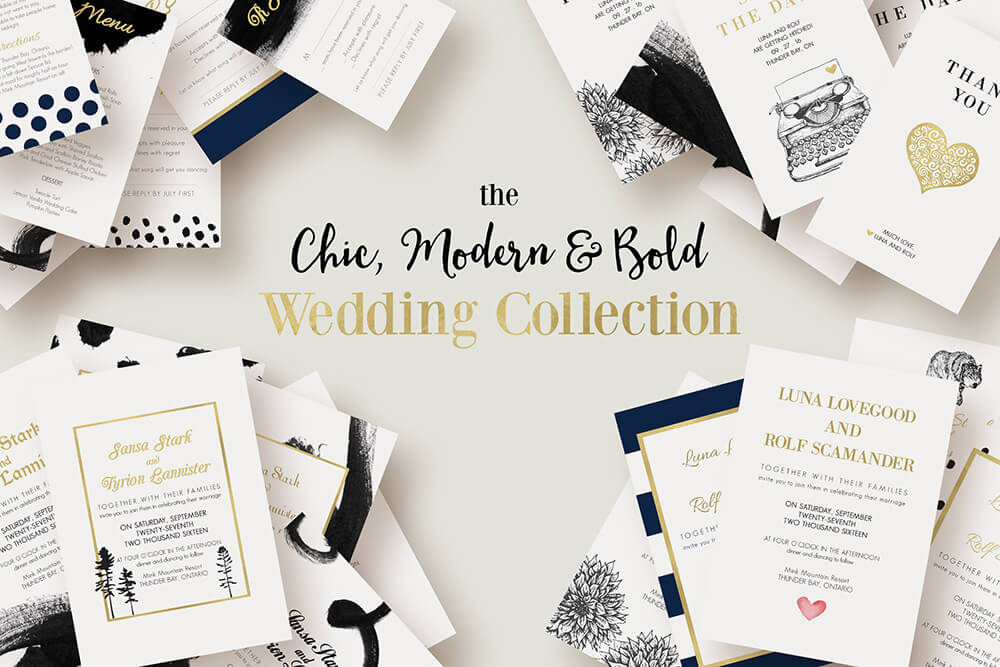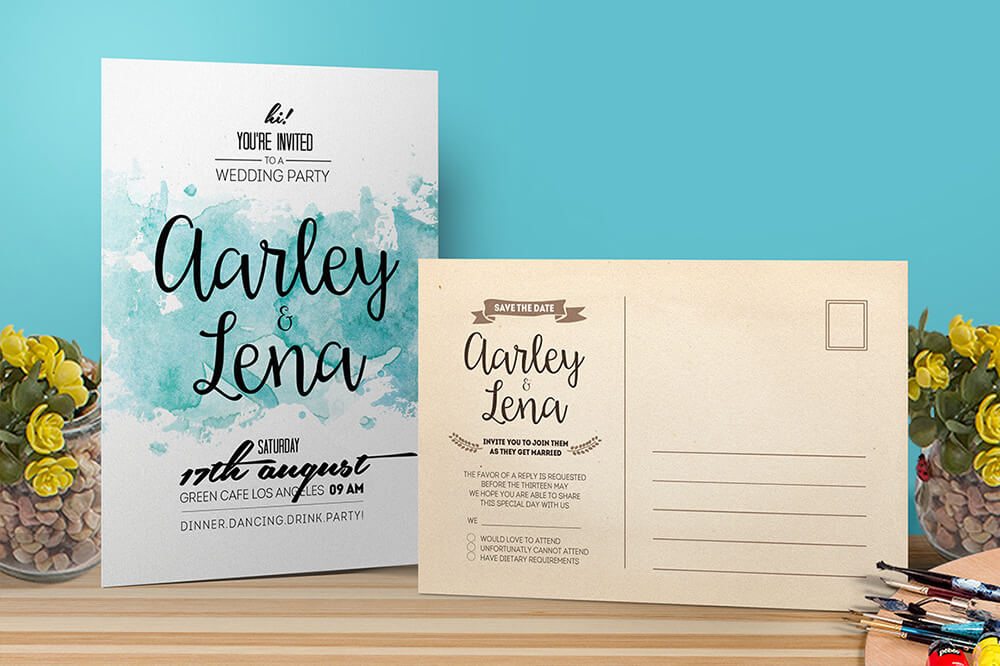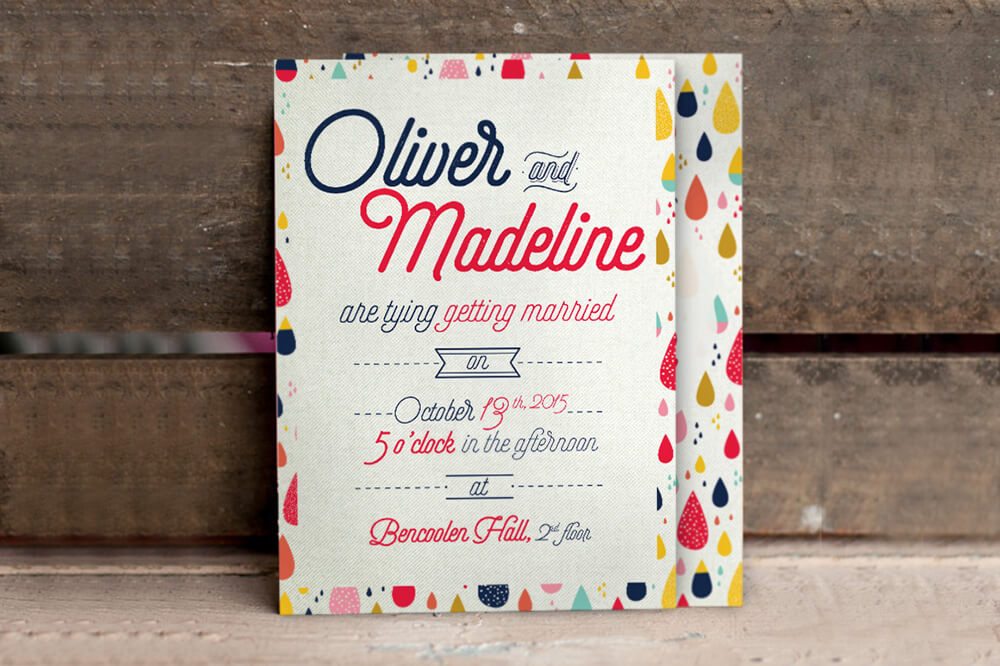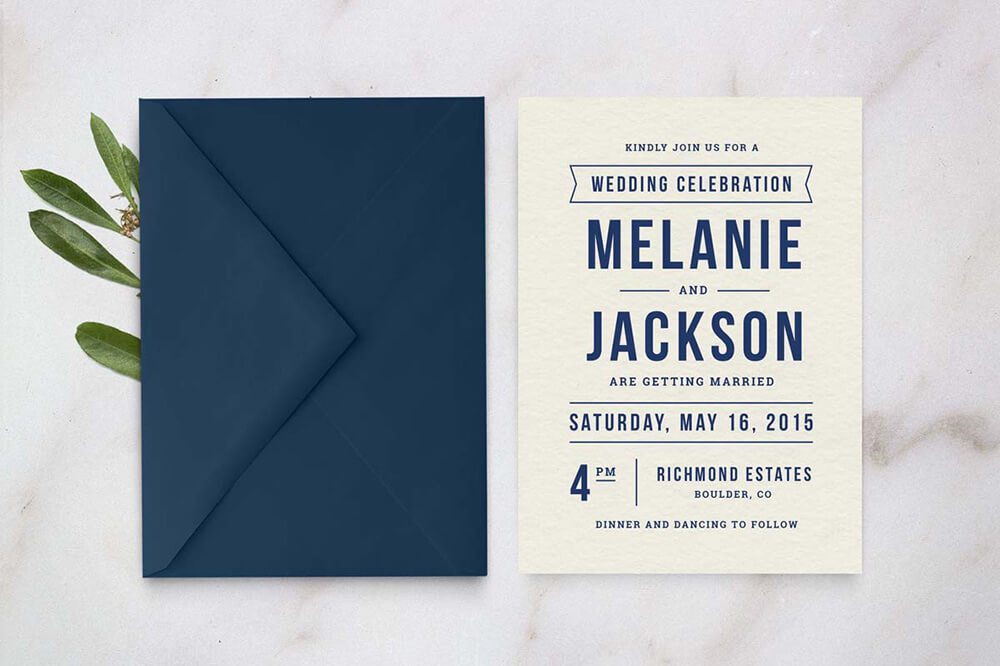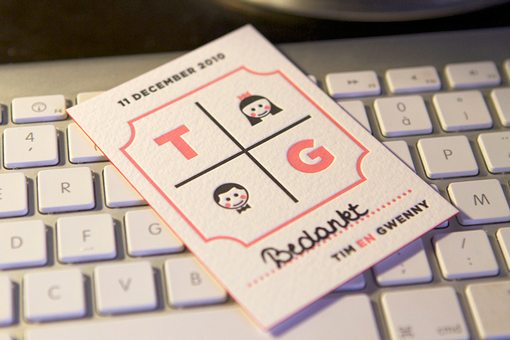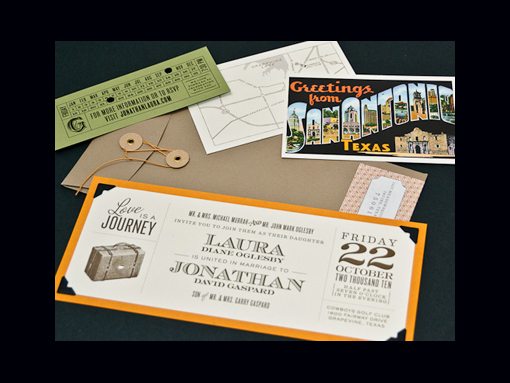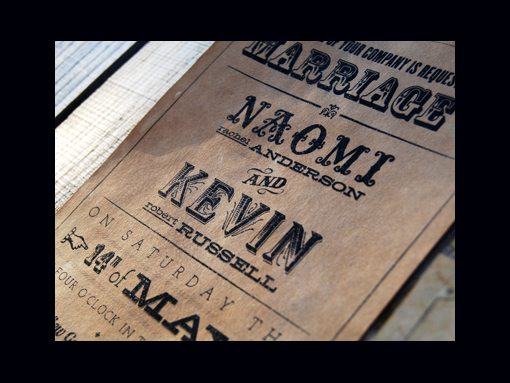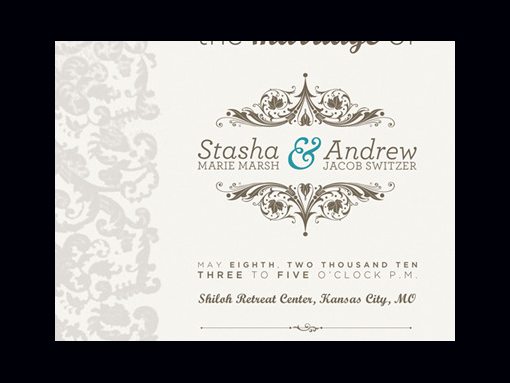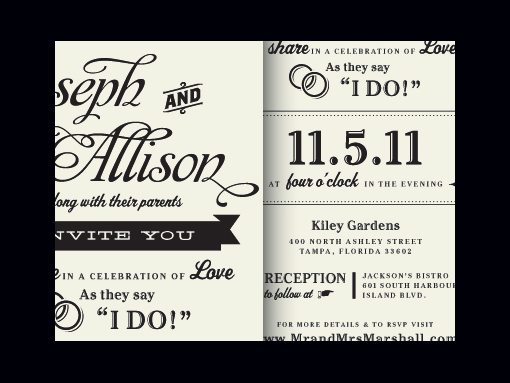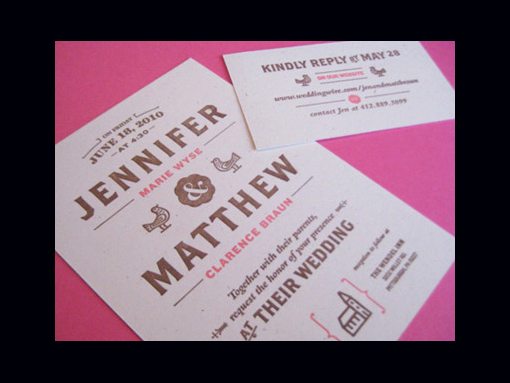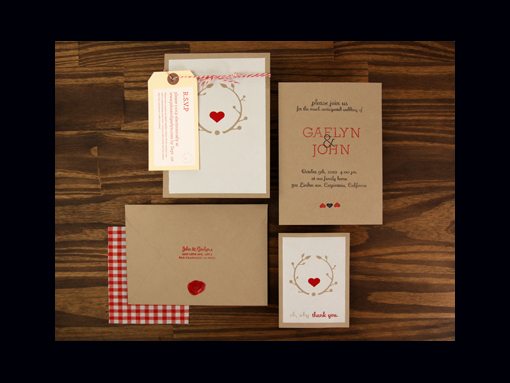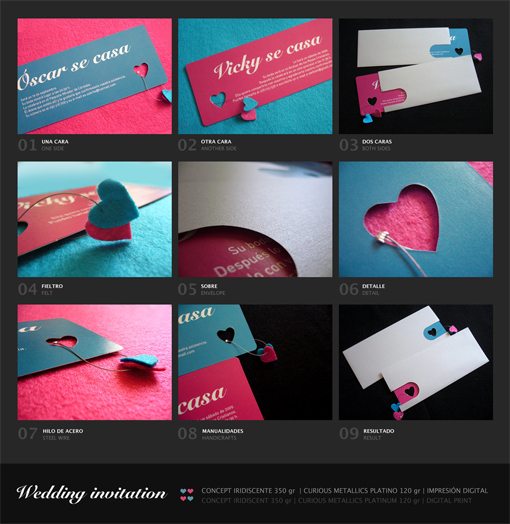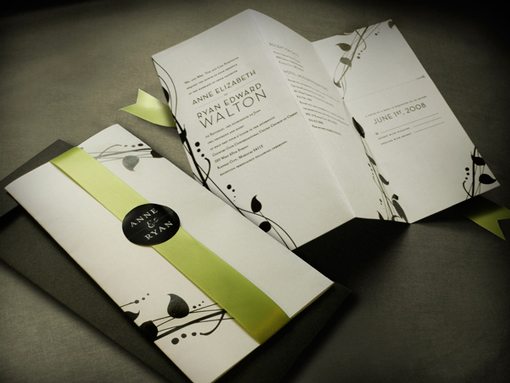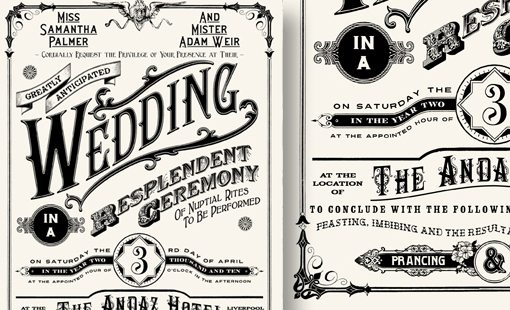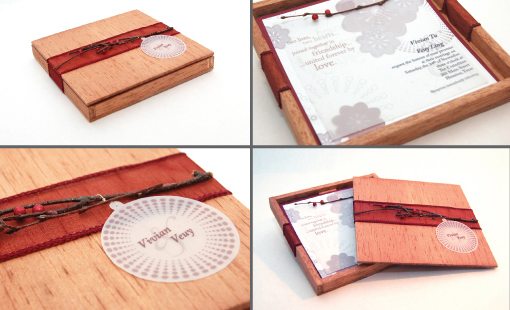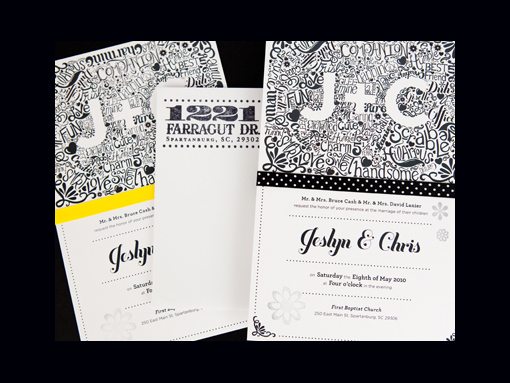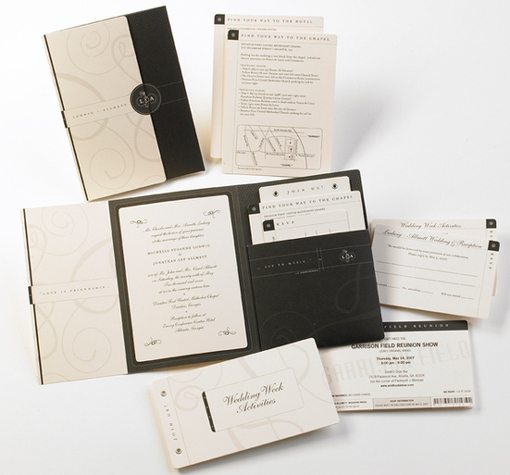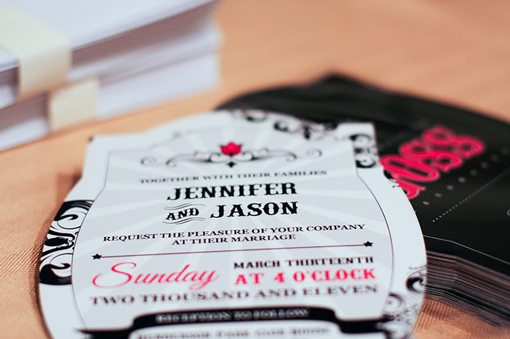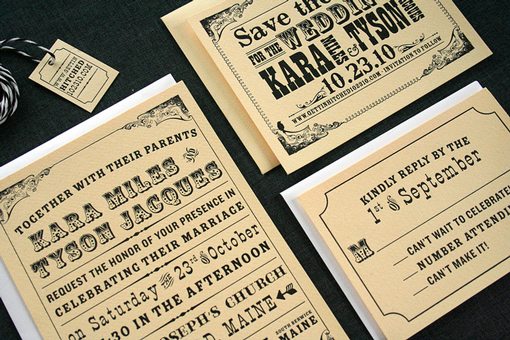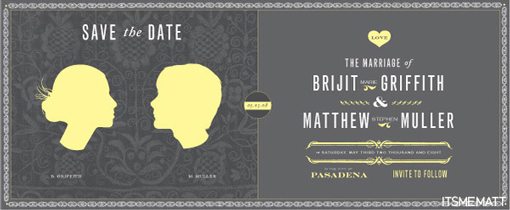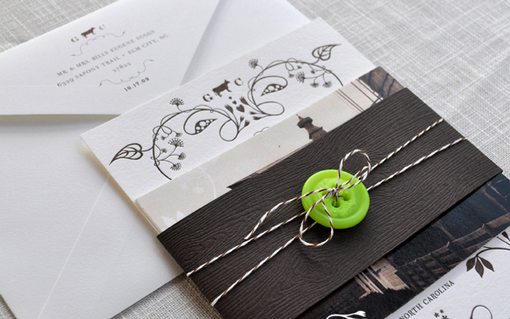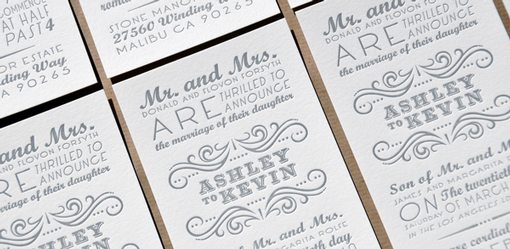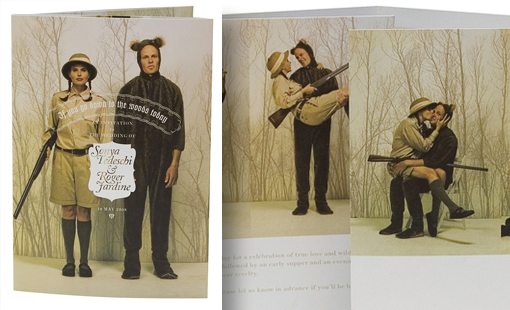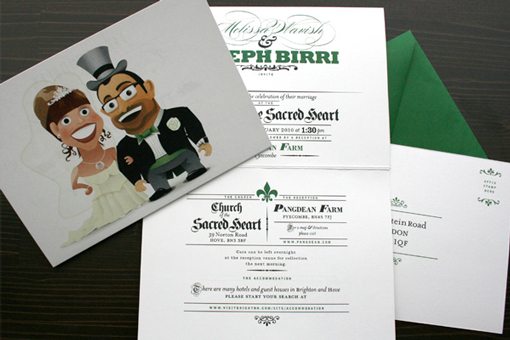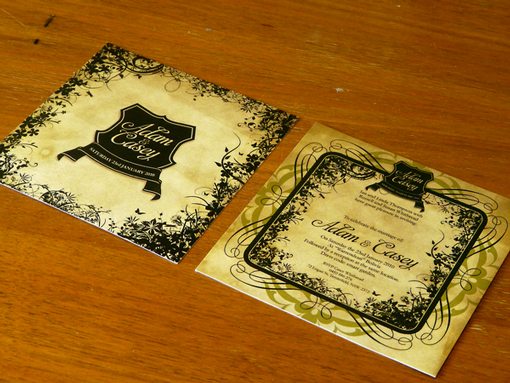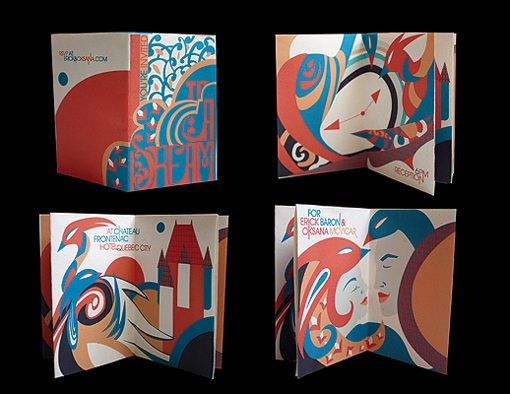 Conclusion
Weddings are an incredibly special event and are a pleasure to be a part of as a designer or photographer. They provide an amazing opportunity to hone your "human-focused" design skills as you get to know the bride and groom and try to translate their personalities to a finished design.
Leave a comment below and let us know which of the invitations above you liked best. Also be sure to leave a link to any awesome invitations you've designed!
Wedding Design
Every wedding deserves a beautiful design. Your special day should be accompanied with stationery, cards, invitations, and a website that reflects you both as a couple. This series contains inspiration, tips, and ideas for designing everything you need for your wedding day!